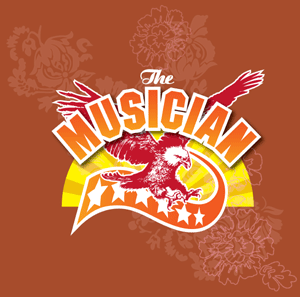 Should need to print a copy of this months listings, you can download a copy of our regular flyer by clicking the PDF icon.
---
These days artists and bands tend to book their tours months in advance. In order to give you the best notice of up and coming shows we list events once they have been confirmed by the band or their management
The downside of this is that dates can change due to unforeseen circumstances, sometimes at very short notice. We do our best to ensure that this site is kept as up to date as is possible, with updates happening at least once a week.
Therefore to avoid disappointment we recommend that you check these listing prior to setting out for your show especially if you are traveling any distance.
---
Not listed?
A guide for Artists and Promoters
The quickest way to get yourself included in our listings is to send an email to rideout at stayfree.co.uk once your gig is confirmed.
We also need you to do the following -
Put the name of the artist or band name along with the date of your show in the email subject line.
Attach a reasonable sized photograph. A 72dpi, jpeg, bigger than 200x200 pixels would be fine. Please don't email files over 1mb in size. If in doubt please drop us a line before sending. Let us have your web address so we can link to your site or Myspace page.
Send us some text. Whilst we are happy to tidy up spelling or grammar, we don't have the time to write or edit copy for you. Ideally we need a nice concise 'blurb' of between 75-100 words. Please don't send a three page biography, or else we are likely to bounce it back to you. If you have a selection of press quotes send what you have as we can usually easily compile something from them. There are plenty of examples of the sort of thing we need here on the site to help you out.
Please note - If you have played at The Musician before and we have text on file, we will continue to use use it for any subsequent listings unless you supply new copy.
If you spot any errors please send an email to derek at indiecentral.co.uk.
Coming to The Musician in September

Like a bag of party poppers in a tumble dryer, Flying Kangaroo Alliance are probably the best new alt-rock/grunge band you've never heard. Formed in 2011, their influences range from the grunge of the early 90s through to Muse and Paramore.

Tonight heralds a special vinyl single launch for the band, in association with Punk Fox Records.

"Finally a bit of attitude; Meri Everitt and her band F.K.A. perform an excellent set of 90s'esque alt/grunge/rock… Meri's voice is aggressive and captivating as she spills cleverly written anti-mainstream, f-you lyrics. Under which the band play exceptional music; very clever discordant figures and contesting parts between the two guitars and the bass give a very interesting textures for the listener's ear." - Arts in Leicester

Montreal-based folk quartet The Barr Brothers released their self-titled album debut on September 27, 2011 via Secret City Records. Recorded in their makeshift studio in an old boiler room at the foot of Mount Royal, the ten song album is an opus of beautiful folk, gut-busting blues and far-out African rhythms. In addition to brothers Brad (guitar, vox, keys) and Andrew (drums, percussion) Barr, the album features core live members Sarah Pagé (harp) and multi-instrumentalist Andres Vial, with Miles Perkin (Lhasa) on bass, and a number of notable guests, including Elizabeth Powell (Land of Talk) and Jocie Adams (The Low Anthem).

Hailing from Tupelo, Mississippi; John Murry's solo debut album 'The Graceless Age' is imbued with the ghosts of the Southern states and the personal demons that have haunted him throughout his life. He has described himself as more absorbed in the world of literature than in the day-to-day concerns of the modern world, and for good reason: he's second cousin to William Faulkner and has spent much time with his second cousin's work.


Throughout these songs in the key of heartbreak, there is nonetheless a strong and abiding sense of salvation and reconciliation. 'The Graceless Age' is an album that unflinchingly exposes John Murry's dark pains and loss through songs that are translucent vessels of beauty and light.

"Raw, powerful lyrics and Springsteen-like cinematic sweep." - Michael Mayer, San Jose Mercury News

Manchester based songstress Kristyna Myles released her debut single "I'm Not Going Nack" in 2012 on Decca Records receiving critical acclaim in Music Week with featured articles in The Daily Mail and The Sun. Kristyna awaits the release of her debut album produced by Grammy Award winning producer Ken Nelson (Coldplay, Paolo Nutini, Gomez). Songs on the album span a 10 year period from one of her earliest written songs "Betrayal" at age 16 to "Make it right" some 10 years later. 'Pinch Me Quick'. Originally from Leicestershire, Kristyna came into prominence after winning Busk Idol, a 2005 nationwide singing competition organised by BBC Radio 5 Live.

"Kristyna (Myles) isn't interested in being seen as the next 'cool' thing, instead, she's intent on producing soulful, thoughtful and powerful music that simply satisfies" - Chris Long, BBC

1989 the year the Berlin Wall came down the beginning of dance culture entering mainstream pop culture and the year of the last great NME invention taking hold in the imagination of youth with a rather baggy Stone Roses led cult. What may not be so easily recalled was the release in January of that year of a hugely influential album by Diesel Park West; Shakespeare Alabama. This album swam against prevailing tides of the day with songs of such quality it seemed to many a major new force for good had arrived. John Butler's songwriting demonstrated quite clearly with this debut that here was someone able to craft songs of such quality comparisons to Ray Davies, Marriot-Lane, Townsend even Young and Zimmerman were clearly applicable. Alas critical acclaim does not in itself translate into major success and despite selling well, Shakespeare Alabama was denied its due place in the upper reaches of rock n roll. The band however continues to this day and are now eight albums into a "career" that may actually turn out to be all the more creatively substantial for having not sold millions upon millions of records. With the shackles of commercial upkeep off, Butler has written his way into the bigger picture more than ever via tunes like Faithless Life, Bloody As Fur, A House Divided, Leave Me With The Sinners and the sublime latter day radio favourite There's A Grace spread out over the last twenty something years. With the songs and the voice to sing them John's solo acoustic gigs demonstrate all the inherent musical qualities at their heart delivered with an engaging wit and insight only someone with intimate knowledge of the real music business could possibly know. Performances wrapped up in a humorous and insightful delivery, not afraid to enter the dark zone whilst offering consummate skill in doing so. A John Butler night is well worth checking out!

Blueswamp Southern was fully formed in 2007 by legendary Leicester based slide guitarist Bob Dayfield. The idea had been germinating for some time in acoustic duos/trios and former band associations. Original drummer Geoff Bates sadly passed away at the beginning of 2012 after a long fight with cancer. The core of the band remains Bob Dayfield on guitars & vocals, Bob is also the bands main songwriter, Nick Hough on guitars & vocals and Alan Shotter who is the bands lead vocalist, bass player and harp man. For the 'electric' shows the band have Flipdog on bass guitar and vocals, Slim Williams has now joined the band on drums/percussion, and Gordon Taylor occasionally drums with the electric line up.

Formed in 1987 from local Leicester musicians to perform as the backing band for 'Laurel Aitken' aka, 'The Godfather Ska' on many UK & European tours from 1990 - 2002.

Today, 'The Pressure Tenants' have reformed to pay homage to their former mentor and leader and to carry on the legacy and foundations that he shared and laid down for so many fans through his music, bringing back the sounds that could be heard in front rooms in many West Indian households from days gone by.

Wildfire Sessions presents a special night of spoken word, blues, garage, grunge and acoustic rock with a strong New Model Army connection. Heading the line up is the bluesy groove rock of Blackballed, playing a rare gig and featuring Marshall Gill, NMA's lead guitarist. The acclaimed Joolz Denby provides the spoken word - a member of the band's off-shoot project Red Sky Coven and the designer of their artwork. The up-and-coming Bradford based garage rock band Monster Jaw feature Mik Davis who has been mentored by NMA, whilst Stevie Jones completes the line up with the acoustic rock of the Wildfires, a life long fan who supported Justin and Dean from NMA at the Musician in 2011.

Be Gabriel is the one man Peter Gabriel tribute show featuring Genesis tribute band The Carpet Crawlers frontman Brian Cummins. This is Brian's first venture in this format and with a small euro tour including this date promises to open a few eyes. Taking material from all of Gabriel's solo albums, Brian will perform all the well known chart hits in his usual passionate and dynamic style showcasing his stunning resemblance to Gabriel's voice, and stripped back to an acoustic format. Expect some surprises too.

It's as thin as the edge of a razor, the road separating Heaven from Hell, sin from salvation, redemption from despair. It's a lonely road to go down and like the old gospel says, you've got to walk it for yourself. Kelly Joe Phelps has been doing lot of soul searching since his last record, 'Western Bell' came out in 2009. Three years later, his journey wound its way to a recording studio in Vancouver, and Kelly Joe has once again beaten a path to Steve Dawson's door with a new batch of songs tucked into his satchel that reflect both the new insights gained along the journey as well as things that have been dropped by the wayside. The result is 'Brother Sinner and the Whale', a record that may very well come to be recognized as the best of an already very impressive body of work.

"Kelly Joe Phelps plays, sings, and writes the blues. HOLD UP before you lock that in - forget about songs in a twelve bar three chord progression with a two line repeat and answer rhyme structure - though he can certainly do that when he wants to. I'm talking about a feeling, a smoky, lonesome, painful - yet somehow comforting groove that lets you know that you are not alone - even when you're blue. Play on brother." - Steve Earle

Kathryn Williams' artful and soulful compositions and sweet sound have got the critics falling over each other to heap praise on her. She is more than just a folk singer/songwriter, producing music that possesses great depth and multiple dimensions, and which addresses both the everyday and the surreal and abstract.


Kathryn's new album "Crown Electric" will be released by Caw Records/One Little Indian in the last quarter of 2013. It will be her 10th studio album.

Jim White's critically acclaimed debut album, The Mysterious Tale of How I Shouted Wrong-Eyed Jesus, tapped into the zeitgeist of what would soon blossom into the lo-fi Americana movement. "Back then (1997) there was maybe twenty of us doing it - Wilco and 16 Horsepower, of course Lucinda and Steve Earle and The Jayhawks. Now, hell, there's a million lonesome geniuses out there, each one singing their heart out sadder than the next." Jim White is known primarily for both his genre bending records like his 2001 break out album 'No Such Place' and 2007's 'Transnormal Skiperoo', as well as his award winning BBC documentary film 'Searching For The Wrong Eyed Jesus'.

From 1977's Pink Flag to the band's most recent album, 'Change Becomes Us', legendary art-combo Wire have created a unique body of work. Subverting genres, Colin Newman, Graham Lewis, Robert Grey and Matthew Simms continue to work on new material, regularly confounding expectations.

Wire employ their unique, endlessly restless and risk-taking creativity to question every aspect of songwriting, recording and performance. They delight and disturb in equal measure, troubleshooting the circuitry of perfect pop, or patrolling the limits of focused experimentalism.

In terms of working together as Wire, the group's members disbanded in 1980, reformed in 1985, disbanded in 1992 and reformed for the second time in 2000. Such sabbaticals from their career as Wire have served to sharpen the group's edge and focus, updating the tactics with which they pursue this shared project.

As vital to European culture as The Velvet Underground were to the USA, Stereolab ploughed a twenty year course cruising the Krautrock underground whilst successfully surfing the Britpop overground with a series of perfectly misplaced melodica. Following their self-imposed hiatus in 2009, French born lead Laetitia Sadier has positioned herself as the chanteuse of the Avant-garde, initially with solo project/band Monade, followed by two albums of various musical sparks; 2010's 'The Trip', and 2012's 'Silencio'. Whilst less experimental than her previous musical charges, both albums were, in some respects, reminiscent of Stereolab's craft of bringing uncommercial and commercial threads together; in others, an illustration of an artist liberated from the creative tensions of this successful union.


Since David Tattersall (guitar) and Franic Rozycki (bass) began recording together in a village called Wymeswold in the late nineties, with the addition of drummer Jonny ''Huddersfield'' Helm, The Wave Pictures have gone on to record a dozen or so albums, numerous singles and eps and have been involved in a heap more collaborative efforts.

Their music speaks for itself with the band effortlessly blending skiffle-y pop, folksie ballads, surf and garage. Back in Wymeswold in the early days, the band cut their teeth on Jonathon Richmond covers, the influence is apparent throughout their career.

Regularly performing and recording with likeminded musicians and friends, most notably Darran Hayman, Herman Dune, Jon Darnielle and Jeffrey Lewis, The Wave Pictures have never been keen to rest on their laurels.

"The Wave Pictures are currently conjuring the most gleeful, magnificent pop in town." - The Guardian

Maggie is a London-Irish singer and flute player with a highly impressive catalogue of live and recorded work, including 'Patriot Games' film title track and collaborations with The Chieftains, Bert Jansch, Steve Tilston, Incantation, Rambert Dance Company and John Renbourn. "Maggie has a spell-binding, intoxicating quality in her voice which is extremely distinctive - must be the Irish in her.....a rare thing in today's music world." - Bert Jansch

Paul Downes, guitarist par excellence, cut his teeth performing with The Arizona Smoke Review and Downes & Beer. "...an evening that left the audience feeling that the world was a lot better than when they came in" - Pete Arnold, Jurassic Folk

The new album "Won't You Come Away" has garnered brilliant reviews, including 4-star responses from Uncut & R2 Rock 'n' Reel.

"Deep-rooted, hearty folk song…. divinely pure voice" - Uncut ****

"... authoritatively considered, with the abundant expressive sincerity which distinguishes Maggie's performances….central to the texture is the unflinchingly expert guitar of Paul Downes" - fRoots

Guns Vs Roses are the UK's premier Guns N' Roses tribute featuring professional and committed musicians who do an astonishingly precise job of recreating the classic Guns N' Roses sound and look using authentic equipment and costumes. Time and time again, venues and fans have advised that they do a scarily convincing imitation of the real thing, capturing the raw, volatile and aggressive sound that Guns N Roses launched in the late 1980's with their debut album Appetite for Destruction! Guns Vs Roses promise to provide a fantastic stage show with an explosive music and vocal combination, the closest to the real thing that you will get!

Chart topping Botown are a multicultural Soul band that reboot Bollywood classics with a shot of late '60 Soul and Funk. It's an exciting culture-clash musical experience that takes you on a musical trip from Memphis to Mumbai. Imagine a legendary '60's Soul band playing Bollywood music – that's Botown!

"If you like Bollwood or '60's Soul, you will LOVE Botown" – The Times

"Botown have achieved the near impossible in making a completely foreign (in more ways than one) genre of music totally accessible to anybody willing to give it a go." – Glasswerk National

Stevie and Alan Nimmo, as The Nimmo Brothers, from Glasgow, Scotland have proved themselves to be one of the most respected exponents of modern blues the UK has seen since the blues boom of the 1960's. Firstly in the guise of The Blackwater Blues Band with their debut album 'Breaking out the Blues' showcasing an incredible energy and talent in ones so young; Alan was just 19 at the time!

With nearly 20 years performing together and five successful CD releases behind them since then, Stevie and Alan Nimmo, The Nimmo Brothers, are back to their roots with their latest CD, 'Brother to Brother'. Arguably they have written their best songs to date, influenced by "everything we've ever listened to over the past 20 years".

Acclaimed music producer Ethan Johns performs tracks from his debut album 'If Not Now Then When', released earlier this year.

Winner of the 2012 Brit award for Best Producer, Johns has worked with a string of big names, from Kings of Leon to Laura Marling, Ryan Adams to Rufus Wainwright. In producing this record the roles were reversed, with many of Johns' collaborative partners and musical friends lending their ears to his first solo project. Their influence on Johns' music is as audible as his is on theirs, and makes for a fascinating combination of rock, folk and blues sounds.

Amy Speace has been quietly but steadily making waves in the Americana/folk world for a few years now, and along the journey, gaining support from the likes of Judy Collins, Nanci Griffith, Guy Clark and other icons in the songwriting community.

Her sophomore effort, Songs For Bright Street, was released in 2006, with the album's 13 tracks earning favorable comparisons to GRAMMY winners such as Sheryl Crow, Alison Krauss and Gretchen Wilson. Speace followed with 2009's The Killer In Me and 2011's Land Like A Bird.

Amy recorded her latest album 'How To Sleep In A Stormy Boat' in Nashville with producer Neilson Hubbard. Featuring 11 songs, the album reflects themes of lost love throughout, drawing inspiration from the classic works of William Shakespeare.

An evening of Damian Wilson songs, including material never performed live before, played by the people who were at the heart of the original recordings.

Damian Wilson is a singer-songwriter widely known for his contribution to the progressive rock and metal genre as lead singer for bands such as Threshold, Headspace and Landmarq. He has recorded four solo albums, released a live DVD set and a double disc 'best of' compilation.

As a well respected and highly sought after guest vocalist he has worked on projects with Ayreon, Star One and Gary Hughes. Damian has also worked with Rick Wakeman's English Rock Ensemble, Guy Fletcher, Aina, After Forever, Mostly Autumn and Praying Mantis. He is currently front man for Headspace, Threshold and the Maiden uniteD project.

He played the lead role of Jean Valjean in Les Misérables on their UK National Tour and has been voted 'Best Vocalist' several times at the Classic Rock Society UK annual awards.

The Paradimes formed in 2011 by members of ska band El pussycat, The Specials and former members of Reggae band Stiff Naked Fools. The band play all original songs, with skanking one drop rhythms, gospel vocal harmonies and killer brass lines Studio One style. Heavily influenced by old skool legends, Toots and the Maytals, Bob Marley and Prince Buster.

Hell's Addiction deliver classic no-bullshit rock 'n' roll in a style that draws comparison with the likes of AC/DC, Guns N' Roses and Mötley Crüe.

Expect powerful live perfomances, gritty vocals, screaming Marshall stacks, thundering bass and powerhouse drumming.

Crowd-pleasers like 'Let The Good Times Roll', 'Feels like Rock 'n Roll' and the debut single 'Alcohol' will leave you under no illusion as to where the band's passions lie.

"Hell's Addiction have packed a rock n roll punch so forceful that it will leave you wondering which decade you're in." - Home Grown Rock

Terry Reid, or Superlungs as he's affectionately known, is without doubt one of the greatest rock/soul voices this country has ever produced or is indeed likely to.

The legend is of turning down the front man's job with Led Zeppelin, recommending his mate Robert Plant instead, a similar offer and rebuff to Deep Purple, of Aretha Franklin's statement that The Beatles, Rolling Stones and Terry Reid were the best England had to offer in 1968, of two World Tours with The Rolling Stones, US tours with Cream and UK tours with Jethro Tull and Fleetwood Mac.

All true, but the full story includes numerous collaborations with Graham Nash, covers of Reid songs by Marianne Faithfull, The Hollies, The Raconteurs, film soundtracks and a catalogue of 6 studio albums, including the seminal album 'The River' plus much more besides. Don't miss this chance to see a true Musician's Musician and a legend to boot.

Scotland - A highland realm of mystery, wonder, and epic battles from an ancient time, shrouded by magical mists. A time of dragons and wizards, and enchanted weapons. These are the legends of the Kingdom of Fife, when the great hero Angus McFife waged an epic war against the evil wizard Zargothrax, to free the people of Dundee in the name of glory and steel. These are the legends of GLORYHAMMER!

The 'Heroic Fantasy Power Metal' band GLORYHAMMER is the new project formed by Christopher Bowes, the mastermind behind pirate-metal sensation ALESTORM, with a desire to explore the more symphonic and epic side of metal. The band's debut concept album 'TALES FROM THE KINGDOM OF FIFE', released in March 2013, is telling a story based in an alternate-history medieval Scotland, where magic and dark sorcery reigns supreme. GLORYHAMMER is a band like no other... PREPARE FOR EPIC BATTLES!