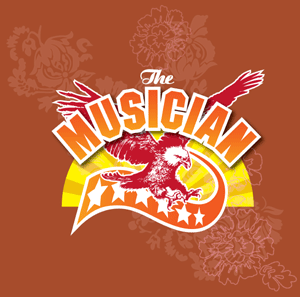 Should need to print a copy of this months listings, you can download a copy of our regular flyer by clicking the PDF icon.
---
These days artists and bands tend to book their tours months in advance. In order to give you the best notice of up and coming shows we list events once they have been confirmed by the band or their management
The downside of this is that dates can change due to unforeseen circumstances, sometimes at very short notice. We do our best to ensure that this site is kept as up to date as is possible, with updates happening at least once a week.
Therefore to avoid disappointment we recommend that you check these listing prior to setting out for your show especially if you are traveling any distance.
---
The quickest way to get yourself included in our listings is to send an email to musician at mohawkvisuals.com once your gig is confirmed.
We also need you to do the following -
Put the name of the artist or band name along with the date of your show in the email subject line.
Attach a reasonable sized photograph. A 72dpi, jpeg, bigger than 200x200 pixels would be fine. Please don't email files over 1mb in size. If in doubt please drop us a line before sending. Let us have your web address so we can link to your site or Myspace page.
Send us some text. Whilst we are happy to tidy up spelling or grammar, we don't have the time to write or edit copy for you. Ideally we need a nice concise 'blurb' of between 75-100 words. Please don't send a three page biography, or else we are likely to bounce it back to you. If you have a selection of press quotes send what you have as we can usually easily compile something from them. There are plenty of examples of the sort of thing we need here on the site to help you out.
Please note - If you have played at The Musician before and we have text on file, we will continue to use use it for any subsequent listings unless you supply new copy.
If you spot any errors please send an email topaul at mohawkvisuals.com.

Coming to The Musician in September

www.kingsize-ska.com
Kingsize play foot-stompin', house rocking Kingsized arrangements of the finest original Jamaican ska sounds. Their style draws heavily on the classic Studio One song catalogue and traditional big band sounds of '60s ska.

www.paullamb.com
Hailed as Europe's foremost blues harmonica exponent, Paul Lamb has won countless awards, sold record-breaking quantities of albums and performed the world over with his long-standing musical compatriots The Kingsnakes. "Better than the opposition from whatever side of the Atlantic they come." - Blueprint. "They play blues in the same way Brando used to straddle a Triumph. Lazily, cocksure and coolly aggressive." - Blues & Rhythm.


Austin singer-songwriter Sam Baker is taking the Americana music world by storm right now. His two albums have garnered a ton of attention and you can bet your boots this guy's gonna be the next Guy Clark. Those are mighty big words but that's exactly what's happening right now. It's nice to see because it's only once in a blue moon that a musician this gifted comes along and he's also a great person. Get on board you won't be sorry.

Wed 8
Outsider Promotions presents…
Monotonix
£12adv
plus support

www.myspace.com/monotonix
"The stories of the lyrics are brilliantly, blusey and carry the flavour of something different. Monotonix have taken a template and beaten it into their own image without mercy." - Kerrang Magazine. "Monotonix packs so much pure simian power that its legendarily wild performances can compress all cosmic meaning into the moment at hand. Somehow, they've managed to capture it here, in focus and in hi-def no less. It's an impossibly vibrant capture of the most virile rock and roll band in the universe." - Flagpole Magazine.


www.dieselparkwest.com
A rare solo performance from the lead singer and lyricist of Diesel Park West. Expect many highlights from the back catalogue of this increasingly well regarded singer and songwriter, along with spiritual wit, dark humour and tales of the real music business. "Butlers songs have the unmistakeable sound of greatness about them." - Q.

www.stray-the-band.co.uk
Del Bromham's Stray are a power trio that mix scintillating lead guitar with melodic anthems such as "All in Your Mind" which has been covered by Iron Maiden. Back in the '70s Stray were one of the hardest gigging and consistently excellent live acts on the circuit. With fiery guitarist Del Bromham still at the top of his game, the new Stray line-up consisting of Del, Stuart Uren and Karl Randall is setting new standards for one of Britain's most enduring rock bands.

For tickets and more info visit - www.cheeseweasel.org


Outsider Promotions presents...
Sky Larkin
£7
plus support
www.myspace.com/skylarkinskylarkin


This Leeds trio have spent the past two years honing their craft, and everyone has upped their game, thanks to a touring schedule that the sturdiest of bands would balk at. Doug Adams is playing more instruments, Nestor Matthews continues to break cymbals and invent new grimaces, and Katie is playing harder than ever. Too hard, on occasion: during the recording of Spooktacular, she almost passed out.


Tue 14
Magic Teapot presents…
Diane Cluck
£6.50adv £8adv
plus Anders Griffen, Peter Wyeth, Wig Smith
www.myspace.com/dianecluck
Diane Cluck is the queen of the NYC anti-folk movement. She spent her childhood playing outside, making things with her hands, playing with food, reading, playing piano and singing. Now that she's thirty-one, she does a lot fo these same things though she plays no more piano now- it's been mostly guitar for the past six years. She's been writing songs and sharing them with people. The songs come out of a desire to free herself from fear and sadness. The journey continues and her goal is to be a devotional singer making songs of pure love.

For tickets visit - www.magicteapot.partgirl.co.uk






Wed 15
Derrin Nauendorf & Carus Thompson
£7adv £8door
www.derrinnauendorf.com

www.myspace.com/carusthompson
Derrin Nauendorf - Renowned for his intense live shows and raw emotive music, Derrin Nauendorf's music is hard to categorise,made up from many roots styles, blues, folk and Americana. Untamed acoustic guitar, cutting lyrics, a powerful, evocative voice and honest songs, delivered with passion, but twisted to a unique sound. "First impressions? One Australian guy with an acoustic guitar and his mate with a homemade drum kit. What would you think? Me too. I then listened to this live album and Derrin, guitar, sidekick and drums proceeded to blow me away." – David Blue, Net Rhythms.

Carus Thompson - Australian Carus Thompson has built a hard won reputation as a gifted songwriter who never holds back, delivering his songs with an energy, intensity and passion that confirms that although it's an acoustic guitar that he plays – he's definitely no wilted, navel-gazing "look at his shoes and softly hum" strummer! The strength of Thompson's solo performance has seen open for the likes of Dave Mathews, Damien Rice, The John Butler Trio, Jack Johnson, The Waifs, Seth Lakeman and Pete Murray. In the UK his two national tours with good mate, Seth Lakeman have gained him the most attention and helped him to break out of the ex-pat audience circuit that most other Australian artists in the UK can never quite shake.


Thu 16
Section 25
£7adv £8door
plus Kevin Hewick

www.section25.com
Powerful, mesmerising and expressive. Perhaps the most maverick and enigmatic of the bands that were part of the now legendary Factory Records roster. Section 25 were formed in Poulton-le Fylde, Lancashire in 1977 by brothers Larry and Vin Cassidy. Their classic Northern Sound defines punk and electro in one. Having worked with Ian Curtis, Martin Hammett and Bernard Sumner on four Factory Albums they now continue to record for LTM. They pre-dated ambient, chillout and massive beats by a decade. Their explorations of hypnotic basslines, thrusting motorik drums and rusty colliding slabs of melody and feedback produce a truly unique and zen like sound.


Motherlode
£5
plus Reborn
Featuring members of Forgotten Sun and De Sade, Motherlode are making their debut on the Leicester music scene. Fronted by brothers Ben & Liam Sargent (vocals & guitar) and a backline of Forgotten Sun's powerhouse drummer Luke Morley and De Sade's bass extraordinaire Jay Green, Motherlode promise an evening of loud, good-time classic rock!

For tickets and more info visit - www.cheeseweasel.org


www.myspace.com/rosiedoonan
www.myspace.com/garystewartband
www.myspace.com/rozism
www.myspace.com/stevierigsby
Rosie Doonan appeared at Leicesters' BIg Session in 2007 and this will be a welcome return to the city for her. Raised in Yorkshire, within a family of musicians, dancers and performers, her influences are a heady brew and range from the music of the sixties e.g the Stones, Free and Joni Mitchel to the more recent Damien Rice and Portishead. "Moving On", her first solo album, gained really good reviews and she has a new album out soon. Joined by sometime band mate and stunning performer in his own right, Gary Stewart, this will be a top acoustic gig showcasing two of Yorkshires great songwriting talents.

Celebrated singer-songwriter Steve Tilston is winning as much praise for his superb guitar playing as his songwriting and vocal style. Born in Liverpool, Steve has been ploughing his own artistic furrow since the early '70s. As a guitarist he has toured with Ballet Rambert, Ship of Fools, John Renbourn and more recently WAZ! As a songwriter his best known songs include The Slip, Jigs & Reels, The Naked Highwayman and Here's To Tom Paine and have been recorded by Fairport Convention, Dolores Keane, The House Band and Bob Fox. "...that very rare combination of singer, songwriter and guitarist who actually excels in all departments..." - Folk Roots.




Sun 26
The ZZ Tops
£7
plus Midlife Crisis
www.thezztops.com
"You guys were unbelievable!" - Walter Trout. "They were great! Just like the real thing" - Mick Taylor (Rolling Stones). "The closest I've seen!" - Billy Gibbons – ZZ Top.

free
Leicester Rocks follows on from the successful Weekend Warrior training programme run by local musical troubador Dan Britton and his band of musical helpers. Designed to target those musicians who have allowed time and their instruments to slip into the background as life,work and families have taken priority - Leicester Rocks is there to help with getting back into the music scene - running a regular mentored rehearsal programme at Quad studios, Dan and Simon Gilroy will arrange a series of organised gigs at a variety of local venues. This evening will showcase three acts with a wide variety of performance, who have joined Leicester Rocks in late 2009 and are already up there and doing it live. Come along to Leicester Rocks and you may want to sign yourself up.

www.andyirvine.com
Andy Irvine has been at the core of many of the great Irish traditional groups, from the groundbreaking Sweeney's Men to the classic Planxty and more recently in Patrick Street. He has also had an extensive solo career and collaborated with Dick Gaughan, Paul Brady, Davy Spillane and others.