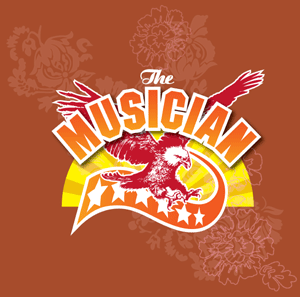 Download a flyer
Should need to print a copy of this months listings, you can download a copy of our regular flyer by clicking the PDF icon.
---

A word about our listings
A guide for Customers
These days artists and bands tend to book their tours months in advance. In order to give you the best notice of up and coming shows we list events once they have been confirmed by the band or their management. The downside of this is that dates can change due to unforeseen circumstances, sometimes at very short notice.

We do our best to ensure that this site is kept as up to date as is possible, with updates happening at least once a week. Therefore to avoid disappointment we recommend that you check these listing prior to setting out for your show especially if you are traveling any distance.

---

Not listed?
A guide for Artists and Promoters

The quickest way to get yourself included in our listings is to send an email to musician at mohawkvisuals.com once your gig is confirmed.

We also need you to do the following -

Put the name of the artist or band name along with the date of your show in the email subject line.

Attach a reasonable sized photograph. A 72dpi, jpeg, bigger than 200x200 pixels would be fine. Please don't email files over 1mb in size. If in doubt please drop us a line before sending.

Let us have your web address so we can link to your site or Myspace page.

Send us some text. Whilst we are happy to tidy up spelling or grammar, we don't have the time to write or edit copy for you. Ideally we need a nice concise 'blurb' of between 75-100 words. Please don't send a three page biography, or else we are likely to bounce it back to you. If you have a selection of press quotes send what you have as we can usually easily compile something from them. There are plenty of examples of the sort of thing we need here on the site to help you out.

Please note - If you have played at The Musician before and we have text on file, we will continue to use use it for any subsequent listings unless you supply new copy.

If you spot any errors please send an email to musician at mohawkvisuals.com.

Coming to The Musician in September
LISTINGS HOME

Tiny Tin Lady
£6adv £8door
plus Greg Cave & The Village Hall Band
www.myspace.com/tinytinlady
Together since February 2004, Tiny Tin Lady have become one of the fastest rising bands on the UK acoustic scene, winning acclaim everywhere for their unique and bewitching blend of brilliant, original songs, thrilling harmonies and devastating performances. Bandleader, songwriter and guitarist Danni Gibbins is being acclaimed as one of the most promising and original new writers of her generation. "They're Brilliant. They have talent, charm and loads of chutzpah." - Dave Pegg, Fairport Convention.

The Hot Seats
£10adv £12door
plus The Dust Poets
www.thehotseats.net
www.dustpoets.com
"Bluegrass, old-time, skiffle, jug band … stir them up vigorously, throwing in elements of zany vaudeville , add some unpredictable tics, then stand back and watch The Hot Seats go." - The Scotsman. "Previously known as Special Ed & The Shortbus this group of acoustic musicians from Richmond, Virginia play a type of music that has been described as acoustic mayhem - a good thing, in this case. The group is a stylistic mixed bag, incorporating elements of vaudeville, jug-band music, bluegrass, old-time string-band music - and, naturally, various Eastern European musical traditions. It's careening, high-energy entertainment that is off the rails - but expertly performed." - Winston-Salem Journal.


Sam Baker
£8adv £10door
plus Mark Wynn and Edwina Hayes
www.sambakermusic.com
Austin singer-songwriter Sam Baker is taking the Americana music world by storm right now. His two albums have garnered a ton of attention and you can bet your boots this guy's gonna be the next Guy Clark. Those are mighty big words but that's exactly what's happening right now. It's nice to see because it's only once in a blue moon that a musician this gifted comes along and he's also a great person. Get on board you won't be sorry.


Outsider Promotions presents…
The Bitter Pills
£5adv £7 door
plus The Carnabys and Raptor Captor


Carus Thompson
£5
plus support
www.carus.com.au
Australian Carus Thompson has built a hard won reputation as a gifted songwriter who never holds back, delivering his songs with an energy, intensity and passion that confirms that although it's an acoustic guitar that he plays – he's definitely no wilted, navel-gazing "look at his shoes and softly hum" strummer! The strength of Thompson's solo performance has seen open for the likes of Dave Mathews, Damien Rice, The John Butler Trio, Jack Johnson, The Waifs, Seth Lakeman and Pete Murray. In the UK his two national tours with good mate, Seth Lakeman have gained him the most attention and helped him to break out of the ex-pat audience circuit that most other Australian artists in the UK can never quite shake.


Magic Teapot presents…
Richmond Fontaine
£12.50adv
plus Peter Bruntnell
www.myspace.com/richmondfontaine
From the great Pacific Northwest - Portland, Oregon to be exact - come Richmond Fontaine. Dark, bleak portrayals of characters and the lives they lead, the lyrics often reflect a deeply sad and hidden side of a person's thoughts. Backing up the lyrics, and adding an even darker tone to the setting, the music's cross of country moods and rock 'n roll blood is all Richmond Fontaine need to have you feeling empathy for the characters they paint. Gather around a drink while you listen to them because you'll need the comfort. Easily slipping from one sad story to the next, Richmond Fontaine have no problems telling the sad tales of life with heart and style.

visit Magic Teapot for info and tickets





Greenbird Promotions presents...
John Tams & Barry Coope
£10
plus Andy Whittle
www.johntams.co.uk
John and Barry are a unique collaboration. Tams was recently described in MOJO magazine as 'one of the giants of folk.' Coope is a member of celebrated acappella group Coope Boyes and Simpson. John has won six BBC Folk Awards, including Folk Singer of the Year and two Album of the Year Awards. Together John Tams and Barry Coope bring experience, innovation and tradition to their humorous and captivating performances. In 2008 John and Barry won the prestigious Duo of the Year trophy at the BBC Radio 2 Folk Awards.

visit www.greenbirdpromotions.com for info and tickets

Martin Harley Band
£6adv
plus Madison Violet
www.martinharley.com
www.madisonviolet.com
Martin Harley's live following have long been aware of his spellbinding ability with a weissenborn, a wah pedal and a trick bag of licks that would give Ry Cooder a run for his money. Fusing inspired blues, jazz and rock into their sound, this hard-touring trio are revealing themselves as shining talents in the British acoustic scene. Harley himself brings formidable guitar skills to the table - especially some expressive slide - and his smoky but soulful voice provides the perfect expression for these laid back and highly contagious songs.


Jeff & Vida
£8adv £10door
plus The Carrivick Sisters
www.jeffandvida.com
www.myspace.com/thecarrivicksisters
In the wake of the New Orleans disaster Jeff and Vida relocated to Nashville to perform their barnstorming tunes for edumacated bar owls who favor the pre-Toby Keith era. Like fellow Nashville fringe artists Todd Snider and Gillian Welch, J&V make music with a wellspring of Opry context, but none of the schmaltz. Equally adept at true-life ballads and rowdy mandolin and banjo romps, this harmonizing duo offer up the kind of meat-and-potatoes country and bluegrass that The Musician loves. Their latest LP "Loaded" is beefed up with rockabilly and country and western dishes, all served with a heaping helping of Vida's gravel-loaded holler.


The Duke & The King (Felice Brothers)
£8adv £10door
plus Pacific Ocean Fire and Badland Revival
www.myspace.com/dukeandtheking
The Duke & The King a.k.a Simone Felice (The Felice Brothers) and Robert 'Chicken' Burke are the two roving charlatans from The Adventures Of Huckleberry Finn, (which Simone read for the thirteenth time as Robert scratched out his signature vocal harmonies by the woodstove), a couple of classic American grifters whose lay was to masquerade as European royalty, put on bad accents, find a bandstand, dress up like Romeo and Juliet, stage on an obscene parody and skip town after the first act, ultimately getting them tarred and feathered. And so the name is a reminder, a sort of scarlet letter they'll happily paint over their hearts to help them keep it honest, the music, the poetry.


Sam Carter
£5adv £6door
plus Matt Woosey
www.myspace.com/samjohncarter
"This guy can make his guitar talk and sing along with him. I had real problems choosing which tracks to play on the station because they are, and I'm not kiding you, exceptional. I've listened to many many artists as you can probably imagine, but you don't get honesty and openness come through very often (I don't pick those ones!), it's hard to explain but there is no bs about this guy. What you see is what you get. I like his style, I love his lyrics and he is an exceptional musician." - Folk Radio UK


T Model Ford
£10adv
plus support
www.fatpossum.com
T-Model was born in Scott County, Mississippi. He thinks he's eighty-five but isn't sure. He was sentenced to ten years on a chain-gang for murder, but was released after serving two. He says, grinning, "I could really fight back then. I was a-sure-enough-dangerous man." On a typical night it's not unusual for T-Model and his drummer Spam to play eight hours straight, once their primal, post-war, Peavey-powered hill stomp gets rolling.


Xander Promotions presents…
The Move
£10adv £12door
plus Andy Bennett (Ocean Colour Scene) and Lee Burn
www.themoveonline.com
www.myspace.com/elementsuk
No group sums up both the gaudy thrills and the creative tensions inherent in late '60s pop more magnificently than The Move. They were radio-friendly rock 'n' rollers with progressive ambition; sharp suited ruffians who lost their heads to flower power and who had a revolving door policy towards bassists and lead singers that had even managers and agents confused, let alone the millions who gawped with eye-popping delight each time the band appeared on Top Of The Pops.

visit www.xanderpromotions.co.uk for info and tickets


Americana UK presents…
Electric Dustbowl 2
£10door
The Redlands Palomino Company, Two Fingers of Firewater, Emily Barker, The Hi and Lo and The Rosellys
www.electricdustbowl.com
www.americana-uk.com
After a hugely successful outing in 2008 The Electric Dustbowl makes a welcome return to The Musician. Barnstorming headliners The Redlands Palomino Company ("Exceptional" – Bob Harris) are supported by classic country rock from Maverick Festival stars Two Fingers Of Firewater, a rare solo visit by Emily Barker, who recently provided the theme tune to BBC1's Wallander, plus rising stars of the alt.country scene from Leicester & Nottingham. Doors 7.30pm, first band 7.35pm


Open Stage Charity special


Kelly Joe Phelps
£10adv
plus Lucy Ann Sale
www.kellyjoephelps.net
Commonly regarded as a purveyor of acoustic guitar based delta blues songs, Kelly Joe Phelps has always been an explorer of sonic possibilities. Driven by a head full of ideas and influence and hands ever eager to create he has produced records that have always been difficult to classify or pigeon hole. Whether it be the blistering slide guitar works of his early career or 2007's gem 'Tunesmith Retrofit' Phelps has looked to challenge the confinements of the genre. On his latest release 'Western Bell' Phelps revisits and explores his early love for '60s free jazz.


Greg Gent
£3
plus support

Please note that Mark Morriss is cancellled to be rescheduled for 2010

Magic Teapot presents…
Chuck Prophet
£12.50adv
plus Otis Gibbs
www.chuckprophet.com
Chuck Prophet's genius lies in assimilating a wide variety of genres into his essentially Stonesy architecture ahead of the standard curve. From the seminal '80s alt-country shimmer of Green on Red to his incredibly diverse solo sonic quilt - early Americana rocker/mid-period electronic folkie/latter-day style hybridist - Prophet has engagingly exemplified his surname. Originality is not easy in the derivative rock world but Chuck Prophet has blazed genre trails for over two decades with no signs of running out of inspiration or desire.

visit Magic Teapot for info and tickets


Roy Bailey with David Ferrard
£10
www.roybailey.net
www.davidferrard.com
One the Folk World's finest voices, Roy Bailey has been performing for more than 40 years both in the UK and abroad. He has sung in folk clubs, in arts centres and in front of huge festival audiences at Sidmouth International Festival, Vancouver Folk Festival, the National Festival in Australia and many, many more. His warmth and humour create a unique atmosphere of humanity and comradeship and as Billy Bragg once said of him, "(Roy's voice is) as powerful and moving as anything I'd heard by The Clash"

David Ferrard is an award-winning Scottish American singer, songwriter, and folk musician. Roy Bailey has championed David's songs, recording two on his latest album. Described as 'a one-man transatlantic session' by The Sunday Herald, David's latest album (Across The Troubled Wave) has received 5 & 4 star reviews in the UK press (Maverick, Rock n' Reel, The Scotsman). David has taken the UK folk scene by storm, quickly establishing himself as a favourite at festivals and clubs alike.


Magic Teapot presents…
Camera Obscura
£10
plus support
www.myspace.com/cameraobscuraband
Glasgow's Camera Obscura have been making music for a decade, carried through the ups and downs of various line-up changes and the tender pain of daily life by the sweetly sad voice of Tracyanne Campbell. The band has had several line-up changes since founder members Tracyanne Campbell and Gavin Dunbar first began rehearsing together back in 1996. Since the amicable departure of Nigel Baillie (percussionist, trumpeter and proud daddy) in 2008, who still pops up onstage occasionally, they have existed as a five-piece.


The Dave Johnson Festival in aid of LOROS
Donation. 3pm till 1am
feat. Hewick, Haynes & Jaynes, The Punkettes, Shapeshifter, Phillip Middleton, Maxine & Paula, Philip the Poet, Kenny Willson, Endgame, The Nevous Wrecks, Rodger Pugh, Jon The Singer, Red Stripe, Victoria Bourne & Chris Harper,Multimorph, Dave & Nikki.


Juliet Turner and Friends
£8adv £10 door
www.julietturner.com
Juliet Turner's songs are personal snapshots that reflect on the hard, bitter truths of life and are suffused with an air of sadness and regret that chime perfectly with the melancholy edge to her voice, Her tase for life's sweet and salty moments has evolved, so her palette of sound has rumbled onwards as well, and her appreciation for life's minor chords has grown. Her live shows should be experienced. She is a quiet, relaxed performer with a wicked sense of humour. Her voice is unusually clear and sweet and her between song anecdotes are amusing, eccentric and off-the-cuff. Prepare to be drawn in and bowled over.


Magic Teapot presents…
Bellini
£7adv
plus support
www.myspace.com/bellini
Bellini is a rhythmic, tight, beautifully aggressive quartet consisting of Agostino Tilotta, his wife Giovanna Cacciola (both also of Italy's famed Uzeda), bassist Matthew Taylor (the Romulans) and drummer Alexis Fleisig (Girls Against Boys, Soulside). Though retaining some of the basic elements of their former selves, Bellini are more focused, more structured and more rhythmic than ever before. They embody the true spirit of perseverance and punk rock, making uncompromising, honest music strictly for the brutal love of it.

visit Magic Teapot for info and tickets


Deadstring Brothers
£8adv £10door
plus Two Fingers Of Firewater
www.myspace.com/deadstringbrothers
www.myspace.com/twofingersoffirewater
It may be surprising to hear Americana coming from Detroit, a city known for Iggy Pop, Motown and The MC5. But frustration and regret have always been present in great country music and from its bombed-out inner city to its sterile suburbs, Detroit has its share too. Not unlike Exile-era Stones, the band delivers a sound that draws on the melancholy of country and the abandon of rock and blues. Their songs are rooted in the storytelling traditions of Hank Williams and Johnny Cash, whilst their melodies reveal the influence of The Band and Gram Parsons.