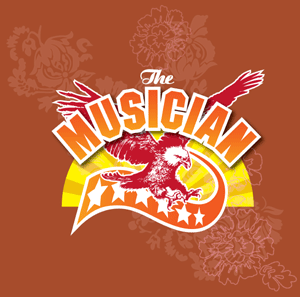 Should need to print a copy of this months listings, you can download a copy of our regular flyer by clicking the PDF icon.
---
These days artists and bands tend to book their tours months in advance. In order to give you the best notice of up and coming shows we list events once they have been confirmed by the band or their management
The downside of this is that dates can change due to unforeseen circumstances, sometimes at very short notice. We do our best to ensure that this site is kept as up to date as is possible, with updates happening at least once a week.
Therefore to avoid disappointment we recommend that you check these listing prior to setting out for your show especially if you are traveling any distance.
---
Not listed?
A guide for Artists and Promoters
The quickest way to get yourself included in our listings is to send an email to rideout at stayfree.co.uk once your gig is confirmed.
We also need you to do the following -
Put the name of the artist or band name along with the date of your show in the email subject line.
Attach a reasonable sized photograph. A 72dpi, jpeg, bigger than 200x200 pixels would be fine. Please don't email files over 1mb in size. If in doubt please drop us a line before sending. Let us have your web address so we can link to your site or Myspace page.
Send us some text. Whilst we are happy to tidy up spelling or grammar, we don't have the time to write or edit copy for you. Ideally we need a nice concise 'blurb' of between 75-100 words. Please don't send a three page biography, or else we are likely to bounce it back to you. If you have a selection of press quotes send what you have as we can usually easily compile something from them. There are plenty of examples of the sort of thing we need here on the site to help you out.
Please note - If you have played at The Musician before and we have text on file, we will continue to use use it for any subsequent listings unless you supply new copy.
If you spot any errors please send an email to derek at indiecentral.co.uk.
Coming to The Musician in October

Alun Parry is a Liverpool folk singer and songwriter with something to say about the world. His tagline "If John Lennon were a folk singer and Tony Benn wrote his lyrics" sums up his style to a tee. Having started his musical career as an award winning busker, he has played support to artists such as Billy Bragg, Leon Rosselson, David Rovics, and Chumbawamba – as well as folk legend Roy Bailey who counts himself as a fan.

Concessionary tickets apply to those under 18, out of work, or over 65 and are available from the venue only!

Making Steampunk music that's not shit since 2008. Featuring members of Creaming Jesus and Lords of the New Church along with an occult comedian.

Old school punk rock. Like, REALLY old school. Genuine 100% actual Londoners, The Men That Will Not Be Blamed For Nothing come from a past which probably never happened via a present they didn't want. Less steampunk and more "SteamPUNK", the British four piece mix Anarchy and Anachrony in equal measure. Expect a robot Sid Vicious covering Slayer in an 1877 East End Music Hall: a murky mix of Doctor Who, Doctor Watson and Doctored History. Not for the faint hearted or those of a delicate disposition.

After a great show last autumn folk legend Steve Tilston makes a welcome return to the Musician. Steve needs no introduction to folk fans, having been at the forefront of the scene for forty years. He finally got a Folk Award last year, sharing Best Original Song for "The Reckoning. He's also written the contemporary classics "The Slipjigs and Reels", "Here's to Tom Paine" and "The Naked Highwayman" as well as being an outstanding guitarist. Steve will be performing with Keith Warmington on harmonica and Stuart Gordon on fiddle.

The source of Arthur Brown's music lies beyond both the spiritual and the material. His first album The Crazy World of Arthur Brown was his theatrical statement of this. It, and the single Fire! - which came from it - were both a hit on the two sides of the Atlantic.

He is a performance artist who also became a rock icon - wearing the same kind of inspired costumes now espoused by Lady Gaga. His influence was felt through his theatrical musical style, his theatrical presentation, his dancing, and his ability to sing in a castrati style if he chose.

His voice has been described as "one of the most beautiful voices in rock music" and his presentation is second to none! Recently he won Classic Rock's Showman of the Year Award.


David Bowie; a living legend for his timeless music and incarnations as Ziggy Stardust, The Thin White Duke and so on. Hear the songs and experience the theatre recreated live onstage through the personae of Paul Henderson and Aladdinsane, the greatest David Bowie tribute in the UK and beyond!

In the words of gig goers across the UK, "Paul's vocals and theatrical movements reflect Bowie's with disturbing accuracy". Whether portraying the 70's era Ziggy Stardust, the Thin White Duke or Bowie's 80's/90's songs in this totally live show, many who have seen this performance simply called it "spot on".

If we listed all the four and five star reviews Michael Weston King's My Darling Clementine project has received we'd need the whole page, so instead we've let The Guardian sum it up: "A finely crafted homage to the classic country duos such as Johnny Cash and June Carter, or George Jones and Tammy Wynette. All the songs are written by King and partner Lou Dalgleish and sound like lost classics."

In support Mr. Plow will be purveying his Cash-style songs of death, despair and doom (plus a bit of honky-tonking).

Discovered by Peter Gabriel no less - Brooklyn-by way of Ohio-native native Joseph Arthur's brooding, pensive style is kind of Cohen and Waits meets Beck with beats. The tunes are generally slow to mid-tempo, built from simple chord progressions and driven by a powerful, versatile voice that blends bits of Jagger, Dylan, Bowie, and Stipe. His lyrics tend to be blunt vignettes about the struggles of love and faith.

For every song Arthur has released in a critically acclaimed, Grammy-nominated career that has spanned nine full-length albums and 11 EPs, he's probably kept three others in the vault for safekeeping. It was amid this abundance of riches that he began molding his latest acclaimed collection of music under a single narrative thread: The Ballad of Boogie Christ, described by Arthur as "a fictionalized character loosely based on my own journey."

Brilleaux are a high-energy, hard driving, British-style rhythm and blues band from New Zealand in the style of bands such as Dr Feelgood, Wilko Johnson, and Nine Below Zero, and in a similar vein to earlier exponents of the genre such as The Yardbirds, Early Rolling Stones, and Johnny Kid and the Pirates.

A typical set by Brilleaux consists of a mixture of British R&B Classics and exciting original material that these masters of Rhythm and Blues have been performing at festivals around the country since 1999. Always a highly energetic show, stack the chairs, and clear the dancefloor - welcome to the Brilleaux Show - maximum R&B!


Geno Washington is the UK's very own, resident Godfather of Soul, and Rhythm & Blues. A legend on the 1960's live circuit, a contemporary of Paul Jones, Georgie Fame and Alexis Corner - who has had Pink Floyd and Jimi Hendrix as HIS support bands!

Yo Yo Blues! is a brand new show for life's ups and downs - Geno's recession busting, up-tempo, house rockin', R&B band features members of the legendary Ram Jam Band who join him for a blistering set of Street Soul, Rock 'n' Roll and down and dirty Blues.

"Unforgettable, one of the world's great entertainers" - Fringe review, Glasgow Herald

Tonight will also feature a specal guest DJ set from venue favourite djook, who will be spinning a selection of 60s vinyl soul.

Well known Yes tribute band Fragile make their first visit to The Musician with Claire Hammil (who has worked with Alan White, Steve Howe and Jon Anderson) on lead vocals. The band have been joined on stage by Steve Howe at many concerts in the past, and in the opinion of many diehard fans, the closest you can get to the real thing. The band includes keyboard wizard Max Hunt who has collaborated with ex-Marillion frontman Fish, Jon Anderson and Steve Grant's Barockestra amongst others, and with Yes touring the UK next May, this will be a perfect precursor to hearing the classic Yes songs performed by the prog legends themselves.

The unique three man tribute to rock music's best known Texan boogie band are back to "Tear the house down!" in 2012, bringing a tour with more Tone, Taste and Tenacity than ever before. Complete with their real beards, the crazy guitars, the moves and over two hours of hot-rodded rock 'n' roll! All eras of ZZ Top are included in the same show, in two very individual sets.

The ZZ Tops pack the classics like 'Gimee All Your Lovin', Sharp Dressed Man, Legs, Tush, La Grange, Rough Boy and many more into a 2 hour plus rock extravaganza and throw in a few surprises for hardcore (and not so hardcore) fans to savour!

www.facebook.com/jawsjawsjawsjaws

Spector is a four-piece indie rock band from London, composed of Frederick Macpherson (vocalist previously of Les Incompétents and Ox.Eagle.Lion.Man), Thomas Shickle (bass), Jed Cullen (synth, guitar) and Danny Blandy (drums). The band's debut album Enjoy It While It Lasts reached number 12 in the UK Albums Chart and went to number one on the Official Record Store Chart on the week of its release.

The group's musical output has been compared to a variety of artists by areas of the media, with The Guardian describing them as "somewhere between Roxy Music and the Strokes, The Killers and Kanye West, Pulp and Frank Sinatra", and NME delineating them as "reminiscent of The Walkmen mainlined into The Killers' chugga-train drive."

Ever since bulldozing his way onto the scene with unforgettable tracks like 'Cuddly Toy' and 'Family Man' in the late 80s, Andrew Roachford's maverick take on music has spread far and wide. As the first artist to sign a staggering seven-album deal with Columbia Records, it heralded the beginning of something big. "Getting signed and being a black British artist gave me a sense of pride" enthuses Andrew. Andrew was Columbia's biggest selling domestic act for over ten years. As if any more proof were needed, the fact that Andrew Roachford has been approached by such luminaries as Michael Jackson and Chaka Khan to write songs, speaks volumes.

With harmonies like Crosby, Stills and Nash, playing as good as you'll hear and a feisty stage presence, ahab have taken the UK by storm, selling out venus wherever they play and getting rave reviews from everybody from Bob Harris ("blistering live – alt-country edge and sheer class") to the Telegraph ("their songs really buzz"). This is going to be a really popular show so get your tickets early!

Support comes from The Black Feathers who blend English folk influences, ome Irish heritage, and large splash of Americana inspiration, and hold it all together with close bluegrass harmonies.

Ian Siegal's live performances are captivating, whether fronting his band or sitting on a stool with an old resonator guitar. "The man is a star. Period" is how one reviewer described Siegal, after an appearance at London's Jazz Café.

Ian Siegal has played major festivals in Europe including the North Sea Jazz Festival where he shared the main stage with Robert Cray, Jamie Cullum and Joss Stone.

Contemporary Album Of The Year Blues Music Awards Nominee 2012
Male Vocalist Of The Year British Blues Awards 2011
Band Of The Year British Blues Awards 2010
MOJO Blues Album Of The Year 2009




Slim Chance, the band Ronnie Lane formed when he left the Faces, are treading the boards again. Original members Steve Simpson, Charlie Hart, Steve Bingham, Alun Davies and Colin Davey have established a reputation around the country as a top quality band playing Ronnie's songs with passion and commitment.

The aim is to create a show which celebrates the range of Ronnie's later music: to take this show to people in village halls and clubs, festivals and theatres at home and abroad; and eventually, joined by numerous friends, to resurrect the Passing Show itself.

"The Slim Chance class of 2012 captures the wandering minstrel spirit of a man who rejected the trappings of celebrity to tour with his own circus." - Jon Griffin, Birmingham Mail

Dizzy Lizzy are the most dynamic rock n roll concept, experience in their field on the circuit today. Able to recite 70s Irish Rocker hero's 'Thin Lizzy' brilliance with an uncanny ease. Having played as far a field as Los Angeles to Dubai. Providing themselves with a genuine insight into their toppermost Worldwide status in terms of overall presentation, performance and delivery.

"These guys are the closest to playing my son's music" - Phillomena Lynott

UK based but hailing from Bridgetown, Western Australia, Emily Barker is a Bafta and Ivor Novello award winning singer-songwriter, who with her band The Red Clay Halo blends classical, rock, country and folk influences to stunning effect. Having released three critically acclaimed albums, played a string of sold-out UK dates, performed with Frank Turner at the London 2012 Olympics Opening Ceremony and written the award winning themes to hit BBC dramas Wallander and The Shadow Line, her compelling new album 'Dear River' is a major landmark that will surely take Emily to a whole new level.

chickenheadlounge.wordpress.com

The Chickenhead Lounge once again brings you 3 top live countryfied acts.

We have for the very first time topping the bill, a western swing trio, 'The Rip Roaring Success' featuring Wild Lucy Williams on double bass, the inimitable Nicole J. Terry on smokin' hot fiddle and the token gent, the one and only Russ Williams on six strings of flamin' geetar and hillbilly vox. Local alt country legends 'The Notorious Dawson Brothers' bring us their take on country and americana, these guys are the real deal. Last but not least, your hosts 'The OCR' will open the night and showcase some new songs from their forthcoming second album.

www.fortytenthpromotions.co.uk

The fiery and inventive sound of Manchester based alternative-folk quartet 4Square was conceived back in 2006. Since then, not only has 4Square's music matured into one of the most unique and distinctive sounds on the British folk music scene today; they have also shared stages with the likes of Steve Winwood, Joe Brown, Fairport Convention, Richard Thompson and Seth Lakeman.

"4Square…who are they?" were the words on the lips of festival-goers before Fairport's 2009 Cropredy Convention took place. Despite this, after an astounding 80 minute set and encore before an audience of 20,000 people, 4Square then went on to sell every last copy of their debut album, 20.20 Manchester, becoming The Cropredy Convention's 2nd biggest selling band of all time!

Expect infectiously energetic instrumentals, mellow three part vocal harmony songs....and spectacular clog dancing!

Having made a statement of intent with their stunning all original debut album The Radium, power trio Virgil and the Accelerators followed up with a series of high profile shows supporting legends such as Michael Schenker, Uriah Heep, Johnny Winter and Wilko Johnson. VATA are now establishing themselves as one of the UK's premier exponents of high energy blues rock. April 2013 saw the release of 'Live From Marshall' a spectacular DVD capture of their stunning live sold out show at the holy grail of sound 'Marshall Amplification'. The band are led by insanely talented guitar prodigy Virgil McMahon, with his brother Gabriel on drums and Jack Timmins on bass. A great combination that packs a real punch.

Armed with only a modicum of musical ability, a self-deprecating sense of humour and no apparent fear of public humiliation, John Otway has had a career spanning over 20 years. A consummate and highly popular entertainer, these days, he is better known for his comic attempts to scale the heights of superstardom than his actual success.

Boxstock 5 sees the UK's annual cigar box festival going back to its roots, with a relaxed one day event with a workshop or two, some demos and trade stands, plus a kick ass gig to finish it off. This year the festival is hosted by the Musician, and the evening show welcomes back the most entertaining of entertainers, Vinylhed, the twangtastic King Size Slim, and for the first time on UK soil from the USA, the inspiring Justin Johnson!

The daytime event also includes open mic sessions and is free entry, with evening gig tickets priced at just £10.

Formed in the early '80s by ex-Dictators guitarist Scott Kempner, the Del Lords combined elements of '60s garage rock with country, blues, and folk influences to become one of the initial progenitors of roots rock.

"We didn't start with any agenda, other than to make a great record," Scott Kempner says of the Del-Lords' unexpected return to action following a two-decade layoff, which has yielded Elvis Club, the band's first new album since 1990.

Elvis Club finds the New York-bred foursome pretty much picking up where they left off, embodying the same musical swagger and true-believer passion that originally made them one of America's most compelling rock 'n' roll bands, while adding a new sense of experience and perspective that lends new depth to Kempner's personally-charged songwriting and the band's infectiously gritty urban garage-roots-rock.

Emma Gillespie, better known by her stage name Emma's Imagination, is a Scottish singer. She first came to prominence after winning the SKY1 TV talent contest 'Must Be The Music'. She has since been signed to Gary Barlow's music label Future Records.

From the beautiful to the bizarre, Emma's songs give the listener a momentary window into her vivid imagination. A raw love and passion for music, now tempered by years of travel, introspection and musical experimentation have resulted in an incredible collection of songs, finally coming to life.


Autumn 2012 saw the beginning of a new project for guitar legend Gordon Giltrap and keyboardist Oliver Wakeman and has resulted in a Brand New album "Raven's & Lullabies" out now on Cherry Red.

Featuring a variety of guitars and keyboards, which are their tools in trade, The October 2013 tour will continue the success of their first public performances and showcase a selection of pieces from the album as well as new arrangements of classic material from both of their retrospective careers.

Gordon says "This project will see a return to my "Prog Rock" roots, and the prospect of working with a man considered by many to be one of the best in the business truly excites me! " Oliver adds, "After working with YES, the chance of working with another legendary guitarist was an opportunity too good to miss. I am having a wonderfully productive time working with Gordon and feel we are creating something genuinely unique in our 'Raven's & Lullabies' project. So, with their collective histories and talents to draw inspiration from, be prepared for an evening of beautiful compositions, wit and charm from these two virtuosos.

After bursting onto the folk scene 3 years ago, The Young 'Uns have become one of the most popular, entertaining and sought after live acts today. With bags of charm, talent, and an abiding enthusiasm for traditional song, Sean Cooney, David Eagle and Michael Hughes bring freshness and dynamism to their arrangements of close harmony songs, both with and without accompaniment. Think Coope, Boyes and Simpson with attitude!

David Gibb and Elly Lucas are former Young Folk Award finalists and are rapidly making a name for themselves with both their own songs and their original takes on traditional material.