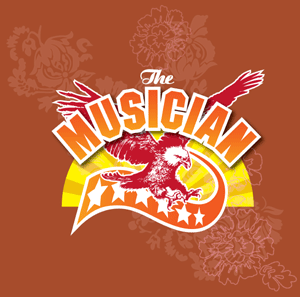 Download a flyer
Should need to print a copy of this months listings, you can download a copy of our regular flyer by clicking the PDF icon.
---

A word about our listings
A guide for Customers
These days artists and bands tend to book their tours months in advance. In order to give you the best notice of up and coming shows we list events once they have been confirmed by the band or their management. The downside of this is that dates can change due to unforeseen circumstances, sometimes at very short notice.

We do our best to ensure that this site is kept as up to date as is possible, with updates happening at least once a week. Therefore to avoid disappointment we recommend that you check these listing prior to setting out for your show especially if you are traveling any distance.

---

Not listed?
A guide for Artists and Promoters

The quickest way to get yourself included in our listings is to send an email to musician at mohawkvisuals.com once your gig is confirmed.

We also need you to do the following -

Put the name of the artist or band name along with the date of your show in the email subject line.

Attach a reasonable sized photograph. A 72dpi, jpeg, bigger than 200x200 pixels would be fine. Please don't email files over 1mb in size. If in doubt please drop us a line before sending.

Let us have your web address so we can link to your site or Myspace page.

Send us some text. Whilst we are happy to tidy up spelling or grammar, we don't have the time to write or edit copy for you. Ideally we need a nice concise 'blurb' of between 75-100 words. Please don't send a three page biography, or else we are likely to bounce it back to you. If you have a selection of press quotes send what you have as we can usually easily compile something from them. There are plenty of examples of the sort of thing we need here on the site to help you out.

Please note - If you have played at The Musician before and we have text on file, we will continue to use use it for any subsequent listings unless you supply new copy.

If you spot any errors please send an email to musician at mohawkvisuals.com.

Coming to The Musician in October
LISTINGS HOME

Lazy Sunday presents…
John Otway & Wild Willy Barrett
£10adv £12door
www.johnotway.com
www.musiczoo.co.uk
John Otway is a witty and insightful songwriter and is only now beginning to achieve the recognition he has always deserved. As a duo Otway and Barrett are best known for their somewhat bizarre two-man rock numbers, with Otway's vocals fronting Barrett's heavy guitar. The secret to their enduring charm? No formula, no identifiable musical genre, just superb songs plucked from the head of the astonishing Otway and given wings by Barrett's musical arrangements.


Sherman Robertson Band
£10adv £12door
www.movinmusic.co.uk
Sherman Robertson is a master of hard-swinging Texas electric blues. Robertson often surprises audiences with his ability to play with a rock edge. "I use that driving, zydeco groove and put blues on top of it," says Robertson. In June 2000, Robertson played at the Pioneer Valley Blues Festival. Alligator records president, Bruce Iglauer, was in the crowd. "When I saw him he was on fire. He ruled the stage and reminded me of Albert Collins. As soon as he walked of the stage I started talking about signing him. He's got that Texas energy, great guitar chops and is a wonderful, soulful singer."


Pierce Pettis & Brian Houston
£10
www.brianhouston.com
www.piercepettis.com

Pierce Pettis
"Pettis offers sustenance for mind and spirit, packaged in an amiable, easily digestible musical form." - Dirty Linen. "Pierce Pettis doesn't write mere songs, he writes literature. End to end the songwriting is brilliant. His writing just gets better all the time and his singing is marvelous, wry and warm." - Sing Out!

Brian Houston
"I have seen Houston play the muted, thoughtful folk musician and I have seen him revelling in the role of a brash rock star sometimes on the same night. But whichever Brian Houston pitches up, one thing remains constant and that is the beauty of the music. His songs hark back to James Taylor in his absolute prime but coloured by a philosophy that says, never take yourself too seriously, for too long." – Maverick Magazine.




Agnostic Mountain Gospel Choir
£7adv £9door
plus support
www.theagnostics.com
"The Agnostic Mountain Gospel Choir – neither a choir nor mountain men – are a Canadian quartet occupying similar roots-revivalist territory to American acts like The Boggs and Old Crow Medicine Show, attempting to disinter the dark country-blues spirit mined by the likes of Charley Patton, Robert Johnson and Son House. Their own material exhibits a similar kind of natural blues feel to Tom Waits. At best their songs are a whooping celebration of life that sounds as old as the hills and as deep and dark as the muddy Mississippi." - Andy Gill, The Independent


Geoff Achison & The Soul Diggers
£6adv
plus Tony Alles
www.geoffachison.com
"With his high octane live gigs and rootsy albums this Australian blues guitarist has built up quite a following in Britain."– The Times. "Geoff drops in technical features one after the other yet in a timely fashion that is a treat to watch." – Blueprint. "Achison gets the true believers with a gruff, suitably soulful voice, and lets everybody else in with his winking wit." – Creative Loafing. "Possibly one of the most gifted musicians to arrive on the blues scene..." – The Times.


Kristyna Myles
£5
plus Kafka Diva
www.kristynamyles.com
"I was 'discovered' busking on Manchester's Market Street by the MEN newspaper, entered BBC 5 Live 'Busk Idol' competition and won with my guitarist Ben Williams. Since then I've had some awesome opportunities - singing my song entitled My Lord on BBC1's Songs of Praise show, recording at Abbey Road Studios, performing across Europe with Chris de Burgh and supporting Mick Hucknall on his tour. Currently I'm recording my latest songs to put on my debut to be released in the near future."




Chris Jagger's Atacha!
£8adv £10door
www.chrisjaggersatcha.com
Founded in 1994, Chris Jagger's Atcha! are now hotter than ever and are one of very few UK bands that can handle cajun, R&B, zydeco, blues and country in an authentic and original fashion. Chris is backed by a band of great musicians. Charlie Hart brings to the band feel and experience gained from his time in Ronnie Lane's Slim Chance. Like Charlie, drummer Malcolm Mortimore has been in the band from the beginning. The line up is completed by guitar prodigy Jim Mortimore and bass player Paul Emile. Strong original material is complemented by covers ranging from Zydeco grooves to rock classics from the likes of Johnny Allen, The Meters and Chuck Berry.

Teitur
£7adv £8door
plus The Kirkland Turn and John Budding
www.teitur.com
www.myspace.com/thekirklandturn
Add Teitur (pronounced TIE-tor) to the growing list of Nordic artists who are finding their way into the brains, hearts and iPods of Western listeners. A native of the rugged Faroe Islands, which has its own language and a tradition of fierce individualism, Teitur emerged on the pop scene five years ago with his superb debut, "Poetry & Aeroplanes." His latest, "The Singer," features 11 deceptively simple songs with ever-surprising arrangements and Teitur's singular voice, which always seems on the edge of crying.


Steve Gibbons Band
£8adv £10door
www.stevegibbonsband.com
If you appreciate really hard, loud rock and roll Steve Gibbons is still your man. A guy who's kept his faith through thick and thin. Having reached his commercial peak in '78 when Tulane reached the Top 10, Steve is still rockin' as hard today. It's hard to define his approach, it's not country, nor blues, nor soul. He builds things consistently throughout his set, reaching high points that are all the more effective and satisfying for that. Virtually every other band on the planet could learn a lesson from his approach. His group specialises in slow burn rather flash fire and can put a pitbull sized bite onto a groove like say, Little Feat, The Meters or going back even further, The Coasters.


Greenbird Promotions presents…
Jim Moray
£10 (£8 NUS)
plus Lucy Ward
www.jimmoray.co.uk
At the age of 21 Jim Moray was described as "the greatest leap forward in folk for 30 years." His debut album, Sweet England, won the Album Of the Year award at the BBC Radio 2 Folk Awards in 2004 and his latest work, Low Culture, was fRoots magazine's Album Of the Year and Mojo magazine Folk Album Of the Year for 2008, as well as gaining another Folk Award for his interpretation of Andy Partridge's (XTC) All You Pretty Girls. He brings all the musical resources of the 21st century – electronics, loops and the like – and applies them to classic traditional songs. The result is folk music for our times and his infrequent solo performances are not to be missed.

visit www.greenbirdpromotions.com for info and tickets


Lisa O'Kane
£6adv £7door
plus Naomi Summers
www.lisaokane.com
www.myspace.com/naomisommers
This California based country singer-songwriter came to international fame in 2002 and since then has sold-out tours of Germany, Holland, Spain and the UK. O'Kane has been featured in every major country music publication in Europe and has been hailed as a roots music diva by Mojo magazine. "Reminiscent of Emmylou Harris, though not without sass and swing of her own. She jumps easily from rockin' up-tempo numbers to mirthful bluegrass and easy folk." - Nashville Scene.


Daevid Allen and The Magick Brothers
£10
plus support
www.myspace.com/daevidallen77
Daevid Allen was one of the founders of the British progressive rock band the Soft Machine. After recording just one album with the group, he became the founder/leader of Gong, which he left in 1973 to begin a solo career. Allen explored his quirky, folky take on rock throughout the '70s and '80s. In 2003 he formed a new version of Gong with members of the Japanese collective Acid Mothers Temple, as well as with his California-based band University of Errors. He continues to release numerous live sets and one-off collaborations in under his own and various group names.






Joel Owen & The Antoine Band and David Wyatt
£5
plus Steve Faulkner and Ol's Moore
www.myspace.com/joelowenmusic
www.myspace.com/davidwyattmusic
www.myspace.com/lewisgarland

Three years on from the release of his first album, Joel Owen has returned, accompanied by his band, 'The Antoine Band'. Tonight will be Joel's first full band performance in Leicester since Summer Sundae and will be the first opportunity to get hold of the new album, 'Love and Music'.



Monkey Love In
Donation, 2pm - 10pm.
Fundraiser for Monkey World feat. Andy Griffiths, Kansas City Faggots reunion, Howard Smith & The Razors, When Cousins Marry, Chris Conway, Dead Rock Stars, Kev Reverb and others.


Magic Teapot presents…
Tommy Reilly
£7adv
plus Silent Devices and One Cure For Man
www.myspace.com/tommyreillymusic
www.myspace.com/onecureforman
Tommy Reilly grew up in Torrance, a small town outside Glasgow and started taking piano lessons and writing tunes before he was ten. In his early teens he saw Oasis at T In The Park and it blew his mind. The next day a mate lent him a copy of (What's The Story?) Morning Glory and he pinched his dad's old acoustic guitar. "I decided to learn how to play all the songs on that album. I had a few guitar lessons but mainly I would just lock myself up in my room and sit up all night practising. I did that for a long time."

visit Magic Teapot for info and tickets


Andy White
£6adv £8door
plus Lewis Garland & The Kett Rebellion and Refuge
www.andywhite.com
Andy White is a poet and powerbook-toting troubadour, who grew up in Belfast, surrounded by Irish beauty and terrorist violence. His father is a political writer and his grandmother was a piano player. Music and lyricism run in the family. "I grew up hearing folk music dividing people into one side or the other. I wanted to write a new folk music. Uniting our traditions with the rock music we loved and the new political future we hoped for. I started off writing poems and then picked up an acoustic guitar when I heard John Lennon sing 'Give Peace A Chance'. Put them both together, that's all."


Magic Teapot presents…
Benjamin Taylor
plus support
£9adv
www.bentaylormusic.com
"The son of James Taylor and Carly Simon, Benjamin Taylor's memorable melodies, immaculate acoustic guitar playing and insightful, honest lyrics demand your attention with ten songs that come straight from the heart in his third, full-length album. In The Legend of Kung Folk, Part 1 (The Killing Bite), Taylor puts the "kick" back into folk music to reveal the humour, wit and skill of a singer-songwriter who's comfortable in both his own skin and with his impressive musical legacy."- News Guardian

visit Magic Teapot for info and tickets


Cheeseweasel & Lay-z-boi presents…
SANE Charity Festival
Donation. 1pm - 1am
Raptor Captor, Black Fingers, Smokin' The Profit, The Gutter Bravados, SugarSnatch, The Carnabys, David Wyatt, Megadub, Banjo Dez, D.J.'s Blues Bar, The Keepsakes, Dave Letts, and Jake Manning

visit www.layzboimusic.com or
www.cheeseweasel.org for info

Oxjam Takeover: Leicester Oxjam Music Festival
£5adv £6door. 3pm - 12 midnight
feat. Markus Reeves, Grace Petrie, Chris Armson, Split Whiskers, Great Imitation, Echolocation, The Junipers, Purple and the Rains, Mr. Plow.

200+ Artists, 10 Venues, 1day, 1 Wristband, All Day Sunday! The OXJAM TAKEOVER is a one day all day event across 10 venues in Leicester. Whatever your style, whatever your taste there is something here for you!

Tickets available from The Musician, Rockaboom,Turkey Café and wegottickets




Glen Matlock
£10adv £12door
plus support
www.glenmatlock.com
Glen Matlock needs little introduction and is most famous for been the original Sex Pistols bassist who was responsible for most of the music for the bands songs. Matlock then left the band in 1977, but continued to work with Johnny Rotten on the bands later material and was credited as a co-author on 10 of the 12 songs on Never Mind the Bollocks. Matlock went on to form the The Rich Kids with Midge Ure and has since played bass on Iggys 'Soldier' album as well as The Damneds 'Not of This Earth' album. Matlock has since rejoined the Sex Pistols for their recent reunion tours.


Fred Eaglesmith
£8adv
plus Kerri Powers and Mark Wynn
www.fredeaglesmith.com
www.kerripowers.com
Debuting in the mid-'90s, Canada's Fred Eaglesmith was equal parts country and rock 'n' roll. His scratchy vocals spun tales of moonshiners and big cars. His rural escapades caught the ears of both Americana and "hollering" enthusiasts. His newest record Tinderbox finds him continuing down a path still strewn with an assortment of unsavory characters and stellar songwriting.


Catfish Keith
£8adv £10door
plus The Ragtime Jug Orchestra
www.catfishkeith.com
Blues singer, songwriter and bottleneck slide guitarist Catfish Keith has established himself as one of the most exciting country blues performers of our time. Catfish's innovative style of foot-stomping, deep delta blues and American roots music has spellbound audiences the world over. A two-time W. C. Handy Award nominee and a 2008 inductee into the Blues Hall Of Fame, Catfish has eleven number one independent radio chart-topping albums to his credit, and packs houses all over the world with his dynamic stage show.



Ian McNabb
£10
plus Dan Britton and Stevie Jones & Mark Gill
www.myspace.com/ianmcnabbtheicicleworks
Ian McNabb is known both for his work as leader and songwriter-in-chief of the Icicle Works in the 1980s, and his critically-acclaimed solo career throughout from the early 1990s to date. He has also played with musicians as diverse as Ringo Starr, Crazy Horse, Mike Scott (of The Waterboys), and Danny Thompson of folk legends Pentangle. A new studio album 'Great Things' is due out in 2010.


Mick Pini
£10
www.mickpini.com
As well as touring Europe with B.B. King and supporting such blues greats as Buddy Guy, Freddie King and Jimmy Rogers, Mick Pini has earned himself a strong following in Europe and the UK. Eric Clapton described him in 1996 as "the legitimate successor to Peter Green'". However, Mick is living legend in his own right ... the genuine article. His authentic voice and outstanding guitar work personifies the blues in an inimitable way. Mick has toured the world for thirty years and he lives, breathes, plays and sings the blues with genuine passion. Even his 1954 Fender Stratocaster smokes!