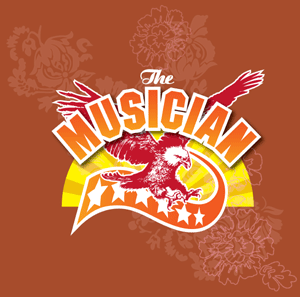 Should need to print a copy of this months listings, you can download a copy of our regular flyer by clicking the PDF icon.
---
These days artists and bands tend to book their tours months in advance. In order to give you the best notice of up and coming shows we list events once they have been confirmed by the band or their management
The downside of this is that dates can change due to unforeseen circumstances, sometimes at very short notice. We do our best to ensure that this site is kept as up to date as is possible, with updates happening at least once a week.
Therefore to avoid disappointment we recommend that you check these listing prior to setting out for your show especially if you are traveling any distance.
---
Not listed?
A guide for Artists and Promoters
The quickest way to get yourself included in our listings is to send an email to rideout at stayfree.co.uk once your gig is confirmed.
We also need you to do the following -
Put the name of the artist or band name along with the date of your show in the email subject line.
Attach a reasonable sized photograph. A 72dpi, jpeg, bigger than 200x200 pixels would be fine. Please don't email files over 1mb in size. If in doubt please drop us a line before sending. Let us have your web address so we can link to your site or Myspace page.
Send us some text. Whilst we are happy to tidy up spelling or grammar, we don't have the time to write or edit copy for you. Ideally we need a nice concise 'blurb' of between 75-100 words. Please don't send a three page biography, or else we are likely to bounce it back to you. If you have a selection of press quotes send what you have as we can usually easily compile something from them. There are plenty of examples of the sort of thing we need here on the site to help you out.
Please note - If you have played at The Musician before and we have text on file, we will continue to use use it for any subsequent listings unless you supply new copy.
If you spot any errors please send an email to derek at indiecentral.co.uk.
Coming to The Musician in November

Formal Warning are a pop/alternative rock band from Leicester consisting of 5 young people with the passion and ambition for creating catchy pop and rock music. The current line-up formed in 2012 and are all family members in one way or another.

Amongst their achievements, the band have supported "Scouting For Girls", released their debut album "Out Of Our Minds Into Your Ears" and have twice been featured on the BBC Radio show 'The Beat'.

China Crisis whose distinctive AOR-fuelled pop songs charted in the 80s when they spent a total of 92 weeks in the charts. Who said the Eighties were all bad? China Crisis, for instance, were largely considered one of the better musical things about that much-maligned decade.

They formed in 1979 in Kirkby on Merseyside, with a core band of vocalist/keyboardist Garry Daly and guitarist Eddie Lundon. The band was signed to Virgin Records and recorded their debut album, Difficult Shapes & Passive Rhythms: Some People Think It's Fun To Entertain, which was released in December 1982.

A re-release of 'African & White' became China Crisis' first hit in the UK, reaching number 45 in the UK Singles Chart. When the follow-up single, 'Christian' made UK number 12 in early 1983, this brought them to national prominence along with 'Wishful Thinking'. The band toured Europe and USA during the late eighties and performed in front of crowds as large as 87,000 in Germany.

American Blues singer, songwriter and bottleneck slide guitarist Catfish Keith has established himself as one of the most exciting country blues performers of our time. Catfish's innovative style of foot-stomping, deep delta blues and american roots music has spellbound audiences the world over. A two-time W.C. Handy award nominee for best acoustic blues album, and an inductee into the blues hall of fame, Catfish has twelve no.1 independent radio chart-topping albums to his credit.

The voice of Faroe Islander Teitur Lassen has the ability to warm the coldest of hearts. His lyrics, gloriously tender at times, nicely twisted at others, create vivid, romantic worlds - of girls in dancing dresses; hitchhikers and cowboys; and boys endlessly, hopelessly, falling in love.

Teitur's 2009 album The Singer garnered five-star reviews in The Guardian ('deep, viscous stuff that is never less than extraordinary') and The Independent ('a rare beast'), while The Sunday Times praised the singer-songwriter's 'wonderfully idiosyncratic talent'. The A review in The Independent of his album 'All My Mistakes' claimed "there's more than enough evidence here to bear out Teitur's assertion, in the title-track, that "all my mistakes have become masterpieces"."

There are no half measures with Dick Gaughan. What you see is what you get and what you get is one of the cornerstones of modern traditional music. Dick Gaughan has never been easy. The songs he delivers ask questions that some listeners may have thought never existed - so they may not know the answers. When the answers duly come, delivered in a voice that throbs with a unique kind of controlled, vibrating passion, he can shake the most complacent mindset out of its skull.

2013 marks Fred Zeppelin's twentieth year together and the four members of the band are true Zeppelin fans, forming 'The Freds' out of their admiration and love of Led Zeppelin's music. As their name suggests, they do not take themselves too seriously. They know the praise belongs to Robert, Jimmy, John Paul and Bonzo, but they aim to do justice to the music and they certainly achieve that.




It's a marriage made in heaven - fine Americana music and great world whisky. So why not enjoy them together? TRIBE is a whisky and music festival that combines the best of both. We'll be pouring exciting and rare whiskies from across the world not just from Scotland but from Australia, New Zealand, South Africa, America, Canada, Ireland, Holland, Taiwan and India. Join us early evening for the whisky fest and the first of four acts (Paul McClure), or slightly later just for the great bands.

Also Eden are a rock band who take their inspiration from a wide variety of artists, including many that have been categorised over the years as "progressive" - Genesis, Yes, Marillion, IQ, Radiohead, Porcupine Tree, The Flower Kings and so on - along with other influences as diverse as Ultravox, The Police and Cream. Focused always on strong songwriting, the band constantly evolves its sound, and the luxury of its own studio enables the organic development of albums such as the "hugely ambitious" (Geoff Barton, Classic Rock) and widely acclaimed 2011 release on F2 Records, 'Think Of The Children'.

They make a welcome return to The Musician after a storming appearance at Danfest2 last year and a great support set to The Watch back in March. The Room make their first visit to Leicester with their brand of prog delivered in a more straight forward manner, easy on the ear too. A night not to be missed.

Chris Wood is an uncompromising writer whose music reveals his love for the un-official history of the English speaking people. With gentle intelligence he weaves the tradition with his own contemporary parables. His writing has been said to share the same timeless quality as Richard Thompson at his best. He's has twelve Folk Award nominations and won six and his new album "None The Wiser", released earlier this year, looks set to continue that streak.

The Raven make their second visit to Leicester after supporting Ray Cooper earlier this year. Their dark and haunting take on traditional folk has been steadily winning them a large audience.

David Ford is a British singer-songwriter, currently living in Eastbourne, East Sussex. He first achieved prominence with the indie rock group Easyworld, who released an independent mini-album, '…Better Ways to Self Destruct' and two full-length albums on Jive Records before disbanding in 2004. Ford branched into a solo career soon after, and has become known both for the sheer passion he puts into his songs, but also for being a master at the layered/looping effect he brings to many of his songs. He now has a large following having released two albums and toured extensively in the UK and US.

Vicki Genfan and Sally Barker met during the 2001 'Women on Stage' tour of Germany and have been firm friends ever since. Genfan, the first woman to win Guitar Player magazine's Guitar Superstar Competition, is a dazzling instrumentalist, with a high-energy stage presence, who plays and writes with her distinctive percussive 'slap-tap' acoustic guitar technique. Sally Barker, who was personally asked to open for Bob Dylan on his 1990 German tour, has the ability to lift the words off the page and can move people to tears armed with that 'bucket-full of soul' voice.

Both Vicki and Sally draw their inspiration from folk, jazz, pop, soul and world music and a mutual respect of each other's talents has prompted them to tour together again. Each will perform their own show, supported by the other when called upon, and then combine their talents with a stunning set of vituosity to bring the evening to a stupendous climax!

"If I could play like Vicki, I'd stay home and entertain myself." - Steve Vai

"Her enormous vocal range and stupendous control can relax or rouse at will – she coaxes her voice from that of a mild modern English rose to raw throated blues." - a review of Sally at the Edinburgh Fringe Festival

Roxy Magic are the UK's best and longest-running tribute to Roxy Music and Bryan Ferry. We recreate, entirely live, material which spans four decades; from futurist/nostalgic art rock, through classic standards to sophisticated adult-oriented rock. Our aim is to give the audience a fabulously entertaining evening. Very high quality musicianship and a wonderful Bryan Ferry look and sound-alike, in the person of singer Kevin Hackett, combine to do just that.

Formed in 2008 and originally starting as a 4-piece with live keyboards, Hypermused found themselves as a 3-piece in 2009 and never looked back.

"The doubters said it couldn't be done... they said it was too complicated to replicate their sounds... you'll never pull it off..."

Well this is one of the most determined and professional bands on the circuit today. Putting years of individual skill to good use, Hypermused have achieved one of the best replicated sounds of any tribute out there. Come and see what Muse sounded like in small venues and experience the unbelievable atmosphere that their music creates in a more intimate setting!




John Smith is the guitar man from Devon who has quietly become one of the most exciting voices on the new British folk scene. Touring relentlessly as headliner and support act, he has opened shows for John Martyn, Iron and Wine, Seth Lakeman, Davy Graham, John Renbourn, David Gray, Cara Dillon, James Yorkston, Martin Carthy, Jools Holland, Tinariwen, Martin Simpson, Gil Scott-Heron and Chris Thile. John is a regular on the UK festival circuit, having played shows at Glastonbury, Green Man, Cambridge and many others. In this way, he has found a loyal following in the UK and Ireland, Europe, Japan, Mexico, the USA and Canada. Slow but sure.

John plays the steel-string acoustic guitar. Sometimes with a slide, sometimes on his lap, sometimes de-tuning the thing mid-song. He was named Young Acoustic Guitarist Of The Year in 2003 and hasn't stopped to look back, unless it's to pick up a banjo. His playing combined with his honey-on-gravel vocals have brought crowds to pin-drop silence and rapturous applause.

Willie Nile is a songwriters' songwriter. No less a personage than Lucinda Williams has said of him, "Willie Nile is a great artist. If there was any justice in this world, I'd be opening up for him instead of him for me." And he's never been more eloquent than he is here. Lou Reed hails Streets of New York as "a great album," while Graham Parker calls it "a real gem—stirring melodies, passionate vocals, intriguing lyrics…every track a winner." Says Ian Hunter, "Willie's from the big-hearted downtown alleyways of NYC (New York commitment). Well done!" Little Steven adds, "Willie Nile is so good I can't believe he's not from New Jersey!"

Support comes from Nashville based singer-songwriter Jefferson Grizzard. Grizzard ia a true wordsmith, eschewing the current state of popular songwriting. Bits of Bob Dylan, Leonard Cohen and Tom Waites emerge at times as he weaves together his unique brand of storytelling with melodies and influences of days gone by. Hard to categorise, he floats seamlessly between tortured ballads and blues to apocalyptic hard rock.




Mad Dog Mcrea blend a unique mixture of folk rock, pop, gypsy jazz, bluegrass and 'shake your ass' music. From self-penned songs of adventure, drinking, love and life, to traditional songs of gypsies, fairies, legless pirates and black flies - Mad Dog never fail to capture their audience with their infectious songs.


Paper Aeroplanes is a girl and a boy from the westest extremes of Wales, who spend a lot of time on the M4 in pursuit of melodic perfection. Think Turin Brakes, Cranberries and Rilo Kiley and then think again.

"With songs this good, Paper Aeroplanes deserve a far wider audience." - The Guardian.

"A delicate mix of upbeat nostalgia and heart wrenching honesty." - For Folks Sake

The third Danfest this time features eight bands who cover the prog spectrum ranging from the traditional melodic sounds to the harder and heavier side of the genre. Friday evening is headlined by DeeExpus, whose album features Marillion keyboard player Mark Kelly and vocals from Nik Kershaw on one track also. Godsticks showcase their technical brand of prog, and kicking off the festival, The Fierce And The Dead bring their more metal sounding approach into the fold.

Opening on Saturday, Hekz will appeal to the Iron Maiden/Dream Theater fans, while The Gift take the volume down a notch with their Genesis style brand of music. Closing the afternoon are Comedy Of Errors who again follow the more trad prog sound, a band who are gaining respect with notable gigs around the UK. Kicking off Saturday evening are circuit veterans Mr. So & So with their eclectic sound featuring part female vocals, making for an interesting mix. Closing the festival, Haken make their second visit to The Musician having performed with Headspace last September, and presenting a new album which will launch the band to new heights and set Danfest alight. It's all set to be a memorable weekend.

Here it is, the missing fifth side of Exile on Main Street. Putting Dan Baird and Warner E. Hodges in the same band is like packing hydrogen and plutonium into the same bomb: it's not an intriguing combination, it's a got-damn weapon of mass destruction. In Homemade Sin, you get three-quarters of the original Georgia Satellites line-up - Baird, bassist Keith Christopher and drummer Mauro Magellan - augmented by Scorchers gunslinger Hodges. The guitars tangle like rival strands of kudzu underneath Baird's paint-stripping howl. This is how rock sounded in the days of red meat, no-filter Marlboros and plaster casting; the hip-shake-boogie beat of 'Hellzapoppin' alone would cause McFly's testicles to drop!




From The Jam gained an immediate reputation for the kind of incendiary 'live' performances that sealed the reputation of The Jam all those years ago. 2013 sees the 35th Anniversary of the release of 'All Mod Cons', the third album release by The Jam. From The Jam will be performing the album in its entirety, including one of their most commercially successful singles, 'Down In The Tube Station At Midnight'. British Invasion Pop influences run throughout the album, including the bands' take on The Kinks' 'David Watts'. In 2000, Q magazine placed 'All Mod Cons' at Number 50 in its list of the 100 Greatest British Albums Ever. From The Jam will also be performing a selection of the classic hits and great album tracks from across the fantastic catalogue produced by one of Britain's' seminal bands.




"....Absolutely astounding.... genuinely so unique and so special that comparing them to other bands is a fairly redundant exercise..." - Ltd State

"...Devastatingly pure....Arena sized soul..." - Ilike Music

".... some say the sound between Mumford and Sons and The Dead Weather.......I think these boys could be better and bigger than both..." - There goes the Fear...

"Mumford & Sons meets The Dead Weather"
- Amy Smith, Event Organiser // Beachbreak Live Festival

www.fortytenthpromotions.co.uk

Funky folk tunes, storming songs and an infectious stage energy, Blackbeard's Tea Party mix fiddles & squeezeboxes, guitar noise & synth bass, and a feast of international hand percussion to bring you an unforgettable folk-rock extravaganza. Grounded in English traditions, but never afraid to explore more exotic musical avenues. Whether playing a raucous concert slot or performing as a high energy ceilidh band, they create a sound that is equal parts tasty, dramatic and danceable.

El Pussycat are no longer young boys blasting out 100 mph ska. "You're just too fast, too loud, too loud!!" said the godfather of ska Laurel Aitken. These days they keep their sound, which goes back to the 50's roots of bluebeat and ska, relaxed and rock steady.

Other ska names that individual pussycat members have played with include; Rico, Alton Ellis, Derrick Morgan, Owen Gray, The Specials, Prince Buster, Simarip and Freetown.

Got the need for more Metallica than you can get? Well here's your fix. MENTALLICA. This band has TOTAL respect for Metallica and have set out to recreate the raw, intense experience of seeing Metallica live. Mentallica have earned a reputation as Europe's top Metallica tribute. Playing across Europe and at some of the UK's top biker shows such as Wozwolf and The Rock & Blues Custom Show and at major venues and universities. Mentallica continue with no signs of let up in the touring and their high energy shows. These guys live and breathe Mentallica... and so will YOU...