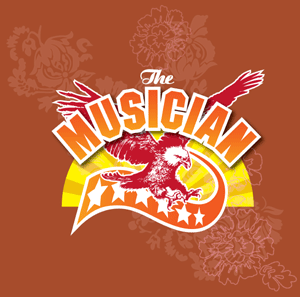 Should need to print a copy of this months listings, you can download a copy of our regular flyer by clicking the PDF icon.
---
These days artists and bands tend to book their tours months in advance. In order to give you the best notice of up and coming shows we list events once they have been confirmed by the band or their management
The downside of this is that dates can change due to unforeseen circumstances, sometimes at very short notice. We do our best to ensure that this site is kept as up to date as is possible, with updates happening at least once a week.
Therefore to avoid disappointment we recommend that you check these listing prior to setting out for your show especially if you are traveling any distance.
---
Not listed?
A guide for Artists and Promoters
The quickest way to get yourself included in our listings is to send an email to rideout at stayfree.co.uk once your gig is confirmed.
We also need you to do the following -
Put the name of the artist or band name along with the date of your show in the email subject line.
Attach a reasonable sized photograph. A 72dpi, jpeg, bigger than 200x200 pixels would be fine. Please don't email files over 1mb in size. If in doubt please drop us a line before sending. Let us have your web address so we can link to your site or Myspace page.
Send us some text. Whilst we are happy to tidy up spelling or grammar, we don't have the time to write or edit copy for you. Ideally we need a nice concise 'blurb' of between 75-100 words. Please don't send a three page biography, or else we are likely to bounce it back to you. If you have a selection of press quotes send what you have as we can usually easily compile something from them. There are plenty of examples of the sort of thing we need here on the site to help you out.
Please note - If you have played at The Musician before and we have text on file, we will continue to use use it for any subsequent listings unless you supply new copy.
If you spot any errors please send an email to derek at indiecentral.co.uk.
Coming to The Musician in November

There's only one way of life, and that's your own. Wise words from The Levellers who were the reason for Gary Armstrong to pick up a guitar in the first place. Unlike many artists, Gary is not afraid to admit his roots. He is no stranger to the underground or the festival circuit, with countless shows under his belt from pop tonal summer days screaming at pre teens, to rock and blues bike fests and underground unlicensed folk punk fests. As a result Gary has achieved something so many artists have tried to do before him and failed, having bridged the void of all the genres.

Wed 2
Closed


** Unfortunately Keith James has been forced to postpone this forthcoming date. Ticket refunds are available from point of sale and the gig has now been rescheduled to take place on Tuesday 31st January 2012 **

Thu 3
Willie Nile Band
£10adv £12door
plus Micky Kemp
www.willienile.com

Willie Nile is a songwriters' songwriter and his live performances are legendary. He has toured across the U.S. opening for The Who at the personal request of the band and sung with Bruce Springsteen at the Giants Stadium.

"If Bob Dylan and Bruce Springsteen had a love child, Willie Nile would be it" – Jam Magazine

"Willie's so good I can't believe he's not from New Jersey!" – Little Steven

For more info visit www.cheeseweasel.org

Mick Ridgway's Mojo Hand are a Leicester based blues band who have been treading the boards for over a decade. Ridgway himself is the frontman par-excellence - superb vocals and harp playing complimenting a band who are at the peak of their game.

"Mojo Hand ooze an ease and confidence with which they rapidly capture their audience." - Blues In Britain

Sat 5
AB/CD
£10
AB/CD are the only authorized tribute band to late AC/DC singer Bon Scott. The band were formed in 1989 and were chosen on MTV as the best sounding Bon Scott tribute by none other than AC/DC guitarist Angus Young. Since then AB/CD have played all around the world and appeared with many bands, including the Stereophonics, Queens Of The Stone Age, Hawkwind, Reef and KISS.

Sun 6
The Outwoods County Riders
Live recording party - free entry

theoutwoods.wordpress.com
The OCR have supported leading Mississippi acts Kenny Brown (RL Burnside), T Model Ford and Ben Prestage on their UK tour dates and worked with many top UK blues acts including Ian Siegal, Dick Taylor and Tony McPhee. They don't play pop blues, rock blues or rock 'n' roll blues, just infectious pure down and dirty North Mississippi Blues!

"This is hill country music, amplified, ramshackle and nailed on to a brutally primitive beat that is as infectious as swine fever" - Leicester Blues Festival

www.caldermclaughlin.bandcamp.com

Bluebird Parade are a six-piece band that features an eclectic group of musicians from Leicester and beyond, including songwriter Jon Read (trumpeter for The Specials, Kingsize) and guitarist Mark Price (Feelabeelia, The Dreaming). Bluebird Parade plays original songs with thought-provoking lyrics and haunting vocals, mixing acoustic, electric, and brass instrumentation to take you in unexpected aural directions.






K & C Hewick Promotions presents...

Patrik Fitzgerald was one of the oddities that Punk Rock threw up in 1977. A lone singer with an acoustic guitar regaling punk audiences with lyrical songs and interspersing them with chat, stories and poems. His 1977 single 'Safety Pin Stuck In My Heart' was much loved and played by John Peel and back in the day he toured with the likes of The Jam and The Clash. Tonight sees Patrik performing one set of original music and one set of Jacques Brel covers.




Britpop Tribute Night

Acoustic and electric tributes to songs from the Britpop era.




** Unfortunately the Mary Coughlan show has had to be cancelled due to circumstances beyond our control. Ticket refunds are available from point of sale. **

Thu 10
Strawbs (Electric)
£13adv £15door
plus Fay Brotherhood
www.strawbsweb.co.uk

The Electric Strawbs are Dave Cousins, Dave Lambert and Chas Cronk, the front-line of the classic 1970s line-up of Britain's most successful international folk-rock band, together with Tony Fernandez and John Young. In the early 1970s Strawbs scored chart success in Britain with huge albums such as 'Grave New World' and 'Bursting at the Seams'. From the mid-1970s as the group concentrated their attention on the United States and Canada where their albums, including the classics 'Hero and Heroine' and 'Ghosts', spent over fifty two weeks on the Billboard charts. More recently Dave Cousins has received a Lifetime Achievement award from the Classic Rock Society and the band have played everywhere from the Edinburgh Festival to London's South Bank.

For more info visit www.cheeseweasel.org


Fri 11

The Mick Ralphs Blues Band
£12adv £14door

plus Dawson Smith & Martin Burch (The Healers)
www.unrulysun.net/mickralphs

What's left when you've already been an integral part of not one but two legendary rock 'n' roll bands, Mott the Hoople and Bad Company, and broken record sales records and box office statistics all over the globe? In Mick Ralphs' case, you surround yourself with a band of dyed in the wool blues veterans and set out to play a series of intimate club shows covering the material that made you want to pick up the guitar in the first place. Music first made famous by the likes of BB King, Freddie King, Sonny Boy Williams and Rufus Thomas. Fresh from the recent Mott reunion and Bad Company tour, expect a nod to these iconic bands too!

For more info visit www.cheeseweasel.org






Sun 13
Cashier No.9
£7adv
plus Kowalski
www.cashierno9.com

Is there a Belfast sound..? Van Morrison… Stiff Little Fingers… Divine Comedy… Cashier No.9 sound nothing like any of these, but they're as innovative and different as anything that's come from the city. They could be from California, or Manchester, or any number of places, having been variously compared with The Byrds, Beach Boys, Stone Roses, Pavement, CSN, The Flaming Lips and many others. Yet with their rich vocal harmonies, bold guitar textures and supremely catchy melodies, they've created a sound that's indeterminably none of these yet equally vibrant.

Kim Richey
£8adv £10door
www.kimrichey.com

Songwriter Kim Richey has pushed her own envelope enough times so that she can't be put into any kind of box. Her songs have been recorded by some of the biggest names in Country. Yet despite overwhelming critical success, the general public hasn't completely gone over. It's difficult to understand why, since she understands the nuance of pop songwriting to a 'T'. She has a fine, large voice that is deeply expressive and adds depth and dimension to virtually everything she sings.




Jim Lauderdale is a multi-talented performer and songwriter, with successes in both country and bluegrass music. His roots stem from the Carolinas, yet his career has taken him all over the United States and abroad, making him an international recording artist with an ever-growing fan base. Jim won "Artist of the Year" and "Song of the Year" at the first "Honors and Awards Show" held by the Americana Music Association in 2002.

He is among Nashville's "A" list of songwriters, with songs recorded by artists such as: Patty Loveless, George Jones, The Dixie Chicks, Solomon Burke, Mark Chesnutt, Dave Edmunds, John Mayall, Kathy Mattea, Lee Ann Womack, Gary Allan, Blake Shelton. Vince Gill, and George Strait. Not content to just write hits for the stars, he's toured with the likes of Lucinda Williams, Mary Chapin Carpenter, Rhonda Vincent and Elvis Costello, among others!

Half English/Norwegian blues guitarist Krissy Matthews was born 25th May 1992, and now at the rare age of 17, has already managed to do a lot of things a normal young teenager wouldn't. For one he's shared a stage with the likes of Bernie Marsden, Jeff Healey, Walter Trout and Joe Bonamassa.

2011 has shaped up to be a busy year for Krissy and his band, and he is rapidly building up a name as one of the brightest blues rock players coming up in Europe.

Having played alongside the likes of Thunder, Ian Gillan, Climax Blues Band, Peter Green and Walter Trout, Larry Miller is fast becoming the UK's top Blues Guitarist.

"Fantastic, world class guitarist" - Bluesrockers, USA

"Highly impressive - A total victory" - Kerrang

"His guitar playing is simply mesmerising" - Bluesmatters UK

"The best 'in-yer-face' rock band around" - The Guardian

"A natural successor to Rory Gallagher and Alvin Lee" - International Encyclopaedia Of Rock

"Entertainment with a capital E." - Blues In Britain

Sat 19
SKAM
£5
plus Black Smoke Saints and Hell's Addiction
www.skamuk.com

With over 250 gigs to their name and having played in every major city in the UK, SKAM are a crack live unit with a stage show that is second to none. With a reputation for delivering no nonsense, gutsy, classic sounding British rock music, played with passion and conviction, the band have steadily built a strong local following. One notable local review dubbed them "Leicester legends." Tonight sees the launch of SKAM's fantastic debut album 'It's Come To This', recorded and produced by renowned hard rock producer Matt Elliss (Terrorvision, Black Spiders) and will be a launch party to remember.

For more info visit www.cheeseweasel.org

A Night Off With Peggy & PJ
£10

plus annA rydeR
www.hedgeofsound.com

Two principal and influential figures on the British folk-roots scene, who've seen action in Fairport Convention, Jethro Tull and many more, join forces to present favourite songs, familiar songs, tall tales, some nifty instrumentals and a few surprises in a feel-good and good-humoured evening. Expect songs from Little Johnny England, a smattering of Sandy Denny and Fairport, perhaps a bit of Jethro Tull, as well as originals, covers and some duff jokes!

For more info visit www.greenbirdpromotions.com


Tue 22
Emily Portman
£8adv £10door
plus Lucy Ward
www.emilyportman.co.uk

Emily Portman is a singer, writer and concertina player based in the North East of England. With her 2010 debut album gaining her two BBC Folk Award nominations, Emily is fast gaining a reputation for her songwriting talent and 'lark-like' voice. Emily first cut her teeth on the folk scene with harmony trio The Devils Interval and she now annually tours with Waterson:Carthy, with commendations from folk luminaries including Shirley Collins and Bagpuss's own Sandra Kerr. Emily's debut solo album 'The Glamoury' recently made Mojo and fRoots top ten Folk albums of the year.


For more info visit www.fortytenthpromotions.co.uk

Josh T. Pearson
£10adv
plus We tHrEE aND tHe DeAtH rAttLe

Texan Josh T. Pearson is a man whose legendary musical output has only grown in stature. Many will be familiar with the short-lived phenomenon that was Lift to Experience, which released one sprawling masterpiece, 2001's The Texas-Jerusalem Crossroads, before splitting up soon after.

The album was preceded by the single Country Dumb, featuring renowned multi-instrumentalist and composer Dustin O'Halloran on superbly subtle piano accompaniment. The release of Country Dumb coincided with a sold out Slaughtered Lamb show. Add to this a further sold out show at the Purcell Rooms in April, you might begin to piece together the makings of a much heralded and rapturous return.

"Pearson is an emotional potholer - and he's come back clutching diamonds" - Evening Standard ★★★★★
"America's lost genius returns" - MOJO ★★★★

For more info visit www.magic-teapot.co.uk or www.liveinleicester.net

Robb Johnson is now widely recognised as one of the finest songwriters working in the UK today. His songs feature in the repertoires of a wide variety of musicians, from folk legend Roy Bailey to acclaimed cabaret diva Barb Jungr, and he enjoys a similarly diverse spectrum of critical acclaim – "a modern-day Dostoyevsky" said the US's Dirty Linen, Mojo made the double CD Gentle Men 'Folk Album Of The Month' while The Daily Telegraph made it their 'Folk Album Of 1998,' and Tony Benn says Johnson's "Winter Turns To Spring" is his favourite song.


Funk Soul Brother are one of the UK's best funk soul and party bands. A line up of nine talented musicians recreate a funktastic mixture of classic and contemporary dance tunes to ensure a full dance floor at any event. Expect groovy tunes by James Brown, Stevie Wonder, Michael Jackson, Jamiroquai, Curtis Mayfield and many more.

www.thetangent.org, www.ioearth.com, www.paulmenel.com, www.greyladydown.net,

www.guymanning.com, www.themoscowriley.com

The very first Danfest prog rock extravaganza is all set to kick off here at the Musician, headlined by The Tangent, with their classic prog sound reminiscent of bands such as Yes and King Crimson. Rising stars IO Earth, former IQ frontman Paul Menel, ex-Pallas singer Alan Reed, neo-prog outfit Grey Lady Down, multi-instrumentalist Guy Manning (Parallel/The Tangent) and alternative rockers The Moscow Riley complete a bill which should contain something for all connoisseurs of progressive rock!

In a world full of manufactured over-hyped pop music, Aynsley Lister is proof that there is light at the end of the tunnel. His powerful, infectious songs are unashamedly blues influenced and performed with the kind of conviction of someone twice his age. Say the word blues to a commercial record company and see how far they run! But Lister carries on regardless, writing and recording albums that continue to sell and prove that blues rock music can be commercial and have you singing along to yourself days after you hear it, just like half the committee written stuff you hear every day on the radio. "Exceptionally mature and exciting." – MOJO. "Superb" - The Times.


As both a virtuoso guitarist and an Irishman (hailing from near Belfast, Northern Ireland,) comparisons are often made with Rory Gallagher and Gary Moore, though he sounds like neither in particular.

Simon first started playing at age 10 and (self taught) entered and won Guitarist Magazine's Young Guitarist of the Year competition when he was 15. He was immediately recruited by Sweet Savage (Vivian Campbell/Def Leppard) with whom he recorded two albums and regularly played major festivals. That was 13 years ago, since when he has toured the world as guitarist for diverse acts including Grammy nominated soulman Andrew Strong.

Along the way he has played with artists like TM Stevens, Charlie Morgan, Zorro, Hugh Burns, Slash and Steve Lukather, and visits the Musician at the end of a tour supporting Joe Satriani!

Wed 30
Jimi Hendrix Night

A night featuring the music of Jimi Hendrix, hosted by Rock Billy George & The Experience. Contributors are welcome!