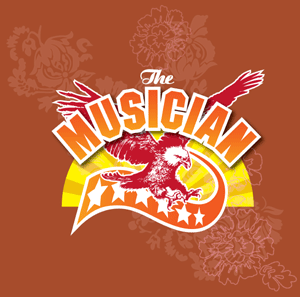 Should need to print a copy of this months listings, you can download a copy of our regular flyer by clicking the PDF icon.
---
These days artists and bands tend to book their tours months in advance. In order to give you the best notice of up and coming shows we list events once they have been confirmed by the band or their management
The downside of this is that dates can change due to unforeseen circumstances, sometimes at very short notice. We do our best to ensure that this site is kept as up to date as is possible, with updates happening at least once a week.
Therefore to avoid disappointment we recommend that you check these listing prior to setting out for your show especially if you are traveling any distance.
---
Not listed?
A guide for Artists and Promoters
The quickest way to get yourself included in our listings is to send an email to rideout at stayfree.co.uk once your gig is confirmed.
We also need you to do the following -
Put the name of the artist or band name along with the date of your show in the email subject line.
Attach a reasonable sized photograph. A 72dpi, jpeg, bigger than 200x200 pixels would be fine. Please don't email files over 1mb in size. If in doubt please drop us a line before sending. Let us have your web address so we can link to your site or Myspace page.
Send us some text. Whilst we are happy to tidy up spelling or grammar, we don't have the time to write or edit copy for you. Ideally we need a nice concise 'blurb' of between 75-100 words. Please don't send a three page biography, or else we are likely to bounce it back to you. If you have a selection of press quotes send what you have as we can usually easily compile something from them. There are plenty of examples of the sort of thing we need here on the site to help you out.
Please note - If you have played at The Musician before and we have text on file, we will continue to use use it for any subsequent listings unless you supply new copy.
If you spot any errors please send an email to derek at indiecentral.co.uk.
Coming to The Musician in May

www.myspace.com/mickridgwaysmojohand

2013 heralds the 100th birthday of the late American Blues legend Muddy Waters, considered the "father of Modern Chicago Blues." To mark the occasion, Leicester based blues favourites Mick Ridgway's Mojo Hand and Mike Pruden will perform special tribute sets and pay homage to the man himself. The night will also feature special guest appearances from the cream of Leicester's blues scene.

"Mojo Hand ooze an ease and confidence with which they rapidly capture their audience." - Blues In Britain

www.marthatilston.co.uk
joetilston.wordpress.com

www.fortytenthpromotions.co.uk

Martha Tilston is a captivating performer, an enchanting singer-songwriter blessed with a gloriously clear and seductively beautiful voice.

"Weaving her magic spell over listeners wherever she plays – from the concert hall to the campfire, from folk clubs to main festival stages – she is a rare gem who has the power to draw an audience into her world, leaving all those present with a smile, a warm feeling inside, and a few issues to ponder, too." - Time Out

Support comes from Martha's singer-songwriter brother Joe Tilston, continuing the family tradition of English folk excellence after father Steve and stepmother Maggie Boyle.

Championed as "Britain's best unsigned blues-rockers" by Classic Rock Blues magazine in September 2012, The Idle Hands have been steadily picking up numerous similar accolades from many other high profile publications, with such praise as "a must see live" and "not to be missed", whilst citing their CDs as "guitar fireworks and impassioned vocal class" or acclaiming "British blues doesn't get much better than this".

With 6 high quality cd's under their belts they present passionate, captivating live performances of raw original blues rock but with their own uniquely distinctive style and sound which is heavily influenced by the iconic Blues based bands and players within them; Led Zeppelin, Rory Gallagher and Hendrix to name a few.

Absolution formed in May 2010 and have been steadily writing, playing and growing as a band ever since. With three musicians from different backgrounds and different styles, Absolution create a fresh and exciting sound.

A British blues-rock power trio, they sound like a souped-up Cream, with elements of early ZZ Top and Joe Bonamassa thrown in for good measure! Having already secured support slots with blues legends Dr. Feelgood, Absolution have also performed two gigs at London's exclusive Embassy Club and the iconic 100 club! They are about to begin playing headline dates across the uk and festivals such as the British rock & blues festival in January 2013!

Kyle Carey is playing as part of her first UK tour. She describes her music as "Gaelic Americana". It includes elements of the American Folk Anthology, influences from Irish, Scottish and Cape Breton traditional music, and the Appalachian poetry of Louise McNeill. Her debut album "Monongah", released in 2011 and showcasing her beautiful pure voice and superb writing, hit just about every Year's Best list that matters. Songs like the Southern snake handler story "Adenine" and the haunting title track live long in the memory.

Josienne Clarke has a voice that has been justifiably compared to Sandy Denny's, to which Ben Walker's intricate and understated acoustic guitar playing is the perfect accompaniment. She is the current holder of the Fatea Female Vocalist of the Year award and together they won the 2012 Isambarde Folk Award. They have supported everyone from Martin Simpson to Mary Hampton and are rapidly making a name for themselves on the UK folk scene.

Josienne & Ben have recorded a new EP with Kyle that will be available at this show.

Kent Duchaine's musical nomadic life started over thirty years ago in Minnesota where he played with Kim Wilson before Wilson moved to Texas to form the Fabulous Thunderbirds. Kent honed his guitar skills playing with Lazy Bill Lucas, Boogie Woogie Red, Luther Tucker, Big Walter Horton, Hubert Sumlin, Eddie Burns and Margie Evans. In the early 1990's he spent three years traveling and playing with the legendary bluesman Johnny Shines. Duchaine's guitar playing is rooted in the styles of Robert Johnson, Lightning Hopkins, T-Bone Walker, Muddy Waters, Bukka White and Elmore James. He has a ferociously wild slide technique that exudes a frenzied power and he can switch gears in the wink of an eye to play some beautiful acoustic melodies.

Formed among friends in 1974, the Enid invented a school of intelligent, powerful and romantic rock music which is unique to them. The band have gone on to record 14 studio albums.

Under the tutelage of Robert John Godfrey, The Enid have avoided all of the obvious traps – the learned/received riff-based music which distinguishes so much rock, the well-trodden harmonic progressions, familiar melodic lines and stock-in-trade rhythms.

In 2009, after a ten year break, founder members Robert John Godfrey and Dave Storey put together a new version of the band. Since then The Enid has had fantastic receptions in gigs all over the UK, in Europe and the USA. The 21st century line-up, spanning three generations, are currently working on their new studio album, INVICTA.

"The only band on the planet to have successfully fused rock-based music with the power, dynamics and scale of symphonic classical music. They are the absolute masters of their art." – Alan Freeman, BBC Radio One


Purple Zeppelin are four talented and versatile musicians with decades of playing between them who share a love of classic rock. It doesn't get much better than the best of Deep Purple and Led Zeppelin and you'll be taken back to the magic, the excitement and the sheer raw energy generated by both incredible bands.

"…this highly entertaining and musically authentic tribute band dared to match the brilliance of the originators" - Chris Welch (Melody Maker/Kerrang)

To Celebrate the U.K. Launch of 'Celie's Book Of Quotes', a memoir of Celebrity Interviews by Celie Gannon, Black Widow members, Kip Trevor and Jim Gannon (Tim Hardin/Fox) will be assisted by Ben Trevor (gtr/vox) and present for the first time, selected unplugged Black Widow songs. Following this, a truly All-Star Band will deliver '60's gems, R&B classics and killer blues.

Joining Jim, Kip and Ben onstage, will be special guests Dave 'Pick' Withers (Dire Straits) on drums and Pete Dennis on bass (Freedom/Peddlers/Tim Hardin). Completing the band is Leeds born keyboard maestro Mike Moran, who co-wrote the 'Barcelona' album with Freddie Mercury and worked extensively with Queen, George Harrison, Paul Simon, Ozzy Osbourne, Rod Stewart, David Bowie and many more.

During the '60's, Jim, Kip, 'Pick' and Pete worked in a number of memorable Leicester bands; Broodly-Hoo, Pesky Gee, Spring, Deuce-Coupe and (Steve) Fearn's Brass Foundry.

To start the evening, Celie's presentation will include recollections, not only of her encounters with stars of music and film while working at Ronnie Scott's Jazz Club in '60's London, but also from her celebrity interviews with international superstars right through to the '90's as rock journalist for 'The Australian' national newspaper while based in Sydney.

Celie's wide range of stories will surprise and delight, with quotes from Paul McCartney, Jimi Hendrix, Brian Ferry, Buddy Rich, George Benson, Elton John, right through to Willie Nelson, Edna Everage and Tom Jones. The book is a brilliant read, and rare author-signed copies will be on sale.

A Juno award winner, to say merely that Chris Luedecke is a purveyor of banjo-driven folk tunes is to damn him with faint praise. Known for his lyrical flair and deadpan wordplay, his unique mix of bluegrass, folk and pop and wryly humorous stage shows make him a performer not to be missed. His genre-straddling is demonstrated in his slew of rave reviews from places as diverse as PopMatters and No Depression, while his live shows have wowed festival audiences from Shrewsbury to Shetland.

Wes Finch's last album "Mayflower" made the Americana-UK 2012 Top Ten, he went down a storm at the Big Session a couple of years ago and has supported everyone from Eliza Carthy to Newton Faulkner. He's a man on the rise and his passionate country blues and charming and engaging live show is winning him fans in America, Australia and across Europe as well as the UK. Catch him in a small venue while you can!

From the late 1960s John Kirkpatrick has been at the very forefront of innovative folk in Britain and has played with the Albion Band, Steeleye Span, the Richard Thompson Band, Brass Monkey and Band of Hope, as well as establishing himself as a brilliant solo act. Winner of Musician of the Year at the 2010 BBC Radio 2 2010 Folk Awards, he is quite simply, as fRoots said "in a class of his own."

Support comes from Rosie Hodgson, a finalist for the 2013 Young Folk Award. She has already played at Cambridge and Ely festivals and her debut EP "Somewhere North" has just been released.

Remember the last time a song really reached you? Straight in, deep inside, talking directly to you, about what you feel - just as if this song was written especially for you, about you? Well this is what the music of Ezio is about, deep, honest, emotional songs that hit a raw nerve. Featuring lead guitarists, Ezio Lunedei and Mark "Booga" Fowell, Ezio serve up breathtaking live performances, which you will have you addicted after the very first song.

From 1971 to lead vocalist Lee Brilleaux's untimely death in 1994, Dr. Feelgood never left the road, playing hundreds of gigs every year. Throughout their career, Dr. Feelgood never left simple, hard-driving Stonesy rock & roll behind. Their devotion to the blues and R&B earned them a devoted fan base and their sweaty live shows are legendary. Whilst the group's stripped-down, energetic sound paved the way for English punk rock in the late '70s, their back-to-basics style was ultimately overshadowed by the dominance of punk and new wave in the '80s. Since Brilleaux's death the remaining members of the last Feelgood's line-up have continued to tour regularly and maintain the legacy of their legendary former front man.

www.facebook.com/clarabarkermusic

www.fortytenthpromotions.co.uk

Long before "Britpop", British indie music had a golden era that saw the likes of Pop Will Eat Itself, Ned's Atomic Dustbin, EMF, Jesus Jones and of course, perhaps the biggest band of the era - The Wonder Stuff. With a sound that mixed post-punk guitars, psychedelia, pop-rock and folk they were the perfect alternative band in a time of Stock Aitken and Waterman. Armed with killer, catchy tunes and sneering lyrics The Stuffies were to go from indie darlings to headlining the Reading festival and enjoying hit success with "Welcome To The Cheap Seats", "Size Of A Cow" and their number one collaboration with Vic Reeves, "Dizzy".

www.facebook.com/widowspeakband

Widowspeak is an American band comprised of Molly Hamilton and Robert Earl Thomas, known for its dreamy, western-tinged take on rock and roll. The outfit formed in 2010 and released two singles in 2011 (Harsh Realm, Gun Shy) followed by a debut album (self-titled) in the summer of that year, all on Brooklyn label Captured Tracks.

Widowspeak have been praised for their reverential spaciousness, Hamilton's haunting voice, and Thomas's spindly, Morricone-esque guitar lines; both drawing on 1950's pop ballads and 1970's psych, creating languid call-and-response melodies. The band have toured extensively, wearing in their warm, nostalgic sound.

Two-time Grammy-nominated Kim Richey is a storyteller; a weaver of emotions and a tugger of heartstrings. She has written two Number 1s and four Top 10 hits in the USA and her songs have been recorded by the likes of Trisha Yearwood and James Morrison among others and she has sung on albums by Ryan Adams, Shawn Colvin and Mary Chapin Carpenter. Her music is "gorgeous, timeless" (Maverick) and "always of the highest quality" (Country Music People). She is, as the Irish Times says "a class act".

Late of acclaimed duo the Hi & Lo, described by Maverick as "one of the UK's premier roots acts", Paul will be showcasing songs from his debut solo album.

Live, Mick Pini is simply brilliant - but why take our word for it; Eric Clapton called him the "legitimate successor to Peter Green", while Mick Vernon described him as " having the energy and attack that made Freddie King one of the greats. There are too few great guitarists working the European scene. Sure there are many good ones, but only a few have the potential to make a mark in a way Peter Green did many years ago." Perhaps the most telling tribute is the fact that when Mick is in town, Mick Double, Eric Clapton's manager can regularly be found at the back of the room, quietly enjoying Mick's set.

Muskogee-born and Bakersfield-raised is a pedigree that most country singers would kill for; not only does Stacie Collins live up to her heritage, she exceeds it with a unique sound that blends roadhouse rock-n-roll, Chicago blues and hard country-twang. Her crack live band includes her Jason & The Scorchers' bassist husband Al and this time round will be augmented by Scorchers drummer and Bonafide frontman Pontus Snibb, and Hanoi Rocks/The Electric Boys guitarist Conny Bloom.

"An infectious blend of roadhouse country rock fronted by a blues-harp-blowing woman who sings with a desperate passion and a slight Tammy Wynette catch in her voice." - No Depression

"Stacie Collins has earned a reputation for superb twang rock with more than a hint of blues accented by her exceptional harmonica playing." - All The Rage

"That girl can sure kick some ass! The minute she took the stage she owned it!" - Sony Music

"No-frills slab of rough & tumble bluesy Southern rock & roll" - Creative Loafing




The Handsome Family is a 20-year songwriting collaboration between husband and wife, Brett (music) and Rennie Sparks (words). Their lyrics and music are very intense, highly descriptive and full of meticulously-researched narrative and exhilerating musical re-imaginings of everything from Appalacian holler, psychedelic rock, Tin Pan Alley and medieval ballad. Of course you don't have to be a music historian to love these songs. They are full of romantic longing for nature's mysterious beauty and the tiny wonders of everyday life. They pair sweet melody with sad harmony, love poetry with dark beats. This is music that makes you shiver and cry, but also makes you happy to be alive.

"Words that in their everyday surrealism have no parallel in contemporary writing... Music that mines the deep veins of fatalism in the Appalachian voice" - Greil Marcus

"This is music that moves forward by turning the clock back - haunting, primal and strangely heroic" - The London Times





With exquisite and tortured vocals reminiscent of Nico (The Velvet Underground) and an onstage persona in the tradition of Rita Hayworth, Texan beauty Chrysta Bell smoulders in her collaboration with iconic film director David Lynch. Infusing a dark and airy soundscape with breathy inflections and soulful melodies this otherworldly femme fatale is lyrically spellbinding.

"Chrysta Bell looks like a dream and Chrysta Bell sings like a dream. And the dream is coming true." - David Lynch

"...dreamy and torrid, smokey and tortured... performed with grinding finesse..." - Rolling Stone

"A cool siren with a stunning voice of rare dramatic power and range." - Irish Times

Magicfolk combine traditional and modern influences, creating music with a powerful, otherworldly atmosphere. Their material ranges from energetic folk reels and eastern European dance tunes to ethereal ballads, progressive rock and psychedelia.

With the magnetic "fey"' voice of Michelle Glover the band also incorporates a fine array of instruments including flute, violin, electric and acoustic guitars, keyboards, EWI, bouzouki, piccolo, drums, and more recently, a sprinkling of hurdy gurdy.

Inspired by myth and folklore, Magicfolk's songs still always find relevance in the modern and personal, weaving threads of ancient symbolism into songs edged with current and innovative musical flavours.

"Hugely evocative" - Fireworks Magazine



"Constantly inventive, exquisite, daring, a new sound" – Woven Wheat Whispers

**Please note that the Maggie Boyle with Paul Downes gig originally scheduled for this date has been postponed and will be rescheduled for Thursday 19th September. Please accept our apologies for any inconvenience caused.**

www.noisetrade.com/melaniepage

Cult Scottish songwriter, singer and acoustic fingerstyle guitarist Alasdair Roberts will be performing his interpretations of traditional ballads alongside original songs which span a rich career that's seen tours and collaborations with Will Oldham, Bill Callahan, Joanna Newsom, Isobel Campbell and many more.

His new album 'A Wonder Working Stone was released in January and it continues Alasdair's long-standing love affair and deeply creative interaction with the traditional music of his native Scotland (and beyond), offering an idiosyncratic and nuanced radicalization of that tradition.

The music of Alasdair Roberts straddles the border between contemporary pop music and traditional folk music, drawing new listeners from both sides of the divide, as well as commentators from the scholarly realms.

"One of Britain's most singular and original talents" - Colin Irwin, fRoots

Say goodbye to Liz Scattergood and Skatz before they set off for their new life, with a 'last chance to see' some of the great Leicester bands they've been in over the last decade.

For the first and last time ever you can see Woodstock, Bryter Layter, Liz Scattergood Band and Skatz on the same night, with a special final appearance by infamous stand up comedy duo Rob & Skatz.

And who knows, you might even hear some Scattergood & Cartwright and legendary The Looking Glass too.

Celebrate Liz & Skatz's great back catalogue of songs, liberally sprinkled with the obligatory Joni Mitchell, Crosby Stills Nash & Young and Nick Drake.

Harmonies, hippie songs and happy tears start at 8pm. Unmissable.