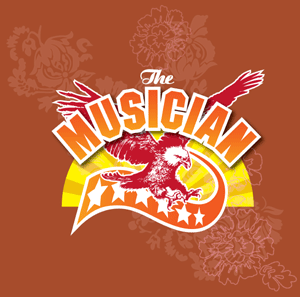 Should need to print a copy of this months listings, you can download a copy of our regular flyer by clicking the PDF icon.
---
These days artists and bands tend to book their tours months in advance. In order to give you the best notice of up and coming shows we list events once they have been confirmed by the band or their management
The downside of this is that dates can change due to unforeseen circumstances, sometimes at very short notice. We do our best to ensure that this site is kept as up to date as is possible, with updates happening at least once a week.
Therefore to avoid disappointment we recommend that you check these listing prior to setting out for your show especially if you are traveling any distance.
---
Not listed?
A guide for Artists and Promoters
The quickest way to get yourself included in our listings is to send an email to rideout at stayfree.co.uk once your gig is confirmed.
We also need you to do the following -
Put the name of the artist or band name along with the date of your show in the email subject line.
Attach a reasonable sized photograph. A 72dpi, jpeg, bigger than 200x200 pixels would be fine. Please don't email files over 1mb in size. If in doubt please drop us a line before sending. Let us have your web address so we can link to your site or Myspace page.
Send us some text. Whilst we are happy to tidy up spelling or grammar, we don't have the time to write or edit copy for you. Ideally we need a nice concise 'blurb' of between 75-100 words. Please don't send a three page biography, or else we are likely to bounce it back to you. If you have a selection of press quotes send what you have as we can usually easily compile something from them. There are plenty of examples of the sort of thing we need here on the site to help you out.
Please note - If you have played at The Musician before and we have text on file, we will continue to use use it for any subsequent listings unless you supply new copy.
If you spot any errors please send an email to derek at indiecentral.co.uk.
Coming to The Musician in March




Wake Up Promotions presents a night of quality live music featuring a selection of Leicester's finest talent.

For up to date gig info on twitter, please follow @wakeuppromotion

A critically acclaimed singer, songwriter, and instrumentalist, Garland Jeffreys has earned a loyal international audience for his intelligent and passionate songs, informed by a variety of musical styles from rock and R&B to reggae and dance music, and dealing with topics both personal and political, often at the same time. While not especially prolific - he released a mere five studio albums between 1981 and 2011 - Jeffreys' work reveals a rock & roller's soul and a poetic sensibility that have earned him the respect of musical peers such as the late Lou Reed, Bruce Springsteen, David Johansen, and John Cale.

Leicester-born NYC resident James Maddock makes a long awaited return to the Musician to open the show. Amongst many accolades, Maddock has performed with Bruce Springsteen and Willie Nile and was recently given one of the greatest compliments a musician could receive – a raving review by "Idiot's Delight" founder and free form radio legend Vin Scelsa, who called Maddock's work "heartbreakingly beautiful and exquisitely crafted… touches the soul."

en-gb.facebook.com/preacherandthebear

He's a one-man Alabama 3, yeah that Son Of Dave guy is a wild lonesome fusion of wild and soulful vocal-patterns over rhythm-and-blues New Orleans riffs; man, it's hard to imagine anything more downright earthy and damn funky.

Fuelled by vocal beat-boxing, foot stomping and improvised percussion this blues dervish blasts away on a harmonica, foot hammering a wooden percussion board and a rattled shaker going like the blazes.

It's fair to say that Son of Dave - AKA Canadian musician Benjamin Darvill - isn't your average pub-circuit bluesman, every inch the tailored Forties film noir heartthrob villain. "When you're young, the old blues songs seem two-dimensional, not real," he says, "But once all those things come true - you fall downstairs, have illegitimate children, get the clap, wake up in jail…"

La Villa Strangiato is an italian project, started in 2010 by Gabriele Ferrari and Carlo Fattorini, two roman musicians who had already worked together in the project "Yessongs Italy", with which they gained international praise. The purpose of La Villa Strangiato is to revive Rush's production of the '70s and first '80s, the period of their maximum popularity.

The band formed in 2010 and, thanks to the contribution of several friends and musicians, finally presented their first show (entirely dedicated to the album "Exit Stage Left") in Rome in March 2011. From then on, they started playing in several clubs across Europe with good results; but it's with the contribution of musician Claudio Sinisi (guitar) that they finally achieved the perfect combination of sound and technique.

Tonight the band will perform the two albums Moving Pictures, the live opus Exit Stage Left plus extras. Expect 2112 and other classics in an evening not to missed.

Dire Streets perfectly capture the distinctive, authentic sound of one of the biggest guitar bands of all time.

Fronted by finger picking guitar ace John Brunsdon and his band of accomplished musicians, they play with an attention to detail and musicianship that marks them as the stand-out Dire Straits tribute in the UK.

Dire Streets cover tracks from early classics like Sultans of Swing and Wild West End, through to the mega-hits of the 80s and Brothers in Arms, taking in all the classic album and live versions from the legendary Alchemy, Live Aid and Mandela concerts.

Dire Streets make no attempt to look like the original so no headbands or pink suits, just brilliant songs skilfully played with the enthusiasm and respect they deserve.

Land of the Giants are a funky upbeat, highly addictive six piece band from Plymouth in Devon, UK. Their music fuses many musical styles, from rock to reggae, ska to blues, with a sub heavy helping of dub in the mix.

They are renowned for their extraordinary energy on stage, and causing non-stop all out partying on dance floors and in fields around the UK, with this reputation they are becoming a firm festival favorite.

2013 saw them grace the stages of Glastonbury, Lemonfest, Maker, Looe Music Festival, Bris Fest, and Landed in Wales plus many more. They were billed on the main stage at Boardmasters warming up for Basement Jaxx, The Vaccines, and Ben Howard, and have opened shows for The Levellers, Roots Manuva, and Neville Staple.

Slide guitarist & songwriter Dave Arcari's alt.blues sounds owe as much to trash country, punk and rockabilly as they do pre-war Delta blues and have been showcased via eight internationally-acclaimed solo CD releases.

His latest album 'Whisky In My Blood' was released on Finnish record label Blue North in March 2013. As well as showcasing Arcari's trademark National steel guitars, the release features performances on banjo, regular guitar and and cigar box which help capture the full breadth of Arcari's song-writing and performance.

"Dave plays like he got his skin turned inside out and pretty soon my skin was inside out too listening and it was all good. That boy bleeds for you – he a real down deep player and a soul man..." - Seasick Steve

www.fortytenthpromotions.co.uk

Twice-nominated at BBC Folk Awards, contemporary folk/acoustic duo Gilmore & Roberts combine award-winning songwriting with astounding lap-tapping guitar, fiery fiddle and their trademark harmonies, creating a powerful wall of sound.

Katriona and Jamie have released three albums together since 2008. All three albums received much critical acclaim, leading to a Horizon Award nomination at the 2010 BBC Radio 2 Folk Awards and a tour supporting Fairport Convention. The Innocent Left has delivered a fresh haul of accolades, including a 'Best Duo' nomination at the 2013 BBC Radio 2 Folk Awards, a 'Song of the Year' FATEA Award and first prize in the Acoustic/Folk category of the UK Songwriting Contest.

Self proclaimed "Acoustic Foot-Stompers" Rita Payne (Rhiannon Scutt and Pete Sowerby) are one of the UK's fastest rising acts. From supporting some of the country's leading artists to appearing on BBC One's The Voice UK, this unstoppable duo's voyage to superstardom is unquestionable.

The unique three man tribute to rock music's best known Texan boogie band are back to "Tear the house down!" in 2012, bringing a tour with more Tone, Taste and Tenacity than ever before. Complete with their real beards, the crazy guitars, the moves and over two hours of hot-rodded rock 'n' roll! All eras of ZZ Top are included in the same show, in two very individual sets.

The ZZ Tops pack the classics like 'Gimee All Your Lovin', Sharp Dressed Man, Legs, Tush, La Grange, Rough Boy and many more into a 2 hour plus rock extravaganza and throw in a few surprises for hardcore (and not so hardcore) fans to savour!

There is a fair chance you will have heard a track or two from the stunning new album by The Abramson Singers from Vancouver, thanks to the level of radio exposure it has received. One of those who joined Leah Abramson in the studio for the recording was Rayna Gellert, well-recognised in her own right following a successful career in Uncle Earl before she went solo to establish herself as a major name on the circuit as well as a huge creative force.

Leah, who was formerly with bands The Crooked Jades and Dyad, had also recorded and performed with Rayna on many occasions so they know each others' material inside out. Here, these two friends come together to become an even more potent force (joined on bass and guitar by Petunia & The Vipers' Patrick Metzger). Rayna also has a superb new record in circulation that is winning her much praise.

Straight from their hugely successful support of The DTs we have managed to secure The Della Grants for another gig at The Musician. This is a band you really need to see before they become so successful we can no longer get them to play here! Reviews for this new young band speak for themselves:

"The blues world need to hear this band in a big way…" - Bluesmusicfan.com
"Spectacular guitar-based blues/rock" - Blues Review USA
"Get ready for The Della Grants" 9/10 - Blues Rock Review USA

The Nile Delta Buskers are an eclectic mix of road-travelled musicians, each of them bringing their own diverse influences and musicianship to the table. The end result, a band whose sum is greater than its individual parts, a live set delivered with passion, feel, dynamics and incredible musical interaction. "It's all about the song".

Sweet Baby James play the music of the legendary troubadour James Taylor. Taylor is one of the most influential figures in popular music over the last half-century, with multiple hits (including You've Got A Friend and Fire & Rain) spanning over 30 years and in dozens of countries worldwide.

No-one plays this material quite like Sweet Baby James. Primarily appearing as an intimate duo they are dedicated to capturing the individual sound and mood of Taylor's incredibly varied repertoire - the music is powerful and emotive and the performances are both soulful and sensitive.

For James Taylor fans this evening is a must-see and those who weren't previously fans are sure to be by the end!

Diana Jones is a songwriter and folk singer whose "clarion alto," The New York Times says, evokes the "rich timbres... of a cello or viola." Praised as well by Joan Baez for music that is "haunting" and "powerful," Jones takes us from the depths of a doomed coal mine to the heights of universal longing, with stories of hard times, Native-American heritage, tortured loss, murderous urges. With the careful eye of a portrait painter - Jones is also a visual artist - she merges private and timeless imagery, with songs that have put her at the top of folk music and emerging artist lists.

When not touring, Jones divides her life between Nashville and New York City, drawing on both those iconic American worlds to bring a modern edge to old-time ballad tradition. Her newest album, "High Atmosphere" on Proper Records, in the words of one critic, "hits with the force of revelation."

Influenced by psychedelic, blues and steaming rock & roll this trio takes you back to the old times of MC5, The Doors and even Pink Floyd! With a drum player that could be Keith Moon's son, an organist that harasses his instrument to death and a singer/guitarist that seems to be the power version of Jim Morrison, this band is bound to catapult psychedelic sixties rock & roll back into our modern times.




Having spent a decade toiling in the musical sweatshops of New York City, banjo player and songwriter, Curtis Eller uprooted his family and resettled in some faded, tobacco town in the North Carolina Piedmont to begin the arduous task of assembling a new version of his band, The American Circus. The latest version of the band is a brutish and inelegant rock & roll outfit, known to haunt the beer halls, burlesque houses and underground theaters of the eastern seaboard. They specialize in banjo music for funerals, gospel tunes for atheists and novelty dance fads for amputees. A lavish, Hollywood, dance sequence unfolding on the floor of a Chicago meatpacking plant in 1894.




www.sidgriffin.com/the-coal-porters

The Coal Porters are an exciting and dynamic bluegrass combo centred around ex-Long Ryder Sid Griffin, composer of the Long Ryers 1985 hit single "Looking For Lewis And Clark". Their dynamite live act features Carly Frey (fine fiddle and vocals), John Breese (banjo and vocals), Tali Trow (bass) and Neil Robert Herd (guitar, sporran and vocals) and Griffin himself (vocals, mandolin, harmonica and autoharp).

Firmly established on the UK and European touring circuits and possessors of their own sound the Coal Porters are an acoustic act with attitude. Their live show is polished yet passionate and second to none. Check them out and get ready for the ride of your life!

www.thisisnirvana.com
The Food Fighterz pride themselves on being authentic to the sound/image and stage presence of the real Foo Fighters. Starting in August 2011 they have already made a big impact on the tribute scene headlining festivals and playing across the UK. This is the closest thing you're gonna get to seeing the Foo Fighters live in your own back yard.

'This Is Nirvana' are one of the finest Nirvana tribute bands out there, with a strong Facebook fanbase, that started in April 2011 out of respect to Nirvana to keep their music alive, in a live format, and give fans, many of whom never got the chance to see Nirvana live, the opportunity to be part of a Nirvana show.

Alternative acoustic-driven band from Leicester delivering a range of original tracks with the occasional cover.