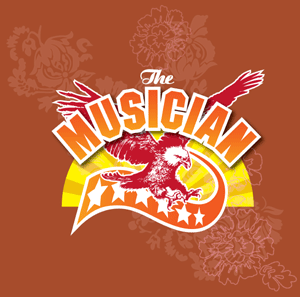 Should need to print a copy of this months listings, you can download a copy of our regular flyer by clicking the PDF icon.
---
These days artists and bands tend to book their tours months in advance. In order to give you the best notice of up and coming shows we list events once they have been confirmed by the band or their management
The downside of this is that dates can change due to unforeseen circumstances, sometimes at very short notice. We do our best to ensure that this site is kept as up to date as is possible, with updates happening at least once a week.
Therefore to avoid disappointment we recommend that you check these listing prior to setting out for your show especially if you are traveling any distance.
---
Not listed?
A guide for Artists and Promoters
The quickest way to get yourself included in our listings is to send an email to rideout at stayfree.co.uk once your gig is confirmed.
We also need you to do the following -
Put the name of the artist or band name along with the date of your show in the email subject line.
Attach a reasonable sized photograph. A 72dpi, jpeg, bigger than 200x200 pixels would be fine. Please don't email files over 1mb in size. If in doubt please drop us a line before sending. Let us have your web address so we can link to your site or Myspace page.
Send us some text. Whilst we are happy to tidy up spelling or grammar, we don't have the time to write or edit copy for you. Ideally we need a nice concise 'blurb' of between 75-100 words. Please don't send a three page biography, or else we are likely to bounce it back to you. If you have a selection of press quotes send what you have as we can usually easily compile something from them. There are plenty of examples of the sort of thing we need here on the site to help you out.
Please note - If you have played at The Musician before and we have text on file, we will continue to use use it for any subsequent listings unless you supply new copy.
If you spot any errors please send an email to derek at indiecentral.co.uk.
Coming to The Musician in March

www.facebook.com/theskunkboyproject

Cosmo Jarvis is an artist for whom one word will never really be enough. He's a singer, a songwriter, an actor, a director, a composer, a producer and a multi-instrumentalist. He writes about topics ranging from his alienation from religion to the equal treatment of gay pirates (and he's completed nearly three hundred songs already). Cosmo is an extraordinarily talented twenty-three year old, and a genuine one off. When Brian Eno is singing your praises, as he did recently on 6Music - "he is a very interesting example to me of a new kind of person; a new kind of artist" - you must be doing something right.

Dire Streets perfectly capture the distinctive, authentic sound of one of the biggest guitar bands of all time.

Fronted by finger picking guitar ace John Brunsdon and his band of accomplished musicians, they play with an attention to detail and musicianship that marks them as the stand-out Dire Straits tribute in the UK.

Dire Streets cover tracks from early classics like Sultans of Swing and Wild West End, through to the mega-hits of the 80s and Brothers in Arms, taking in all the classic album and live versions from the legendary Alchemy, Live Aid and Mandela concerts.

Dire Streets make no attempt to look like the original so no headbands or pink suits, just brilliant songs skilfully played with the enthusiasm and respect they deserve.

www.fortytenthpromotions.co.uk

Launched in 2005 by Irish singer Lorraine Reilly and Bristolian pianist Jeremy Millington, The Portraits' warm upbeat sound which mixes folk with music theatre, jazz and classical styles has secured the band a big following in the UK and France. As well as being crowned Best International Artist 2011 by US station Radio Crystal Blue, The Portraits released a song, Liberty, for Burma's democracy icon Aung San Suu Kyi, which was presented to her in person.

From their roots playing as an acoustic duo (piano, guitar, 2 voices) the Portraits have exploded into an energetic, sparkling full band, adding violin, cello, bodhran, upright bass and third vocalist into the mix, and their live performances leave audiences moved to laughter and tears in equal measure.

Duke Special is an artist aptly named. Dynamic, musically ambitious & bracingly eccentric, with his inimitable style and lush musicality. Hailing from Belfast with a sound that is self-confessed "hobo-chic", Duke Special - AKA the endlessly inventive Peter Wilson - is once heard, never forgotten.

Duke Special is a fervent performer who harks back to a pre-rock 'n' roll era, with dashes of Gershwin and orchestral swing, all tinged with a Northern Irish
lilt and poetic lyrics that could feature in a modern-day fairytale; the perfect balance of old and new - boasting the appeal of a three-minute pop song with
the incessant charm of an old-school music hall.

He is the f****ed up ringmaster of a broken down circus, the lead dancer in a forgotten ballroom of ghosts, the loudest singer in a midnight choir and the
first on his knees in an old time revival tent.

www.noisetrade.com/melaniepage

Some may see them as the worthy heirs to the B-52s, while others will find in their music a flavour of the early noughties New York music scene. Fronted by both male and female leads with strong and distinctive vocal styles, Concrete Knives are an anthem machine for you to chant to in unison. Their compositions dust off Dad's vinyl records, incorporating new tones where vintage keyboards and organs fly through syncopated rhythm sections.

This is indeed fresh music, carrying clean and well balanced textures. This is the scraping of a knife on concrete, a creative rupture wholly aroused by an exciting and innovative new band. On stage, Concrete Knives resuscitate the ghosts of the eighties with great energy, creating an inventive mixture of sunny pop.

Tonight's show features a solo performance from the lead singer and lyricist of Diesel Park West. Expect many highlights from the back catalogue of this increasingly well regarded singer and songwriter, along with spiritual wit, dark humour and tales of the real music business. Support comes from Dave Harding, bassist of the highly popular alternative country band Richmond Fontaine.

"Butlers songs have the unmistakeable sound of greatness about them." - Q

In a world full of manufactured over-hyped pop music, Aynsley Lister is proof that there is light at the end of the tunnel. His powerful, infectious songs are unashamedly blues influenced and performed with the kind of conviction of someone twice his age. Say the word blues to a commercial record company and see how far they run! But Lister carries on regardless, writing and recording albums that continue to sell and prove that blues rock music can be commercial and have you singing along to yourself days after you hear it, just like half the committee written stuff you hear every day on the radio.

"Exceptionally mature and exciting" – Mojo

"Superb" - The Times

www.facebook.com/leavingpartyuk

Bristol band Coasts' debut single 'Stay' is a perfect example of their brand of tropical-indie, and is infused with intelligent lyricism, mesmerising vocals and catchy guitar and percussion lines. The simple, sparse verses erupt into a pop-tinged chorus, leaving listeners drenched in the sounds of summer.

'Stay' is the first single to be released from debut EP, 'Wildfires'. The band cites influences as diverse as Foals, Future Islands and The Cure, which are subtly interwoven within their own fresh and exciting sound. Coasts are already making an impact on the live scene, garnering rave reviews due to their ferocious energy, skilled musicianship, and ability to entrance a crowd.

"Bristol boys Coasts muster a remarkably ambitious noise, the maturity and confidence of their compositions is amazing for such a young band. Add pensive and far-reaching lyrical content and a penchant for Manics-esque soundbites and you'll see what made us jump at the chance to book them for our forthcoming Crack Launch Parties." - Crack Magazine

She's a straight-up storyteller with a voice to blow all others clean out of the water…20-year-old Scottish singer-songwriter Rachel Sermanni packs an almighty punch with her earthy folk melodies and dextrous fingerpicking.



Her hometown of Carrbridge - with its rugged mountain backdrop in the heart of the Highland skiing fields - is rife with creative potential and Rachel's traditional folk lineage continues to pervade her work. But since upping sticks to Glasgow, her songs have also been shaped by new beginnings. "Jazz, folk, indie - all the spheres seem to meld together and there are no boundaries, which creates an incredibly healthy scene," she says.

Rachel's razor-sharp wit and natural affinity with any audience somehow belie her young age and have led to support slots with the likes of Elvis Costello, Ron Sexsmith and Michael Kiwanuka.

Keith Buck, a member of Talon, the world's greatest Eagles Tribute Band, is joined by singer, guitarist, producer and songwriter Sally Barker. In the 90s, multi-instrumentalist Keith was an integral part of Sally's solo projects (albums and touring) but over time they drifted apart. The friendship they forged, however, has always remained strong. The reunion of these musical soul mates brings forth contemporary acoustic classics (Aretha Franklin, James Taylor, Genesis etc) and sparkling originals - bucket loads of quality music from two of Leicestershire's finest. Sally is a founder member of all female folk superstars The Poozies and Keith is a founder member of Talon: The Acoustic Collection.

Grace Petrie comes from Leicester in the East Midlands. She writes indie folk rock songs (a couple with an acoustic punk twist), plays the guitar and sings with a voice that has been likened by listeners to Laura Marling and Kate Nash.

In 2010 Grace's music began to take a new, political direction. The heartbreaking results of the UK general election inspired in her such rage and despair that she picked up a guitar and wrote what has become one of the most celebrated anti-establishment anthems of recent times, Farewell to Welfare. When folk legend (and Grace's personal hero) Billy Bragg heard her music and invited her to play at Glastonbury on the Leftfield stage, she went down a storm and, in Bragg's own words, "stole the f@!#ing show, sister!"

Maria Muldaur is best known world wide for her 1974 mega-hit "Midnight At The Oasis," which received several Grammy nominations, and enshrined her forever in the hearts of Baby Boomers everywhere; but despite her considerable pop music success, her 39-year career could best be described as a long and adventurous odyssey through the various forms of American roots music. During the folk revival of the early '60s, she began exploring and singing early blues, bluegrass and Appalachian "old timey" music.

In the 39 years since "Midnight At The Oasis," Maria has toured extensively worldwide, and has recorded 39 solo albums covering all kinds of American roots music, including gospel, R&B, jazz and big band, before settling comfortably into her favorite idiom, the blues. Often joining forces with some of the top names in the business, Maria has recorded and produced on-average an album per year, several of which have been nominated for Grammy and other awards.

Singer songwriter John Reilly, the voice of Boy on a Dolphin and Acoustic Angels will be opening the show. He will be performing an intimate acoustic set showcasing songs from his latest album solo album Zebulon and playing favourites from his Tea Cozy Hat, and Boy on Dolphin albums. Some of the new songs are now being heard on BBC Radio 2 and stations all over the world. John will be joined on stage by pianist, songwriter and composer Lewis Nitikman from Vancouver, Canada.

Since the well publicised break up of Waking the Witch, Patsy Matheson and Becky Mills have continued to delight audiences throughout the UK – Patsy as half of a duo with the legendary Clive Gregson, and Becky singing alongside Ken Nicol (Steeleye Span) and Ashley Hutchings (Fairport Convention).



Now, to support the release of Patsy's new album 'Stories of Angels & Guitars,' these two world class songwriters, singers and guitarists have joined forces resulting in a unique and personal sound, drawing on roots in traditional and contemporary folk, acoustic blues, R & B, jazz and rock, with an emphasis on intricate vocal harmonies. Combine this with the pair's engaging charm and sense of humour, and this promises to be a very special evening of top quality entertainment.



'Expert musicianship and compelling interchanging lead vocals' – Maverick Magazine

Public Service Broadcasting are a London-based duo whose main ingredients are: 1) J. Willgoose, Esq. on guitars, banjos, other stringed instruments, samplings, electronic things; 2) Wrigglesworth on drums, pianos and other electronic things.

Taking samples from old public information films, archive footage and propaganda material, they teach the lessons of the past through the music of the future.

Live transmissions at venues as diverse as Leefest, Koko, Village Underground, the Edinburgh Fringe and Tooting Market (yes) have seen the band's unique AV show build up quite the reputation as they seek to inform, educate and entertain audiences around the nation – and, hopefully, world.

"Absolutely, sensationally brilliant" – Tom Robinson, 6 Music

The Watch are a 5-piece band from Milan. Their music is inspired by the classic style prog of the 70's and in particular, by the music of Gabriel-era Genesis. The band have 4 albums under their belt featuring their own material, however tonight they will perform the Genesis live double album 'Seconds Out' in it's entirety. The Watch, so incredibly authentic in what they are recreating, are endorsed by none other than Steve Hackett.

Support comes from prog rockers Also Eden who made went down a storm at last November's Danfest2 festival.




www.roger-pugh.co.uk
With over 25 stage experience under his belt, Roger

plays both the guitar and mandola in a style of his own. As well as a mixture of his own Celtic/World-influenced material, he is highly adept as an interpreter of Irish, English and American folk songs. Roger has now moved to Bromyard in Herefordshire but is returning to the Musician to perform his and other people's material with a whole host of musicians he played with in the twenty year period that he lived in Leicester.