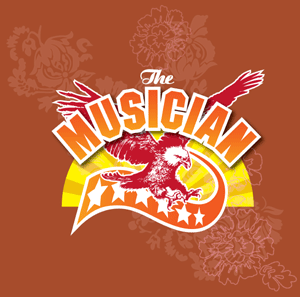 NEW - Download a flyer
Should need to print a copy of this months listings, you can download a copy of our regular flyer by clicking the PDF icon.
---

A word about our listings
A guide for Customers
These days artists and bands tend to book their tours months in advance. In order to give you the best notice of up and coming shows we list events once they have been confirmed by the band or their management. The downside of this is that dates can change due to unforeseen circumstances, sometimes at very short notice.

We do our best to ensure that this site is kept as up to date as is possible, with updates happening at least once a week. Therefore to avoid disappointment we recommend that you check these listing prior to setting out for your show especially if you are traveling any distance.

---

Not listed?
A guide for Artists and Promoters

The quickest way to get yourself included in our listings is to send an email to musician at mohawkvisuals.com once your gig is confirmed.

We also need you to do the following -

Put the name of the artist or band name along with the date of your show in the email subject line.

Attach a reasonable sized photograph. A 72dpi, jpeg, bigger than 200x200 pixels would be fine. Please don't email files over 1mb in size. If in doubt please drop us a line before sending.

Let us have your web address so we can link to your site or Myspace page.

Send us some text. Whilst we are happy to tidy up spelling or grammar, we don't have the time to write or edit copy for you. Ideally we need a nice concise 'blurb' of between 75-100 words. Please don't send a three page biography, or else we are likely to bounce it back to you. If you have a selection of press quotes send what you have as we can usually easily compile something from them. There are plenty of examples of the sort of thing we need here on the site to help you out.

Please note - If you have played at The Musician before and we have text on file, we will continue to use use it for any subsequent listings unless you supply new copy.

If you spot any errors please send an email to musician at mohawkvisuals.com.

Coming to The Musician in March
LISTINGS HOME

The Blow Monkeys
£10adv
plus Stone Foundation and Chris Warner
www.theblowmonkeys.com
Eighteen years on, The Blow Monkeys' original line-up is back together, with an album funded by fans desperate for new material. But this is no mere Eighties revival, their music sounds fresh and strong. The smooth pop-soul sound of the Eighties is now a little looser – courtesy of Dr Robert's folkier forays in his solo output, plus his helping out Paul Weller over the years – but they still have a way with a tune. Now, they're older, wiser, but still capable of penning excellent pop songs.


Peter Bruntnell
£8
plus Babel
www.peterbruntnell.com
www.myspace.com/babelbristol
Recorded mainly at his home studio in Devon and co-written with Canadian writing partner Bill Ritchie, Peter Bruntnell's new album 'Peter and The Murder of Crows' finds him in a reflective yet settled frame of mind. Moving away from the alt-country sound of his previous work, it still has all the trademarks of a classic Bruntnell album - acoustic driven folk based pop with just a hint of psychedelia that's all delivered in a very British fashion.


Access to Music social evening
Free

King King feat. Alan Nimmo
£7
plus Two Fingers of Firewater and Andrea Glass
www.myspace.com/kingkingblues
Alan Nimmo's new band King King are a four piece electric blues combo influenced by The Fabulous Thunderbirds, The Red Devils, Ronnie Earl and Stevie Ray Vaughan. Alan is already regarded as one of the country's hottest blues rock performers for his work in The Nimmo Brothers with his bother Stevie. King King are already creating a stir, receiving rave reviews for their electrifying brand of smoking hot blues and selling-out shows across the country.


Keep it Ca$h
£8
www.myspace.com/keepitcash
One of the most faithful tribute bands you could hope to hear, Keep It Ca$h perform over forty songs from the canon of Cash work. The show is a musical journey through the heart of America. Johnny Cash was an American icon, the last great rebel kicking against the pricks until the final curtain fell. Keep It Ca$h are keeping the legend alive in a stunningly authentic way.


Amplifier
£8
plus support
www.amplifertheband.com
Equipped with a philosophy that questions existence, Amplifier create grand, audacious music of gargantuan riffs sailing swollen serpentine bass spines, powered along on kerosene drums. The Amplifier story began when Sel Balamir invited Neil Mahony and Matt Brobin to join him on an adventure that would take them to the outer reaches of the UK, then Europe and finally the universe. All three had arrived in Manchester, their adopted home, for their own reasons, but as soon as they met, they were united by a shared intention to make things bigger than they already are: to amplify.


Declan Bennett
£5
plus Duncan
www.myspace.com/declanbennett
www.myspace.com/furlined
Declan Bennett (aka sumladfromcov) is a hard-hitting, dynamic acoustic singer-songwriter from England whose unashamed and honest tales of love and sexuality and emotionally charged lyrics have won him a diverse and devoted fan base around the UK and beyond. 'A writer who can move effortlessly from the conversational, the confessional, statements of intent, to the poetic, moving and tender, Bennett's songs deliver a powerful emotional punch without ever resorting to the usual singer-songwriter trap of over-introspection.' - Colin Hall, Rock 'n' Reel.


Magic Teapot presents…
Damo Suzuki
£8adv
Plus Black Carrot and Misterlee
www.damosuzuki.com
Damo Suzuki, does he really need an introduction? Mushroom, Tago Mago…just come down and have your mind ripped open and played with. Tonight will be truly inspiring and totally weird in a very wonderful fashion. If the name of Can does nothing for you, you better check that you are not in fact dead and actually listening to Girls Aloud or Ryan Adams.

visit Magic Teapot for info and tickets


Juilet Turner
£8adv £10door
plus Gentry Morris
www.julietturner.com
Juliet Turner's songs are personal snapshots that reflect on the hard, bitter truths of life and are suffused with an air of sadness and regret that chime perfectly with the melancholy edge to her voice, Her tase for life's sweet and salty moments has evolved, so her palette of sound has rumbled onwards as well, and her appreciation for life's minor chords has grown. Her live shows should be experienced. She is a quiet, relaxed performer with a wicked sense of humour. Her voice is unusually clear and sweet and her between song anecdotes are amusing, eccentric and off-the-cuff. Prepare to be drawn in and bowled over.


Magic Teapot presents...
Nick Harper
£10adv
www.harperspace.com
Son of the legendary Roy Harper, Nick has been playing the guitar since the age of ten, surrounded by the likes of Jimmy Page, Robert Plant and Dave Gilmour, so it was no surprise that Nick made his recording debut on his father's 'Whatever Happened to Jugula?' album. Now a superlative singer-songwriter in his own right, his soulful voice and passionate songs are matched by his awesome guitar playing and marathon live performances.

visit Magic Teapot for info and tickets


Twinn Lizzy
£6door
www.twinlizzy.uk.com
Twin Lizzy are probably the finest Thin Lizzy tribute around. Inspired by the music of Phil Lynott and Thin Lizzy, the band authentically recreate that Thin Lizzy "twin lead guitar" rock sound.


Andy Griffiths
£4
plus support
Album launch. 18:00 - 22:00
www.myspace.com/andygriffiths
Distilling flavours from the likes of Nick Drake, James Taylor, John Martyn and Neil Finn into his own heady brew, Andy has been quietly picking up admirers here there and everywhere over the past six years. He has released two albums, "Strawberry Girl" and "Astrovertigo", both to acclaim. The follow up "Down To The Sea" is scheduled for release early in 2009. Andy's beautifully crafted songs and soulful performances are already making many sit up and take notice, and with a third album due out, there's never been a better time to check out Andy's music.


Chris Difford
£10
plus Ella Edmondson
www.chrisdifford.com
Double Ivor Novello Award-winning Chris Difford has been writing lyrics for over twenty five years, most notably with Squeeze. Chris has also written with Elton John, Trilok Gurtu, Marti Pellow, Lamont Dozier, Willie Mitchell, Bryan Ferry and many others. Chris is currently working as Creative Director to Hurst House in Wales, a hotel with a rich musical menu, including a live TV show and studio in progress. He is also writing new songs for his next album while teaching songwriting at BIMM in Brighton. A busy creative time.


Magic Teapot presents…
The Rumblestrips
£8adv
plus Wet Paint
www.myspace.com/rumblestripsuk
They're good clean fun. "I don't like doing things that other folks tell me to do, so I hit him with a hammer, and now he's quite subdued". Well, clean-ish at any rate. The Rumble Strips are a real anomaly in a nation where jeering at talent show rejects is the pastime of choice. Relatively image-free, they carry nostalgia for an England of yore where boys could carry conkers in their coat pockets, sip at shandy on special occasions and be happy with their lot. Their reliance on thrifty rhythmic foundations, strong vocals and chipper horn arrangements originally places them somewhere between The Housemartins, Madness and Dexy's Midnight Runners, whilst also charging through the kind of frantic, ruffled songwriting that Razorlight thrived on before the lure of the arenas stubbed that right out.

visit Magic Teapot for info and tickets


Nik Kershaw
£15adv £17.50door
www.nikkershaw.net
In 1983, 'I Won't Let The Sun Go Down' was released for the first time and reached the dizzy heights of No.47. This was followed in 1984 by 'Wouldn't It Be Good' which languished gracefully at No.4 in the UK charts for five weeks and broke Kershaw worldwide. 1985 saw three hit singles, a world tour and an appearance at Live Aid. The 90s saw Kershaw writing for/with, amongst others: Chesney Hawkes, Cliff Richard, Bonnie Tyler, Lulu, Ronan Keating, Jason Donovan, The Hollies, Colin Blunstone, Gary Barlow and Let Loose. He briefly poked his head out of the trenches to work with Tony Banks (Genesis) and to record a duet with Elton John, but didn't return to making his own records until 1998 when he released the critically acclaimed '15 Minutes'. This was followed by the equally well received 'To be Frank'.


Summer Sundae Shop Window
feat. 20 Below 0, The Booby Traps, Skarots, Senecio, Deep People
Free


Groanbox Boys
£7
plus support
www.groanboxboys.com
The Groanbox sound is a unique blend of roots music performed on accordion, acoustic guitar, banjo, harmonica and myriad pieces of percussion. Their foot-stompin' sound features unconventional arrangements weaved together with tight vocal harmonies sung with a raw intensity. The Groanbox Boys have toured extensively throughout the UK and the east coast of the USA and made their local debut earlier last year with a storming set at the Leicester City Blues Festival.


Emily Barker & The Red Clay Halo
£6
plus Jenny Crook
www.myspace.com/emilybarker
www.jennifercrook.com
"Emily Barker returns to the Musician in the guise of a female folk quartet to
support the release of her new album and single Despite The Snow. If you caught last year's BBC One drama Wallander, starring Kenneth Branagh, you'll recognise Emily's vocals from the programme's theme tune." 'Incredible voice …surpasses any critical superlative' - Americana UK. 'One of those talents that comes along once in a lifetime, if you're lucky.' – Maverick. 'Echoes of Lucinda Williams' rasp and Martha Wainwright's cutesy purr' – Word. 'A gorgeous, sincere voice that grabs you and won't let go' – The Sun


The Mods
£10adv £12 door
www.themodsband.com
Formed initially to play at the Steve Marriott Memorial Concert in 2001, The Mods combine top-class musicianship with a love of the classic tracks they grew up to. Faithful renditions are given 'The Mods' touch, and the fun they have onstage is infectious! The ever-changing set list includes numbers by The Who, The Small Faces, The Kinks, The Doors,The Yardbirds, Pink Floyd, The Easybeats, Jimmy Cliff, Desmond Dekker and, if there are any rockers in the house, they can add The Stones, Led Zeppelin, Johnny Kidd, Eddie Cochran and many more to keep everyone happy.


Kingsize
£5
www.kingsize-ska.com
It's time to get horny with Leicester's top ranking ska band Kingsize who play foot-stompin', house rocking Kingsized arrangements of the finest original Jamaican ska sounds. Their style draws heavily on the classic Studio One song catalogue and traditional big band sounds of '60s ska.


Magic Teapot presents...
Frightened Rabbit
£8adv
plus support
www.myspace.com/frightenedrabbit
You are currently reading about Frightened Rabbit. They are a band who live in Glasgow and have done for some time. They record in bedrooms, cupboards and kitchens. Anyone can be in Frightened Rabbit. They have played some live shows in this city, but want to meet people from other cities, in order that they can come and blow into tubes when they play live. Lets keep pop music alive by getting it out of that dress and into a sweater.

visit Magic Teapot for info and tickets


Sarah Gillespie
£6
plus support
www.sarahgillespie.com
"Original and strong, Sarah's material is characterised by infectious melodies and voice so potent it will knock you to the wall." - Acoustic Revolution. "Greenwich born singer songwriter Gillespie purveys mesmerising, acoustically styled songs that shimmer with a resonant beauty and emotive hurt.... she is very much the talent to watch." - Time Out. "Sarah's voice totally fills the room – extremely distinctive, smoky and seductive with a bluesy edge." - Get Rhythm Magazine.