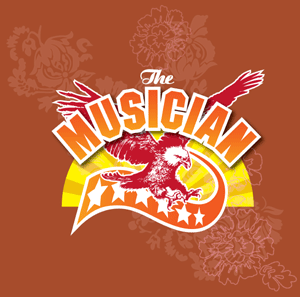 LISTINGS HOME
Thu 1

plus Dan Britton
£6
www.petemorton.com
Folk singer Pete Morton is a songwriter and performer from Nottingham, with a wealth of great songs and stage presence. His show is dynamic and intense as well as approachable and fun loving. He seriously believes there are 'Six Billion Eccentrics' in the world and that particular song is fast becoming a signature tune for people everywhere. Starting out as a busker on the streets of Europe he has entertained all over the globe with his unique and involving style of songwriting and traditional singing. Pete has recorded five original albums and a project album of traditional songs entitled 'Trespass'. His CD 'Hunting The Heart' was a Mojo folk album of the year in 2000.
Fri 2

plus The Kate Easton Band
£4adv £5door
www.andygriffiths.net


A must for fans of passionate, literate songwriting, Andy Griffiths returns to the Musician tonight with a new album and band. His first cd Strawberry Girl was described by Americana-UK as "uplifting...all finely crafted vignettes of love and it's many vicissitudes" and the new album shows Andy reaching for new heights, with musical themes referencing everyone from Radiohead to Nick Drake, and lyrics touching upon subjects as diverse as the changing seasons, space travel, mountaineering and World War Two. Kate Easton has won acclaim for her role in bands such as Strung Out Sisters and Bryter Layter, and tonight releases her excellent debut solo album Before Too Long. Don't miss this opportunity to catch two of Leicester's finest new songwriters.

Sat 3

plus Massu Ko, The More Assureds, The Displacements and The Chairman
£4
www.ego-armalade.com
Ego-armalade are a Leicester based five piece rock 'n' roll band currently setting the local music scene alight with their varied style of Geezer-Rock-Dub-Reggae-Rebellion. Widely regarded as one of the hottest unsigned prospects in the city, the Ego's reached the final of the regional media covered, 'Original Bands Showcase', and have provided support slots for the likes of The Futureheads, Towers of London, The Cribs and have been to see Kings of Leon. The Ego's have left no stone unturned when it comes to venues, having played almost every dive in Leicester ever to put a 'Live Music' sign in their window, and remarkably left victorious albeit with the odd "I'll shove that microphone up your arse," comment!
Sun 4

£5
www.saiichi.com
Tokyo born Saiichi Sugiyama's songs echo the British rock music of the late 60's and early '70s, nurtured and amplified with his Japanese sensitivity. They are eclectic in style but retain a distinctive melodic identity that is all his own. His guitar playing is rooted in the blues, his bends and vibrato cut and stab like a Samurai sword while his phrasing retains old-school British elegance and tone. His singing voice crosses between gentle sensitivity and a soulful hard edge, compared by some to that of the late John Lennon, a British musician who instinctively connected to the Japanese traditions.
Mon 5
Tue 6

Boo Hewerdine
plus support
£7adv £8door
www.boohewerdine.net
Folk-pop singer/songwriter Boo Hewerdine first surfaced in 1983 in the Cambridge based group the Great Divide; two years later, he founded cult favorites the Bible, releasing a pair of acclaimed albums (Walking The Ghost Back Home and Eureka) and scoring a minor hit single with "Honey Be Good" before disbanding the group in 1988. From there Hewerdine teamed with Texas performer Darden Smith for 1989's well-regarded Evidence, followed in 1992 by his true solo debut, Ignorance. After briefly reforming the Bible, he returned in 1996 with Baptist Hospital; Thanksgiving followed three years later.

Wed 7


plus Andy Stirton
£6adv £7door
www.fruteland.com
Fruteland Jackson specializes in performing acoustic blues, from contemporary to traditional, from the blues of early field-holler songs and work songs to Delta and Piedmont Blues, as well as his own original works. Fruteland is one of a select group of Americans dedicated to gathering, preserving and performing Acoustic Blues, in all their various forms and he has taken his art to hundreds of venues in America and Europe. Fruteland was awarded the 1996 Illinois Arts Council Folk/Ethnic Heritage Award and is the recipient of the 1997 W. C. Handy Award for "Keeping The Blues Alive" for Blues in Education.


Thu 8
Magic Teapot presents

£6adv
www.bicrunga.com
A superstar in her native New Zealand while still in her teens, singer/songwriter Bic Runga was the product of a musical family, her mother being a Malaysian nightclub performer during the 1960s. She began playing the drums at the age of 11, and within a few years was singing with local jazz groups. Upon learning guitar and keyboards, Runga began composing and in 1994 relocated to Auckland to pursue a professional music career. Her debut single Drive rocketed into the top ten of the New Zealand pop charts and garnered her a prestigious Silver Scroll songwriting award. After touring in support of Neil and Tim Finn, Runga issued a follow-up single, Bursting Through, followed in 1997 by Sway. Her self-produced debut LP Drive appeared later the same year.
Fri 9


plus C.Bob and DeSade
£5
www.rockstar.org.uk
www.de-sade.co.uk
www.c.bob.co.uk
Initially formed in 2004 as a songwriting partnership by Tony Nicholl, Daz Yates and Dave Rothan, all members of prolific '80s rock band Dirty Minds, Rockstar are a tribute to ten years of the best stadium rock. A firm favourite on the Midlands rock club circuit, Rockstar's set list includes classics by Van Halen, AC/DC, Bon Jovi, Ozzy Osbourne, Guns 'n' Roses, Motley Crüe, Def Leppard, Iron Maiden and Metallica. In 2005 the band were chosen by Graham Bonnet (Rainbow) as support group and backing band for his UK tour, a role they will undertake again on the Scottish and Irish legs of Graham's forthcoming European tour. So dust off your eagle boots, squeeze into your spandex, tune up your air guitar, raise your fist…. and yell!

Sat 10

Nimomashtic
plus Jamsons Nook and John Budding
£4
www.nimomashtic.com
www.jamsonsnook.com
No tour buses for this four-man folk/soul band, oh dear me no; It's shank's pony from venue to venue, carrying all their own equipment and the bare minimum of supplies. Their monumental journey will be filmed and the footage edited and turned into a film/documentary. Nimomashtic have a holistic secondary goal – here in the 21st century, mass globalisation and all its related problems such as deforestation, global warming and species extinction are threatening the very fabric of life, as we know it. With this in mind, in the true spirit of Johnny Appleseed, the band will plant apple seeds along the route, symbolic of the fact that only with humankind's helping hand can survival for future generations on this planet be assured.

Sun 11

Unfortunately John Stewart's UK tour has been cancelled due to ill health. We hope to be able to reschedule this date for later in the year.
Mon 12
Tue 13

feat: The Hornblower Brothers, Intermission To Saturn, John
Free
www.myspace.com/thehornblowerbrothers

The Persuasive Electric Blanket Lounge is a monthly club night for live and recorded psychedelic, folk and experimental sounds. 3 bands per night, liquid wheel projections, and music from the likes of Six Organs Of Admittance, Sunburned Hand Of The Man, Incredible String Band, Devendra Banhart, Espers, Spacemen 3, Red Krayola, United States of America, Fifty Foot Hose, PG Six, Wooden Wand, Cream, Soft Machine, Comus, Broadcast, Nico, and many more.

Wed 14

plus support
£7adv £8door
www.dickalba.demon.co.uk
It's almost four decades since Dick Gaughan took his first steps on the folk scene, but he remains as uncompromising as ever. A fiercely proud Scot who is nevertheless more than happy to debunk many of the myths that have grown up around his homelands nationalism. Gaughan is good at confounding stereotypes. In most of his photographs he looks dour and solemn, but onstage he's relaxed and funnier than many comedians. He sings folk music, much of it traditional, but it sounds contemporary. Known for his powerful voice, Gaughan is also a consummate guitarist and live performer who takes few prisoners. He not only maintains tradition, but adds to it and propels it forward.
Thu 15

£7
www.aynsleylister.co.uk
In a world full of manufactured over-hyped pop music, Aynsley Lister is proof that there is light at the end of the tunnel. His powerful, infectious songs are unashamedly blues influenced and performed with the kind of conviction of someone twice his age. Say the word blues to a commercial record company and see how far they run! But Lister carries on regardless, writing and recording albums that continue to sell and prove that blues rock music can be commercial and have you singing along to yourself days after you hear it, just like half the committee written stuff you hear every day on the radio. Exceptionally mature and exciting. – Mojo. Superb - The Times.
Fri 16
Lazy Sunday presents

£8adv £10door
www.johnotway.com
Armed with only a modicum of musical ability, a self-deprecating sense of humour and no apparent fear of public humiliation, John Otway has had a career spanning over 20 years. A consummate and highly popular entertainer, these days, he is better known for his comic attempts to scale the heights of superstardom than his actual success. Actually his genius as an entertainer is what keeps his career going strong after so long in the business. Though his shows are always hilarious and consistently brilliant, he also has a rare talent for songwriting, from punk-rock through to classic ballads and this is what his true fans come back for time and time again.
Sat 17

£6
www.movinmusic.co.uk
Sun 18
Mon 19
Tue 20
Wed 21

plus Secrets & Sin + Dana Wylie Band
£3
Thu 22

plus support
£7adv £9door
www.ericbogle.net
Eric Bogle is roundish, shortish, baldish, fiftyish and Scottish. He is an internationally known and respected singer/songwriter who has been taking his music around the world for the last 25 years or so, in spite of warnings to "stop it or you'll go blind". A warm and engaging stage performer, his songs have the knack of getting straight to the heart of the matter and have been recorded by artists ranging from Joan Baez, Donovan, The Pogues and Mary. He has recorded 14 CD's and is at present working on his 15th. Eric has been described as a living legend, a label that he is uncomfortable with, but, as he says, "it's marginally better than being a dead legend".
Fri 23

£6
www.howardsmith.co.uk
It's always a pleasure to have red-hot, local guitar ace Howard Smith and his hard drivin' Razors down at The Musician. Combing the no-frill's, blue collar r'n'b of killer British combo's such as The Inmates and Doctor Feelgood with the greasy slide work of Ry Cooder, Sonny Landreth and Lowell George, Howard and the boys are one of the rockin'-ist little blues bands in the country. Tight as hell, yet as loose as the proverbial goose The Razors are always an exciting proposition live and shouldn't be missed.
Sat 24

plus Purple & The Rains
£5
www.greenmac.org.uk
Greenmac showcase the extraordinary talents of Peter Green's Fleetwood Mac. With Dusty Miller and Gary Wood (guitar/vocals), Craig Jackson (bass/vocals) and Pete Tallent (drums) this West Yorkshire based band are impressing audiences nationwide with their unique take on the blues - Peter Green style. They have a powerful sound and are establishing themselves as one of the best blues outfits around. Don't miss them!
Sun 25

Rachael Warwick
£6
www.rachaelwarwick.com
The genre is "Anglo Americana", which is a blend of all of the best elements of rock, pop, country and Americana performed by a dynamic Brit band and the ultimate Brit Chick. Warwick and her six piece band will be performing tracks from her award winning album plus a few covers played in their own unique style. Warwick is the only English artist to chart in the Texas Music chart and Nashville's MusicRow chart. She is also the first English artist to be interviewed by Nick Barraclough in five years for his BBC Radio 2 show.


Mon 26
Tue 27
Closed
Wed 28

Kate Easton + Beneva + Stevie Jones
£3
Thu 29




Sid Griffin & Pat McGarvey
Tommy Womack
and Jason McNifff
£6adv £8door
www.sidgriffin.com
www.tommywomack.com

Sid Griffin
Rock & roll renaissance man, Sid Griffin is currently ringleader of both Western Electric and the UK's finest bluegrass band The Coal Porters, proud author of the new book Bluegrass Guitar: Know The Players, Know The Music, an acknowledged expert on the musical career of Gram Parsons, an acoustic troubadour of note, founder of alt-country godfathers The Long Ryders, a much published freelance writer and documentary scriptwriter for BBC Radio. Sid is also the chef with the second best banana walnut pancakes in Britain, an out-of-work radio DJ and a vastly experienced record producer. Tonight he appears solo aided and abetted by long time Coal Porters compadre Pat McGarvey.

Tommy Womack
My name is Tommy Womack, I live in Nashville and I've never voted for anyone named Bush in my life. I was in a band called Government Cheese and another called The Bis-quits with Will Kimbrough. Will and I now have a band called Daddy. Our first record, "At The Women's Club" entered the milesofmusic.com sales charts at number one last October. I've made upwards of a dozen records and written one book, a rock and roll road memoir called "Cheese Chronicles". Todd Snider and Jason & The Scorchers have covered songs of mine. I'm currently working on a new record and have a novella set to go to print soon.

Fri 30
7storysoul
£5
www.7storeysoul.co.uk
Back again after their debut gig in January, 7Storeysoul are a celebration of quality 1970's soul and funk. Covering some rarely performed soul gems plus some well-loved classics of the era, their set ranges from the socially conscious soul of the early 70s, including Marvin Gaye, Curtis Mayfield and Stevie Wonder, to the later feelgood funk of bands such as Stretch, The Crusaders and The Average White Band. They also perform some original material in the same soul/funk vain. 7Storeysoul's combination of laid-back grooves with strings and harmonies results in a sweet summery sound guaranteed to get you moving!