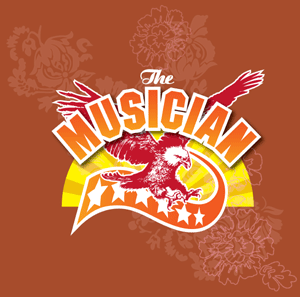 Should need to print a copy of this months listings, you can download a copy of our regular flyer by clicking the PDF icon.
---
These days artists and bands tend to book their tours months in advance. In order to give you the best notice of up and coming shows we list events once they have been confirmed by the band or their management
The downside of this is that dates can change due to unforeseen circumstances, sometimes at very short notice. We do our best to ensure that this site is kept as up to date as is possible, with updates happening at least once a week.
Therefore to avoid disappointment we recommend that you check these listing prior to setting out for your show especially if you are traveling any distance.
---
Not listed?
A guide for Artists and Promoters
The quickest way to get yourself included in our listings is to send an email to rideout at stayfree.co.uk once your gig is confirmed.
We also need you to do the following -
Put the name of the artist or band name along with the date of your show in the email subject line.
Attach a reasonable sized photograph. A 72dpi, jpeg, bigger than 200x200 pixels would be fine. Please don't email files over 1mb in size. If in doubt please drop us a line before sending. Let us have your web address so we can link to your site or Myspace page.
Send us some text. Whilst we are happy to tidy up spelling or grammar, we don't have the time to write or edit copy for you. Ideally we need a nice concise 'blurb' of between 75-100 words. Please don't send a three page biography, or else we are likely to bounce it back to you. If you have a selection of press quotes send what you have as we can usually easily compile something from them. There are plenty of examples of the sort of thing we need here on the site to help you out.
Please note - If you have played at The Musician before and we have text on file, we will continue to use use it for any subsequent listings unless you supply new copy.
If you spot any errors please send an email to derek at indiecentral.co.uk.
Coming to The Musician in July

Born in Darlington, Co. Durham, Billy Bottle was raised on Moorland walks, summer carnivals and industrial grit.

Formal training in piano and oboe led to busking guitar on the streets and learning the craft of songwriting with indie band, Ethan.

Embarking on musical study in The Big Smoke, he met the effervescent Martine. They bonded over Mini Rolls and formed the neo-prog band, Qadesh with Martin Hoj.

Billy felt his first call from the West Country; touring with Giffords Circus to wake up the sleepy villages of Gloucestershire.

He ran away to collaborate with Dave Sinclair from cult band, Caravan and finish his own solo album, A Message From...

During this time Martine and Billy re-met and followed a call deeper West to Devon. Here they stumbled on a farm, became Entwined and released the Thoreau-inspired album, Unrecorded Beam.

Somewhere along the way this journey became The Multiple.

SPOTLIGHT is a new night showcasing some of the best new bands on the Musician stage. We are very pleased to welcome our second five selections in what promises to be a quality evening's live music!

Formed in 2012, Strange Blues have earned a well-deserved reputation as a blistering live act, gigging steadily around the Midlands and supporting the likes of Mick Pini and Aynsley Lister among others.

Performing classic Blues Rock from the likes of Jimi Hendrix, Cream, Peter Green's Fleetwood Mac, Freddie King, BB King, Albert King, Stevie Ray Vaughan, Robert Cray, Rory Gallagher, John Lee Hooker and more, Strange Blues also include their own songs which blend in seamlessly.

Highly acclaimed among their peers and audiences alike, members of Strange Blues are all veterans of the Leicester music scene having played individually with Jersey Budd, David Wyatt, Dawson Smith & The Dissenters, Skaboom, YellowBelly, The Moonlights, Midlive Crisis, The Traces, Paul McClure, Andy Griffiths, Greg Gent and Belvoir Sweet.

Strange Blues have recently been writing and performing with Sally Barker and Sally will be appearing with the band tonight, ahead of their set together at this month's Simon Says Festival.

facebook.com/mountaintopjunkshop

thekirklandturn.blogspot.co.uk

Over the span of her career, Jolie Holland has knotted together a century of American song - jazz, blues, soul, rock and roll - into some stew that is impossible to categorize with any conventional critical terminology. This is her burden and her gift, to know all of these American songs of the last ten decades in her head and her heart, and to have to wrestle with their legacy. She dives straight to the pathos of a song the way the very greatest singers, singers like Mavis Staples, or Al Green, or Skip James, or Tom Waits do.

Holland has always embodied everything weird and wonderful in the history of American music, but her latest album Wine Dark Sea takes it to a new level. Raw and unrestrained, bristling with kinetic energy, Wine Dark Sea is unlike anything she's ever recorded, but is also the purest and most assured evocation of Holland's vision to date.

The Jimi Barbiani Band is the new project by Jimi, one of the best rock-blues slide guitarists in Europe and ex-guitarist of W.I.N.D. They display a mixture of influences from artists such as Hendrix, Joe Bonamassa, Jeff Beck, Free, and Gov't Mule. The explosive sound of the JBB is best experienced in live performances, allowing the band to move from the long-jam ride to the most passionate blues-rock, ever creating a unique sound. Jimi will be joined as special guest for the gig by Gianni Massarutto one of the best harmonica players this side of the Atlantic.

Jimi, just like his namesake, plays from his soul, with a style reminiscent of Muddy Waters and his deep vibrato and a slide expertise reminiscent of Duane Allman. Jimi's music is inspired by the crowd as he plays for all the people who enjoy classic sounds as well as rock-blues energy.

Dizzy Lizzy are the most dynamic rock n roll concept, experience in their field on the circuit today. Able to recite 70s Irish Rocker hero's 'Thin Lizzy' brilliance with an uncanny ease. Having played as far a field as Los Angeles to Dubai. Providing themselves with a genuine insight into their toppermost Worldwide status in terms of overall presentation, performance and delivery.

"These guys are the closest to playing my son's music" - Phillomena Lynott

facebook.com/diglazarusuk
Formed five years ago by Steve Hill (guitar) and Matt Gilmore (bass), SKAM are a three-piece, hard rock band based in Leicester. With the latest addition of Neal Hill on drums, SKAM are at their strongest ever. With over 400 gigs to their name to date and having played in every major city in the UK and Ireland, this is a crack live unit with a stage show second to none. Influenced by bands such as AC/DC, Iron Maiden and The Foo Fighters the band have a reputation for delivering no-nonsense, gutsy, classic British rock music. Their passion and conviction as a live act has resulted in a strong local following, with one notable local reviewer dubbing them "Leicester legends."

Two superb supports tonight also come in the form of power trios, with Highway To Hell 5 winners The Texas Flood making the trip from South Wales, and Leicester's own Dig Lazarus, crowned 2015 Original Bands Showcase winners and currently making big waves on the local scene.

Marty O'Reilly came to The Musician last year with the Rainbow Girls and wowed the crowd and then some. His raw and intense take on the blues nods to everyone from Howlin' Wolf to Tom Waits. Chris Lynch (fiddle) and Jeff lynch (double bass), aka The Old Soul Orchestra, help him whip up a mighty and intense storm every time they play. Don't miss some of the best acoustic blues out there!

Andrew Duhon's last album, The Moorings, was nominated for a Grammy. He plays a mean slide guitar, has soul to spare and writes great songs. Don't miss out, get there early!

The 2nd album by Leicester's own Prophets Of Saturn will be officially released by Birmingham label HeviSike Records on 17th July. Come and help us celebrate the occasion the night before!

Cosmic Tomb say this; "Creeping towards the cosmos in a whirl of mystical smoke comes Leicester's own Prophets Of Saturn. Rekindling the psychedelic doom rock without falling into the cliches many have already succumbed to, you will find yourself in an endless trip by the time Side-B comes around."

We will have copies of the album and album merchandise for sale so you can get yours one day before the rest of the world.

Support will be from Nottingham's mighty cosmic vagabonds Mammothwing, long trippy fuzzy jams, just how we like them!

Lumière Ogbanje will be providing his trippy visuals via DIY oil light projection.

Album details and pre-orders here, and you can also stream a track from the album.


Formed in Stoke-on-Trent in the dim and distant past of 1993, Elvis Fontenot and the Sugar Bees have evolved to become the premier European swamp 'n' roll outfit that they are today.

In 2006 and 2009, the Sugar Bees were crowned "European Zydeco band of the Year" and band member Nick won European Rub-board player of the year. They have been played on the BBC by Andy Kershaw and Mike Harding and have been on TV in Austin, Texas and featured on radio stations across America and also in Australia.

Expect an infectious good time!

What could be said about this multi-platinum super-group that hasn't already been said? They are one of the most creative and enduring bands of all time.

Maidstone-based Just Floyd are a five piece outfit who pride themselves on capturing the sound and feel that is the magic of Pink Floyd.

They have a lightness and relaxed authenticity to their performance that is often commented on and commended - and feels closer to the original spirit of Pink Floyd than some of the robotic, studio performances typical of many tribute bands. There is an edge to this band's sound - live music at its best.

It's no surprise that the current line-up has been described as 'the most authentic live Pink Floyd tribute'.

Yet despite this accolade, the band do not proclaim to be an imitation - you'll see no stage theatrics, costumes or acting; and no 'original', unreliable 1970's equipment! Just Floyd is about the music of Pink Floyd.

Nashville based country artist, Sarah Gayle Meech is blazing a trail of her own, one that the founding fathers of country music would have been proud of. Having lived in Tennessee for only five years she successfully blends the city's nature, spirit and seasons into a beautifully unforgiving soundscape. Drawing inspiration
and hailing from Longview, Washington, she was surrounded by evergreens, small towns and people with grit, themes that surface often in her songwriting.

As her popularity rises, so do her achievements. She has a song and performance featured on the new season on ABC's Nashville, frequent airplay on SiriusXM's Outlaw Country, songs featured on
hit FX TV series Justified, recently won the 2015 Best Outlaw Female Ameripolitan Award, and is soon to play alongside Merle Haggard at the first annual Ink-N-Iron Festival in Nashville this summer.

Boston-based Della Mae were formed in 2009 but this is their first UK tour. Their bluegrass-based music adds elements of soul, old time and folk and fuses them with a pop sensibility and has earned them a Grammy nomindation for their second album 'This World Oft Can Be' as well as acclaim for the swagger and energy of their live shows. Catch them now before they move on to bigger venues.

One of the most hi-energy and entertaining bands in the country, special guests CC Smugglers have wowed audiences at Glastonbury, Cambridge folk festival and many more with their unique good time take on Americana, jazz, bluers and folk. Described as 'genuinely innovative, creative and contemporary', the six-piece have developed a reputation for unique original compositions and red hot live shows.

Evans The Death are an English indie rock band formed in London in 2011.

Named after the undertaker in Dylan Thomas's 'Under Milk Wood,' Evans the Death's 2012 self-titled first album mixed Smiths-influenced indie with scratchy noise-pop topped by Katherine Whitaker's striking vocals. The brilliant debut saw critical acclaim from Q, Uncut and Artrocker, and radio play on BBC Radio 1, BBC 6Music and XFM.

After a change in line-up, the band regrouped for the recording of 'Expect Delays', a more ambitious and focused record encompassing additional influences including shoegaze and indie-rock whilst sacrificing none of the band's spontaneity and vitality. 'Expect Delays' is a supremely inventive and intelligently crafted album from a band who have suffered for their art, and used that experience to inform and nourish their work. Expect no more delays: Evans the Death have arrived.

Jason & the Scorchers, originally Jason & the Nashville Scorchers, are a cowpunk/country rock band formed in 1981 and led by singer/songwriter Jason Ringenberg and featuring gunslinger Warner E. Hodges on guitar.

With a sound that straddles hard rock, punk rock and country music, Jason and the Scorchers are noted for their energetic live performances, and have earned strong reviews from critics: Mark Deming, who declared they "blazed a trail for the cowpunk and alt-country movements that followed in their wake."


"Nashville's greatest rock band!" - The Tennessean

"Someday, Jason & The Scorchers may play a mediocre set. But it won't be in this lifetime." - Billboard

"The Scorchers are the real deal, the spontaneous combustion of country roots and rock & roll fervor." -
Rolling Stone

Guitarist and vocalist with Ocean Colour Scene, Andy has toured the world. Back home in Birmingham, Andy Bennett is known to the local music scene as one its shining lights. A talented musician who plays guitar, bass and drums, he is also an accomplished vocalist - he was lead singer in his band Sargant (Acid Jazz Records) before joining OCS.

A champion of local regional talent Andy holds regular songwriting sessions with the Midlands top musicians nurturing some of the citys up and coming stars of tomorrow.

With his new band, Andy will be performing many of the songs he is known for as well as some classic tunes and tracks from his new album.

Zero + One = No Limit sees a host of talented local musicians celebrating with a common theme, they all have birthdays ending in a '1' during 2015. Come down and join in the fun as they begin a fresh decade - Musician favourite Pete Morton will be celebrating his 51st birthday on the actual night itself!

There's still room for more participants, so any musicians who happen to turn 71, 81 or 91 this year, please contact Sheila Mosley via the Facebook event page!

Formed among friends in 1974 The Enid invented a school of intelligent, powerful and romantic popular music which is unique to them. The Enid "school of art" for want of a better description, is free from constraints of template rock/pop where rhythm, harmony and melody are invariably dictated by the traditions, prejudices and limitations associated with style.

In the 80's, The Enid got kicked off the Glastonbury CND festival when Godfrey pointed out that the then owners of EMI made parts for nuclear missiles. The band still holds the record for the most encores at Reading Festival which they have played five times.

Members Robert John Godfrey and Dave Storey put together a new band. Since then The Enid has had fantastic receptions in gigs all over the UK, in Europe and the in USA. In 2012, vocalist Joe Payne joined the band for the 13th studio album – INVICTA – which is now receiving wide acclaim including being voted into the Top Ten Guardian readers poll for best album and best track.

Tonight is the UK's final opportunity to hear brand new music from The Enid's new album 'DUST' ahead of its official release in October 2015.