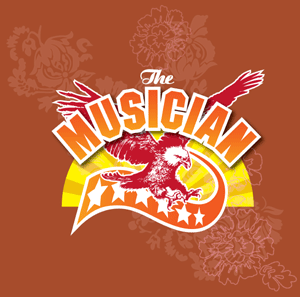 Should need to print a copy of this months listings, you can download a copy of our regular flyer by clicking the PDF icon.
---
These days artists and bands tend to book their tours months in advance. In order to give you the best notice of up and coming shows we list events once they have been confirmed by the band or their management
The downside of this is that dates can change due to unforeseen circumstances, sometimes at very short notice. We do our best to ensure that this site is kept as up to date as is possible, with updates happening at least once a week.
Therefore to avoid disappointment we recommend that you check these listing prior to setting out for your show especially if you are traveling any distance.
---
Not listed?
A guide for Artists and Promoters
The quickest way to get yourself included in our listings is to send an email to rideout at stayfree.co.uk once your gig is confirmed.
We also need you to do the following -
Put the name of the artist or band name along with the date of your show in the email subject line.
Attach a reasonable sized photograph. A 72dpi, jpeg, bigger than 200x200 pixels would be fine. Please don't email files over 1mb in size. If in doubt please drop us a line before sending. Let us have your web address so we can link to your site or Myspace page.
Send us some text. Whilst we are happy to tidy up spelling or grammar, we don't have the time to write or edit copy for you. Ideally we need a nice concise 'blurb' of between 75-100 words. Please don't send a three page biography, or else we are likely to bounce it back to you. If you have a selection of press quotes send what you have as we can usually easily compile something from them. There are plenty of examples of the sort of thing we need here on the site to help you out.
Please note - If you have played at The Musician before and we have text on file, we will continue to use use it for any subsequent listings unless you supply new copy.
If you spot any errors please send an email to derek at indiecentral.co.uk.
Coming to The Musician in July

Louise moved to London in 2012 to study Jazz Voice at the prestigious Trinity Laban Conservatoire of Music and Dance and has since made a big splash on the London jazz scene, working with the likes of Pete Churchill, Georgia Mancio and Liane Carroll. Her soul soaked voice is reminiscent Ella Fitzgerald, Anita O'Day and Nat King Cole, and she sings with a breath-taking maturity and depth that leaves audiences spellbound.

In 2013, an exciting partnership was born when Louise met the outstanding Swansea-born quartet 'The Gents', formed of saxophonist Tom Duggan, pianist Sam Vine, bassist Tom Vine and drummer Dylan Goldring. The four play with an invigorating energy and swing that is unrivaled by any ensemble of their generation.

Katie's music is an evocative blend of the traditional and the contemporary. She honed her style playing across France and Spain, soaking up the passion of the traditional musicians there. Her unique and free style fuses these influences with the pop and rock she grew up with. She cites Janice Ian, Bob Dylan, Leonard Cohen, Fleetwood Mac and Lissie amongst her diverse influences.


Her voice is breathtaking, fragile and haunting. The Daily Mail called it "outstanding" and the Guardian gave her debut album a 4-star rating. But most importantly for those who return to see her time and again, she possesses the ability to leave an audience completely spellbound and hushed by the power of her live performance.

Whilst working on her 3rd studio album, Katie is taking time out to perform around the country. Join her and the band for what is sure to be an intimate and memorable evening.

David Wyatt has recently released his third album 'The River' and has performed and toured with many artists, most recently with The South and the esteemed guitarist Tommy Emmanuel, at a variety of UK venues.

He has also played alongside James Morrison and top slide guitarist Johnny Dickinson to name just a few.

Most recently, he has been involved with two major record labels and recorded with top producer James Sanger who has worked with both Brian Eno and Keane.

Voodoo Room are a stunning power trio featuring some of the UK's finest musicians. Their individual credits include the likes of Eric Clapton, Steve Winwood, Duran Duran, Fish, Thunder, Chris Difford and many more.

Paying tribute to both Hendrix & Cream, they perform an incredible, high energy show, delivered in the true spirit of these two legends from the world of classic blues/rock.

"Really excellent show, great touch, tone feel and grooves - Cream & Hendrix refortified!" - Pete Feenstra - The Boom Boom Club, London

Magic Teapot presents the fourth Goodtime Recordings showcase, a roster of bands from the elusive Goodtime Collective, an ensemble of musicians, filmmakers and artists based in Leicester, London and Lithuania.

Featuring: The Pale Faces - hardcore psychedelic pop for the soul.

Subtitles - reverb drenched garage from the 5th dimension.

Preacher & The Bear - super blues for the age of the man/machine.

Plus special guests!

Dean Friedman performs with his band, The South Street Fusion Project, playing an eclectic mix of jazz, rock, pop and world music, combined in an intoxicating, and always swinging, musical stew. Featuring familiar radio hits - Ariel, Lydia, Lucky Stars, McDonald's Girl, plus original jazz/pop/rock-fusion that sooths, swings, titillates and always satisfies.

"Stunning musicianship" - Hot Press

"An amazing talent" - The Sun

After a brilliant gig last year we had to bring them back. The sound of the Rainbow Girls is a big and boisterous mix of alt-country and Americana, with a sprinkling of ethereal folk thrown in for good measure. Onstage or on the street, they swap instruments and trade lead vocalist duties with an energy and approachability that's been known to get folks up and dancing, no matter where they may be.

"We really want people to think about what we're saying and doing, while also enjoying themselves," the ladies say."Our songs may be fun to sing and dance to, but every one of them carries at least one if not multiple messages."

Top class stomp folk!

The Webb Sisters' singing and playing (harp, guitar, mandolin, piano, drums) draws from the folk and pop traditions of Britain and the United States. TheThey have recorded three albums, building a following on their travels, achieving album, single and record of the week on iTunes and BBC Radio Two. Charley and Hattie have performed twice for Princess Anne and once for Queen Elizabeth.


Their album 'SAVAGES', released in 2011, was produced by multiple Grammy Award winning producer Peter Asher and 'Baroque Thoughts' (featured on 'Savages') won the International Music Award for 'best Adult Contemporary Song'. The Webb Sisters released EP 'When Will You Come Home?' in 2013.

They have toured and performed alongside with Richard Thompson, Leonard Cohen, Jamie Cullum, Rufus Wainwright, Gotye, Jason Mraz, James Morrison, Kubb, Katie Melua, Leya and Joe Echo.

Dizzy Lizzy are the most dynamic rock n roll concept, experience in their field on the circuit today. Able to recite 70s Irish Rocker hero's 'Thin Lizzy' brilliance with an uncanny ease. Having played as far a field as Los Angeles to Dubai. Providing themselves with a genuine insight into their toppermost Worldwide status in terms of overall presentation, performance and delivery.

"These guys are the closest to playing my son's music" - Phillomena Lynott

Porter create a fusion of Soul, Blues, Jazz and Ska and received critical acclaim for their album 'Cant Keep Still' which the band gained the band play listing on BBC Radio Two and gained Porter features in the 'Blues Matters' magazines on two occasions in the past year. Their new album 'Stone Chucker' promises more of the same with a further tilt towards the blues and will include additional vocals from Lisa Mills from the USA.

The band, fronted by songwriter Gary Porter, includes the multi talented Dave Melling on Keys and occasional trumpet along with a rhythm section comprising the impeccable Geoff Conway on upright bass and ex 'The Sensational Alex Harvey Band' drummer Phil Mount.

The brass section of the Porter line up includes the superbly talented Graem Turner who plays with the likes of The Drifters, The Three Degrees, David Essex, Robert Plant, Jeff Beck and Jools Holland to name just a few.

Porter are presently performing their songs to a UK wide audience on the 'Stone Chucker' tour.

"Very very good indeed" - Paul Jones BBC Radio Two

"Sleazy and sophisticated Jazz Blues sound" - Blues Matters

After wowing everyone last year supporting the Handsome Family, three-piece Snowapple return to headline the Musician.

Three girls from Amsterdam, with different musical backgrounds decided to start a band. They play a variation of own compositions and forgotten old songs. Their voices in harmony together will give you goose bumps. The songs vary from slow ballads to fast and playful songs performed on banjo, guitar and a variety of instruments like mandolin, ukulele, violin, klokkenspiel and accordion.

Support comes from two wonderful local acts in Abandon Her and Meri Everitt.

The Burning Hell is the alter-ego of Canadian songwriter Mathias Kom, and has been on the road in one form or another since 2007, playing everywhere from festivals to bars to living rooms - and once even a psychiatric hospital in rural France. The band has garnered acclaim for their hyperactive live shows and their caustic yet sincere lyrics, believing as they do that songs about the inevitability of death can also be fun to dance to. On occasion, Mathias and clarinetist Ariel Sharratt also go on the road as a duo.

In 2012, The Burning Hell both made AND broke a record: the band recorded their sixth album 'People' in Berlin, then later in the summer, they set a new world record, playing ten shows in ten countries in less than 24 hours.


Like a restless puppy, the Burning Hell can't sit still and loves to play. 2013 was packed with shows supporting the releases of 'People' and the 10" EP "Old, New, Borrowed, Blue", and 2014 is shaping up to be just as busy.

Ian McLagan is a genuine, dyed-in-the-wool rock 'n' roller. In fact, his smiling visage - he was, after all, a member of the Small Faces and the Faces - would serve as an ideal illustration in the proverbial Dictionary of What Is Truly Cool.

A British rock legend, Ian McLagan's musical career began in the 1960's in the UK as the keyboard player for the Small Faces and the Faces. His Wurlitzer electric piano is heard on everything from Stay With Me by the Faces to the smash hit Miss You by The Rolling Stones, and Mac's trademark Hammond B-3 organ is featured on the Small Faces classic Itchycoo Park.

Ian has toured and/or recorded with The Rolling Stones, Bonnie Raitt, Bob Dylan, Ronnie Wood, Bruce Springsteen, Taj Mahal, John Hiatt, Billy Bragg and Patty Griffin, to name a few of many.

His first studio album in five years, 'United States', is set of release on June 17th.

BBC Introducing has described Guy as "an absolutely outstanding singer/songwriter", while Noise Collective in New York City have said "he's destined for greatness". Guy has just finished recording his second EP in Brooklyn, NY (set for release inOctober 2014) with drummer Dan Reiser (Norah Jones, Rosanne Cash) and bass player, John Davies (Nerve). Guy said "This musical powerhouse of a rhythm section has really given my songs a solid backbone to shine from.

Guy spent his teenage years developing his skills as a double bass and bass guitar player. It wasn't till the age of 19 that he founded his love for writing songs and singing. As a youngster Guy's parents would play him old songwriting legends such as Bob Dylan, James Taylor, Joni Mitchell and Eric Clapton. Guy explains "As a child, I was fascinated by the songs these early troubadours were singing. I didnt always understand what they were singing about, but they hit me in my own personal way. Thats what I want people to take from my music. If people can paint themselves a personal image in their head while listening to my music, I've achieved what I set out to do".

Formed in Stoke-on-Trent in the dim and distant past of 1993, Elvis Fontenot and the Sugar Bees have evolved to become the premier European swamp 'n' roll outfit that they are today.

In 2006 and 2009, the Sugar Bees were crowned "European Zydeco band of the Year" and band member Nick won European Rub-board player of the year. They have been played on the BBC by Andy Kershaw and Mike Harding and have been on TV in Austin, Texas and featured on radio stations across America and also in Australia.

Expect an infectious good time!

The Bon Jovi Experience features Jon Bon Jovi clone frontman Tony (Jon) but unlike many other tributes the great musicians accompanying him are also top look-alikes, Ed (Richie Sambora) - guitars, Lee (Tico Torres) - drums, Steve (Hugh McDonald) - bass and Rich (Dave Bryan) – keyboards. Individually and as a band they produce the looks and sounds of the real thing. Tony has been performing the music of Bon Jovi for nearly 20 years now and the band were the first to be asked to perform on the US New Jersey tribute album, "Garden State of Mind". He is the only UK Bon Jovi tribute band frontman to actually be asked to appear on Channel 4's Big Breakfast show with the real Jon Bon Jovi and Richie Sambora.

John Fullbright is one of the most exciting singer-songwriters to emerge this decade. His astonishing debut album From the Ground Up features original songs bursting with a musical and lyrical prowess. His songs capture an America not heard on disc for a very long time and conjure up an authenticity that recalls all the greats.

Born in Woody Guthrie's hometown of Okemah, Oklahoma, he grew up surrounded by a rich musical heritage. He started playing the piano at 5 and learned to play guitar at the legendary Blue Door eventually supporting Joe Ely and Jimmy Webb.

From the Ground Up is a lyrically diverse, genre-spanning collection of memorable songs with staggering depth and promise. His voice smoulders and his songs catch fire. From the Ground Up is that all too rare creature: an album to cherish and admire.

"I have no doubt that in a short time, John Fullbright will be a household name in American music." - Jimmy Webb

"He is embracing the Woody Guthrie tradition and populism in how he writes" - State Senator, Andrew Rice

Tonight sees a return to the Musician for the legendary LA soul singer who made two albums in the early 70's with Little Feat and Frank Zappa's Mothers of Invention, before becoming disillusioned with the music industry and turning his back on it for the next 30 years.

That was until Nolan Porter and his brand of soul music was picked up by the UK northern soul scene. Nolan's songs became must haves for any northern soul connoisseur, and once again made their way into the limelight, songs such as "Keep On Keepin' On" and "If I Could Only Be Sure" later released by Paul Weller.

A new documentary about Porter, "Keep on Keepin on - A Short Film about Soul", was released last year to rave reviews.

Backed once again by the fantastic Stone Foundation, it promises to be another memorable night.

Canned Heat rose to fame because their knowledge and love of blues music was both wide and deep. Emerging in 1966, Canned Heat was founded by blues historians and record collectors Alan "Blind Owl" Wilson and Bob "The Bear" Hite. Hite took the name "Canned Heat" from a 1928 recording by Tommy Johnson. They were joined by Henry "The Sunflower" Vestine, another ardent record collector who was a former member of Frank Zappa's Mothers of Invention. Rounding out the band in 1967 were Larry "The Mole" Taylor on bass, an experienced session musician who had played with Jerry Lee Lewis and The Monkees and Adolfo "Fito" de la Parra on drums who had played in two of the biggest Latin American bands, Los Sinners and Los Hooligans. The band attained three worldwide hits, "On The Road Again" in 1968, "Let's Work Together" in 1970 and "Going Up The Country" in 1969 became rock anthems throughout the world with the latter being adopted as the unofficial theme song for the film Woodstock and the "Woodstock Generation."

Sold Separately are an acoustic duo from Leicester made up of Tom Crump and Kate Rendell. They love to play our music to everyone and anyone! Guys, gals, dogs, cats, fish, birds, anything. Happy tunes and pretty harmonies is what they do.

"When it comes to unparalleled new local bands, Strangler Figs stands out. These five talented musicians have taken the local music scene by storm, Joe Pickering on vocals, Joel Hanson on double bass, with James Lyons on drums, Freddie Pickering on keys and Rosie May Price doing vocals. Inhabiting the world of anthemic art rock, they make music of exceptional quality and inventiveness. Listening to them play I thought of Elbow and Gogol Bordello for some reason, although Radiohead, The Pixies (which they have been known to cover) Duchamp Pilot (with whom they are associated) and Peter Gabriel might have been more apt. Stylistically they are in a class of their own; their music speaks to you, it's enchanting, alluring and engaging and quite out of the ordinary, pushing at the boundaries of musical idioms." - Music In Leicester

Thursday 31st July sees the Outwoods County Riders promoting and opening up the Lounge once again. This time we have live and direct from Americana International, The Caravan Of Wayne... Bassslappingtwangtasiccountryfiedrockabilly or maybe 'drunkabilly' sums it up better...

This could be your only chance to see these guys live this in the Leicester area, and it's FREE entry (we do pass the hat round to buy the guys some gasoline).