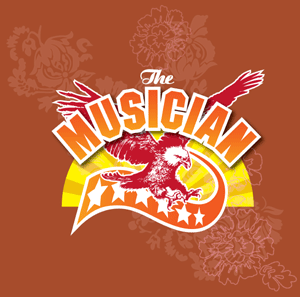 Should need to print a copy of this months listings, you can download a copy of our regular flyer by clicking the PDF icon.
---
These days artists and bands tend to book their tours months in advance. In order to give you the best notice of up and coming shows we list events once they have been confirmed by the band or their management
The downside of this is that dates can change due to unforeseen circumstances, sometimes at very short notice. We do our best to ensure that this site is kept as up to date as is possible, with updates happening at least once a week.
Therefore to avoid disappointment we recommend that you check these listing prior to setting out for your show especially if you are traveling any distance.
---
Not listed?
A guide for Artists and Promoters
The quickest way to get yourself included in our listings is to send an email to rideout at stayfree.co.uk once your gig is confirmed.
We also need you to do the following -
Put the name of the artist or band name along with the date of your show in the email subject line.
Attach a reasonable sized photograph. A 72dpi, jpeg, bigger than 200x200 pixels would be fine. Please don't email files over 1mb in size. If in doubt please drop us a line before sending. Let us have your web address so we can link to your site or Myspace page.
Send us some text. Whilst we are happy to tidy up spelling or grammar, we don't have the time to write or edit copy for you. Ideally we need a nice concise 'blurb' of between 75-100 words. Please don't send a three page biography, or else we are likely to bounce it back to you. If you have a selection of press quotes send what you have as we can usually easily compile something from them. There are plenty of examples of the sort of thing we need here on the site to help you out.
Please note - If you have played at The Musician before and we have text on file, we will continue to use use it for any subsequent listings unless you supply new copy.
If you spot any errors please send an email to derek at indiecentral.co.uk.
Coming to The Musician in July

www.facebook.com/eavesthetheif

The new album "Shake The Walls" is the strongest and hardest-rocking album yet from Marcus Bonfanti, a Londoner of Anglo-Italian parentage. A huge vocal and guitar talent, with songs that come straight from the soul, and who many critics are claiming to be at the very forefront of the new generation of British blues-influenced music.

Asked how he got into the blues, Bonfanti replies "I've always been into classic songwriting like The Beatles and a wide range of artists, but it was Led Zeppelin that made me really want to pick up the guitar when I was 16 years old. Tracking back where Zep came from got me into the blues".

"The next British guitar hero" - The Guardian

Christian played guitar in Bill Bailey's band - Beergut 100 and appeared on The Graham Norton Show on BBC2 (2007).

"Seriously cool, seriously funny - the power behind my high-backed armchair" - Richard Herring

"If you're a fan of Bill Bailey or Rich Hall, you're probably a Christian Reilly fan already" - The Guardian

"Bill Bailey watch out, there's a new kid on the block!" - **** One4Review.com

"Blisteringly funny songs" - The Stage

"A charmingly confident performer, an accomplished musician and a clever comic...the funniest songs I have heard in a long time" - Kate Copstick, The Scotsman

Soaring violin and guitar weaving around delicately passionate female vocals, underpinned by driving rhythmic complexity, Solstice were an unlikely band to succeed in 1980s Britain. Yet because of their unique vision, audiences in search of an alternative to the "shiny product" of the music industry revelled in the band's performances at all the major festivals and sell-out tours, on which they made the legendary Marquee club their home. Now they are back and still one of the most exciting prog bands on the circuit.

"Solstice have returned with an album of luminous, emotional progressive rock that is nothing short of a masterpiece" - Classic Rock Society (2010)

The Bare Bones Boogie Band is a stripped-down, no nonsense blues band. Their vision is simple - to strip the music back to the bare essentials and build from there.

The bands' roots stem from the heavy, electric blues of the late 60s and early 70s, when bands like Free, Fleetwood Mac and the Stones were inspired by BB King and Robert Johnson, and Janis Joplin was re-inventing Etta James.

Live, they do not hold back nor apologies for their rawness nor their tenderness. They deliver heavy, soulful blues!

"A Janis Joplin fronted Free!" - Lichfield Live

Eclecticism is the order of the evening tonight, with a great line-up intent on pushing the musical boundaries. We have the acoustic indie of duo Wife Divorces Man Accused Of Hotel Leap, the visceral and sublimely melodic songs of Northamptonshire's The Agonal Trace, Maureen Anderson's inimitable psychedelic space rock and poetry vehicle Shapeshifter, and the fuzz drenched tone wizards Prophets Of Saturn to round off the night. Expect the unexpected!

The music of Rick Abbs (guitar/vocals), Jay Luka ('slap' double bass/vocals and writer of the band's original material) and Matt Lewsey (drums/backing vocals) can best be described as a head on collision between the legendary Carl Perkins and classic 70s rock giants Thin Lizzy - with the result being a spectacular pile up of tight, brutal rockabilly originals and trash rock 'n' roll covers.

Hailing from Leicester, The Mad Bones only formed last summer but have already become well established within Leicester's music scene and have numerous gigs lined up at all the main 'Kustom Kulture' shows this year including the Custom & Hot Rod Show at Beaulieu and the Rock & Blues Old-School Weekender amongst others.

Leading Scottish blues guitarist, John Bruce, rekindles his Allman Brothers set with Safehouse, prior to their appearance at the Edinburgh Jazz and Blues Festival (28 July).

John Bruce on guitar & Sean Scott on drums - both former members of Blues 'n' Trouble - joined original member of Safehouse, bassist Andrew Stirling. The line up is completed by keyboard player Ali Petrie (Hobotalk + others) and frontman Chris Peebles. Together they form a formidable outfit, rooted in the Blues

One day a large tattoo'd northern man called Nidge surveyed his domain. Something was missing. Something loud. Bawdy. Fun. Something that would warm even the coldest blood.

"This world needs Noddy to get back on stage with Slade" thought our hero. At this moment, Andy, an equally large guitarist reminded our hero he was supposed to be singing AC/DC songs as it was the middle of a gig.

Soon after, Andy pointed out that not only did he share the same initials as said vocal legend he actually sang like the bloke.

Slyde Alive was born.

There is a space floating between pop and punk, between folk and kickass, a sweet spot that Leeroy Stagger inhabits with buoyancy, acerbic wit and ridiculously catchy melodic hooks. Stagger's music combines tender honesty of the songwriter with a ballsy punk-rock swagger and the prolific Canadian roots rocker is soon to release his 8th studio album "Truth Be Sold" produced by Grammy Award winner Steve Berlin of Los Lobos.

He has garnered an international fan base after relentless touring both home and abroad. It is simply a matter of time before Stagger joins the likes of Ryan Adams, John Hiatt and Steve Earle as an ambassador for North American Roots Rock n Roll.

Comedian Mark Thomas is well versed in the art of creative mayhem and over the years his troublemaking has changed laws, cost companies millions and annoyed those who most deserved to be.

Now he returns to what he does best, mischief - joyously bad behaviour with a purpose. Everything from the smallest and silliest gesture to the grandest confrontations and the results are subversive, hilarious, mainly legal and occasionally inspiring.

Brennen Leigh is a songwriter, multi instrumentalist and singer whose to the point storytelling style has elevated her to newfound cult status around the world and most notably in her native Austin, Texas. Only slightly less famous for her musicianship, it's easy to see why she's caught the ear of greats like Guy Clark who has said of Leigh; "She plays guitar like a motherf---er". All musical and performing prowess aside, the thing Brennen has become most famous for is her whip smart songwriting, with her songs recorded by the likes of Lee Ann Womack, Sunny Sweeney and the Carper Family. She has co-written with the likes of Jim Lauderdale, Shawn Camp, John Scott Sherrill, David Olney and Carl Jackson.

Noel McKay is a Texan songwriter whose songs have taken him across the States and all over the world and in 1993 he was discovered by songwriting legend Guy Clark. Clark's mentorship has been a key component to Noel's success as a songwriter. In the 2000's he had several regional hits across the state of Texas with his brother Hollin McKay in the band McKay Brothers. These days Noel can be found playing his songs to packed houses of astute listeners both stateside and in Europe.

Taking inspiration from the likes of Fairport Convention, Pentangle and Led Zeppelin's acoustic explorations, Galley Beggar's music sets out to imagine the next phase of English Folk Rock. Their live performances bring the intensity of a rock band to electric folk and include plenty of instrument changes as they move from music found within the collections of Cecil Sharp and Francis Child through to electrified psychedelic freakouts. Harmony vocals, electric and acoustic guitars, mandolin, violin, recorder, bass and drums make up the sound of Galley Beggar.

"The themes and textures of Galley Beggar's music all combine together to form a well produced selection of songs that bring a bygone age – or bygone ages – into the twenty-first century. It's a gorgeous, gorgeous sound that demands repeated listens" – Stephen Morris, BBC Introducing

"This septet ticks every folk rock box you can think of, from big harmonies to stately, thumping rhythms to diddly and, indeed, diddly" - Rock N Reel Magazine

"Producing work likes this will establish Galley Beggar among the folk rock favourites. Even if that means they steal fans from more illustrious bands" - Folk Words

www.myspace.com/mickridgwaysmojohand

Mick Ridgway's Mojo Hand are a Leicester based blues band who have been treading the boards for over a decade. Ridgway himself is the frontman par-excellence - superb vocals and harp playing complimenting a band who are at the peak of their game.

"Mojo Hand ooze an ease and confidence with which they rapidly capture their audience." - Blues In Britain

www.facebook.com/flyingkangarooalliance

Mage are a five-piece band who have plenty of experience between them on the Leicester music scene, brought together by a shared love of "THEE RIFF" and a desire to jam and experiment. The result is a stoner, doomy metal kind of sound but with a whole host of other elements thrown in.

Like a bag of party poppers in a tumble dryer, Flying Kangaroo Alliance are probably the best new alt-rock/grunge band you've never heard. Formed in 2011, their influences range from the grunge of the early 90s through to Muse and Paramore.

The philosophy behind Temple Of Lie's music is that pretty much anything goes, with no boundaries. As long as it rocks with a real groove that's all that matters. Their material is both diverse, and unique in it's own way whilst still retaining that signature TOL sound and feel.

And special guests tonight are Tribute to Nordberg, an alternative rock band from Nottingham. Think of bands such as the Smashing Pumpkins, Audioslave, Alice In Chains and you'll get the idea. They have honed a dark, heavy and rocking, yet melodic sound.

Grammy nominated guitarist, singer and songwriter Bill Kirchen is one of the fortunate few who can step onto any stage, play those trademark licks that drove his seminal Commander Cody classic Hot Rod Lincoln into the Top Ten, and elicit instant recognition for a career that has spanned over 40 years and includes guitar work with Nick Lowe, Emmylou Harris, Doug Sahm, Elvis Costello and many more. Named "A Titan of the Telecaster" by Guitar Player Magazine, he celebrates an American musical tradition where rock 'n' roll and country music draws upon its origins in blues and bluegrass, Western swing from Texas and California honky-tonk..

"A devastating culmination of the elegant and the funky, a really sensational musician with enormous depth" - Nick Lowe

"He is one of the singular instrumental stylists of American roots music, and to hear his sound once is to have it indelibly etched on one's musical memory" - Pop Matters

"You might call [Hot Rod Lincoln] the Triumph of the Telecaster. Then again, you might say that about Kirchen's whole career" - No Depression

For over three decades and 28 albums Tom Russell has lived up to his status as "one of the best singer-songwriters of our time" (Washington Post). His songs have been recorded by Johnny Cash, Nanci Griffith, Dave Alvin and Joe Ely amongst others. A noir cowboy with a voice that whispers like the dust blowing down a deserted circus midway, Russell's music is broadly in the country tradition but is imbued with elements of folk, Tex-Mex, blues and much more. A consummate storyteller, his songs are cinematic and populated by characters as wild and vivid as the landscapes in which they're set.

www.soundcloud.com/magiceightball

Donnie Vie of American hitmakers Enuff Z'Nuff returns to Leicester to play a special acoustic show. Both solo and as the heart of his group, Donnie has accumulated an impressive résumé of quite outstanding artistic returns during his 28 years of touring, including 14 albums with his band, 8 unplugged records, 2 solo albums and 5 Billboard hit singles. As part of a unique twist, Donnie will be performing a different record of his in it's entirety, a must see for die-hard fans.

Accompanying Donnie on this intimate tour will be Baz Francis of UK-power pop band Magic Eight Ball, showcasing his band's original songs of his own composition as well as select cover versions too. Having been gigging and recording for 16 years now (since 2006 with Magic Eight Ball), Baz has made notable live appearances all across the UK as well as in the USA, Russia, Germany, Finland and Switzerland too. Magic Eight Ball now have 3 sets of studio recordings to their name, and an album slated for a Summer 2013 release on Magic Cat Records.

The sound of the Rainbow Girls is a big and boisterous mix of alt-country and Americana, with a sprinkling of ethereal folk thrown in for good measure. (Think the Avett Brothers, but all female.) Onstage or on the street, they swap instruments and trade lead vocalist duties with an energy and approachability that's been known to get folks up and dancing, no matter where they may be.

"We really want people to think about what we're saying and doing, while also enjoying themselves," the ladies say."Our songs may be fun to sing and dance to, but every one of them carries at least one if not multiple messages."

Top class stomp folk!




Join us for a fun cycle ride around some of Leicester's music venues. Participating venues are the Font, the Musician, the Donkey, Firebug, the Shed and the Criterion, most are free admission and all have a great line up of local live music in keeping with De Montfort Hall's centenary celebration of the local music scene 'Simon Says'. Cycle around your own route and collect stamps from the venues to win prizes (see each venue for prize lists). Vive la tour de festival!




Folks we go country and a bit old timey. Opening the night are close part harmony trio 'The Ruby Doos', expect contemporary and classic songs with a retro twist, ranging from early bluegrass through 50#s harmony swing and heartbreak ballads.

Next up your very own Chickenhead promoters and resident band The Outwoods County Riders. Armed with a sack full of new songs, the boys offer their version of countryfied Americana as only they can.

Rounding off the night we have, from the dust bowl regions of Nottingham, 'The Most Ugly Child'. Brought together by a mutual appreciation for the revival of old time country and bluegrass music, the group centre around the partnership of singer/songwriters Daniel Wright & Stevie-Leigh Goodison. Influenced by the high and lonesome sounds of Townes Van Zandt, Guy Clark and George Jones, the pair have been likened to some of the great male/female country duos of yesteryear, such as Johnny and June Carter-Cash. Their original material blends seamlessly with old time country classics and listening to Daniel's own 'Bluebird' you could be forgiven for thinking it was penned by the late great Hank Williams himself.

Led by top UK Blues singer and harmonica player Tim Elliott, award winning British Blues band Blues 'n' Trouble have forged an international reputation over almost 30 years as a hard driving, good time Blues and Boogie outfit.

Now sporting a retooled and rejuvenated line-up incorporating Tim Elliott (vocals/harmonica), Sandy Tweeddale (guitar/vocals), Angus Rose (keyboards/guitar), Rod Kennard (bass) and Andy Munro (drums), Blues 'n' Trouble are heading for 30th anniversary celebrations with the fire and swagger for which this top British blues band has always been renowned.