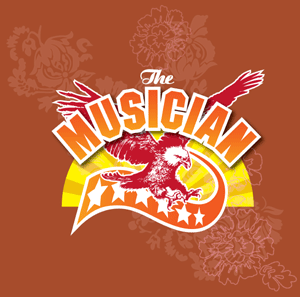 Should need to print a copy of this months listings, you can download a copy of our regular flyer by clicking the PDF icon.
---
These days artists and bands tend to book their tours months in advance. In order to give you the best notice of up and coming shows we list events once they have been confirmed by the band or their management
The downside of this is that dates can change due to unforeseen circumstances, sometimes at very short notice. We do our best to ensure that this site is kept as up to date as is possible, with updates happening at least once a week.
Therefore to avoid disappointment we recommend that you check these listing prior to setting out for your show especially if you are traveling any distance.
---
The quickest way to get yourself included in our listings is to send an email to musician at mohawkvisuals.com once your gig is confirmed.
We also need you to do the following -
Put the name of the artist or band name along with the date of your show in the email subject line.
Attach a reasonable sized photograph. A 72dpi, jpeg, bigger than 200x200 pixels would be fine. Please don't email files over 1mb in size. If in doubt please drop us a line before sending. Let us have your web address so we can link to your site or Myspace page.
Send us some text. Whilst we are happy to tidy up spelling or grammar, we don't have the time to write or edit copy for you. Ideally we need a nice concise 'blurb' of between 75-100 words. Please don't send a three page biography, or else we are likely to bounce it back to you. If you have a selection of press quotes send what you have as we can usually easily compile something from them. There are plenty of examples of the sort of thing we need here on the site to help you out.
Please note - If you have played at The Musician before and we have text on file, we will continue to use use it for any subsequent listings unless you supply new copy.
If you spot any errors please send an email topaul at mohawkvisuals.com.

Coming to The Musician in July

Sat 3
Closed - Unfortunately The E-Gos show is cancelled

www.myspace.com/thefortyfoursuk
The '44s play a raucous, simple brand of blues that includes fast and furious covers by their hero, RL Burnside, modern blues-country songs from Seasick Steve, and the White Stripes, as well as old time and country artists like Johnny Cash, the Carter Family and Hank Williams. They may be different from the average blues band, but there's no doubt the '44s ain't average. The original delta blues singers were paid to get the party started - and, that's exactly what the '44s are going to do. So if you're a fan of "O Brother Where Art Thou?", Delta Blues, RL Burnside, or "Black Snake Moan", grab your rusty pick-up, put your Stetson on your head, and set off for the '44s. Inspired by blues and country, inspired by songs of violence, deceit, and revenge, and inspired by Mississippi, the '44s will give you the devil's music from the Deep South. And as everyone knows, everything's hotter down South.

The Orbitsuns cancelled due to unforseen circumstances

www.staciecollins.com
Muskogee-born and Bakersfield-raised is a pedigree that most country singers would kill for; not only does Stacie Collins live up to her heritage, she exceeds it with a unique sound that blends roadhouse rock-n-roll, Chicago blues and hard country-twang. "An infectious blend of roadhouse country rock fronted by a blues-harp-blowing woman who sings with a desperate passion and a slight Tammy Wynette catch in her voice." - NO DEPRESSION."Stacie Collins has earned a reputation for superb twang rock with more than a hint of blues accented by her exceptional harmonica playing." - ALL THE RAGE. "That girl can sure kick some ass! The minute she took the stage she owned it!"- SONY MUSIC. "No-frills slab of rough & tumble bluesy Southern rock & roll" - CREATIVE LOAFING.

For tickets and more info visit - www.cheeseweasel.org

www.themisers.co.uk
Influenced by the rawness of early CCR records and the intimate storytelling of Ian Hunter, The Misers are fast becoming one of the UK's most talked about and sought after new actss, building the buzz the old-fashioned way with word-of-mouth endorsements of their live shows. Their debut CD 'Amplified Life Stories' was recorded to at Rockfield Studios in Monmouth. Critics are hailing it a triumph, stating that The Misers "invoke the spirit of Johnny Cash with the pop sensibilities of The Jayhawks and the raw, confessional Americana of Ryan Adams".

www.danbairdandhomemadesin.com


www.myspace.com/dawsonandthedissenters
Here it is, the missing fifth side of Exile on Main Street. Putting Dan Baird and Warner E. Hodges in the same band is like packing hydrogen and plutonium into the same bomb: it's not an intriguing combination, it's a got-damn weapon of mass destruction. In Homemade Sin, you get three-quarters of the original Georgia Satellites line-up - Baird, bassist Keith Christopher and drummer Mauro Magellan - augmented by Scorchers gunslinger Hodges. The guitars tangle like rival strands of kudzu underneath Baird's paint-stripping howl. This is how rock sounded in the days of red meat, no-filter Marlboros and plaster casting; the hip-shake-boogie beat of "Hellzapoppin" alone would cause McFly's testicles to drop!



For tickets and more info visit -
www.cheeseweasel.org


If you love Paul Weller you will love The Modfathers. From the excitement of The Jam to the soul of The Style Council to the mature sounds of Paul's solo career, it's all here. Having performed extensively throughout the UK and Europe The Modfathers make you feel that you're at the ultimate Paul Weller concert, where the hits just keep coming one after the other.


www.twinlizzy.uk.com
Twin Lizzy are probably the finest Thin Lizzy tribute around. Inspired by the music of Phil Lynott and Thin Lizzy, the band authentically recreate that Thin Lizzy "twin lead guitar" rock sound.

New York Alcoholic Anxiety Attack
£4adv £5door
plus Dead Slow,Stevie Jones, Steven Faulkner
www.myspace.com/newyorkalcoholicanxietyattack
"Cult underground rockers who make the most authentic and original rock'n'roll you could hope for, loaded with innovation and potential and unwilling to hold themselves back. They've secured an enormous international following virtually on word of mouth alone, and there's no wonder why so many big names are talking about this band." - ENTS24


Wed 14
Soundtrack
£3
plus Bethia Mitchell
Born out of a folk duo, the fusion of folk, rock and indie have caused Soundtrack to quickly make a name for themselves in the Leicester area. With searing vocals, explosive drums and beautiful acoustic melodies this energetic four-piece will leave you wanting more.

£3
Don't miss this fabulous showcase of some of our finest local female songwriters.

Equipped with just guitar, vocals and drums, this duo march into battle taking on every blues-rock trick in the book, successfully blasting them to a new level. The duo format leaves plenty of room for Gwyn's muscular licks that induce the 'wow' factor time and time again. No-nonsense, brutal and invigorating."


Scream presents:

Arms of Atlas
£7adv, Doors open 7pm

plus Exit Avenue , Chezza, Gemini, DJ Pdex , Speaking in Italics, Without Fire, Surrender the Coast
www.myspace.com/armsofatlasuk


Magic Teapot presents...
John Grant
£8adv
plus John Butler and guests
www.myspace.com/johnwilliamgrant

Everyone has a favourite band or singer they reckon is subject to criminal neglect. That John Grant's effortlessly rich, expansive baritone, couched in typically heartbreaking, lush melody, hasn't found a wider audience many would consider a crime. But no longer. Grant's first solo album, Queen of Denmark, following three undervalued studio albums fronting The Czars, is so undeniably great that the world will surely listen.

Combining powerful songs with a rootsy rock feel to create an unmistakable sound, Joey DeGraw provides honest, witty and sharp observations on life, singing them with a raw and emotion-filled voice. The older brother of recording artist Gavin DeGraw, Joey is a prolific writer and has written with some of the industry's top selling artists. "What makes Joey such a deep writer and overwhelming talent, besides his god given gifts, is that ... it is all about music as an art form. He is a purist and the only young blood in music today that gives me hope." Chris Whitley.




"His writing is as inventive as ever... Antopolski is not merely deadpan, but almost otherworldly on stage. It's the perfect platform for his sometimes surreal, often deliberately literal approach to life." - The Guardian. "Spectacular displays of verbal pyrotechnics ... A confident, splendidly silly and sometimes dazzling show." - The Observer.


www.myspace.com/elizabethcook
In contemporary country music, it's a rare performer who will dare to take on the industry on her own hogs-and-kisses terms. But for the artist whom Nanci Griffith has called "this generation's Loretta Lynn," it takes a certain tenacity to meld smart attitude with classic tradition, the credibility of a life lived with genuine hillbilly passion, and the integrity to write an acclaimed cache of uncommonly cool songs.

Free Control brings together five determined musicians with the intention of making music . Their aim is to make music that inspires them personally, and create an amazing live experience for their audience. Explosive sounds, fluid melodies and intricate style come together to create a unique and powerful sound. Making music to make your heart sing and break in recognition. Blending prog rock, contemporary jazz, hip hop beats and classic songwriting they combine all of these to create a cerebral, meditative sound with heavier, rocking rhythms.


For more info visit: www.layzboimusic.com

www.thezztops.com
"You guys were unbelievable!" - Walter Trout. "They were great! Just like the real thing" - Mick Taylor (Rolling Stones). "The closest I've seen!" - Billy Gibbons – ZZ Top.

www.otisgibbs.com
Otis Gibbs is a man in search of an honest experience. Some people refer to him as a folk artist, but that is a simplistic way to describe a man who has planted over 7,000 trees, slept in hobo jungles, walked with nomadic shepherds in the Carpathian Mountains, been strip-searched by dirty cops in Detroit, and has an FBI file. Otis has played everywhere from labor rallies in Wisconsin, to anti-war protests in Texas, Austria and the Czech Republic, Feed & Seed Stores in the Midwestern U.S. and in countless, theaters, festivals, bars and living rooms. Much of his work concentrates on the world that is ignored by pop culture. Sometimes forgotten, obsolete or simply marginalized, it is a world that doesn't fit into a twenty-second sound bite or a White House talking point.

www.myspace.com/thetoyhearts
When Grace, Sophia and Hulda Quebe (pronounced kway-bee) take to a stage to play and sing their vintage-style three-part harmony, audiences are mesmerized. Add the swinging rhythm guitar of World Champion fiddler Joey McKenzie and the upright bass of Drew Phelps, and the Quebe Sisters Band becomes a force of nature.




feat. Barry Melton and David & Linda LaFlamme
£8
plus Father Hen
www.roadhogs.net/laflamme/index.htm
www.counterculture.net/thefish
www.myspace.com/fatherhen

David Laflamme's soaring electric violin underpinned the psychedelic majesty of the San Francisco band It's A Beautiful Day, defined by the classic 'White Bird' on their eponymous debut album. The band's appearances include Carnegie Hall, Royal Albert Hall, and the Fillmore West, and in 1970 the Isle of Wight and Bath Festivals. David is joined by Barry 'the Fish' Melton, founder member and phenomenal lead guitarist of Country Joe & the Fish. Both bands played Monterey and Woodstock Festivals in the 60's. This is a true West Coast 'supergroup'!


SKAM are a Flick Rock band from Leicester - their unique Flick rock genre is a blend of classic British rock with elements of punk and Heavy Metal that will have your finger pointing and your head banging. With over 250 gigs under their belt, playing in every major city in the UK, SKAM have become a professional and experienced band and they inject energy and pure rock into every show they play. Make no mistake, these guys rock hard, and you would be mistaken for thinking there were more than 3 of them!

For tickets and more info visit -
www.cheeseweasel.org

www.myspace.com/7storeysoul
Mark Poole and 7storeysoul are one of Leicester's top soul/funk bands. Their set features a mix of imaginative funk based originals and smooth 70s soul covers. Fronted by songwriter Mark and partner Laura Kate Hughes on vocals, and featuring the tight rhythm section of Rob Lallo (bass) and Paul 'Robbo' Robinson (drums) plus the instinctively funky lead guitar of 'Steddy' Stedroy Ford, 7Storeysoul are driven by a collective passion for the great artists of soul and funk.