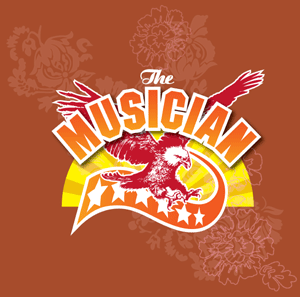 January 2007
LISTINGS HOME
Mon 1
Closed
Tue 2

Closed

Wed 3

Closed


Thu 4

Fri 5
Stone Foundation
plus The Jack Of Hearts Band and Blues Basement
£5
www.myspace.com/stonefoundation
Sat 6
David Wyatt
plus Joel Owen, Andy Griffiths and Gren Bartley
£5
www.davidwyatt.net
www.andygriffiths.net
Sun 7



The Tazmainian Devils
plus The Red Sharks and Los Cyclones
£5
www.razmataz.de
Being infected by the frantic energy of the early psycho bands, we decided to do just the same. And it worked out well...The Tazmanian Devils' insane and melodic sound perfectly combines classic Rockabilly-style with wild madness and horror-charme, and comes incredibly close to the beginning of Psychobilly music. This is authentic Psychobilly!

Mon 8
Tue 9
Persuasive Electric Blanket Lounge
free
Wed 10
Joel Evans Band
plus The Haize and Lief
£3
www.joelevans.co.uk
www.paulmcclure.biz
Joel Evans' music has drawn comparisons with the likes of Paul Weller, Gin Blossoms, Neil Finn and The Eels. Joel's first album Different World was released in 2000. Despite a lack of promotion and a distinctly home-made feel it still managed to generate some very positive reviews. Work began on a follow-up in 2002. Two-and-a-half years later the completed album Wired finally arrived. During this time many of the original songs were ditched or re-written, parts re-recorded, lyrics and directions changed and on several occasions everything ground to a halt. However, there's no doubt that the ten tracks that survived were worth the wait as Wired loaded with infectious melodies, well-crafted arrangements, and apparently simple songs that gradually open up to reveal hidden depths.
Thu 11
Davy Graham
£15
www.daveygraham.moonfruit.com
Davy Graham first emerged in the late 1950s, an eclectic guitar genius with one major problem: he baffled his audiences. Here was a man who didn't just play blues and jazz, traditional folk songs and classical styles, but was also fascinated by the music of North Africa, India and all points between. Every guitar picker learned to play his song Anji (recorded by Simon and Garfunkel and still part of the Bert Jansch repertoire) but no one could follow his wild musical excursions around the globe. He is not just as one of the key figures of the British folk-blues movement, but one of the earliest exponents of world music. With acoustic music back in fashion, the time is surely right for the rediscovery of Graham.
Fri 12

Dead Rock Stars
£4


Sat 13
Steve Gibbons Band
£8adv £10door
www.stevegibbonsband.com
If you appreciate really hard, loud rock and roll Steve Gibbons is still your man. A guy who's kept his faith through thick and thin. Having reached his commercial peak in '78 when Tulane reached the Top 10, Steve is still rockin' as hard today. It's hard to define his approach, it's not country, nor blues, nor soul. He builds things consistently throughout his set, reaching high points that are all the more effective and satisfying for that. Virtually every other band on the planet could learn a lesson from his approach. His group specialises in slow burn rather flash fire and can put a pitbull sized bite onto a groove like say, Little Feat, The Meters or going back even further, The Coasters.
Sun 14
Closed
Mon 15
Tue 16
Closed
Wed 17
Clarksville Mountain Band
plus The Smokey Grass Mountain Boys
£3
www.clarksvilleinter.net
Formed early in 2005, the Clarksville's wealth of musical experience and their love of country, bluegrass, and hillbilly music gave birth to their idiosyncratic Clarksville 'good timey' sound. Having established a loyal local following the band has since put their show on the road and made overseas appearances at the prestigious Waterford Spraoi Festival and the Dunmore East Bluegrass Festival in Ireland. Whilst still covering many traditional classics it is their tunes, by such renowned honk-tonkers as Stevie Wonder, The Beatles and Bob Marley that really grab your attention.
Thu 18
Jess Kline
£5adv £6door
plus Roger Tarry, Greg Gent and Red Rob
www.jessklein.com
What the critics had to say about Jess Klein's last album: "Strawberry Lover, sees the Jess Kline experimenting with genre and stretching her lovely voice to its fullest capacity" - Time Out. Post-punk, country, soul? This many-sided singer does it all, beautifully, with a clutch of songs that hit hard and always catch the ear. Klein has a voice worth reckoning with and lyrics worth hearing. There's nothing splashy about either of those weapons; just simplicity done well. "She has one of those voices: innocent but steely tough, like a compadre of Lucinda Williams and Lucy Kaplansky or a young Tift Merritt." - Mojo.
Fri 19

Replicaphonics (Stereophonics Tribute)
plus Live Forever (Oasis Tribute)
£5


Sat 20
Rock Star: The Ultimate '80s Rock Tribute Act
plus The Brew
£5
www.rockstar.uk.com

Initially formed in 2004 as a songwriting partnership by Tony Nicholl, Daz Yates , both members of prolific 80's rock band 'Shape Of Rage', Rockstar are a tribute to ten years of the best stadium rock. A firm favourite on the U.K Classic Rock circuit, Rockstar's set list includes classics by Van Halen, AC/DC,Kiss, Bon Jovi, Ozzy Osbourne, Guns 'n' Roses, Motley Crüe, Def Leppard, Iron Maiden and Metallica etc. In 2005 the band were chosen by Graham Bonnet (formally of Rainbow) as support group and backing band for his UK tour. 2006 would see ROCK$TAR headline the 2 day 2006 'INK AND IRON EXIBITION' at Birminghams premier venue 'Carling Academy' which attracts over 3000 visitors and Headline shows at Londons leading Rock venue 'The Loaded Dog'. the end of 2006 has seen the band share the same bill as Harry James (Thunder) and Rodger Hart & Jaz lochrie (Bad Company) .2007 will see ROCK$TAR supporting rock legends NAZARETH on there U.K TOUR So dust off your eagle boots, squeeze into your spandex, tune up your air guitar, raise your devils horns…. and yell!
Sun 21
Ictus
plus full supporting bill
£3/4
Glastonbudget showcase.
www.ictusband.com
Mon 22
Tue 23
Homespun
plus Moses
£9 adv
www.homespunrecordings.com
Homespun was begun by Beautiful South songwriter David Rotheray, as an outlet for a bunch of simple country/folk songs he was longing to record. The quality of the songs and the high standard of contributions from various friends, including Sam Brown (Jools Holland), Tony Robinson (Super Furry Animals), Gary Hammond (Nina Simone), Clare Mactaggart (Portishead) and Melvin Duffy (Robbie Williams) was such that the CD 'Homespun' was released in 2003. Everyone acquired such affection for the material and each another that they also toured and released a second album Effortless Cool in Jan 2005.
Wed 24
Chris Knight
plus Loving Cup (acoustic)
£7adv
www.chrisknight.net
Chris Knight grew up in the small western Kentucky mining town of Slaughters. It's rather apt as many of his songs explore the darker side of life; murder, death, violent fights, boozing and slipping around. Confederate Railroad, John Anderson and Randy Travis have all recorded his songs, but it's Knight's own interpretations that make the biggest impact. He writes brutally honest material and his music exudes emotive imagery. His sound is acoustic, but it rocks with some great electric lead and slide guitar. His songs are four-minute novels mainly about his native Kentucky upbringing and characters he knew. Hillbilly music lives and thrives in the hard-working hands of Chris Knight. Most Nashville singers would wish that they could impart half of the emotion that Knight does.
Thu 25
Jim Page
plus Ken Wilson
£6adv £8door
www.jimpage.net
Residing in Seattle Jim Page has been on the scene for more than thirty years and his reputation continues to grow. He has shared the stage with the likes of Bonnie Raitt, Emmylou Harris, Dan Bern, Michelle Shocked, Leftover
Salmon, Mickey Hart, J.J. Cale, Robert Hunter, Chuck Brodsky, and John Hammond. His songs have been performed by Christy Moore, Michael Hedges, John Trudell, The Doobie Brothers, Joanne Rand, Casey Neill, and (yes) David Soul. Both Christy Moore and Dick Gaughan have included compositions of Jim's on their latest albums.
Fri 26
Private Party
Sat 27
My Generation
(The UK's premier Who Tribute)
plus The Haize
£8
Covering a range of material from 1969 to the early '80s, My Generation's set features all time classic hits such as - I Can't Explain, My Generation, I Can See For Miles, Who Are You, Won't Get Fooled Again, You Better You Bet and songs from both Tommy and Quadrophenia in an explosive two hour show celebrating one of this countries finest ever rock bands. Having been established for several years now My Generation capture the essence of The Who perfectly, performing the songs of Townsend, Daltry, Entwhistle and Moon with passion, energy and lots of volume. Maximum R'n'B indeed.
Sun 28

Prostaid Jazz & Blues Fundraiser
Midday till 5pm

Sun 28
Grayson Capps
plus The Southern Tennet Folk Union
£6adv
www.graysoncapps.com
Grayson Capps plays a strange kind of country-blues. It delves into country & western, old modal blues, honky tonk, funky soul and rock & roll. His press kit has all kinds of stuff about J.J. Cale, Ry Cooder, and Townes Van Zandt, but don't believe it. You can hear Tony Joe White for sure and perhaps, a spirit similar to that of The North Mississippi Allstars, or some of the crazies on Fat Possum, or the desperation of recently departed Chris Whitley and Jeffrey Lee Pierce. But forget that Americana crap. Capps is not an observer, he's a participant. He's too gritty to really be American Gothic, but he has no idea what year it is, either.
Mon 29
Tue 30
Steve Tilston & Martha Tilston
£7adv £9door
www.steve-tilston.co.uk
Celebrated singer-songwriter Steve Tilston is winning as much praise for his superb guitar playing as his songwriting and vocal style. Born in Liverpool, Steve has been ploughing his own artistic furrow since the early '70s. As a guitarist he has toured with Ballet Rambert, Ship of Fools, John Renbourn and more recently WAZ! As a songwriter his best known songs include The Slip, Jigs & Reels, The Naked Highwayman and Here's To Tom Paine and have been recorded by Fairport Convention, Dolores Keane, The House Band and Bob Fox. "...that very rare combination of singer, songwriter and guitarist who actually excels in all departments..." - Folk Roots.
Wed 31
Acoustic Collective presents…
Lior
plus Jinder and Al Lindsay
£7adv £8door
www.lior.com.au
Some people go to extremes of volume and hype to attract attention, while others are happy to simply do what they do and rely on building a reputation by the responses of those around them. Such is the case with Australian singer-songwriter Lior. Lior's sound is a rootsy mix of styles that always harks back to the lyric and melody. With Middle Eastern heritage, Lior also keeps the music of his bloodline close to the surface. It is Lior's voice that has drawn most attention, capable of both power and tenderness and always delivered with soul. Lior's released his critically acclaimed debut album 'Autumn Flow' was nominated for 3 ARIA Awards including Best Male Artist. The album was one of 2005's most successful independent releases.