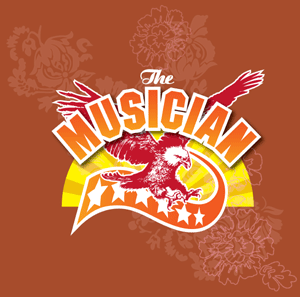 Should need to print a copy of this months listings, you can download a copy of our regular flyer by clicking the PDF icon.
---
These days artists and bands tend to book their tours months in advance. In order to give you the best notice of up and coming shows we list events once they have been confirmed by the band or their management
The downside of this is that dates can change due to unforeseen circumstances, sometimes at very short notice. We do our best to ensure that this site is kept as up to date as is possible, with updates happening at least once a week.
Therefore to avoid disappointment we recommend that you check these listing prior to setting out for your show especially if you are traveling any distance.
---
Not listed?
A guide for Artists and Promoters
The quickest way to get yourself included in our listings is to send an email to rideout at stayfree.co.uk once your gig is confirmed.
We also need you to do the following -
Put the name of the artist or band name along with the date of your show in the email subject line.
Attach a reasonable sized photograph. A 72dpi, jpeg, bigger than 200x200 pixels would be fine. Please don't email files over 1mb in size. If in doubt please drop us a line before sending. Let us have your web address so we can link to your site or Myspace page.
Send us some text. Whilst we are happy to tidy up spelling or grammar, we don't have the time to write or edit copy for you. Ideally we need a nice concise 'blurb' of between 75-100 words. Please don't send a three page biography, or else we are likely to bounce it back to you. If you have a selection of press quotes send what you have as we can usually easily compile something from them. There are plenty of examples of the sort of thing we need here on the site to help you out.
Please note - If you have played at The Musician before and we have text on file, we will continue to use use it for any subsequent listings unless you supply new copy.
If you spot any errors please send an email to derek at indiecentral.co.uk.
Coming to The Musician in February

Bootleg Blondie are Europe's official Deborah Harry & Blondie tribute band and are the only Blondie tribute to play at the legendary CBGBs in New York City, the Holy Grail of American Punk and New Wave, where the real Blondie first kicked off their career.

Debbie Harris, lead vocalist of Bootleg Blondie, has the looks, the voice and the attitude of the original Blondie Bombshell and like her heroine is typically outrageous on stage. She has been known to wear dustbin liners, thigh length boots and t-shirts with more holes than actual t-shirt!

Manchester based songstress Kristyna Myles released her debut single "I'm Not Going Nack" in 2012 on Decca Records receiving critical acclaim in Music Week with featured articles in The Daily Mail and The Sun. Kristyna awaits the release of her debut album produced by Grammy Award winning producer Ken Nelson (Coldplay, Paolo Nutini, Gomez). Songs on the album span a 10 year period from one of her earliest written songs "Betrayal" at age 16 to "Make it right" some 10 years later. 'Pinch Me Quick'. Originally from Leicestershire, Kristyna came into prominence after winning Busk Idol, a 2005 nationwide singing competition organised by BBC Radio 5 Live.

"Kristyna (Myles) isn't interested in being seen as the next 'cool' thing, instead, she's intent on producing soulful, thoughtful and powerful music that simply satisfies" - Chris Long, BBC

She's a straight-up storyteller with a voice to blow all others clean out of the water… 20-year-old Scottish singer-songwriter Rachel Sermanni packs an almighty punch with her earthy folk melodies and dextrous fingerpicking. Rachel's razor-sharp wit and natural affinity with any audience somehow belie her young age and have led to support slots with the likes of Elvis Costello, Ron Sexsmith and Michael Kiwanuka.

Rising star of contemporary American songwriting Kevin Montgomery returns to the The Musician with his band the Endangered Livers. His mom sang with Elvis. His dad wrote songs with Buddy Holly. He's written songs for Martina McBride and sung with Lee Ann Womack. Expect a great night of songs reminiscent of Jackson Browne, Don Henley and others of their ilk.

The first finale of the obsUnplugged featuring a selection of some of the finest local acoustic and electro-acoustic acts.

The second finale of the obsUnplugged featuring a selection of some of the finest local acoustic and electro-acoustic acts.

In order to celebrate his 60th birthday in 2012, Otway booked the Odeon Leicester Square to show the documentary of his life. Titled Rock and Roll's Greatest Failure: Otway the Movie, the sell out screening saw cinematic history made with the final scenes of the movie being filmed from the red carpet on the morning of the film. The film was funded by fans becoming producers who, as with the Hit campaign, were all individually credited in the movie credits. Following the success of the producers' premiere, 2013 has seen Otway take the completed movie to the Cannes Film Festival and it has been screened in cinemas throughout the country. Unlike his albums, the film has been critically acclaimed - receiving a four star review from The Guardian newspaper - and has been put forward for several BAFTAs including "British Outstanding Debut".

"From both sides of the Tweed and back again, the new and exciting pairing of Bella Hardy (Carthy, Hardy, Farrell and Young) and Ross Wilson (Blue Rose Code) have each travelled musical roads from very different origins. Used to playing in a throng of keen Folk musicians, H&W will be stripping back their sound for the tour and performing together.

With each taking turn leading a song, expect material from both the Hardy and the Blue Rose Code cannon as well as songs from The Tradition and their shared influences of Welch & Rawlings, Dick Gaughan, Patti Griffin and more.

This collaboration is something really special. Two fantastic musicians coming from very different musical backgrounds is always a recipe for an exciting gig. This is no exception. Bella has performed for us many times in various guises and Ross will be visiting us for the second time.

For people who don't necessarily like heavy metal, but if you do you'll really like it, we promise! A hilariously kick-arse tour through the history of heavy metal by the UK's foremost metalhead stand-up comedian. Want to learn how to headbang? Always wondered what happens in a moshpit? Keen to learn the difference between blackened thrash and grindcore?

WARNING: This show will contain references to the musical genre known as heavy metal, not a loosely scientific defined subset of elements that exhibit metallic properties.

Every once in a while you come across something on the internet that makes you go "wow." It may be a video, picture, song, band, or anything of the sort. In this case, it's the amazing virtuosity of Canadian fingerstyle guitarist Ewan Dobson. Ewan Dobson performs finger picking at it's finest. So much so that his Time 2 YouTube video has so far received 12.5 million hits and counting. Released as a download single it has become a global hit.

Dobson creates classic music, modern music and everything in between with only his guitar and finger picking. No bass, no drums, no vocals; nothing. It's just a one man show, and quite honestly, that's all you need. Audiences can expect masterful command of the acoustic guitar performed like no other can or has yet.

Come and experience Talon as you've never seen them before. Four members of the world's greatest Eagles tribute band perform a selection of their favourite contemporary acoustic classics by James Taylor, Simon & Garfunkel, Cat Stevens, Crosby Stills & Nash, John Denver, Michael Jackson, and many more…

Getting in the mood for Valentines? No us neither, so come along to this show instead!

In line with comedy week in Leicester, we have burlesque, boylesque, comedy and freakshow acts.

Bendy Bendini is a twisty legged question mark. An anatomical wonder and extraordinary gentleman performing what others can't and daren't do.


Next up will be your host for the night, international showgirl and fire-eating circus baby Talulah Blue.

Last but not least, Doc Leroc is the Mantastic Marvel of Yorkshire. Travelling the world; tantalising, titilating and traumatising audiences with his masculine boylesque.

Also featuring a live band as well as a burlesque stall!

**Please note that the Elvis Fontenot & The Sugar Bees gig has been cancelled due to circumstances beyond our control. Ticket refunds are available from all points of purchase.**

Join us, our house band The Wry Dogs, and a host of musicians and comedians as we plumb the depths of bawdy song & music, with the aim of bringing humour and happiness to festival goers through all that is rude, crude and really rather lewd!

This will not be for the fainthearted – so PLEASE don't come along if you are easily offended. YOU HAVE BEEN WARNED! Contact us if you want to perform. In aid of Macmillan Cancer Support.

Earlier this year, Brighton duo Royal Blood made their first public musical statement - a 3 minute slice of thrilling, primal rock & roll called 'Figure It Out' that appeared unannounced on the band's Soundcloud page but was soon picking up serious plaudits.

Now Royal Blood are pleased to announce details of their debut single. Available on 7" and download, the self-produced 'Out Of The Black' will be released on 11th November on Black Mammoth Records. It's a single that wrings the maximum amount of noise, aggression and pure youthful exuberance out of the most minimal of ingredients, featuring nothing more than Mike Kerr's vocals and bass and Ben Thatcher's drums.


A magical double header as two great acts present a night of songs of wonder and dreams.

Multi-instrumental wizard Chris Conway's cosmic and dreamlike songs are delivered with a dry wit, and a warm heart. This year he celebrates 25 years as a pro musician, and has released over 100 albums in many genres.

Mia and the Moon are sisters Laura & Mary-Anne Ratcliffe with the most astounding voices and stage presence and they cast a spell with their harmonies and timeless musical style. They tour the country, and have been featured on national television.




The meteoric rise to prominence of British bluesbreakers King King has seen them racking up a host of accolades culminating in last year's Best Band and Best Album at the British Blues Awards. Driving force behind King King's unstoppable charge is Alan Nimmo, a virtuoso frontman possessed of an almost impolite level of charisma and the talent to back it up. An award winning bluesman in his own right and widely known across the UK and Europe, Nimmo's full-blooded style, technical brilliance and impassioned vocals are infectious and instantly recognisable.

King Size Slim is Toby Barelli - an explosive roots and blues musician moulding traditional standards and soring own compositions with explosive musicianship and a unique vocal attack.

Following the release of his third album, King Size Slim is now touring with a new trio which he brings to the Musician tonight to deliver their brand of Fat Roots Boogie.

For the uninitiated, this is a fat boogie style and sound delivered live and direct. This music, percussive and dynamic in its nature, melodic and soulful in its heart, shouts loud and kisses sweet. A potent combination of guitars, percussion and vocal performed with passion and belief.

Formed in 1996 by John Campbell, the onstage resemblance is there for all to see. With showmanship that harks back to Jimi's late 60's performances, even the most ardent fan would raise a wry smile. John has appeared on "The Trisha Show", Talk Radio with Lorraine Kelly, Sky One's "Death By Excess" and "The One Show" and the band were featured on BBC 2's Arena special on tribute bands…"Into The Limelight" to critical acclaim.

In November 2009 Are you Experienced? were invited to play "The Barbados Virgin Atlantic Music Festival", and in 2010 were proud to open "The Isle Of Wight Festival" to mark 40 years since Jimi Hendrix made his last major appearance there. The band also played at The Troubadour, London to mark the 40th anniversary of the death of Hendrix on 18th September 2010.

"Wow! I mean Wow!" - Darren Redick, Planet Rock

King Punch formed in the Autumn of 2010 after seven young men (bravely) answered a Gumtree advert looking to form a new ska-punk outfit that would change the world.

While they are still waiting on the 'world' part, ever since their first meeting these upbeat, cheeky and noisy Punchers have been spreading their patented brand of musical ear love throughout London, parts of the UK and now, Canada where they played to over 5000 punk-hungry people at the Envol et Macadam festival, sharing the stage with The Flatliners, Randy, Face to Face and NOFX! Now they are primed and ready to spread their patented brand of noisy, cheeky and danceable live energy across the UK.




www.bristowblues.co.uk
Kent Duchaine's musical nomadic life started over thirty years ago in Minnesota where he played with Kim Wilson before Wilson moved to Texas to form the Fabulous Thunderbirds. Kent honed his guitar skills playing with Lazy Bill Lucas, Boogie Woogie Red, Luther Tucker, Big Walter Horton, Hubert Sumlin, Eddie Burns and Margie Evans. In the early 1990's he spent three years traveling and playing with the legendary bluesman Johnny Shines. Duchaine's guitar playing is rooted in the styles of Robert Johnson, Lightning Hopkins, T-Bone Walker, Muddy Waters, Bukka White and Elmore James. He has a ferociously wild slide technique that exudes a frenzied power and he can switch gears in the wink of an eye to play some beautiful acoustic melodies.




Wake Up Promotions presents a night of quality live music featuring a selection of Leicester's finest talent.

For up to date gig info on twitter, please follow @wakeuppromotion

Band of Friends consists of musicians who played with Rory Gallagher throughout his career. Gerry McAvoy (bass) played with Rory for 20 years; from 1971 to 1991 and because of this has a great insight into the man and his music. Gerry played on every album Rory ever made. Ted McKenna (drums) played with Rory from 1977 to 1981. Marcel Scherpenzeel (guitar) grew up with Rory's music and Gerry is quoted as saying "This is the closest guitarist to Rory you will ever hear". Rory's music reached a massive audience from Norway to Spain, from Japan to the USA. The Band Of Friends is not a tribute to Rory, more of a celebration of his life and music.