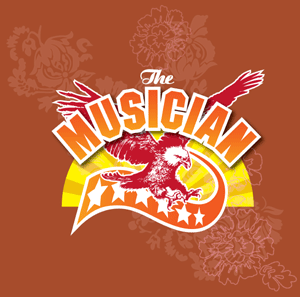 Should need to print a copy of this months listings, you can download a copy of our regular flyer by clicking the PDF icon.
---
These days artists and bands tend to book their tours months in advance. In order to give you the best notice of up and coming shows we list events once they have been confirmed by the band or their management
The downside of this is that dates can change due to unforeseen circumstances, sometimes at very short notice. We do our best to ensure that this site is kept as up to date as is possible, with updates happening at least once a week.
Therefore to avoid disappointment we recommend that you check these listing prior to setting out for your show especially if you are traveling any distance.
---
Not listed?
A guide for Artists and Promoters
The quickest way to get yourself included in our listings is to send an email to rideout at stayfree.co.uk once your gig is confirmed.
We also need you to do the following -
Put the name of the artist or band name along with the date of your show in the email subject line.
Attach a reasonable sized photograph. A 72dpi, jpeg, bigger than 200x200 pixels would be fine. Please don't email files over 1mb in size. If in doubt please drop us a line before sending. Let us have your web address so we can link to your site or Myspace page.
Send us some text. Whilst we are happy to tidy up spelling or grammar, we don't have the time to write or edit copy for you. Ideally we need a nice concise 'blurb' of between 75-100 words. Please don't send a three page biography, or else we are likely to bounce it back to you. If you have a selection of press quotes send what you have as we can usually easily compile something from them. There are plenty of examples of the sort of thing we need here on the site to help you out.
Please note - If you have played at The Musician before and we have text on file, we will continue to use use it for any subsequent listings unless you supply new copy.
If you spot any errors please send an email to derek at indiecentral.co.uk.
Coming to The Musician in February

Two sets of the best of the 50's British and US rock 'n' roll plus rockabilly covers and originals from this great new band!

***Acoustic/Electro Acoustic Minifest***

A series of nights to make selections for this year's local festival stages. In January over 80 acts played over 2 weeks showcasing some of the best local and national talent.




Tonight features a selection of some of the best acts that have taken part in the showcase.

uk.myspace.com/drugstorecowboysuk

Dale Watson is what country music should be: authentic, legitimate and with a bona fide heart. A staunch adeherent of old-style honky tonk and Bakersfield country, Watson has positioned himself as a tattooed, stubbornly independent outsider, putting his music before any pursuit of commerciality. Championed by numerous critics and alternative country fans alike, Watson is a Grand Ol' Opry favourite and has a devoted following in the U.S. and Europe. Willie Nelson is one of Dale's biggest fans.

After a sell out reunion concert in December, Dr. Bob's Acoustic Roots 'N' Blues Band have decided to play a few selected gigs again.

All of the original line up including Bob Dayfield, Mick Ridgway, John Montague, Pete Tomlyn, Pete Colton and Nigel Upton, Pete Turnpenney will be playing. The guys recorded two albums in the 90's and a reunion album is on the way.

So all those popular numbers of the past plus a bunch of toe tapping new stuff will be guaranteed. Fun and Nostalgia....... can't beat it!

www.fortytenthpromotions.co.uk

Long before "Britpop", British indie music had a golden era that saw the likes of Pop Will Eat Itself, Ned's Atomic Dustbin, EMF, Jesus Jones and of course, perhaps the biggest band of the era - The Wonder Stuff. With a sound that mixed post-punk guitars, psychedelia, pop-rock and folk they were the perfect alternative band in a time of Stock Aitken and Waterman. Armed with killer, catchy tunes and sneering lyrics The Stuffies were to go from indie darlings to headlining the Reading festival and enjoying hit success with "Welcome To The Cheap Seats", "Size Of A Cow" and their number one collaboration with Vic Reeves, "Dizzy".

A selection up and coming local bands and artists presented by Wake Up.

Tonight sees Mitch peforming his new show 'Reduced Circumstances' which debuted at this year's Edinburgh Festival.

Former Leicester Mercury comedian of the year Benn is not only one of the most sought-after acts on the comedy circuit but is widely acknowledged as one of the best writer/performers of comic songs in the country. Mitch began his comedy career in Edinburgh in 1994. He moved to London in 1996 and quickly established himself as a comedy club "headliner" as well as a favourite on the university circuit.

Mitch is a regular writer and performer on "The Now Show" for BBC Radio 4 and "It's Been a Bad Week" for BBC Radio 2. Three series of his successful Radio 4 show, "Mitch Benn's Crimes Against Music" have been broadcast so far. He also presents "The Mitch Benn Music Show" on BBC Radio 7.

***Acoustic/Electro Acoustic Minifest***

A series of nights to make selections for this year's local festival stages. In January, over 80 acts played over 2 weeks showcasing some of the best local and national talent.




Tonight features a selection of some of the best acts that have taken part in the showcase.

www.facebook.com/siobhanmazzei

www.facebook.com/meri.everitt.music

Bluebird Parade are a six-piece band that features an eclectic group of musicians from Leicester and beyond, including songwriter Jon Read (trumpeter for The Specials, Kingsize) and guitarist Mark Price (Feelabeelia, The Dreaming). Bluebird Parade plays original songs with thought-provoking lyrics and haunting vocals, mixing acoustic, electric, and brass instrumentation to take you in unexpected aural directions.

The unique three man tribute to rock music's best known Texan boogie band are back to "Tear the house down!" in 2012, bringing a tour with more Tone, Taste and Tenacity than ever before. Complete with their real beards, the crazy guitars, the moves and over two hours of hot-rodded rock 'n' roll! All eras of ZZ Top are included in the same show, in two very individual sets.

The ZZ Tops pack the classics like 'Gimee All Your Lovin', Sharp Dressed Man, Legs, Tush, La Grange, Rough Boy and many more into a 2 hour plus rock extravaganza and throw in a few surprises for hardcore (and not so hardcore) fans to savour!

Since David Tattersall (guitar) and Franic Rozycki (bass) began recording together in a village called Wymeswold in the late nineties, with the addition of drummer Jonny ''Huddersfield'' Helm, The Wave Pictures have gone on to record a dozen or so albums, numerous singles and eps and have been involved in a heap more collaborative efforts.

Their music speaks for itself with the band effortlessly blending skiffle-y pop, folksie ballads, surf and garage. Back in Wymeswold in the early days, the band cut their teeth on Jonathon Richmond covers, the influence is apparent throughout their career.

Regularly performing and recording with likeminded musicians and friends, most notably Darran Hayman, Herman Dune, Jon Darnielle and Jeffrey Lewis, The Wave Pictures have never been keen to rest on their laurels. Their latest record, 'Long Black Cars', was recorded mostly live by friend Darren Hayman and released by Moshi Moshi Records in March last year.

"The Wave Pictures are currently conjuring the most gleeful, magnificent pop in town." - The Guardian

Known worldwide as Chopper, the cellist and bass player for the award winning group Oysterband, Ray Cooper is a singer, songwriter and multi-instrumentalist who released his first solo album, "Tales of Love War and Death by Hanging" in 2010 (***** R2, "terrific" – Rootsworld). A mix of self-penned songs with influences from Scotland (Ray is half Scottish) and Sweden, where he now lives, he produced the album and played most of the instruments but had some help from a few friends, notably from the Swedish fiddle player Patrik Andersson.

Support comes from rising London duo The Raven, whose dark and haunting take on traditional folk has been steadily winning them a large audience.

I am a stand-up comedian, a metalhead, an amateur occultist and a musician. I've done a bit of telly, (including Saxondale with Steve Coogan) and lots of radio (including BBC Radio 1, Radio 4 Extra and 5live) but live is where the hidden mind-control signals planted in my work are most effective.

I'm a bit of a regular on the comedy stages at Download, Sonisphere, Bloodstock, Leeds and Reading festivals. I'm vegan, as you can tell by the fact that I have a lithe, sinewy body. I'm a heterosexual transvestite, as you can tell by the fact that I wear female clothes and fancy girls. I'm not a goth. This is an understandable error, but there is a difference between a metaller who cross-dresses and a goth. And if need be I will fight you to demonstrate that difference. I've got nothing against goths. Some of my best friends are goths. Their food is lovely and they have natural rhythm.

This February 14th, The Musician has the burlesque show of all burlesque shows. With your host and international performer Talulah Blue, we have a mix of showgirls, live music, boylesque with Doc Leroc and comedy with the award winning Kiki Kamboom! Kiki recently threatening to take on Dappy from N-Ddubz on stage and threw her chewing gum at him at the Edinburgh Fringe (thank you Kiki!). This is a must see, bringing the fun back into Valentine's Day.

For more info visit www.talulahblue.com

Anthony Harty was recruited by Paul Weller at the age of 16 and became a member of the iconic Style Council. Anthony then went on to tour world-wide with Special Beat, The Truth, Badfinger and support tours with giants such as Sting, Squeeze and The Hooters. Sessions include The Primitives, The Specials and the oustanding achievement with reggae legend Lee 'Scratch' Perry for which Anthony won a Grammy award.

Currently a key figure in Pauline Black's 'The Selector', Anthony is hitting the road during a short break in The Selecter tour dates. He will be celebrating the 30th Anniversary of The Style Council as well as performing music from his distinguished career including Bad Finger, Lee 'Scratch' Perry, Dave Barker and favourites from Joe Jackson, Elvis Costello, Squeeze, XTC, Fastball and John Mayer not to mention tracks from his new album 'Baggage'.




From the first note of Led Zeppelin's "Black Dog" sixteen-year-old Marcus Bonfanti knew he wanted to be a guitar player. Now 29, Bonfanti has become the sum of all the great music he was exposed to as a young boy growing up in North London. His 2008 debut album, 'Hard Times,' set the scene and sent some subtly effective messages about a new British voice demanding to be heard.

2010's 'What Good Am I To You' (listed in Classic Rock Magazine's top 50 albums of 2010) makes good on all those promises. The critical acclaim that both albums received earned him 2 nominations in both last year and this year's "British Blues Awards" for Best Male Vocals & Best Guitar. Last year he was also invited by Paul Jones to perform at his 25th Year anniversary show at BBC Maida Vale Studios and as special guest at his legendary Cranleigh Arts Centre Christmas gig.

"Bonfanti deserves to become the next British Blues Guitar Hero" - The Guardian

"As if Jimmy Page had been reborn as Seasick Steve, he has surely booked a place on the top table of Modern Blues. Utterly spellbinding" - The Times

www.kevinhewick.co.uk
Best known for her hit "Lucky Number", Lene Lovich was a feature of the legendary Stiff Records tours of the early 80s. She has also co-starred with Nina Hagen and Herman Brood in the film Cha-Cha and played the lead in the London stage play Mata Hari. After a break to raise a family she has recently returned to live performing with her band, which includes Jude Rawlins of The Subterraneans. Her startling original live performances, which influenced the likes of Bjork and P J Harvey, are not to be missed.

Boothby Graffoe is an English comedian, singer, songwriter and playwright. He is particularly known for his surreal sense of humour and work with Canadian band Barenaked Ladies.

Graffoe often incorporates guitar playing into his stage act, through his oddball (and usually slightly twisted) songs, including such titles as "Planet Dog", "Woof" and his album's title track, "Wot Italian" (sometimes referred to as "Umbrella Head Boy").

Graffoe has won several awards, including the 2002 Adelaide Fringe Award for Excellence, and the Time Out Comedy Award. He has been nominated for British comedy's prestigious Perrier Award.

Last seen in Leicester playing a great support set for Ian Hunter at the Y Theatre, Otis Gibbs is a man in search of an honest experience. He is often referred to as a folk artist, but he's also a man who has planted over 7,000 trees, slept in hobo jungles, walked with nomadic shepherds in Romania, was a fifth grade yo-yo champion and once wrestled a bear (and lost). Otis has played countless, theatres, festivals, bars and house concerts and has managed to carve out a living while remaining happily independent. He has spent the last fifteen years travelling across America and abroad documenting this world, and has a story to share about each stop along the way. He'll be featuring tracks from his sixth album, "Hotter Than Hammered Hell"

***** - No Depression; "Simply perfect" – Fatea

Aussie guitar maestro Gwyn Ashton is back at The Musician with his new trio featuring Nick Skelson (Sinnerboy) on bass and ex Magnum drummer Mickey Barker.

On this special night they are joined by Magnum's keyboard player Mark Stanway, celebrating Ashton's latest release 'Radiogram' which Stanway played on, and marking the first gig Barker and Stanway have played together since 1995!

Classic Rock Blues magazine voted 'Radiogram' Best Of 2012 and it features Ashton on guitar, bass, vocals and harmonica. The diverse guest artist roster includes Don Airey (Deep Purple, Rainbow, Whitesnake, Black Sabbath), Kim Wilson (Fabulous Thunderbirds), Robbie Blunt (Robert Plant, Bronco, Silverhead), Johnny Mastro (LA's Mama's Boys), Mark Stanway (Magnum, Phil Lynott), Mo Birch (UB40, Go West, Culture Club), Henry Parker and Kev Hickman. 'Radiogram' was recorded in England, mixed in LA by Lost Prophets' producer Justin Hopfer and mastered in Australia by Don Bartley, who was recently commissioned by EMI to re-master the audiophile version of Sgt Pepper's Lonely Hearts Club Band.

"Ashton's on top form as a singer and too good a guitarist to remain one of the 'best kept secrets' in the music community" - R2

They're back with a brand new show! Two of comedy's most fabled masters performing a new set of funnies including songs of rioting, protest, mobility scooters and cornetto hell.

Barry is a household name (like Domestos and Cif) famed for his legendary comedy writing alongside performing his classic standup. Ronnie, former lead singer/songwriter/guitarist with seminal late 70s cult rock band Fabulous Poodles, also works as a standup. The live show features Barry's formidable collection of one-liners and tall stories alongside Ronnie's versatile musicianship and awesome array of musical impressions. Their comic songs take in the unlikeliest of themes – assisted suicide, mobile phone frustrations, freedom passes and....John Prescott!

***** "We expected this show to be funny but no one could have predicted it would be this magical" - Fringe Review Edinburgh 2012

X-O-Dus are a reggae band from Manchester that assembled in 1975. Their first gig was in early '77 and they released a four song demo tape in '79. The tape was heard by Tony Wilson who 'almost immediately' signed them to Factory, making them the first reggae band signed to a leading UK independent label. The single 'English Black Boys'/'See Them A Come' received favourable reviews in Sounds, Melody Maker and the NME and entered both the UK independent singles and UK reggae singles charts. Their other songs include 'Sinnerman', 'Dance', 'Rise and Fall', 'Bourneville' and 'Friends of the Earth'.

Grammy award-winner Guy Pratt spills the beans on 30 years as bass player to the stars. He's toured with Pink Floyd, David Gilmour, Bryan Ferry, Roxy Music, Jimmy Page, Robert Palmer, Womack & Womack and recorded with Madonna, Michael Jackson, The Pretenders and Iggy Pop. Currently musical director on Rob Brydon's TV show, on stage, Guy unpacks his irresistible and very funny stories about life on stage and behind the scenes, the craziness of touring the world and playing the biggest stadiums alongside some equally sizeable egos. You get self-deprecating wit, rip-roaring anecdotes and enough insider's references to satisfy even afficionados. Guy will also be playing his beloved vintage Fender bass. This show is seriously suitable for anyone who loves music and laughter, and is curious about what happens behind that music biz curtain.




www.fortytenthpromotions.co.uk

The Willows are a folk roots family band from Cambridge. Regularly compared to the likes of Alison Krauss & Union Station and Laura Marling, their musical style pulls influence from both Americana and UK Folk traditions. Fronted by the stunningly distinctive voice of Jade Rhiannon, supported by rich vocal harmonies and sensitive acoustic musicianship, The Willows have a distinctively refreshing sound that continues to captivate and inspire audiences everywhere they go.

Formed in spring 2010, the band have spent their formative years plying their trade in numerous folk and acoustic clubs all over the UK, supporting the likes of LAU, Uiscedwr, Rory McLeod, Peatbog Faeries and Lucy Ward along the way. Performances at the likes of Cambridge Folk Festival, Folk By The Oak, FolkEast and Secret Garden Party have followed, helping build a reputation as a compelling festival band.




Tommy Womack has been called everything from "Tom Lehrer with a Telecaster" to "Nashville's best-loved eccentric". An award-winning artist, he writes songs as honest as anything Hank Williams or Steve Earle ever recorded. Whether it's the eight minute "Alpha Male & The Canine Mystery Blood", the hilarious – if blood-chilling – "Ninety Miles An Hour Down A Dead-End Street" or just plain growing old ungracefully in "Over The Hill", Womack sings about alcohol, sex, cigarettes and Jesus, unafraid to say whatever he wants, having weathered both the worst and best of times. His last two albums, "There, I Said It!" and "Now What!" both won rave reviews from any and everywhere while his live shows are confessional, witty and infused with the spirit of rock 'n' roll.


www.myspace.com/mellowpeaches
This is the launch gig for singer-songwriter Gren Bartley's new album, his follow-up to the acclaimed "Songs to Scythe Back The Overgrown ("a quiet masterpiece" – fRoots, **** Spiral Earth). It's also a rare opportunity to see him with a full band. Gren started off playing in a duo with fiddler Tom Kitching (Pilgrim's Way) but has always had a parallel solo career. He sits on the edge of the ever growing link between English and American folk music and explores the whole range from traditional English songs to the darkest American blues ballads.

Support comes from Birmingham's Mellow Peaches, purveyors of rootsy stomps and gutsy grooves, traditional, organic and freshly sourced American blues and roots.