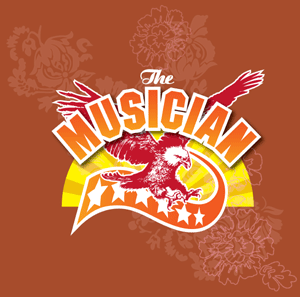 Should need to print a copy of this months listings, you can download a copy of our regular flyer by clicking the PDF icon.
---
These days artists and bands tend to book their tours months in advance. In order to give you the best notice of up and coming shows we list events once they have been confirmed by the band or their management
The downside of this is that dates can change due to unforeseen circumstances, sometimes at very short notice. We do our best to ensure that this site is kept as up to date as is possible, with updates happening at least once a week.
Therefore to avoid disappointment we recommend that you check these listing prior to setting out for your show especially if you are traveling any distance.
---
Not listed?
A guide for Artists and Promoters
The quickest way to get yourself included in our listings is to send an email to rideout at stayfree.co.uk once your gig is confirmed.
We also need you to do the following -
Put the name of the artist or band name along with the date of your show in the email subject line.
Attach a reasonable sized photograph. A 72dpi, jpeg, bigger than 200x200 pixels would be fine. Please don't email files over 1mb in size. If in doubt please drop us a line before sending. Let us have your web address so we can link to your site or Myspace page.
Send us some text. Whilst we are happy to tidy up spelling or grammar, we don't have the time to write or edit copy for you. Ideally we need a nice concise 'blurb' of between 75-100 words. Please don't send a three page biography, or else we are likely to bounce it back to you. If you have a selection of press quotes send what you have as we can usually easily compile something from them. There are plenty of examples of the sort of thing we need here on the site to help you out.
Please note - If you have played at The Musician before and we have text on file, we will continue to use use it for any subsequent listings unless you supply new copy.
If you spot any errors please send an email to derek at indiecentral.co.uk.
Coming to The Musician in February

Fingersnap is the creative coupling of artist David McAlmont and musical tour de force Guy Davies. Fingersnap"s first release comes in the form of the Smokehouse EP that was written whilst on a writing retreat in Ireland earlier this year and recorded in London over the summer.

Guy and David originally met back in 1997, when they were introduced by producer Steve Leroni. Their friendship blossomed with untold live and studio collaborations, including work on the album 'A Little Communication' and 'Set One: You Go To My Head'. David's musical journey of course has been an eclectic and varied one, seeing him achieve mainstream success and critical acclaim with a number of musical partners including Bernard Butler, David Arnold and composer Michael Nyman.

"McAlmont's voice, brimming with pain and aching with desperate persuasion in every one of its many octaves, is one of music's most unique." - The Guardian

ahab are a singer songwriter collective formed in 2009 after being invited to play the annual 'Fanfare' Festival in Nashville, Tennessee.

Following a successful week long residency tearing the roof off at Tootsies Orchid Lounge, they came back to Dalston and decided to make the collaboration permanent. After a year spent writing new material and layering the songs thick with harmonies ahab decided to hit the streets of London's market towns to put their name around.

Two months of busking and the band had built up such a cult following that they have now been banned from practically every market in London as crowds had began to block the streets wherever they played.

"ahab is the real deal – top-notch UK Americana featuring tight four-piece harmonies." - Simon Mayo, BBC Radio 2

"I loved ahab's terrific performance at Cropredy festival. They are blistering live – alt-country edge and sheer class." -

Bob Harris, BBC Radio 2

Fri 3

Hell's Addiction
£5

plus Motherlode and Wave Of Brine
www.hellsaddiction.com
Leicester's own Hell's Addiction formed just over a year ago through a love and passion for classic no bullshit rock. With its members having come together from local bands De Sade, Dirty Cocktail and Forgotten Sun, and a stageshow honed by supporting bands such as Heaven's Basement, Voodoo Six, Fury UK, The Heavy Metal Kids and Zodiac Mindwarp, these guys really know how to rock! Hell's Addiction play with a raw intense energy that very few bands possess and live onstage is where the band really hit you hard.

For more info visit www.cheeseweasel.org

"Is it a gig or a comedy show? So musically adept are Mitch Benn and the Distractions, and so droll their parodies, you get the best of both worlds. From U2 to Guns N' Roses to Lloyd Webber, each transformation is funnier to than the last. The set divides between original comic songs and direct send-ups and when the spoof tunes begin, the audience are in his thrall. There's something liberating about seeing icons toppled, about seeing their styles so blithely replicated. And the exactitude of the imitations is sublime. Best of all is Eminem's Macbeth, in which Malcolm "comes back to attack the Mac with a pack of Sassenachs". Benn is neither slim nor shady, but as this showstopper proves, he's the real deal." - The Guardian.


Wildfire Sessions presents its first ever Acoustic Afternoon Showcase at the Musician. Come down and chill out with the family and enjoy an afternoon of acoustic sets from some top original talent of all ages. Kids welcome.

Tue 7
Andrew O'Neill

Funny comedy show by long-haired man (includes short play about gravy). All styles of comedy covered, guaranteed (some twice). As seen on Stewart Lee's Comedy Vehicle, heard hijacking the Radio One Rock Show and satirising on Radio 5 Live, and read in Terroriser magazine.

"a winning blend of polemic and off-beat whimsy" - The Guardian
"a comedian with his own, unique voice... O'Neill is particularly admirable" - The Scotsman
"some of the best one-liners in the country" - Chortle
"a perfect antidote to conventional comedy" - Remote Goat
"a really rewarding piece of stand-up comedy" - British Comedy Guide
"Andrew O'Neill is like comedy ball-lightning; fast, electrifying and even funnier than the misfortunes of others" - Alan Moore (Watchmen, League of Extraordinary Gentlemen)

Since forming Yellowire in 2010 the band has performed at HMV's Next Big Thing, Isle of Wight Festival, Rock am Ring & Rock im Park – Germany, Hard Rock Calling in Hyde Park, Latitude festival and Reading and Leeds festival. The band's first single 'One Last Breath' was playlisted by Radio 2 in the UK and had international support with Radio play across Europe, to as far afield as Dubai.

For more info visit www.magic-teapot.co.uk or www.liveinleicester.net




Thu 9
Patsy Matheson & Becky Mills

Since the well publicised break up of Waking the Witch, Patsy Matheson and Becky Mills have continued to delight audiences throughout the UK – Patsy as half of a duo with the legendary Clive Gregson, and Becky singing alongside Ken Nicol (Steeleye Span) and Ashley Hutchings (Fairport Convention).

Now, to support the release of Patsy's new album 'Stories of Angels & Guitars,' these two world class songwriters, singers and guitarists have joined forces resulting in a unique and personal sound, drawing on roots in traditional and contemporary folk, acoustic blues, R & B, jazz and rock, with an emphasis on intricate vocal harmonies. Combine this with the pair's engaging charm and sense of humour, and this promises to be a very special evening of top quality entertainment.

'Expert musicianship and compelling interchanging lead vocals' – Maverick Magazine






Fri 10

Snakewater
£5


**SHOW CANCELLED DUE TO ADVERSE WEATHER CONDITIONS - WE ARE NOW CLOSED TONIGHT**

For more info visit www.xanderpromotions.co.uk

Sat 11
James Sherwood
£5adult £4con (7:30pm til 9:00pm)
www.sherwoodcomedy.com

James Sherwood returns to Leicester with an hour of his award-winning best bits from a decade on the stand-up circuit. As heard on Radio 4 and Radio 5 Live. CD 'At the Piano!' available now!

"fresh, contemporary and pin-sharp original" - The Guardian

"non-stop invention... brilliant comic craft" - The Scotsman

"pure comedy gold" - Edinburgh Guide

Sat 11

Kenworthy
£3 (9pm til 1am)

plus Joe Morrell
www.myspace.com/jackkenworthy
Kenworthy were formed in January 2011, consisting of Jack Kenworthy on piano, guitar and vocals, Dom Potts on bass and Lee Masters on drums. Jack is the self described "Indie/Electro/Pop/Jazz kind of thing" that is soon to croon his way onto the scene this summer, with dulcet tones fused with ambient and a dash of electro thrown in for good measure, you would be advised to jump on the wagon now.

This Valentine's, Talulah Blue brings to the stage the mind blowing Missy Malone. If there is one performer you want to see, this is your girl! With her impeccable style and old school bump and grind burlesque, this lady owns the stage!

In line with comedy week in Leicester, the brilliant Mama Jenufa will have you howling out loud with laughter.

Talulah, as known from Britains Got Talent 2011, will take to the stage, with graceful style. All eyes are on her!

As always we have a live band, a burlesque stall and a warm and welcome atmosphere.

There will also be a 'kissing booth' for a chance to have a professional photo with one of the performers!

After quarter of a century of working with others - Barry Cryer, Arthur Smith, Rich Hall et al - Ronnie finally finds a reason to do his first solo musical comedy show. Part rock 'n' roll guitar masterclass, part autobiography, and part complete bollocks. This show will put you on the first rung of the rock 'n' roll ladder. Put the hard work in now and the chicks, the booze and the drugs will come later!




Thu 16
Kathryn Roberts & Sean Lakeman
£9

plus James Findlay
www.kathrynrobertsandseanlakeman.co.uk
Twin daughters and a folk-rock whirlwind forced Kathryn Roberts (Vocals/Piano/Woodwind), and Sean Lakeman (Guitar), to sideline their popular duo performances in the mid-noughties. Now the timing is right for a return to form from the Dartmoor based couple.

Two of the British folk scenes most accomplished performers, Kathryn and Sean have graced stages the world over in a number of guises, however, the intimacy and strength of passion shown as a duo, combined with an eclectic repertoire ensures a rare treat.

With a story that includes music making with the likes of Seth Lakeman, Cara Dillon, The Levellers, Kate Rusby and Show of Hands, Kathryn Roberts and Sean Lakeman have established themselves as pillars of modern British folk.

For more info visit www.greenbirdpromotions.com

Fri 17

Calder McLaughlin
£5

plus Us Wolves
www.caldermclaughlin.com

Leicester artist Calder McLaughlin is an emotive and passionate singer-songwriter. His debut full length album "Chapters and Phases" was released late in 2011 and it documents his boy to man story with a balance of articulate reflection and pained celebration. Calder has a voice that engages the listener instantly, his gravelled tones and honest delivery make for a captivating combination. His song-writing often leans slightly towards the melancholic yet in the process he finds the anthemic.

Launching his new band at The Musician, Calder looks to build on his prolific and relentless gigging of the local curcuit in order to bring together his somewhat scattered fan base. With new releases set for later in the year, it is a time for re-building momentum. The new band adds an expansive, dynamic range to Calder's already epic sounding songs.

Support comes from the excellent prog indie band Us Wolves.

"Calder always puts megawatts of energy into his live performances... All of the songs have a compelling anthemic quality to them... It's powerful stuff." - Arts in Leicestershire

Sat 18
The Hamsters: 25th Year & Farewell Tour! - SHOW SOLD OUT
£12adv £14door
www.thehamsters.co.uk
Retiring after 25 years together and here for one final show at the Musician, the guitar, bass and drums trio The Hamsters have long been established as one of our premier live attractions. Although primarily playing their own brand of Rock, Blues and Americana, they're also widely regarded as the UK's leading interpreters of the music of Jimi Hendrix and ZZ TOP - and will no doubt be featuring some tonight.

"The Hamsters are fabulous: one of Britain's very best live bands" - Bob Harris, Radio 2

"The Hamsters are a great Blues band" - Johnny Walker, Radio 2

"Nobody does the music of Jimi Hendrix and ZZ Top better (apart from the real ZZ Top)" - The Times

"F****** brilliant!" - Suzi Quatro

Topical and "Seriously Funny" - The Guardian. "One of the top ten comedians in the country" - The Independent. Member of The Cutting Edge team at Comedy Store. Credits include Tuesday Club - top rated podcast with Alan Davies, regular on Rock 'n' Roll Football on Absolute Radio with Ian Wright and Fighting Talk on Radio 5.

www.myspace.com/blueswampsouthern

Roll up, roll up, and welcome to the 'Chickenhead Lounge', a moonshine made of Blues, Bluegrass, Country and weird American folk music. Its your chance to enter the southern-fried world of juke joints, Jack Daniels, hobos, trains a-rolling, rusty pick-ups and shake 'em on down Americana & countryfied music. Your hosts, The Outwoods County Riders, stir up a brew of 'live' bands, roots music and film show!

Come and experience Talon as you've never seen them before. Four members of the world's greatest Eagles tribute band perform a selection of their favourite contemporary acoustic classics by James Taylor, Simon & Garfunkel, Cat Stevens, Crosby Stills & Nash, John Denver, Michael Jackson, and many more…

Flutatious feature soaring melodic flute accompanied by flying fiddle, atmospheric guitars, jazzy vibes and groovy beats. With their unique sound, Flutatious have been gaining interest from various parts of the 'industry' but still enjoy the freedom of being truly independent. It has been said that 'Flutatious are one of the bands dragging folk/rock into the 21st century…'

With Tarantism, it's all about dancing and always has been, from tribal drums, mediaeval pipes or a frenzy of voices. To sweaty pub back-rooms, banging nightclubs, free festivals and parties or anywhere there is a beat! Tarantism bring all of these influences into their songwriting & performance, weaving traditional instruments & styles with ska, punk, funk & dub. Along with contemporary lyrical content and imaginative arrangements, this produces a unique mix of infectious dance rhythms and memorable tunes, real music that is fun & uplifting!

For more info visit www.fortytenthpromotions.co.uk

Sinnerboy are simply the best Rory Gallagher tribute band in the world - and that's the official opinion of Donal Gallagher, Rory Gallagher's brother. They've played Rory Gallagher conventions all over Europe, and the ultimate accolade - in Rory's hometown in Ireland.

Guitarist and singer Barry Barnes is one of Europe's most active enthusiasts working to keep alive the music and memory of Rory Gallagher.




Sun 26
Beth Jeans Houghton & The Hooves Of Destiny
£8adv £10door
plus Goodnight Lenin and Silent Devices
www.myspace.com/bethjeanshoughton

Beth Jeans Houghton is a singer-songwriter from Newcastle upon Tyne, who plays sweet and gentle folk music. She has been described by The Guardian as looking like "Gwen Stefani with a touch of Brody Dalle", with a sound that "is Vashti Bunyan crossed with Nico and Laura Marling". In early 2011, Beth was signed to Mute Records who announced that they will be releasing her debut long player in early 2012. The album was recorded with Ben Hillier whose previous production credits include Blur, Depeche Mode and Elbow.

"Glam Folk Genius, a legend in the making" - NME

"A considerable talent, with a remarkable voice and a rare star quality" - Mojo

For more info visit www.magic-teapot.co.uk or www.liveinleicester.net

Allo Darlin' are many things. They can turn a room in a famous punk venue into a joyous, jumping, sweaty, pop-mosh pit. Or bring a room of 500 to hushed silence with the few strums of a ukulele and a love song about cooking.

Allo Darlin' is the music of Australian-born, London-based songwriter Elizabeth Morris. Originally from a country town in Queensland, Elizabeth moved to London in 2005 and, inspired to write songs by her purchase of a ukulele from the famous Duke of Uke shop in Brick Lane, began to make music. Although Elizabeth has been releasing music under various guises since 2007, it wasn't until 2009 that Elizabeth hooked up with Paul Rains (guitar), Bill Botting (bass) and Michael Collins (drums) and Allo Darlin' was properly born.

For more info visit www.liveinleicester.net or www.magic-teapot.co.uk

Spotlight Kid continue their assault against sonic mediocrity with an assuredness and an emotional depth so many guitar bands are currently lacking. This is the sound of a band rising to the top of their game, while wearing their hearts on their sleeves and performing live shows like their next meal depends on it. Influences from the likes of The Cure, Swervedriver and My Bloody Valentine have allowed Spotlight Kid to produce a heady mix that runs through the entire gamut of emotions.

Spotlight Kid's music features mixtures of Shoegaze, Krautrock and 90s Psychedelia. Fuzzy guitars wrapped in layers of reverb and boy/girl vocals subtly building on the layered walls of distortion. In the last year Spotlight Kid have supported The Joy Formidable on their UK sell out tour, been chosen by BBC introducing to play at this year's Glastonbury and have been play-listed on Radio 1 as well as numerous plays on 6music and XFM.

For more info visit www.liveinleicester.net or www.magic-teapot.co.uk

Steve Hicks is one of the UK's leading exponents of finger style guitar. Drawing on an astonishing repertoire that encompasses Classical, Celtic, Ragtime, Blues and Folk styles. He delivers material with technical skill, astute artistic integrity and a natural sense of what it means to entertain.

Lynn Goulbourn is an outstanding vocalist who can handle everything from the most demanding traditional songs or jazz standards to the gentlest of lullabies, in addition to providing subtle harmonies.

In addition to the incredible range of musical styles, the honest vocal delivery and the breathtaking displays of virtuosity from Steve's guitar solos, a most engaging thing about this pair is the blend of personalities they display on stage. They are at once totally at ease with themselves and the audience. Their shows create a wonderful, memorable experience. Catch them as soon as you can.