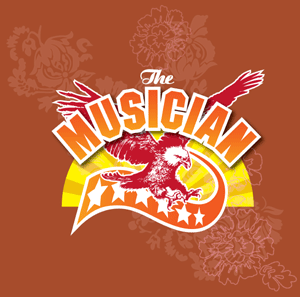 FEBRUARY 2007
LISTINGS HOME
Thu 1
Joe Durso & Stone Caravan
plus Mickey Kemp
£10
www.jdcaravan.com
Joe D'Urso's love for music began with his older sister's record collection; Bob Dylan, Bruce Springsteen, Meatloaf, Beatles, Elvis Presley, Bob Seger, Tom Petty, The Doors, The Who, Led Zeppelin, Jackson Browne and countless one-hit wonders from the 1950s to the 1970s and those classic's have had a lasting effect on his own music making. In 1996, Joe left his job at the legendary Premier Talent Agency in New York City to pursue his career as a singer-songwriter. Since then, Joe's music has earned glowing praise for his powerful brand of "original music based in good, old-fashioned rock and roll." His roots and connections with the New Jersey music scene are evident in his Springsteen influenced performances.
Fri 2

Carvin Jones Band
£8adv £10door
www.carvinjones.com
Carvin Jones' blues-rock trio puts the guitarist-vocalist squarely in the spotlight, and he's got the licks and stage moves to fill it up. Albert Collins called Jones "one of the brightest young stars on the blues scene today." If the blues scene includes Jimi Hendrix, then yes, Jones is right there. His stage act includes tunes by Stevie Ray Vaughan, the Fabulous Thunderbirds and Eric Clapton, as well as a growing number of originals, but there's no questioning Jones' devotion to Hendrix. The way he wields his guitar, the way he peels off a tasty run down the fret board, his expressions as he plays, and the hats he wears will remind you of a certain guitar hero from Seattle. - Experience Hendrix Magazine.

Sat 3

Larry Miller Band
Purple & The Rains
£6
www.larry-miller.uk.com
Having played alongside the likes of Thunder, Ian Gillan, Climax Blues Band, Peter Green and Walter Trout Larry Miller is fast becoming the UK's top Blues Guitarist. "Fantastic, world class guitarist" - Bluesrockers, USA. "Highly impressive - A total victory" - Kerrang. "His guitar playing is simply mesmerising" - Bluesmatters UK. "The best 'in-yer-face' rock band around` The Guardian."A natural successor to Rory Gallagher and Alvin Lee" - International Encyclopaedia Of Rock. "A blues rock power house." - The Guardian. "Entertainment with a capital E." - Blues In Britain.


Sun 4

Esperanza
£7adv £8door
Meaning 'hope' in spanish, this is a night aimed at giving just that, by raising funds to support voluntary work at a Peruvian orphanage. So come and experience a night of passionate peformances of Latin music and arts such as live samba and capoeira, whilst lending your support to a worthy cause.

Mon 5
Tue 6
The Musician 7th Birthday Bash
& Fundraiser
Donation
Wed 7



Chris Smither
£10adv
www.smither.com
ASSOCIATED PRESS: Smither is an American original, a product of the musical melting pot, and one of the absolute best singer-songwriters in the world. ROLLING STONE: Smither's roots are as blue as they come. There is plenty of misty Louisiana and Lightnin' Hopkins in Smither's weathered singing and unhurried picking. So fine. WIRED: The masterful combination of pure folk songwriting and intricate guitar blues are tangible signs of the singer-songwriter's vigorous genius. A megawatt solo performer. GUITAR MAGAZINE: His penchant for lyricism sometimes makes it easy to overlook his Delta-inspired guitar chops, which boast a strong rhythmic sense and a beautiful, fluid, fingerpicking style. BLUES REVUE: Smither knows how to touch an audience where it counts. This peerless singer-songwriter is also one of modern blues' finest fingerpickers.
Thu 8
Waking The Witch
£8
www.wakingthewitch.co.uk
This four-part vocal harmony group from Yorkshire is, difficult to slot easily into a particular genre. They have strong foundations it folk for sure but they go further into other directions so let's avoid pigeon holing them. They occupy the same territory as Wilson Philips and the Chapin Sisters. That is to say, they sing well-crafted songs with tight harmonies using acoustic guitars as a backdrop. On CD these girls sound superb, but the live experience really is something to behold. This is undoubtedly the best way to appreciate the quality of their wonderful vocal harmonies, which draw favourable comparison to Crosby, Stills, Nash & Young and their songs, which have similar depth, substance and quality.
Fri 9
Mitch Benn & The Distractions
plus Arnold Bolt
£7adv £9door
www.mitchbenn.com
"Is it a gig or a comedy show? So musically adept are Mitch Benn and the Distractions, and so droll their parodies, you get the best of both worlds. From U2 to Guns N' Roses to Lloyd Webber, each transformation is funnier to than the last. The set divides between original comic songs and direct send-ups and when the spoof tunes begin, the audience are in his thrall. There's something liberating about seeing icons toppled, about seeing their styles so blithely replicated. And the exactitude of the imitations is sublime. Best of all is Eminem's Macbeth, in which Malcolm "comes back to attack the Mac with a pack of Sassenachs". Benn is neither slim nor shady, but as this showstopper proves, he's the real deal." - The Guardian.
Sat 10
Kingsize
£5
www.kingsizeska.com
It's time to get horny with Leicester's top ranking ska band Kingsize who play foot-stompin', house rocking Kingsized arrangements of the finest original Jamaican ska sounds. Their style draws heavily on the classic Studio One song catalogue and traditional big band sounds of '60s ska.
Sun 11
Closed
Mon 12




Tue 13
Shapeshifter
free

Wed 14
Eve Selis
£7adv £8door
www.eveselis.com
And as with fellow frontwomen Bonnie Raitt, Maria McKee and Melissa Etheridge, Eve Selis's voice can arc-weld material from almost any genre into a personal manifesto. And any vocalist would covet her band too. Marc Intravaia and Jim Soldi (ex-Johnny Cash band) are legitimate first-chair guitarists, each capable of leading a major band. Together, they're an embarrassment of riches, a stereo six-string storm of intertwining rebel riffs in the service of energized melodies and steel-beam song constructs. Add Sharon Whyte's work on keyboards, accordion and vocals and the rhythm section of bassist Rick Nash and drummer Bob Sale and you have the specs-sheet for electrified Americana that's as good as it gets.
Thu 15
Richmond Fontaine
plus Salma Gundi
10adv
www.richmondfontaine.com
www.selmagundilive.co.uk
From the great Pacific Northwest - Portland, Oregon to be exact - come Richmond Fontaine. Dark, bleak portrayals of characters and the lives they lead, the lyrics often reflect a deeply sad and hidden side of a person's thoughts. Backing up the lyrics, and adding an even darker tone to the setting, the music's cross of country moods and rock 'n roll blood is all Richmond Fontaine need to have you feeling empathy for the characters they paint. Gather around a drink while you listen to them because you'll need the comfort. Easily slipping from one sad story to the next, Richmond Fontaine have no problems telling the sad tales of life with heart and style.
Fri 16

Redlands Palamino Co.
plus Buccanna and Liam Dullaghan
£5
www.redlands.moonfruit.com
"The Redlands Palomino Co. shuffle exquisitely between Cowboy Junkies' folk twang, the Jayhawks' stage stomped jangle with equal measures of Gram Parsons' soulful country heart and Jon Longford's irreverent punk/country" - Amplifier Magazine. "Old fashioned country lashed with pedal steels, harmonicas, fiddles and banjo." - Word. "Fantastic" Mark Radcliffe - BBC Radio 2. "Alt-country heroes" - The Guardian. "Songs that dig at the heart" - Bucketful of Brains." A fabulous mix of sassy country, raucous rock and weepy ballads" - Maverick. "By the time you hear this, they could indeed be truly huge this band is delightfully colourful and tight" Scottish Daily Express. "A perfect mix of Gram style country rock grit and soul with a pleasingly modern edge" - BBC Radio Ulster.


Sat 17
Live Wire (AC/DC Tribute)
£10
www.livewiredc.co.uk
An ancient Vauxhall saloon lurches into the car park belching blue smoke, all the windows are wound down and the sound of "Highway To Hell" fills the night air, the car screeches to a halt, the doors fly open and a sea of denim, leather, long hair and AC/DC patches tumbles out on to the pavement. Is this AC/DC in 1979 at the Hammersmith Odeon? Nope, but currently it's the next best thing. LIVE/WIRE are a six man tribute to Bon Scott, Brian Johnson, Angus Young and the music of AC/DC. Authentically recreating the look and sound of either Bon or Brian on vocals, with 'Angaz' as the frenzied schoolboy duckwalking and headbanging his way through all the classics old and new.
Sun 18
The Hamsters
(Hendrix only show)
£10
www.thehamsters.co.uk
Mon 19




Tue 20
Derrin Naurendorf
plus Eaine Croft
£5
www.derrinnauendorf.com
Renowned for his intense live shows and raw emotive music, Derrin Nauendorf's music is hard to categorise,made up from many roots styles, blues, folk and Americana. Untamed acoustic guitar, cutting lyrics, a powerful, evocative voice and honest songs, delivered with passion, but twisted to a unique sound. "First impressions? One Australian guy with an acoustic guitar and his mate with a homemade drum kit. What would you think? Me too. I then listened to this live album and Derrin, guitar, sidekick and drums proceeded to blow me away." – David Blue, Net Rhythms.
Wed 21
Eric Faulkner (Bay City Rollers)
plus Castlereagh
£7adv £8door
fan site
www.myspace.com/castlereaghmusic
On his debut British tour as an acoustic troubadour, Eric Faulkner recalls the days of pop bedlam during his time as a Bay City Roller and magazine pin-up, and spills the beans on the greatest Rock n Roll swindle of all time. Along the way Eric will be playing some of his favourite inspirational songs from the likes of Tom Petty to Pink Floyd and Woody Guthrie and introduce us to some of his musical friends including Ed 'Tenpole' Tudor, TV Smith and Pauline Black.
Thu 22
Kent DuChaine
£5
www.kentduchaine.com
Fri 23
Wilko Johnson
£12
homepage
Back in the early 70's Dr. Feelgood's gritty R&B was the order of the day and the band's trademark sound owed much to Wilko Johnson's double-fingered guitar style and songwriting talents. Many of his compositions, including 'Sneakin' Suspicion', 'Back in the Night' and 'She Does It Right', have since become standards. Booted out of Dr Feelgood in 1976, he formed The Solid Senders, before joining Ian Dury and the Blockheads. Following 1980's Laughter album, he jumped ship with fellow Blockhead, bassist, Norman Watt-Roy, who remains with him to this day. For the best manic blues and R&B this side of the (Canvey Island) Delta, look no further.
Sat 24
Ann Duggan Band
plus David Celia
£5
www.annduggan.co.uk
Sun 25
Dr. Feelgood
plus Howard Smith & The Razors
£15
www.drfeelgood.de
From 1971 to lead vocalist Lee Brilleaux's untimely death in 1994, Dr. Feelgood never left the road, playing hundreds of gigs every year. Throughout their career, Dr. Feelgood never left simple, hard-driving Stonesy rock & roll behind. Their devotion to the blues and R&B earned them a devoted fan base and their sweaty live shows are legendary. Whilst the group's stripped-down, energetic sound paved the way for English punk rock in the late '70s, their back-to-basics style was ultimately overshadowed by the dominance of punk and new wave in the '80s. Since Brilleaux's death the remaining members of the last Feelgood's line-up have continued to tour regularly and maintain the legacy of their legendary former front man.
Mon 26
Tue 27
Paul & Harpers Woods Heroes
plus The Space City Cowboys
£5
www.p-a-u-lmusic.com
Paul Andrew Ulysses Lamb was born on the east side of Detroit and raised in the east side community known as Harper Woods. After high school he caught the first bus to Hollywood. Hanging out with on the music scene and educated by some of the most notorious rock stars, he decided it was time to start his own music career. With his self-taught guitar skills, soulful rock voice and desire to play music wherever and whenever he could, Paul hit the road and hasn't stopped touring since. Fifteen years later Paul is still on the road, touring relentlessly and will be familiar to Musician audiences as the bassist for Ethan Daniel Davidson. Tonight he performs with his own band The Harper Woods Heroes.
Wed 28

Demon Barbers
£6adv £8door
www.thedemonbarbers.com
For the past three years the Demon Barbers have gained major recognition for their original and imaginative approach to traditional music and song. With Damien Barber, Bryony Griffith and Will Hampson retaining a solid traditional English base the band's unique sound is compounded by the driving rhythm section of Ben Griffith and Lee Sykes. "This is not folk rock, not just electrified trad, but something fresh, new and challenging. Nine tracks. Every one a gem. Overlook it at your peril!" - Free Reed. "A triumph of collaborative and responsive musicianship. Plodding folk-rock this ain't!" - NetRhythms. 'Shooglenifty and the Oyster Band collide' - Simon Care (E2k, Albion Band).