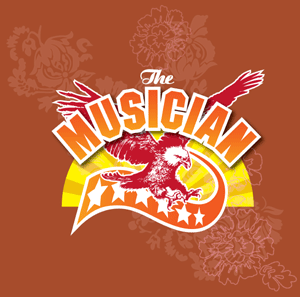 Should need to print a copy of this months listings, you can download a copy of our regular flyer by clicking the PDF icon.
---
These days artists and bands tend to book their tours months in advance. In order to give you the best notice of up and coming shows we list events once they have been confirmed by the band or their management
The downside of this is that dates can change due to unforeseen circumstances, sometimes at very short notice. We do our best to ensure that this site is kept as up to date as is possible, with updates happening at least once a week.
Therefore to avoid disappointment we recommend that you check these listing prior to setting out for your show especially if you are traveling any distance.
---
Not listed?
A guide for Artists and Promoters
The quickest way to get yourself included in our listings is to send an email to rideout at stayfree.co.uk once your gig is confirmed.
We also need you to do the following -
Put the name of the artist or band name along with the date of your show in the email subject line.
Attach a reasonable sized photograph. A 72dpi, jpeg, bigger than 200x200 pixels would be fine. Please don't email files over 1mb in size. If in doubt please drop us a line before sending. Let us have your web address so we can link to your site or Myspace page.
Send us some text. Whilst we are happy to tidy up spelling or grammar, we don't have the time to write or edit copy for you. Ideally we need a nice concise 'blurb' of between 75-100 words. Please don't send a three page biography, or else we are likely to bounce it back to you. If you have a selection of press quotes send what you have as we can usually easily compile something from them. There are plenty of examples of the sort of thing we need here on the site to help you out.
Please note - If you have played at The Musician before and we have text on file, we will continue to use use it for any subsequent listings unless you supply new copy.
If you spot any errors please send an email to derek at indiecentral.co.uk.
Coming to The Musician in December

The Lake Poets is the nom de plume of Martin Longstaff, a multi-instrumentalist, singer and songwriter from Sunderland, England.

An award winning and prolific writer inspired by artists such as Feist, Jackson Browne, Warren Zevon, Tom Waits, Villagers and Neil Young, Martin's output as The Lake Poets is as haunting as it is beautiful. The quality and depth of Martin's writing and his sophisticated 'Song Noir' sound has endeared his songs to all those who come across them; audiences are regularly moved to tears by the poignant and affecting themes of the songs and their heartbreakingly tender performances.

During 2013 the Della Grants as we now know them were formed. Max Manning and Tom Best on guitar, harmonica and vocals respectively, Andy Boulton on bass, and Tom Walker on drums. The bands opening performances at the Robin 2 in Bilston, Wolverhampton during an live band competition, caught the eye of long time music professionals Jonathan 'Spike' Gray of the Quireboys and Mark Stanway of the band Magnum. Mark was so impressed he would later play organ on the studio re-recording of Keeping Me Away From You, adding the DG's to a very long list of artists he's worked with over the years including Jeff Beck, Paul Rogers, Manfred Mann's Earth Band, and Robert Plant. They have just completed their debut studio album, featuring new songs such as 'Circus Debut', 'Too Fast', 'Lay My Head', 'Fairground Soul' and 'But You Don't'.

An incredibly talented line up with wonderful people, come and join us on this special one off night. All donations will go to the local PDSA Leicester. Please note that the running order is not as above!

Entry will be by donation on the door.

There will also be a raffle with many prizes. These have been kindly donated by local businesses.

Bootleg Blondie are Europe's official Deborah Harry & Blondie tribute band and are the only Blondie tribute to play at the legendary CBGBs in New York City, the Holy Grail of American Punk and New Wave, where the real Blondie first kicked off their career.

Debbie Harris, lead vocalist of Bootleg Blondie, has the looks, the voice and the attitude of the original Blondie Bombshell and like her heroine is typically outrageous on stage. She has been known to wear dustbin liners, thigh length boots and t-shirts with more holes than actual t-shirt!

Power-rock trio RavenEye was formed by multi-award winning guitarist/singer Oli Brown along with drummer Kev Hickman and bassist Aaron Spiers. Having already toured Spain, France and Italy supporting guitar legend Joe Satriani in 2014, RavenEye has been slamming audiences with their signature heavy riffs and incendiary live show. Whether it be straddling a bass drum high into the night or jumping into a raucous crowd, RavenEye is a high-energy rock act not to be missed.

Like the beginning of a good joke, the two Englishmen and an Australian have all travelled different paths up until the bands formation this year. Oli Brown has spent 10 years touring the world under his own name and in that time released 4 albums and has established himself as one of the most formidable guitarists/front men in the UK scene. Kev Hickman has also seen his fair share of international touring, and with an unforgettable stage presence he has developed an intense, hi-octane performance. Aaron Spiers tore into the UK in 2012 and since then has established himself as a force to be reckoned with on stage, he's also released several solo albums and written scores for orchestras in Australia. After meeting and creating music together, they all knew that this would be their musical future, here begins RavenEye.

Sweet Baboo is Stephen Black, a native of the north Wales countryside and a single-minded, idiosyncratic singer. Black possesses an ear for a sparkling melody, a restless soul, and a gift for a deft lyrical turn – from darkly funny to piercingly tender, twinklingly boastful to deliciously self-deprecating. His fourth full-length album 'Ships', was released in 2013, together wish his third EP 'Motorhome Songs'.

Black's productivity is all the more remarkable given his extra-curricular activities which have seen him working with an ever-growing array of musicians. Black has played on albums by Cate Le Bon, Slow Club and H. Hawkline, and has been a regular part of the touring line-up for all three bands. He has also performed with and produced Euros Childs, The Pictish Trail, The Voluntary Butler Scheme, Islet and Spencer McGarry Season and collaborated onstage and in the studio with Gruff Rhys.

The Pictish Trail's eloquent songs are as wildly varied as his selection of brightly coloured bobble hats and have seen him get mentioned in the same breath as his heroes Beck, The Beta Band and Hot Chip. His extraordinary vocals reveal hidden depths and have been accompanied by everything from acoustic guitar to a full-on four piece metal band to throbbing dance beats and samples, and often during the course of the same gig.

With two albums, numerous mini-albums, EPs, and singles under his belt as The Pictish Trail, Lynch has also moonlighted as one half of demented dance-pop duo Silver Columns with Adem (Fridge) for their 2010 album 'Yes and Dance'.

Since 1985 Ric Sanders has been the fiddle player in Fairport Convention. In the late 70s he played in both Soft Machine and The Albion Band, and it was in the latter that he met Michael Gregory, now drummer with The Home Service. Ric's association with guitarist and vocalist Vo Fletcher goes back even further ­ they played together when still teenagers. Vo has played with artists as diverse as Rik Mayall and Nigel Kennedy (just to keep Ric on his toes!). It was inevitable that these three pals would play together, and over the last decade they've been involved in many projects, from recording Miles Davis classics live in Lincoln Cathedral to improvising an album with the inspirational Anjali Dance Company. Over the last couple of years though, they've taken a different direction, reconnecting with the music closest to their hearts. It's music firmly rooted in the blues. They love playing it, and their recent performances have shown just how much people love hearing it ­ a rockin' good time was had by all!

Mick Ralphs, the legendary British blues-rock guitarist with Mott The Hoople and Bad Company returns to the Musician with his blues band, for the first time since recording the band's debut album "Should Know Better" at the venue. One of rock music's most respected musicians and songwriters, Ralphs' distinctive guitar style is based on a unique combination of rhythm and lead with a distinct emphasis on feel and melody. An understated and tasteful guitarist, Mick has that innate ability to 'play for the song', creating memorable hooks and riffs that compliment and enhance the material. He is joined by some of the best-known names on the current blues scene.

Legendary Nashville guitarist Warner E. Hodges (Jason & The Scorchers, The Bluefields, Dan Baird & Homemade Sin) returns to the UK for the third time this year, following tours with The Bluefields and Homemade Sin, with a new trio, featuring Mikael Fassberg (ex-Bonafide) and Phil Martini (ex-Quireboys).

The Western Sizzlers are a rockin' country outfit from Atlanta, Georgia, featuring Rick Richards (Georgia Satellites) on guitar. The band made their UK debut in November 2013 at The Barfly, supporting Blackberry Smoke. 'For Ol' Times' Sake': "It's that combination of bar room boogie and a batch of impressive songs that makes this an album well worth checking out." - Pete Feenstra (Get Ready To Rock).

The David Sinclair Four, led by singer, songwriter and guitarist David Sinclair, have recently expanded to a four-piece, with the addition of lead guitarist Geoff Peel. With their hard-hitting brand of London blues-rock, the band will open the night with their superbly crafted songs.

Complete Madness have performed in venues around the world including Army Bases both home and abroad, Butlins family and adult breaks, ferries and small cruises, Festivals: including the Cork Jazz Festival between 1996 and 2005 winning rave reviews and many other interesting and varying venues around the world. Complete Madness are now in their 20th year and each year go from strength to strength.

A world-class musician, Simon 'Honeyboy' Hickling is a blues harmonica ace with a hard earned and well-deserved international reputation. His subtle and fabulously expressive playing is grounded firmly in the '50s and '60s heyday of the Chicago and Gulf Coast styles of playing. With a tremendously experienced band backing him, Simon never fails to deliver anything less than a first-rate evenings entertainment and never lets good taste and soulfulness stifle a rockin' night out.

£10

When explosive natural ability collides with fiery, emotionally charged compositions, the result is Aynsley Lister; an incredible guitarist whose brand of blues-based rock delivers contemporary song writing fueled with the kind of heart and soul that's missing from so much modern music. Whether passionately writing and recording his own material or mesmerising audiences at his live shows, one thing is abundantly clear: music is hard-wired to his DNA and flows from his fingertips like sonic bolts of lightning. With over 100,000 albums sold, lashings of critical acclaim and years of high profile touring, Lister's resumé speaks for itself and firmly secures his position as a leading light in the resurgence of British blues-infused music. Aynsley's latest release, Home, is out now on Straight Talkin' Records!

"Superb" - The Times

"His guitar playing is a fire hazard" - MOJO

annsonrecords.co.uk/steve-parker

facebook.com/meri.everitt.music

Gentle as the rolling English countryside but with as many twists and turns as an English country road; Steve Parker is a superb storyteller with wonderful songs. His style is easy and compelling with a honey dipped voice and a distinctive guitar style. A regular performer on the alternative and folk club scene, Steve has many gig miles under his belt which has earned him a dedicated following and great reviews.

A special night of wondrous songs with singer-songwriter, multi-instrumental space cadet Chris Conway and the celestial songstrel sisters Mia and the Moon. A night of songs with a hint of the magick and the cosmic.

Chris Conway this year celebrated 25 years as a professional musician. He's played with members of Jethro Tull, Peter Tork (The Monkees) and opened for Richie Havens & Jefferson Starship.

Mia and the Moon have been featured on national TV and have the most enchanting stage presence and voices that are out of this world. They are touring the UK constantly and have a new album in the works and are on their way to the stars.

On Songs Of Wonder 2 they will be joined by singer-songwriter legend Vikki Clayton! Come along and feel the wonder...

It's a night packed to the rafters with heaps of local talent with five acts taking to the stage to round off this year's run of 'Chickenhead Lounge' events. The evening features the best of Americana, roots, blues and countryfied music.

Opening the night those 4 old timey style guys and girls, The Ruby Doos. Having gone down a storm at their last Chickenhead appearance, they are now a 4 piece and offering even more close harmony crooning.
Next up a 5 piece outfit from the South Leicestershire borders, Buffalo Canyon, they are making their debut but are going to fit right in with their fine Americana style.

Time to change the pace and style, Dr X, a two man foot stomping, cigar box sliding roots blues machine. These guys think along the same lines as the OCR, homemade kit, Mississippi blues, R.L. Burnside - you get the idea. leicester's finest are up next, The Notorious Dawson Brothers, acoustic guitar, mandolin, banjo, great songs and fine musicianship from these boys. Expect classic Americana/country and original material along with a few surprises.

Normally first up on stage to open the Lounge are your hosts The Outwood County Riders, and for this Christmas special they round off the night playing mainly original songs in their unique 'countryfied' style. The boys will be joined on stage by some regular 'guest riders' and maybe a few surprise players too.

Formed on Canvey Island in Essex in the early 1970s Dr. Feelgood remains one of the most popular and exciting live rhythm and blues acts in the world. The raw and uncompromising style of their performance resulted in the album Stupidity that immediately went to the number one position in the U.K. charts.

Dr. Feelgood have also enjoyed global success with a string of hit singles including Roxette, Back in the Night, Milk and Alcohol, Down at the Doctors, She Does it Right, Going Back Home and See You Later Alligator - which gave the group their first gold record.

The last album to feature Lee Brilleaux - Down at the Doctors, was recorded live at the Dr. Feelgood Music Bar on Canvey Island, (now the site of the Oysterfleet Hotel) just two months before he died. The current line up features the rhythm section Kevin Morris on drums and Phil Mitchell on bass, approaching 27 years in the band and Steve Walwyn on guitar who has been with the band for 20 years. Vocalist Robert Kane (formerly of the Animals) is the most recent addition – joining in 1999.

Diesel Park West are for many people the most enigmatic band from the late eighties still performing today. Back in those Thatcherite days the psychedelic guitar ground they occupied was often dismissed as a mere throwback to the mid-sixties with only an enlightened minority realising its real musical significance. The beating heart of rock 'n' roll is now far more aware of the Diesels' sound and maybe that's why any live performance by the band is considered an event worth seeing. Drawing upon eight albums worth of material and the hippest cover versions imaginable, Diesel Park West continue to prove beyond a doubt that they really are the torchbearers for an entire genre.

Having spent the last several years touring the UK and Europe, AC/DC UK have established themselves as one of the finest tribute acts around.

AC/DC UK put on a show that will blow you away! Covering songs from both eras of AC/DC faithfully, the band features both Bon Scott, and Brian Johnson performances. To add to this, they bring their wall of Marshall stacks, and fully firing cannons for a spectacular stage show. They faithfully include AC/DC trademarks such as Angus Young's strip, and even Bon Scott's walk through the crowd with Angus on his shoulders. Covering every era from 1976's High Voltage, up to 2008's Black Ice, you will hear all the hits! From Thunderstruck to Back In Black, Highway to Hell to Dirty Deeds, and every other classic track that launched AC/DC to legendary status.

The band have been lucky enough to play many major shows and festivals throughout the UK and Europe including CoverFest (PL), Huntenpop (NL), Mockfest (UK) and Mathew Street Festival (UK), as well as historic venues such as the Cavern Club in Liverpool, and more.


Tonight we play host to a Christmas rock n' roll party featuring two of Leicester's favourite bands! Honking sax-based Mojohand with Al Sansome's slide guitar and Charlie Lewin's rasping vocals will perform Chuck Berry and Eddie Cochran standards amongst many more.

Boogie piano based Mama don't allow, featuring Mike Pruden's vocals and great guitar work will delve into the catalogue of Jerry Lee Lewis, Little Richard, Elvis and the like.

It's going to be lively and a whole lot of fun - for just £5, get Christmas off to a rocking start!

Part one of our annual Christmas SKA double-header! Leicester's top ranking ska band Kingsize play foot-stompin', house rocking Kingsized arrangements of the finest original Jamaican ska sounds. Their style draws heavily on the classic Studio One song catalogue and traditional big band sounds of '60s ska. Tonight's special guests are Coventry 2 Tone ska band Special Brew!

Part two of our annual Christmas SKA double-header! Leicester's top ranking ska band Kingsize play foot-stompin', house rocking Kingsized arrangements of the finest original Jamaican ska sounds. Their style draws heavily on the classic Studio One song catalogue and traditional big band sounds of '60s ska. Tonight's special guests are Yorkshire dub/ska quartet The Talks!

A burlesque night with live music, hosted by resident fire eating follie Talulah who has had residencies in Dubai, Geneva and is just back from performing in Rome.

An energetic night of talented musicians, bump and grind burlesque and dazzling showgirls.

Starring:-

Talulah Blue - talulahblue.com
Havana Hurricane - facebook.com/havanahurricane
Lady Wildflower - ladywildflower.com

Featuring the vocals of David Wyatt, The Moonlights' catalogue of classic tunes will delight everyone. From the cool soul of Sam Cook and Bill Withers to the classic sounds of The Stones and Hendrix, and with everything from Jeff Buckley to Gogol Bordello in between.

As always, there will be a burlesque stall at the front of house and the optional dress code is 1930's - 1950's!

A tribute to the Rolling Stones featuring Diesel Park West's John Butler, Rick Willson, Geoff Beavan and Rob Vom. It doesn't get any better than this - come and see the masters at work!