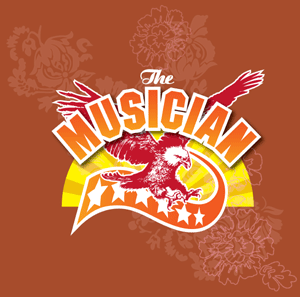 Should need to print a copy of this months listings, you can download a copy of our regular flyer by clicking the PDF icon.
---
These days artists and bands tend to book their tours months in advance. In order to give you the best notice of up and coming shows we list events once they have been confirmed by the band or their management
The downside of this is that dates can change due to unforeseen circumstances, sometimes at very short notice. We do our best to ensure that this site is kept as up to date as is possible, with updates happening at least once a week.
Therefore to avoid disappointment we recommend that you check these listing prior to setting out for your show especially if you are traveling any distance.
---
The quickest way to get yourself included in our listings is to send an email to musician at mohawkvisuals.com once your gig is confirmed.
We also need you to do the following -
Put the name of the artist or band name along with the date of your show in the email subject line.
Attach a reasonable sized photograph. A 72dpi, jpeg, bigger than 200x200 pixels would be fine. Please don't email files over 1mb in size. If in doubt please drop us a line before sending. Let us have your web address so we can link to your site or Myspace page.
Send us some text. Whilst we are happy to tidy up spelling or grammar, we don't have the time to write or edit copy for you. Ideally we need a nice concise 'blurb' of between 75-100 words. Please don't send a three page biography, or else we are likely to bounce it back to you. If you have a selection of press quotes send what you have as we can usually easily compile something from them. There are plenty of examples of the sort of thing we need here on the site to help you out.
Please note - If you have played at The Musician before and we have text on file, we will continue to use use it for any subsequent listings unless you supply new copy.
If you spot any errors please send an email topaul at mohawkvisuals.com.

Coming to The Musician in December

Wed 1

CLOSED - SHOW CANCELLED DUE TO SNOW

Jez Lowe & The Bad Pennies
£10
plus support
www.jezlowe.com
Jez Lowe and The Bad Pennies have been playing their songs and music of Northern England for a decade and a half around the folk festivals, clubs and concert stages of the world. "Acoustic simplicity coupled with electric vitality" was how they were described in their early days, and with half a dozen albums to their credit, along with solo albums by Jez and by other members of the group, their following has continued to increase. Strong vocals, backed by outstanding instrumental back-up on guitar, cittern, fiddle, fretless bass, keyboards and Northumbrian Pipes, have made them one of Britain's top attractions on the folk/acoustic/celtic circuit.

Thu 2
Lulo Reinhardt's Latin Swing Project
£10
plus The Gadjos
www.myspace.com/luloreinhardt
Lulo Reinhardt is a spontaneous and spirited musician who is led by the guitar into musical voyages of discovery. His curiosity has taken him to southern Spain in search of flamenco roots, and to South America, exploring various musical styles of Latin Jazz. Lulo expresses his artistic personality in his gypsy influences, reflecting his character.

Fri 3
Keep it Cash
£8
www.myspace.com/keepitcash
One of the most faithful tribute bands you could hope to hear, KeepitCASH perform over forty songs from the canon of Cash work. The show is a musical journey through the heart of America. Johnny Cash was an American icon, the last great rebel kicking against the pricks until the final curtain fell. KeepitCASH are keeping the legend alive in a stunningly authentic way.

AB/CD are the only authorized tribute band to late AC/DC singer Bon Scott. The band were formed in 1989 and were chosen on MTV as the best sounding Bon Scott tribute by none other than AC/DC guitarist Angus Young. Since then AB/CD have played all around the world and appeared with many the Stereophonics, The Queens Of The Stone Age, Hawkwind, Reef and Kiss. Last year they appeared on BBC2's Arena, in a program about the tribute band phenomenon

Sun 5
Steve Conte & The Crazy Truth
(Michael Monroe, New York Dolls guitarist)
£10
plus Melodramas and Kafkadiva
www.myspace.com/stevecontecrazytruth
www.myspace.com/melodramastheband
"Holy sh*t it's good! Steve Conte and The Crazy Truth is a total muthaf*cker. He sings, he shreds… great songs, great band!" - Andy York (John Mellencamp); "Gritty guitar and a recognizable NYC attitude. Good, old-fashioned '70s NYC barroom Rock 'n Roll respectful of the NY Dolls legacy. Steve Conte has nothing to prove. We are satiated." - Music Tap; "I love it! The songs are really great." - Cheetah Chrome (The Dead Boys); "Steve Conte is Rock-n-Roll, with taste!" - Rick Richards (Georgia Satellites/Izzy Stradlin & The JuJu Hounds); "Consummate talent and relentless passion - The Truth ain't pretty...but it rocks like crazy!" - Billy Squier


Tue 7
Dan Reed
£10adv £12door
plus support
www.danreed.com
Between 1988 and 1992, multicultural funk rockers Dan Reed Network sold over two million albums and toured with Run DMC, UB40, David Bowie, Bon Jovi and the Rolling Stones. A trip to Dharamsala to interview the Dalai Lama for 'Spin' magazine in 1993 made Dan realise there was more to life than rock music. Since then Dan Reed has been on a long physical, mental and spiritual journey which has taken him around the world and exposed him to the ideals and philosophies of a wide variety of cultures. Older and wiser, Dan Reed is now back creating music that will entertain, inform and inspire.

Wed 8


CLOSED - SHOW CANCELLED DUE TO SNOW

King King
£8adv £10door
www.myspace.com/kingkingblues
Alan Nimmo's new band King King are a four piece electric blues combo influenced by The Fabulous Thunderbirds, The Red Devils, Ronnie Earl and Stevie Ray Vaughan. Alan is already regarded as one of the country's hottest blues rock performers for his work in The Nimmo Brothers with his bother Stevie. King King are already creating a stir, receiving rave reviews for their electrifying brand of smoking hot blues and selling-out shows across the country.


Thu 9
David Wyatt
£5

plus Steve Faulkner


www.myspace.com/davidwyattmusic
Over the last few years David Wyatt has performed and toured with many artists including guitarist Tommy Emmanuel, opening his shows in the likes of Newcastle Opera House and the Belfast Water Front. He has also played along side top slide guitarist Johnny Dickenson and James Morrison. Most recently David has been involved with two major record labels and recorded with top producer James Sanger who has worked with Brian Eno and Keane.Davids second album 'You Will Rise' is the result of a collaboration for John Butler, frontman and main songwriter of Diesel Park West.

Fri 10
Cheeseweasel Promotions presents…
The Quireboys
£15
plus The Breakdowns
www.quireboys.com
If you were to get the Stones, The Faces, Humble Pie, Aerosmith, Mott The Hoople, Slade, AC/DC and other great rock 'n' roll bands of their era - mix them together, add some great stage presence, 6 great personalities and some top songs - then invite them and all your best mates to your house for the best party ever - you would probably get something close to a Quireboys gig.

For tickets and more info visit - www.cheeseweasel.org

Sat 11
John Otway
£10
www.johnotway.com
Armed with only a modicum of musical ability, a self-deprecating sense of humour and no apparent fear of public humiliation, John Otway has had a career spanning over 20 years. A consummate and highly popular entertainer, these days, he is better known for his comic attempts to scale the heights of superstardom than his actual success. Actually his genius as an entertainer is what keeps his career going strong after so long in the business. Though his shows are always hilarious and consistently brilliant, he also has a rare talent for songwriting, from punk-rock through to classic ballads and this is what his true fans come back for time and time again.

Sun 12
Aynsley Lister
£10
www.aynsleylister.co.uk
In a world full of manufactured over-hyped pop music, Aynsley Lister is proof that there is light at the end of the tunnel. His powerful, infectious songs are unashamedly blues influenced and performed with the kind of conviction of someone twice his age. Say the word blues to a commercial record company and see how far they run! But Lister carries on regardless, writing and recording albums that continue to sell and prove that blues rock music can be commercial and have you singing along to yourself days after you hear it, just like half the committee written stuff you hear every day on the radio. Exceptionally mature and exciting. – Mojo. Superb - The Times.


Stevie Jones & Mark Gill have had a busy year not only with their own material but also hosting events and open mics across the East Midlands. As a special thank you they have lined up an all-star cast of some of the best local acts who have regularly supported them in 2010. The Wildfires will be also doing a full original band set and giving away copies of their Summer Sundae Warm Up Live CD plus there will Secret Santa raffle with proceeds going to the homeless charity SHELTER.






Thu 16
Roger Wilson
£7
plus Matti Wilson
www.myspace.com/littlebackroom
Roger Wilson is sounding better than ever, his performances drawing on the combination of his own songwriting, traditional folk songs and fiddle tunes and the work of several of his favourite writers, notably Hank Williams and Tom Waits. He performs in clubs, concerts, festivals and dance events, and enjoys a busy parallel career as a workshop leader and teacher.

Fri 17
Diesel Park West
£10
plus support
www.dieselparkwest.com
Some bands belong to their own time, others trespass on decades where they don't really belong. Diesel Park West must have seemed to some people back in '89, with the release of the far-reaching Shakespeare Alabama, the most welcome and liberating guitar band anyone had heard for years. A lot of artists who have enjoyed massive acclaim and success since, may well tip hats towards the Diesels for being pioneers in the re-emergence of the guitar as the primary sound of contemporary music. Add to that song writing that both provokes and reassures... sometimes within the same lyric...then maybe its appropriate to start spreading the word.


Sat 18
Cheeseweasel Promotions presents…
Simon 'Honeyboy' Hickling
£7
plus D.J's Bluesbar
www.honeyboyhickling.com
A world-class musician Simon 'Honey Boy' Hicklin' is a blues harmonica ace with a hard earned and well-deserved international reputation. His subtle and fabulously expressive playing is grounded firmly in the '50s and '60s heyday of the Chicago and Gulf Coast styles of playing. With a tremendously experienced band backing him, Simon never fails to deliver anything less than a first-rate evenings entertainment and never lets good taste and soulfulness stifle a rockin' night out.

For tickets and more info visit - www.cheeseweasel.org

Sun 19
Xander Promotions presents…
Nine Below Zero
£12adv £14door
www.ninebelowzero.com
In their 30th year, NBZ are the viable alternative to Alternative, a band that most definitely come to play, a band with their own genuine sound and deep understanding of their musical roots. Live, the combination of Dennis Greaves playing guitar and singing, Gerry McAvoy on bass, Brendan O'Neill on drums (both ex Rory Gallagher band members) and Mark Feltham on harmonica is lethal, hammering and nailing the big R'n'B sound to the floor of many a famous stage. "NBZ are brilliant live, they work so hard, the audience often go home as exhausted as the band!" so says Andrew Zweck of top promoters Harvey Goldsmith Ents.


For tickets visit - www.xanderpromotions.co.uk

Mon 20
The Tall Man At The Back:
A Tribute to Tom Westmoreland
feat: Mother Hubbard, Sally Barker, Mellow Baku,
Kevin Hewick and many more.
£3
On the 2nd anniversary of Tom's passing, The Tall Man is back for another all star showcase featuring the cream of Leicester's musicians. Over the last year we have raised more than £2000 for the CF Trust and the CF ward at Glenfield Hospital and we hope there will be much more to come! Tom is sadly missed by all who new him and these fine musicians are here to pay tribute to Leicester greatest bass player. Bring your pennies for copies of the fantastic 18 track album and help to support this great cause. Should be another fantastic night! Tom would be proud!

All ticket and CD sales go to Cystic Fibrosis Trust & Glenfield Hospital.


Wed 22
Maximum Humbug!
£4adv
with echolocation, Scaley Fuego and Gestalt
www.myspace.com/echolocationmusic
It's almost Christmas and we bring you the perfect gift of 3 of Leicester's finest and excitingly original bands.The perfect antidote to crowded shopping malls, Echolocation will be will be fizzing with misanthropic xmas spirit in their inimitable avant progressive pop punk style with Scaley Fuego and Gestalt making their Musician debuts. Scaley Fuego are Stew Brackley (Black Carrot frontman), Kev Reverb (ex-Crazyhead, Swinging Laurels) and Robbie Vom (ex-Diesel Park West, Crazyhead) sounding something like or maybe nothing like Beefheart meets the Stooges. Gestalt play powerfully infectious electro-punk. Expect the unexpected and no (well not too much) Christmas humbug. Dancing is optional but may be hard to resist at times.




Tue 28
Kingsize feat. King Hammond
and El Pussycat Ska
£7
www.kingsize-ska.com
www.elpussycat.co.uk
Leicester's top ranking ska band Kingsize play foot-stompin', house rocking Kingsized arrangements of the finest original Jamaican ska sounds. Their style draws heavily on the classic Studio One song catalogue and traditional big band sounds of '60s ska. El Pussycat are no longer young boys blasting out 100 mph ska. "You're just too fast, too loud, too loud!!" said the godfather of ska Laurel Aitken. These days they keep their sound, which goes back to the 50's roots of bluebeat and ska, relaxed and rock steady.


Wed 29
El Pussycat Ska feat. Natty Bo
and Kingsize
£7
www.elpussycat.co.uk
www.kingsize-ska.com
El Pussycat are no longer young boys blasting out 100 mph ska. "You're just too fast, too loud, too loud!!" said the godfather of ska Laurel Aitken. These days they keep their sound, which goes back to the 50's roots of bluebeat and ska, relaxed and rock steady. Leicester's other top ranking ska band Kingsize play foot-stompin', house rocking Kingsized arrangements of the finest original Jamaican ska sounds. Their style draws heavily on the classic Studio One song catalogue and traditional big band sounds of '60s ska.


Get ready for the new year with raunchy Burlesque acts from Sophia St Villier, Ginger La Rouge and Valerie Vegas and music from The Buccaneers (David Wyatt & Carl Dawson). Dress to impress!! Dripping in diamonds, or as your favourite Hollywood star!! There is a always a warm welcome at The Musician with a great atmosphere and talented performers!!

Fri 31st
New Years Eve Blowout with...
Moonlight Sinatras
plus By The Rivers
£8adv £10door
Dipping into six decades of rock and pop and with lashings of good humor thrown in, we are delighted to have 2010's most glamorous hedonists - David Wyatt, Carl 'Fanny' Dawson, Lee Spreadbury, Simon Gilroy and Jordan Birtles, to help us rock 'n' roll the New Year in, in style.