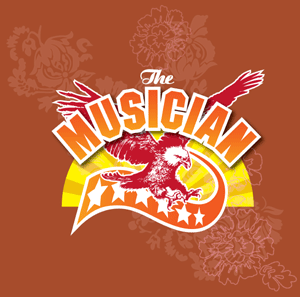 Download a flyer
Should need to print a copy of this months listings, you can download a copy of our regular flyer by clicking the PDF icon.
---

A word about our listings
A guide for Customers
These days artists and bands tend to book their tours months in advance. In order to give you the best notice of up and coming shows we list events once they have been confirmed by the band or their management. The downside of this is that dates can change due to unforeseen circumstances, sometimes at very short notice.

We do our best to ensure that this site is kept as up to date as is possible, with updates happening at least once a week. Therefore to avoid disappointment we recommend that you check these listing prior to setting out for your show especially if you are traveling any distance.

---

Not listed?
A guide for Artists and Promoters

The quickest way to get yourself included in our listings is to send an email to musician at mohawkvisuals.com once your gig is confirmed.

We also need you to do the following -

Put the name of the artist or band name along with the date of your show in the email subject line.

Attach a reasonable sized photograph. A 72dpi, jpeg, bigger than 200x200 pixels would be fine. Please don't email files over 1mb in size. If in doubt please drop us a line before sending.

Let us have your web address so we can link to your site or Myspace page.

Send us some text. Whilst we are happy to tidy up spelling or grammar, we don't have the time to write or edit copy for you. Ideally we need a nice concise 'blurb' of between 75-100 words. Please don't send a three page biography, or else we are likely to bounce it back to you. If you have a selection of press quotes send what you have as we can usually easily compile something from them. There are plenty of examples of the sort of thing we need here on the site to help you out.

Please note - If you have played at The Musician before and we have text on file, we will continue to use use it for any subsequent listings unless you supply new copy.

If you spot any errors please send an email to musician at mohawkvisuals.com.

Coming to The Musician in December
LISTINGS HOME

Magic Teapot presents…
Deer Tick
plus Mr Plow
£7adv
http://www.myspace.com/deertick
Deer Tick is a rock n roll band originally from Providence, Rhode Island. The band is John Joseph McCauley III, Andrew Grant Tobiassen, Christopher Dale Ryan, and Dennis Michael Ryan. The band began in December of 2004 as a drums and guitar duo. Within a few years the band developed into a quartet featuring two guitars, bass and drums, with three members singing and writing, and one writing string arrangements. As of January 2009 they have released countless CD-Rs and one official release, 2007's (and re-released in 2008) War Elephant.

visit Magic Teapot for info and tickets


Paul Barrere and Fred Tackett (Little Feat)
£12adv £15 door
plus Julian Dawson
www.paulandfred.com
Paul Barrere and Fred Tackett are the guitar players with the legendary band Little Feat. They first played together on the album Dixie Chicken some twenty-five years ago and since then have played together or individually on numerous recording sessions for Little Feat and countless others including Bonnie Raitt, Taj Mahal, Bob Dylan, Tom Waits, Dionne Farris, and the Wallflowers to name a few.


The Cadillac Kings
£7door
www.cadillackings.co.uk
www.myspace.com/58deluxe
The Cadillac Kings have got it all. A guitar player whose T-Bone Walker licks and cranky chordings sound as natural as his piercing slashing south Louisiana sound. A harp player who can make it bark and yelp and still get soulful in the solos. A rhythm section that adds a rich lushness to the whole thing. A piano player whose main aim in life is to shorten the gap between New Orleans and Los Angeles, and a vocalist who sounds like he's having a natural ball on each and every tune. No wonder that The Cadillac Kings are one of the biggest bands on the British blues scene.


Cheeseweasel presents…
The Pineapple Thief
£8adv £10door
www.pineapplethief.com
www.leftbelow.com
The Pineapple Thief's 'bittersweet' sound has had them compared to Radiohead, Sigur Ros and Elbow and has entered the consciousness of audiences across Europe, on the back of the acclaimed Tightly Unwound album. The live show has quickly gained a reputation as one of the most exciting sounds around, delivered with a seemingly impossible level of energy and passion by the 4-piece.

visit www.cheeseweasel.org for info and tickets


Nigel John: 'Welcome to Christmas'
An Evening with Sir Elton John
£8adv £10door
www.nigeljohn.co.uk





Greenbird Promotions presents…
Tim Van Eyken
£10 (£8 NUS)
plus Gren Bartley
www.timvaneyken.co.uk
Tim van Eyken has been described as "one of Britain's great young hopes" by the Times, and "someone to watch for" by Eliza Carthy. He was a founder member of Dr Faustus, a member of Waterson:Carthy for six years. His debut solo album Stiffs, Lovers, Holymen, Thieves received widespread acclaim and won the BBC Radio 2 Folk Award for best Traditional Track for his take on John Barleycorn. This will be a rare solo show as he is currently appearing as the Songman in the National Theatre's acclaimed production Warhorse.

visit www.greenbirdpromotions.com for info and tickets

Chris Conway & Friends
20th Anniversary Celebration
£5
plus support
www.chrisconway.org
Singer, songwriter and multi-instrumentalist extrordinaire and Leicester legend celebrates 20 years as a professional musician with a special concert of his songs of love and peace and outer space. Featuring tales from the road, and special guests, the night will be recorded for a possible live album.
His style? Think David Crosby on a journey taking in Ireland, a jazz club and outer space!


AB/CD (ACDC Tribute)
£8adv £10door
AB/CD are the only authorized tribute band to late AC/DC singer Bon Scott. The band were formed in 1989 and were chosen on MTV as the best sounding Bon Scott tribute by none other than AC/DC guitarist Angus Young. Since then AB/CD have played all around the world and appeared with many the Stereophonics, The Queens Of The Stone Age, Hawkwind, Reef and Kiss. Last year they appeared on BBC2's Arena, in a program about the tribute band phenomenon.



Simon Honeyboy Hickling
£7
www.honeyboyhickling.com
A world-class musician Simon 'Honey Boy' Hicklin' is a blues harmonica ace with a hard earned and well-deserved international reputation. His subtle and fabulously expressive playing is grounded firmly in the '50s and '60s heyday of the Chicago and Gulf Coast styles of playing. With a tremendously experienced band backing him, Simon never fails to deliver anything less than a first-rate evenings entertainment and never lets good taste and soulfulness stifle a rockin' night out.



Aynsley Lister Band
£10 door
plus Soulsmith
www.aynsleylister.co.uk
In a world full of manufactured over-hyped pop music, Aynsley Lister is proof that there is light at the end of the tunnel. His powerful, infectious songs are unashamedly blues influenced and performed with the kind of conviction of someone twice his age. Say the word blues to a commercial record company and see how far they run! But Lister carries on regardless, writing and recording albums that continue to sell and prove that blues rock music can be commercial and have you singing along to yourself days after you hear it, just like half the committee written stuff you hear every day on the radio. Exceptionally mature and exciting. – Mojo. Superb - The Times.


Lay-z-boi presents…
Great Imitation
£3
plus Superevolver and Roxum
http://www.myspace.com/greatimitation
http://www.myspace.com/superevolver
http://www.myspace.com/roxumuk
Great Imitation's songs are somewhat akin to dallying carelessly in a wheat field at dawn, whilst somewhere in the near distance herd after herd of clowns are systematically nail gunned in the face! With a near burlesque live show which incorporates music, stand-up comedy, vaudevillian anatomy magic; a master class in sexual attraction Great Imitation are truely ones to watch! An "unstoppable rock/blues/electro threesome,"

SuperEvolver managed to entice Kasabian frontman Tom Meighan to sing lead vocal on one track, Viva The Revolution, while legendary guitarist Dan Hawkins (ex-The Darkness and current Stone Gods) features on X-killer. The band also featured on the soundtrack to Freak, a MySpace drama series aimed at the Skins generation.

"Leicester's ace disco rock band Roxum, pulling people on to the dance floor with their set of almost manically catchy tunes, with strong vocals and performance from lead singer Dale Taylor. If you want to party, this is the band to see."

visit www.layzboimusic.com


Kerfuffle
£8adv £10door
plus Lisa Banks
www.kerfuffleonline.co.uk
Kerfuffle's music cannot easily be categorised and their vibrant arrangements draw on influences from across Europe, incorporating tunes, songs and dances. Four of the finest young musicians on the folk scene today, Sam Sweeney, Hannah James, Jamie Roberts and Tom Sweeney perform their music with immense vitality and style. "Delightfully sophisticated instrumental arrangements" - Dirty Linen. "Constantly inventive arrangements of tunes and songs alike"- fRoots.



Diesel Park West
plus Falling Leaves
£10
www.dieselparkwest.com
Some bands belong to their own time, others trespass on decades where they don't really belong. Diesel Park West must have seemed to some people back in '89, with the release of the far-reaching Shakespeare Alabama, the most welcome and liberating guitar band anyone had heard for years. A lot of artists who have enjoyed massive acclaim and success since, may well tip hats towards the Diesels for being pioneers in the re-emergence of the guitar as the primary sound of contemporary music. Add to that song writing that both provokes and reassures... sometimes within the same lyric...then maybe its appropriate to start spreading the word.


Paul Lamb & The Kingsnakes
£10
plus Mojo Hand
www.paullamb.com
Hailed as Europe's foremost blues harmonica exponent, Paul Lamb has won countless awards, sold record-breaking quantities of albums and performed the world over with his long-standing musical compatriots The Kingsnakes. "Better than the opposition from whatever side of the Atlantic they come." - Blueprint. "They play blues in the same way Brando used to straddle a Triumph. Lazily, cocksure and coolly aggressive." - Blues & Rhythm.



Xander Promotions presents…
Nine Below Zero
£12adv £14door
www.ninebelowzero.com
In their 30th year, NBZ are the viable alternative to Alternative, a band that most definitely come to play, a band with their own genuine sound and deep understanding of their musical roots. Live, the combination of Dennis Greaves playing guitar and singing, Gerry McAvoy on bass, Brendan O'Neill on drums (both ex Rory Gallagher band members) and Mark Feltham on harmonica is lethal, hammering and nailing the big R'n'B sound to the floor of many a famous stage. "NBZ are brilliant live, they work so hard, the audience often go home as exhausted as the band!" so says Andrew Zweck of top promoters Harvey Goldsmith Ents.

visit www.xanderpromotions.co.uk for info and tickets


Xander Promotions presents…
Eddie & The Hot Rods
£10adv £12door
www.eddieandthehotrods.com
Eddie and the Hot Rods began life in 1976, when four teenagers from Southend got together and were soon a big hit on the London pub rock scene. They were signed up by Island Records and went on to have three hit albums and four top forty UK singles including the Top Ten hit 'Do Anything You Wanna Do'. They have toured alongside The Ramones, Tom Petty, The Police, Squeeze and Talking Heads. 2006 saw the release of the bands first full concert DVD, recorded at London's Mean Fiddler, as well as a brand new studio album, "Been There, Done That...".

visit www.xanderpromotions.co.uk for info and tickets


Talulah Blue's Pin-up Party
£8adv £10 door
feat.dancers Fanny Divine, Emerald Ace and Sentosa Sparkle and music from The Boners and The Gadjos
www.talulahblue.com
Prepare for the New Year with Talulah Blue's Pin-up Party, comedy Burlesque with a pin-up theme and superb bands. Featuring Burlesque performers Fanny Divine, Emerald Ace and Sentosa Sparkle and music from rockabilly hotshots The Boners and gypsy jazz from The Gadjos.


El Pussycat Ska
with Roddy Radiation ( The Specials)
plus Kingsize
£7
www.elpussycat.co.uk
El Pussycat are on longer young boys blasting out 100 mph ska. "You're just too fast, too loud, too loud!!" said the godfather of ska Laurel Aitken. These days they keep their sound, which goes back to the 50's roots of bluebeat and ska, relaxed and rock steady. Leicester's other top ranking ska band Kingsize play foot-stompin', house rocking Kingsized arrangements of the finest original Jamaican ska sounds. Their style draws heavily on the classic Studio One song catalogue and traditional big band sounds of '60s ska.



Dead Rock Stars New Years Party
£8adv £10door
The Dead Rock Stars are a four piece vintage rock 'n' roll band in the classic style. They believe that the best music was made between 1956 and 1979 and that's the music they play! Don't ask them for anything by Take That or Westlife, but if you love Elvis, The Beatles, The Stones, T Rex or The Clash then they'll definitely be the band to get your New Years Eve Party rocking! Highlights include Sweet Home Alabama, Suspicious Minds, Teenage Kicks and Get It On, all delivered with style and passion! The Dead Rock Stars love playing and they love the music they play so don't expect a 'paint by numbers' band strumming away in the corner looking bored! Don't forget folks... dead is best!