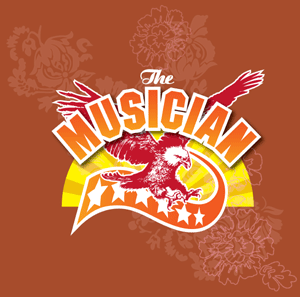 Should need to print a copy of this months listings, you can download a copy of our regular flyer by clicking the PDF icon.
---
These days artists and bands tend to book their tours months in advance. In order to give you the best notice of up and coming shows we list events once they have been confirmed by the band or their management
The downside of this is that dates can change due to unforeseen circumstances, sometimes at very short notice. We do our best to ensure that this site is kept as up to date as is possible, with updates happening at least once a week.
Therefore to avoid disappointment we recommend that you check these listing prior to setting out for your show especially if you are traveling any distance.
---
Not listed?
A guide for Artists and Promoters
The quickest way to get yourself included in our listings is to send an email to rideout at stayfree.co.uk once your gig is confirmed.
We also need you to do the following -
Put the name of the artist or band name along with the date of your show in the email subject line.
Attach a reasonable sized photograph. A 72dpi, jpeg, bigger than 200x200 pixels would be fine. Please don't email files over 1mb in size. If in doubt please drop us a line before sending. Let us have your web address so we can link to your site or Myspace page.
Send us some text. Whilst we are happy to tidy up spelling or grammar, we don't have the time to write or edit copy for you. Ideally we need a nice concise 'blurb' of between 75-100 words. Please don't send a three page biography, or else we are likely to bounce it back to you. If you have a selection of press quotes send what you have as we can usually easily compile something from them. There are plenty of examples of the sort of thing we need here on the site to help you out.
Please note - If you have played at The Musician before and we have text on file, we will continue to use use it for any subsequent listings unless you supply new copy.
If you spot any errors please send an email to derek at indiecentral.co.uk.
Coming to The Musician in August

In an industry dominated by manufactured bands and artists, it is an extremely rare thing to find a real band, a band of brothers, fellow musicians that truly connect, both musically and in friendship; Brothers Groove is just that. This Birmingham-based band are winning the hearts and minds of the UK blues scene with their characterful groove, superior tones, seriously catchy songs and genuine Brummie friendliness, and the word is spreading fast.

With the love of funk and blues dominating the band's sound, and years spent soaking up the likes of Robben Ford, The Average White Band, The Crusaders, James Taylor Quartet, Little Feat, Clapton, SRV, Robert Cray and Albert Collins, in the respective funk and blues departments, Brothers Groove set out to make real music, music that they love and cherish. Their goal firmly intact, they have uniquely fused all these influences into a sound all of their own.

An American rock band from Nashville, Tennessee. Their rock and roll story might be as pure and simple as the prior statement if it weren't for the fact that the combined band members' resumes boast platinum record success, a Grammy nomination, an Americana Hall of Fame Lifetime Achievement Award and song authorships that have become iconic, rock and roll standards, making this band far from simple. Comprised of rock veterans, Warner E. Hodges on lead guitar and vocals (Jason and the Scorchers), Dan Baird on bass, guitars and vocals (Georgia Satellites), Brad Pemberton on drums (Ryan Adams and The Cardinals) and Joe Blanton on lead vocals and guitar (Royal Court of China), these southern bred rockers remind you why you love rock and roll in the first damn place!

At a time when most female singer-songwriters perform as alter egos, Eleanor Friedberger is simply, refreshingly herself. And that's just the way her fans like it. Having spent the last decade fronting the indie-rock institution The Fiery Furnaces (currently on hiatus) with her brother Matthew, in 2011 she emerged as a formidable solo artist with Last Summer, a thoughtfully crafted tale of memory and place couched in the organic pop of her '70s idols. Instantly, Friedberger established herself as a modern-day heir to the tradition of Donovan, Todd Rundgren, Ronnie Lane, and their ilk: Warm, nuanced, timeless songs. No gimmicks necessary.

facebook.com/leonhendrixofficial

Leon is the younger brother of rock icon Jimi Hendrix, who encouraged him to pick up a guitar. Best known for his original artwork of his beloved brother Jimi and his song writing regarding his life growing up as part of the Hendrix legacy. Leon aims to keep the Hendrix spirit alive with his own unique tribute to his legendary brother.

The show will include a large amount of Jimi Hendrix cover versions and some original material by Leon himself.

For this unique experience, Leon's band will include for this show as special guest John Campbell from top Hendrix band "Are You Experienced?".

Gentle as the rolling English countryside but with as many twists and turns as an English country road; Steve Parker is a superb storyteller with wonderful songs. His style is easy and compelling with a honey dipped voice and a distinctive guitar style. A regular performer on the alternative and folk club scene, Steve has many gig miles under his belt which has earned him a dedicated following and great reviews.

Meet the 45s. High octane Rhythm and Blues by four schoolmates from Carlisle, UK. Harnessing their songwriting talent with an explosive repertoire of classic sounds and lyrics, the band pass an admirable nod to international blues legends including Chuck Berry, Muddy Waters and Bo Diddley, together with the outrageous techniques of guitar hero Wilko of Dr. Feelgood. Their passion is to write and perform music and their inspiration comes from Rhythm and Blues, Rock 'n' Roll and any music with soul!

The Della Grants are a young Leicester band with a big future. Writing and performing their own material they have gained a loyal following in their home town and are now looking to spread their wings further afield. Catch them while you still can!

Formed five years ago by Steve Hill (guitar), Matt Gilmore (bass) and Ray 'X-Ray' Peverill (drums), SKAM are a three-piece, hard rock band based in Leicester, UK. With over 400 gigs to their name to date and having played in every major city in the UK and Ireland this is a crack live unit with a stage show second to none. Influenced by bands such as AC/DC, Iron Maiden and The Foo Fighters the band have a reputation for delivering no-nonsense, gutsy, classic British rock music. Their passion and conviction as a live act has resulted in a strong local following, with one notable local reviewer dubbing them "Leicester legends." Tonight sees the official launch party for their second album 'Peacemaker'.

"Part Foo Fighters, part Queens Of The Stone Age, three-piece Skam look like they have been doing this for years. With an armoury of songs such as current single Rivers and a new record deal in their pockets, they are set to go far" - Classic Rock Magazine

SKAM are bigger, louder, and a lot more fun than a three piece should be! Get along and see them now if you don't want to miss out! – Luke Morley, The Union / Thunder

Nishe are an Alternative/Indie-rock band from London formed in August 2013. The band consists of Giovanni Zappa (lead vocals, guitar), Harold Wilson (bass, backing vocals) and Thomas Romer-Smith (drums, backing vocals), three guys portraying different environments and mixing a diverse range of influences, from exotic tight rhythms to big surrounding sounds.

They propose a new concept of attraction, where the intriguing balance between tension and explosion is the key factor. And this is undeniably evident in their personalities that perfectly reflect the dualism of their music, where sensibility and impetus, unpretentious and pride, comfort and incisiveness, contemplation and grip coexist, tied with contagious hooks and loads of excitement.

Strange Blues are a Leicester blues rock trio, specialising in classic covers. They feature Nick Murphy (drums), Simon Gilroy (bass/vocals) and Andy Wales (guitar/vocals).

Born and raised New Yorker Jeffrey Lewis leads a double-life, as both a comic book artist and an indie-rock musician. Jeffrey's now 15-year career has included sharing bills and tours with the likes of The Vaselines, The Fall, Stephen Malkmus & The Jicks, Roky Erickson, The Mountain Goats, Daniel Johnston, Devo, Pulp and many other luminaries.

In between his contemplative folk narratives and bashed-out indie-punk songs, Jeffrey is known for often including a couple of his illustrated songs in each concert (what he calls 'low budget videos') sometimes covering historical topics (like The History of Communism), biographies (like The Life of Barack Obama) or strange flights of fancy (like The Creeping Brain).

Appearing in the past as Jeffrey Lewis & The Jitters, Jeffrey Lewis & The Junkyard and other touring ensembles, his newest band incarnation is Jeffrey Lewis & The Jrams (pronounced "drams") featuring Caitlin Gray on bass and Heather Wagner on drums.

"Hands down my favorite contemporary songwriter" – Ben Gibbard (Death Cab For Cutie)

Fleetwood Bac have been rated by The Times newspaper as one of the UK's top 5 tribute shows, alongside The Bootleg Beatles, Bjorn Again and the Counterfeit Stones. They have had rave reviews in 'The Stage' newspaper, fantastic endorsements from the UK's leading Fleetwood Mac fansites, the official Stevie Nicks website; and they have had ecstatic audiences wherever the band have played, including wowing audiences as far afield as St. Tropez and the Cayman Islands, Monte Carlo and Dubai.

A Fleetwood Bac tribute show isn't just about performing the music of one of the worlds biggest bands, Fleetwood Bac replicate a full Fleetwood Mac rock show as it was back in the 70's & 80's. Having performed over 600 tribute shows Fleetwood Bac have spent decades perfecting that classic Rumours era sound, the look, the mystical atmosphere and that infamous on-stage chemistry, all are portrayed with the passion and energy that got them the ultimate seal of approval from 'Big Daddy' Mick Fleetwood.

Noddy's Puncture are a tribute to one of the most renowned acts in the field of progressive rock from the 1970's, the band being Emerson Lake and Palmer. Tom Szakaly is the man who fills the role of Keith Emerson, and as well as knowing the great man himself, Keith once asked him to find an Hammond organ for him to 'trash' onstage! With Ed Blaney (bass, guitar vocals) and Steve Roberts (drums) taking up the other two roles in the band, expect an evening of classics which sold millions around the globe.

The unique three man tribute to rock music's best known Texan boogie band are back to "Tear the house down!" in 2012, bringing a tour with more Tone, Taste and Tenacity than ever before. Complete with their real beards, the crazy guitars, the moves and over two hours of hot-rodded rock 'n' roll! All eras of ZZ Top are included in the same show, in two very individual sets.

The ZZ Tops pack the classics like 'Gimee All Your Lovin', Sharp Dressed Man, Legs, Tush, La Grange, Rough Boy and many more into a 2 hour plus rock extravaganza and throw in a few surprises for hardcore (and not so hardcore) fans to savour!

Leicester based singer-songwriter Elizabeth Cornish performs a unique blend of acoustic folk-pop, which has been described as a mix between Feist, Laura Marling and Florence and the Machine. Her debut album Displaced was released on 15th of March 2014. The album which touches on themes of transition, growth, overcoming barriers and moving on is in many ways the culmination of Elizabeth's nomadic upbringing, having been written while packing and unpacking boxes, saying goodbye to friends and family and an array of different sceneries.

Songs in the Key of Wonder is a brand new celebration of the classic 70s albums of Stevie Wonder. This is the sister project of established Leicester funk band 7Storeysoul. The founder member of both projects is Leicester songwriter, guitarist and fanatical Stevie fan Mark Poole. Songs in the Key of Wonder take you on a journey through Stevie's classic albums from Music of My Mind, Talkin Book, Fulfilingness First Finale, Innervisions, Songs in the Key of Life through to 1980's Hotter than July. Fronted by the soulful vocals of Sarah Collopy and backed up by a 10 piece band with the funkiest rhythm section and brass, enjoy a night of Stevie Wonder gems along with some quality original funk/soul from top Leicester funk band 7Storeysoul!

Hell's Addiction deliver classic no-bullshit rock 'n' roll in a style that draws comparison with the likes of AC/DC, Guns N' Roses and Mötley Crüe.

Expect powerful live perfomances, gritty vocals, screaming Marshall stacks, thundering bass and powerhouse drumming.

Crowd-pleasers like 'Let The Good Times Roll', 'Feels like Rock 'n Roll' and the debut single 'Alcohol' will leave you under no illusion as to where the band's passions lie.

"Hell's Addiction have packed a rock n roll punch so forceful that it will leave you wondering which decade you're in." - Home Grown Rock

AnOn and Magic Teapot presents a never-before-done show!

Five of Leicester's exciting diverse artists come together to share their unique take on words and music.

Unexpected collaborations, improvisations around poetry, song and rap, through folk, jazz, hiphop and spoken words. Words to challenge and inspire - subverting the familiar with pertinent provocative prose and powerful performance.

With: Michael 'SureShot' Brome - Spoken Word Performance & Djembe | Lydia Towsey - Performance Poetry with music | Marcus Joseph - Spoken Word & Saxophone | Lady Paradox - Rap & Spoken Word with music | Mellow Baku - Spoken Word, Song & Guitar | Wayne Matthews - Bass

Fallers are an all girl 4 piece band from Leicester, bringing 3 part harmonies together with a variety of percussion, bass and guitar to create a mix of folk inspired songs that will have you sitting back and chilling out to songs that'll get your feet tapping and your hands clapping.

A review given of their debut gig describes them as "effortlessly feel good". "Warm and soothing, enigmatic goosebumps emerge at certain points of harmony. A great band relationship really feeds into their fun performance and moments of depth and emotion provide a change in winds through out their set."

Having supported bands such as Emily & The Woods, My Sad Captains and The Daydream Club, Fallers are off to a great and very exciting start.

This Is The Kit is the musical project of Kate Stables. You thought you didn't like the banjo but you were wrong pal. Listen as Kate rips forward with her hypnotic twang pattern and a voice of rare, unaffected beauty.

"Absolutely gorgeous, like an aural bath with the warm water lapping over you" - Cerys Matthews, BBC 6 Music

"Just one of the best things I've heard all year, the rest of the LP's pretty good too….wonderful wonderful stuff" -
Guy Garvey, BBC 6 music

"The most far out thing that doesn't turn out to be the work of a Californian serial killer who sells beads at the airport: Mellow, expansive, groovy." - Jamie Harrison

A fiendishly fresh and full-on night! AnOn and Magic Teapot present their second ever-never-before-endeavoured show!

Internationally acclaimed performance poet and writer artist Aoife Mannix is joined by Leicester's fully-emerged spoken word performer Jess Green, fresh from her recent successes, returning from Edinburgh Festival to sensationally subvert your evening.

The all-female lineup is completed by musical support from eclectic local songwriter, poet and vocalist Chloe Sabine Singer and artist host Mellow Baku. Expect song, word, guitar, stories and more...

Spiky, insightful, politic-provocative, SubVerse If II promises to inspire.

The Native are a two-piece folk duo from Leicestershire, made up of Ben Allen (guitar, vocals and stomp) and Chloe Hayward (violin and vocals). Both eighteen years of age, they began their musical journey just two years ago. In the summer of 2013 they were chosen to play at some of the biggest events in Leicester including the Simon Says Festival at De Montfort Hall amongst others. In addition, they gained further popularity after being picked up on the highly respected 'BBC Introducing' radio broadcasts, played over the East Midlands. Ben and Chloe have since been praised for creating a new sound, combining traditional folk styles with classical trained violin accompaniment.

The formation of Green Date pre-dates the world shaking arrival of the album "American Idiot" and the never-to-be-forgotten "Bullet In A Bible" tour. In that time Green Date has grown from strength to strength, performing their own mammoth gigs up to two and half hours in length. Based in Nottinghamshire, Green Date are one of the finest tribute bands, displaying their talents to fans across the four corners of the British Isles and further afield into mainland Europe and Las Vegas, Nevada of which 50,000 Green Day Fans attended. Now well established in the nation's punk circle the members of Green Date are all gifted musicians in their own right.

Beneath The Lights are a young band from Leicester who started out in late 2010. They love playing live gigs, festivals, music venues and pubs and have also played Glastonbudget music festival twice. A new double single 'Broken Town/Changes' is available now.

New Generation Superstars first blazed onto the scene in 2005 with their no frills, no fuss rock music. Too punk for the rock crowd, and too rock for the punk crowd, NGS forged a sound that appealed to all. Speeding up the tempo and turning up the amps, it wasn't long before NGS had attracted a local following with growing momentum that spread across the nation with both fans and music press alike....

Serving their time on the road, NGS have played headline shows, also being the support band of choice for acts such as Duff McKagan's Loaded, The Wildhearts, The 69 Eyes, Supersuckers, Fun Lovin' Criminals, Hardcore Superstar and more. They have also played shows in Germany, New York, Finland and Sweden, as well as festivals such as Hard Rock Hell, Bulldog Bash, Rock and Blues and Trashfest in Finland.

NGS continue to be one of the hardest working bands in rock, gaining the respect and dedication from more new fans at every show.


Edwina Hayes numbers Michael Parkinson and Nanci Griffith among her fans. Her beautifully written songs, charming stage presence and voice of an angel have won her a reputation as a true natural talent of gentle folk-americana. She has opened numerous shows for Jools Holland and Van Morrison and the title track of her album Pour Me A Drink was covered by Nanci Griffith who calls her 'the sweetest voice in England'.

Her cover of the Randy Newman song Feels Like Home was featured in the Cameron Diaz film My Sister's Keeper and has since had over six million plays on YouTube.

As well as her own gigs playing stages everywhere from Glastonbury to The Royal Albert Hall, Edwina is often invited to guest on studio albums and support major artists on tour. As well as touring extensively with Jools, Van and Nanci Griffith, Edwina has also toured with artists ranging from Loudon Wainwright and Roger McGuinn to KT Tunstall and Gretchen Peters.