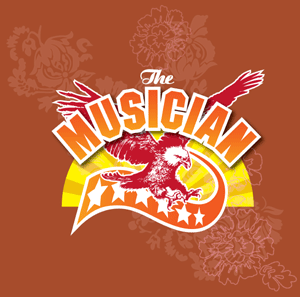 Should need to print a copy of this months listings, you can download a copy of our regular flyer by clicking the PDF icon.
---
These days artists and bands tend to book their tours months in advance. In order to give you the best notice of up and coming shows we list events once they have been confirmed by the band or their management
The downside of this is that dates can change due to unforeseen circumstances, sometimes at very short notice. We do our best to ensure that this site is kept as up to date as is possible, with updates happening at least once a week.
Therefore to avoid disappointment we recommend that you check these listing prior to setting out for your show especially if you are traveling any distance.
---
Not listed?
A guide for Artists and Promoters
The quickest way to get yourself included in our listings is to send an email to rideout at stayfree.co.uk once your gig is confirmed.
We also need you to do the following -
Put the name of the artist or band name along with the date of your show in the email subject line.
Attach a reasonable sized photograph. A 72dpi, jpeg, bigger than 200x200 pixels would be fine. Please don't email files over 1mb in size. If in doubt please drop us a line before sending. Let us have your web address so we can link to your site or Myspace page.
Send us some text. Whilst we are happy to tidy up spelling or grammar, we don't have the time to write or edit copy for you. Ideally we need a nice concise 'blurb' of between 75-100 words. Please don't send a three page biography, or else we are likely to bounce it back to you. If you have a selection of press quotes send what you have as we can usually easily compile something from them. There are plenty of examples of the sort of thing we need here on the site to help you out.
Please note - If you have played at The Musician before and we have text on file, we will continue to use use it for any subsequent listings unless you supply new copy.
If you spot any errors please send an email to derek at indiecentral.co.uk.
Coming to The Musician in August

The Slowdown Boys are an established band who play a mixture of Old Time Americana, Bluegrass and early Country music.

For over a decade, Leicester's Splitters have been dropping dynamite ska scorchers and heavy reggae loaded with realness from the forefront of the UK ska scene. With influences stretching from the Jamaican sound of the 1960s to the sonic styles of the new millennium, the band's style is hard to pinpoint: you get the rhythms of original Jamaican ska and reggae/dub depicting the grit and grime of modern British life, with contemporary musical touches and heaps of originality. They support the Love Music Hate Racism musical campaign against racism and fascism, and are usually kind to small furry animals.

A world-class musician, Simon 'Honeyboy' Hickling is a blues harmonica ace with a hard earned and well-deserved international reputation. His subtle and fabulously expressive playing is grounded firmly in the '50s and '60s heyday of the Chicago and Gulf Coast styles of playing. With a tremendously experienced band backing him, Simon never fails to deliver anything less than a first-rate evenings entertainment and never lets good taste and soulfulness stifle a rockin' night out.

Rude Angel play a unique blend of rootsy jazz-blues, sprinkled with soul, latin and reggae rhythms, and the occasional stylophone. Live sets include original material and creatively reworked cover songs, featuring soulful vocals and harmonies, trombone, sax, harmonicas, guitar and percussion. Audience participation in egg-shaking and kazoo-blowing is strongly encouraged!

It's sometimes hard to believe that sisters Rebecca and Megan Lovell, aka Larkin Poe, are still only 21 and 23 respectively. First as the Lovell Sisters with sibling Jessica, then over five EPs as Larkin Poe, they have gathered acclaim from the likes of Elvis Costello, broken the CD sales record at Fairport Convention's Cropredy Festival and gone down a storm across Europe and the UK. This is their first time in Leicester and their soulful folk-country is not to be missed.

Late of acclaimed duo The Hi & Lo, Paul McClure will have a new solo album out in September on Clubhouse Records. His dry wit and self-deprecatory style combined with some great songs have won him audiences the length and breadth of the country.

Nancy Dawkins is a singer-songwriter from Leicester. Her debut single 'Smoke' / 'Inadequate' was released in June 2011, receiving regular radio plays, including on BBC Radio 2's Steve Lamacq show. Her second single 'Poison' / 'It Seems I'm Falling' was launched at her appearance at Summer Sundae Weekender on 18 August 2012, together with a live BBC interview.

"Nancy Dawkins, her voice is to die for and her writing craft is phenomenal" - Dean Jackson, BBC Radio

Mike Sole Profile
Carol Leeming is a Leicester born singer-songwriter. She also goes by the alias KYO and works with other acts, mostly as a featured vocalist. As lead singer of Staxx Of Joy, she scored two number one tracks on the Billboard Hot Dance Music/Club Play chart with "Joy" in 1994 and "You" (which she co-wrote) in 1995. Her collaboration with Bedrock with "For What You Dream Of" became a UK hit in 1996 after featuring in the film 'Trainspotting'. She performs with several bands Random Acts of Senseless Beauty (Nu Jazz Soul Funk World) and Carol Leeming & The Vagabonds Band (Eastern European Folk/World) as well as working as a poet and playwright, having had her literary work produced for BBC Radio and appearances at Nottingham Playhouse and the Haymarket Theatre.

Porter create a fusion of blues, jazz and ska and received critical acclaim for their album 'Cant Stand Still' which gained BBC Radio Two play for several tracks and has seen the band featured in the 'Blues Matters' magazine on two occasions in the past year. Their new album 'Stone Chucker' promises more of the same with a further tilt towards the blues. Fronted by songwriter Gary Porter, the band look to perform their songs to a wider audience on the 'Stone Chucker' tour.

The Nightporters are credited as being one of the finest bands to have performed on the International roots and blues circuit. Their shows became legendary throughout Europe and for their army of fans, The Nightporters were certainly a "never miss" band whenever they hit town.

2013 will mark 20 years since the band formed and all four original members are looking forward to stunning audiences with their trademark high-energy, rockin' show once more. This will not be a rushed, under-rehearsed approximation of the great band of a decade ago, this will be the real thing; a tight, kick-ass rock'n'roll machine, firing on all cylinders and hungry for a new audience!

"A three syllable word... fan-tas-tic!" - Back To The Roots, Belgium

"The best R&B, Rockabilly and Boogie band in the country" - Darlington Arts Magazine


Legendary San Francisco band It's A Beautiful Day created a unique blend of rock, jazz, folk, classical and world beat styles. They were one of the earliest and most important San Francisco bands to emerge from the "Summer Of Love", with contemporaries such as The Grateful Dead, Jefferson Airplane and Santana with whom they had connections.

Fast forward to 2010, when founding members David & Linda LaFlamme came to the UK to guest with Barry 'The Fish' Melton, founding lead guitarist for Country Joe & The Fish. The tour was such a success that they have returned once again with It's A Beautiful Day's long time lead guitarist Rob Espinosa.

annsonrecords.co.uk/steve-parker

With their magical, captivating energy Grace & the Magic Roots bring a youthful and diverse sound to traditional inspired folk music. Full of dimensional variations, twisting time signatures, and haunting melodies, the songs are rich with layers of intertwining instrumentation, drawing on influence from roots reggae, klezmer, and good old English folk.

Grace's stories on subjects such as Scottish witches and the Devil are underpinned by the dynamic pulse of the musical accompaniment; Jennie on fiddle, Baz on guitar and Lawrence on cello.

Weaving tunes with the warp of folk tales into the weft of Grace's own joy and fear, this Leicester based acoustic string quartet will leave you feeling somewhat bewildered, and mystifyed.

Taught by the legendary Randy Rhoads, LA based Janet Robin has toured, recorded, or written songs with Lindsey Buckingham, Meredith Brooks, Melissa Etheridge and Marcy Levy (Shakespear's Sister). Her last European tour also featured opening for the legendary Tommy Emmanuel. Her acclaimed album 'Everything Has Changed' was produced at Cash Cabin by John Carter Cash, son of Johnny Cash. She now promotes a new live album "Live from France". This will be a very special gig by an incredible performer not to be missed.

"Janet Robin is one of the best guitarists in the country: male or female." - Michelle Shocked

Leicester's rockabilly pioneers The Drugstore Cowboys were formed in 1997, and have since then taken their brand of smokin' country roadhouse rockabilly to many a spit and sawdust pub, venue and festival all over the UK and Europe. Nick Whitfield (guitar) Tom Bull (upright bass) and Damon Clarridge (drums) have just released the long awaited third Cowboys album 'All Tooled Up' on Smokin Records. Expect the unexpected and a high energy show from the rowdy roots rockers!

Empress Of Fur are a freaky four-piece from Fenland farming country, who in their own words look like the bastard offspring of an unholy four-way bunk-up between Bettie Page, Zorro, Uncle Fester and Mr Macphisto. They sound like the equally unwanted children of the Cramps, Link Wray, Nancy Sinatra and the Rezillos! Gretsch guitars drenched in reverb and echo, strange hallucinatory voodoo beats, heartbeat bass and siren vocals: that's Empress of Fur!

www.facebook.com/MalcolmWatsonTheDeceivers

If you're old enough to remember Ronnie and the Bendy Ruperts from the dim and distant past this is a gig you won't want to miss. Filled with classic numbers such as Van Morrisons "Brown Eyed Girl" belted out in original style by a man who definitely hasn't mellowed with age.

Echolocation is a seven piece rock band based in Leicester, incorporating abrasive spoken word realpolitik social commentary and projected visuals. They are an exciting live experience, utilising lots of different instruments notably electric cello and flugelhorn. It is fair to say that Echolocation ploughs their own furrow and they appeal to audiences who like their music a bit 'left field'. They have produced three albums to date and are currently promoting a four track EP called Gnomes.

Beware Of Mr Baker is the new Grand Jury award winning documentary about the angriest old man in music, Ginger Baker.

Probably most famous for being one third of Cream, he's played alongside some of the greatest names in rock, blues and jazz music. Starring Eric Clapton, Jack Bruce, Carlos Santana and Steve Winwood amongst others.

Formerly one of Nashville's most eclectic bands, Buffalo Clover now feeds a more fitting hybrid of roots-rock and soul into the Music City bloodstream.

In the simplest terms, Buffalo Clover are vintage rock 'n' rollers, but the South tends to creep in. This brand of Southern soul bears a striking resemblance to their idols, the Rolling Stones and The Band. Taking a cue from Bob Dylan with a lyrical poeticism inspired by the troubled times, and Janis Joplin with her rough-hewn-but-honest, bottom-of-the-heart soulful lilt, Buffalo Clover emulate their musical paragons in a style of their own.

Never playing the same show twice, the band's genuineness translates to a loyal local fan base. It makes them just as much at home playing in the UK as The 5 Spot in East Nashville.

A rock band with an impressively developed sound, particularly when you consider their age, The Decade Runners came about as a result of three of the members being in the same class at school. The initial reason for forming was to enter a school competition, however, after being crowned winners, they soon realised that they collectively had something that was worth pursuing. This certain 'something', they believe, comes from the assortment of different musical backgrounds and influences that each member has and their different individual qualities, which, when combined, creates something completely unique and exciting.

It's time to get horny with Leicester's top ranking ska band Kingsize who play foot-stompin', house rocking Kingsized arrangements of the finest original Jamaican ska.

Featuring a 9-piece band with a powerful 5-piece brass section, they aim to bring back to audiences that solid, rhythmic and powerful Ska sound of the old time greats (and more recent ones!) and simply entertain the pants off you. If your feet don't tap and your body don't move - you're probably dead!

Echo Marley and the Musical Warriors are the infrequent anomaly that does what it says on the tin, they really do echo the late legend "Bob Marley" in musical vibe and lyrical content with a beautifully stirring and profound tone to the lyrics. The rhythm section is driving, inducing a pulse that lets you know you are alive and the soundscapes created by the Musical Warriors come complete with strong elements of blues and funk. They are a truly amazing, new generation reggae band.


The Carp Family are a predominantly acoustic 6-piece band featuring the songwriting and vocal talents of Stewart Brackley, front man with The Marinucci's and formerly with Black Carrot. The Carp's sound has many influences ranging from skiffle to country to clesma.

"San Francisco's Blind Willies are the kind of band whose music sharply divides listeners' opinions almost instantly. While some might take that as a knock, I consider it a testament to the intensity and tenacity with which they explore their own boundaries. A heady mix of americana, blues, folk, and rock 'n' roll, their latest album Needle, Feather, and a Rope showcases frontman Alexei Wajchman's incredible range of emotional nuance." - Laurel Kathleen, Best New Bands

www.facebook.com/melaniepagemusic

Trembling Bells are 21st century troubadours who know their history, joyously attempting to synthesise traditional folk forms with the bathetic romanticism of country music, the deceptive complexity of medieval music and the swagger of classic Rock. Frank Sinatra, Bob Dylan and Bruce Springsteen are the guiding lights in a music that embraces British folk-rock, American roots and electric psychedelia. They are on a quest to connect with the core tradition of song and live deep within its mysteries… a rhapsodic celebration of the power of song.

In Spring 2012 the Trembling Bells played, sang and duelled with Bonnie 'Prince' Billy, performing a new collection of songs written by the Trembling Bells some of which appear on the collaborative album 'The Marble Downs', out on Honest Jon's..

"There's folk, there's rock, there's psychedelia, there's beauty, there's noise, there's sex, there's gloom, there's humour, there's fun. It's often over-the-top but sometimes perfectly restrained. It's totally, gloriously, f***ing nuts" - Sounds XP

Voodoo Room are a stunning new power trio featuring some of the UK's finest musicians. Their individual credits include the likes of Eric Clapton, Steve Winwood, Duran Duran, Fish, Thunder and Chris Difford.

Paying tribute to both Hendrix & Cream, they perform an incredible, high energy show, delivered in the true spirit of these two legends from the world of classic blues/rock.

"Really excellent show, great touch, tone feel and grooves - Cream & Hendrix refortified!" - Pete Feenstra - The Boom Boom Club, London

The formation of Green Date pre-dates the world shaking arrival of the album "American Idiot" and the never-to-be-forgotten "Bullet In A Bible" tour. Based in Nottinghamshire, Green Date are one of the finest tribute bands, displaying their talents to fans across the four corners of the British Isles and further afield into mainland Europe. Now well established in the nation's punk circle the members of Green Date are all gifted musicians in their own right. However, the passion and creative edge that comes across in their live shows derives from their collective love of the band they so closely emulate, Green Day.