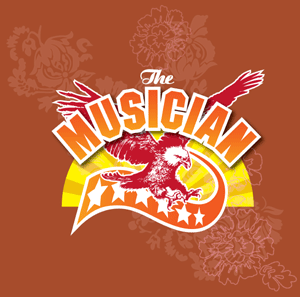 Should need to print a copy of this months listings, you can download a copy of our regular flyer by clicking the PDF icon.
---
These days artists and bands tend to book their tours months in advance. In order to give you the best notice of up and coming shows we list events once they have been confirmed by the band or their management
The downside of this is that dates can change due to unforeseen circumstances, sometimes at very short notice. We do our best to ensure that this site is kept as up to date as is possible, with updates happening at least once a week.
Therefore to avoid disappointment we recommend that you check these listing prior to setting out for your show especially if you are traveling any distance.
---
The quickest way to get yourself included in our listings is to send an email to musician at mohawkvisuals.com once your gig is confirmed.
We also need you to do the following -
Put the name of the artist or band name along with the date of your show in the email subject line.
Attach a reasonable sized photograph. A 72dpi, jpeg, bigger than 200x200 pixels would be fine. Please don't email files over 1mb in size. If in doubt please drop us a line before sending. Let us have your web address so we can link to your site or Myspace page.
Send us some text. Whilst we are happy to tidy up spelling or grammar, we don't have the time to write or edit copy for you. Ideally we need a nice concise 'blurb' of between 75-100 words. Please don't send a three page biography, or else we are likely to bounce it back to you. If you have a selection of press quotes send what you have as we can usually easily compile something from them. There are plenty of examples of the sort of thing we need here on the site to help you out.
Please note - If you have played at The Musician before and we have text on file, we will continue to use use it for any subsequent listings unless you supply new copy.
If you spot any errors please send an email to paul at mohawkvisuals.com.

Coming to The Musician in August

Snakewater are a Hard Rockin' Blues three piece based in and around Manchester in the North-West and what you get is a classic valve driven back line with all elements of Rock & Roll. Influences range from Gary Moore, Eric Clapton, Joe Bonamassa, Rory Gallagher and Peter Green to Led Zeppelin, Cream, ACDC and Free. Basically, that Old School of British Rock persuasion of the blues! Their debut album 'Dirty Rock'n'Rolla' came out in May 2010. A brilliant contrast of songs across the album, which will definitely make an impression on the current New Blues Boom.

www.myspace.com/thebrinkband
The Brink are an energetic 4 piece rock band who play original and sexy rock and roll. Formed in 2007 they are influenced by bands like Bon Jovi, All American Rejects, Aerosmith etc. Since recording their debut EP ' Road To Wembley' they have played some great gigs, including winning KLFM Battle Of The Bands , supporting Attomic Kitten at Festival Too performing in front of 13,000 and appearing on Britain's Got Talent getting 3 yes's from the judges! They are just back from Hollywood where they recorded a new album which is due out in November. Come on down, soak up the energy and check out some seriously catchy original rock anthems.

www.thegroundhogs.co.uk
Tony McPhee may be the godfather of grunge, ask Nirvana producer Jack Endino, he may have been playing with blues legends (Hooker, Dupree, Wolf) in the British Blues boom check out BBC4's 'Blues Britania' and 'Blues in Britain' footage. He's still featuring in Classic Rock, Mojo and Music Maker magazines, you will have to buy those… and yet he remains one of the businesses more enigmatic guitar legends, choosing to just get on and play rather than jump on the biz bandwagon.

For tickets visit - www.xanderpromotions.co.uk

Tue 10
Stevie Jones in association with
Summer Sundae Fringe presents...
Stuart O'Connor
£4adv £5door
plus Stevie Jones & The Wildfires,
The Abrahams plus special guests The Keepsakes


www.myspace.com/stuartoconnor
www.steviejones.com
www.myspace.com/theabrahams1
Stuart O'Connor has to contend with being one of the hardest working independent artists on the live music circuit. Since his 2006 album 'Autonomous Debut' he has clocked up hundreds of shows covering not only the UK but also New Zealand, Japan and Australia. His set is simply stunning with loops, riffs and melodies that stay in your head for days. He is currently finishing off a new album with a full band. Also warming up for Summer Sundae 2010 are top indie/folksters The Abrahams whilst Stevie Jones appears with his new band - The Wildfires - featuring Mark Gill, Sean Clutterham, Andy Griffiths and Joe Burton. Should be a cracking night.

The Keepsakes
£3
plus support
Rising stars on the Leicester music scene, this young duo bring a fresh and eclectic sound to the acoustic song. Tara's pure and soulful voice rides over Andy's subtle and intricate guitar work as they portray their own contemporary compositions. Their latest E.P. 'Never Really Knew You' will also be on sale.



Thu 12
Pineapster.com presents...
5th Summer Sundae Fringe Festival
£5 (proceeds to LOROS)
feat. The Pennyhangers, Charlie & the Martyrs,
The Lysergic Suite, The James Lewis Band
www.myspace.com/summersundaefringefestival
Join in with the Fringe Thursday fun! Tour the city on the open top double decker bus stopping off at nine of Leicester's finest venues. One £5 ticket will get you in all nine venues to see a wide variety of music and comedy. At the Musician you have the chance to see four great acts including OBS winning band James Lewis and Summer Sundae main stage performers Charlie & the Martyrs. Doors 7pm.


www.splitwhiskers.homestead.com
Go tell ever'body Split Whiskers are back in town, they got a dollar and a quarter and they're ready to clown!. If you enjoy raw rockin', eye poppin', finger snappin', foot tappin' blues (with a bit of gypsy jazz, funk and skiffle thrown in) then the 'Whiskers will wow you with their unique style. This five-piece Cambridge based band of young 'n' old misfits alike, draw from their impressive track record to bring you a new slant on the blues, with an air of lightning wit and repartee.

For tickets visit - www.xanderpromotions.co.uk

www.princetribute.co.uk
"The inflection in the voice, the funky rhythms and bluesy riffs, and the scorching solos of Prince's guitar style have been studied and mastered and flow effortlessly. They showed their ability not just to recreate the styles and sounds of the originals but to bring them kicking and grooving into the live arena!" - East Anglian Daily Times


Tue 17
Rory Ellis
£5
plus support
www.myspace.com/roryellis

Rory Ellis is one of those quintessential Australian singer-songwriters with buckets of talent, heaps of stories to tell, and impossible to pigeonhole. He's got bluesman in him, some soul belter, red-dirt country and home-grown folkie. His songs tend to move at an amble, as if the man just won't be rushed. But songs such as Domestic Overload, Up Stumps and the splendid I'm Not Gone speak of a restless spirit.





erndor50.co.uk/index.html
Trevor was a founding member of the sixties chart topping band The Move and was initially with them from 1966-1969 and is touring again in 2010 as 'The Move featuring Trevor Burton & Bev Bevan' with 'The Animals and Friends'. Now Trevor still gets the buzz from playing his kind of music to a receptive audience. With his new band line up having the chemistry and telepathy that Trevor has been looking for, see them live and enjoy the moment - you won't be disappointed.

For tickets visit - www.xanderpromotions.co.uk


www.folkfacebook.com
Let's be clear on this Folk Face are more than just a band. Folk Face are more than just an amazingly brilliantly gifted phenomenon. Folk Face are more than just a global success story. Folk Face are the past, the present and the future of music. Folk Face are Dave and Dom. In a way, it wasn't they who formed Folk Face; Folkface formed them! They're known to millions of people around the UK and indeed the world, as part of the multi-award winning Radio 1 Chris Moyles Show.


Joe & The Geriatrics are a hard rock covers four piece, consisting of ex members of 90's Leicester bands Summerhouse and Kashmir and an outrageously talented teenage guitar player called. They play rock covers from AC/DC to the Cult to punk.

Wed 25
Magic Teapot presents…
Daevid Allen & The Magick Brothers
£10adv
plus support
www.planetgong.co.uk
Daevid Allen was one of the founders of the British progressive rock band the Soft Machine. After recording just one album with the group, he became the founder/leader of Gong, which he left in 1973 to begin a solo career. Allen explored his quirky, folky take on rock throughout the '70s and '80s. In 2003 he formed a new version of Gong with members of the Japanese collective Acid Mothers Temple, as well as with his California-based band University of Errors. He continues to release numerous live sets and one-off collaborations under his own and various group names.

For tickets visit - www.magicteapot.partgirl.co.uk




Thu 26
Xander Promotions presents…
Triad
£5
plus Rockin' Ronnie (ex Bendy Ruperts)
www.myspace.com/triad2007


Triad is a British three-piece rock & blues band, based in the Midlands, on the borders of Nottingham and Leicester. The band is booked to play at the 2010 Great British Rn'B Festival in Colne and have recently been booked to open for such acts as ex Bad Co, Sinner Boy, The Mustangs and Bernie Marsden. The band's sound and style can best be described as a heady mix of great British blues, somewhere between Humble Pie, Free, and Rory Gallagher, crossed with Nine Below Zero and Dr Feelgood (with a splash of Jimi Hendrix for good measure).


www.myspace.com/caitlinrosesongs

Nashville's Caitlin Rose tells stories of an evolving country. She speaks in a new generation of American twang and "Im-a-gonnas" about another generation of young American alcoholics falling in love at backyard weddings. The stories are old themes voiced with a new ease and energetic pace. They're fearlessly grainy in the same way that the black and white photographs of the 1970s differ from those in the 1950s. In the way that writing about evolution is no longer about getting richer, sleeker, or more efficient. Hers are evolutionary stories in surprising but truthful directions, where sometimes dead flowers mean so much more than live ones. It's the sound of a future grown out of the past, but not out of its expectations. -Kyle Pfister


For tickets visit - www.magicteapot.partgirl.co.uk

www.honeyboyhickling.com
A world-class musician, Simon 'Honeyboy' Hickling is a blues harmonica ace with a hard earned and well-deserved international reputation. His subtle and fabulously expressive playing is grounded firmly in the '50s and '60s heyday of the Chicago and Gulf Coast styles of playing. With a tremendously experienced band backing him, Simon never fails to deliver anything less than a first-rate evenings entertainment and never lets good taste and soulfulness stifle a rockin' night out.

plus support
www.danreed.com
Between 1988 and 1992, multicultural funk rockers Dan Reed Network sold over two million albums and toured with Run DMC, UB40, David Bowie, Bon Jovi and the Rolling Stones. A trip to Dharamsala to interview the Dalai Lama for 'Spin' magazine in 1993 made Dan realise there was more to life than rock music. Since then Dan Reed has been on a long physical, mental and spiritual journey which has taken him around the world and exposed him to the ideals and philosophies of a wide variety of cultures. Older and wiser, Dan Reed is now back creating music that will entertain, inform and inspire.

www.myspace.com/thewishingwellband
Beguiling orchestral and lush, Melbourne band The Wishing Well create spellbinding sounds which produce a rich tapestry of mesmerizing folk, pop and rock. Performing together for just over twelve months, they are relative newcomers to the scene, The Wishing Well however come with an impressive musical maturity and remarkable background. Lead singer Jai Larkan has previously supported artists such as Bob Geldof, Andy White, Liam O'Maonlai and Tim Finn.