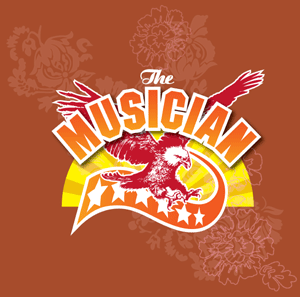 Download a flyer
Should need to print a copy of this months listings, you can download a copy of our regular flyer by clicking the PDF icon.
---

A word about our listings
A guide for Customers
These days artists and bands tend to book their tours months in advance. In order to give you the best notice of up and coming shows we list events once they have been confirmed by the band or their management. The downside of this is that dates can change due to unforeseen circumstances, sometimes at very short notice.

We do our best to ensure that this site is kept as up to date as is possible, with updates happening at least once a week. Therefore to avoid disappointment we recommend that you check these listing prior to setting out for your show especially if you are traveling any distance.

---

Not listed?
A guide for Artists and Promoters

The quickest way to get yourself included in our listings is to send an email to musician at mohawkvisuals.com once your gig is confirmed.

We also need you to do the following -

Put the name of the artist or band name along with the date of your show in the email subject line.

Attach a reasonable sized photograph. A 72dpi, jpeg, bigger than 200x200 pixels would be fine. Please don't email files over 1mb in size. If in doubt please drop us a line before sending.

Let us have your web address so we can link to your site or Myspace page.

Send us some text. Whilst we are happy to tidy up spelling or grammar, we don't have the time to write or edit copy for you. Ideally we need a nice concise 'blurb' of between 75-100 words. Please don't send a three page biography, or else we are likely to bounce it back to you. If you have a selection of press quotes send what you have as we can usually easily compile something from them. There are plenty of examples of the sort of thing we need here on the site to help you out.

Please note - If you have played at The Musician before and we have text on file, we will continue to use use it for any subsequent listings unless you supply new copy.

If you spot any errors please send an email to musician at mohawkvisuals.com.

Coming to The Musician in August
LISTINGS HOME

Funkydory
£5
www.funkyband.com
"Get yourself to a gig to see and hear the proof. Funky, soul-infected blues rock. The new sound of music..." - Blues Matters Magazine. "Soul personified... a firm favourite!" - The Barrow Evening Mail. "These five musicians have found the right setting for their stuff. They are jazzy, bluesy and can rock out... one of the strongest voices on the British circuit, a real pleasure to hear" - La Mano Magazine. "...Funkydory are far too talented to get pigeonholed into the nether parts of the popular music industry..." - Blues in Britain.

Mark Poole and 7storeysoul
£5
www.myspace.com/7storeysoul
Mark Poole and 7storeysoul are one of Leicester's top soul/funk bands. Their set features a mix of imaginative funk based originals and smooth 70s soul covers. Fronted by songwriter Mark and partner Laura Kate Hughes on vocals, and featuring the tight rhythm section of Rob Lallo (bass) and Paul DeGallier (drums) plus the instinctively funky lead guitar of 'Steddy' Stedroy Ford, 7Storeysoul are driven by a collective passion for the great artists of soul and funk.


Mellow 'Harmony' Baku
£5
plus support
www.myspace.com/mellowbaku
I'm Mellow Baku, I've performed at the Edinburgh Festival of Music, Birmingham Jazz Festival, Princes Trust events, The Barbican, and Vortex in London. I started voicing with Soothsayers this year (Afrobeat/Reggae/jazz ) and with Chris Jerome, pianist for Courtney Pine. Also collaborated with Courtney Pine on a remix of Black Coffee, and more recently on reggae artist Michie One's latest album, alongside Jimmy Cliff and Rebel MC. My new project, 'Mellow Baku' is a culmination of these influences, with elements of roots, soul and jazz. They reflect my spiritual roots, with storytelling and poetry.


Cheeseweasel presents…
The Quireboys
£12adv £14door - SOLD OUT
plus Badland and Forgotten Sun
www.quireboys.com
If you were to get the Stones, The Faces, Humble Pie, Aerosmith, Mott The Hoople, Slade, AC/DC and other great rock 'n' roll bands of their era - mix them together, add some great stage presence, 6 great personalities and some top songs - then invite them and all your best mates to your house for the best party ever - you would probably get something close to a Quireboys gig.

visit www.cheeseweasel.org for info and tickets





Jerry Garcia Day (3pm till 10.30pm)
£5
featuring The Cosmic Charlies and The Junipers
www.cosmiccharlies.com
"Wisely eschewing the tendency to step into character the Cosmic Charlies let the music do the talking: they're a tribute band in the true sense of the word, not a doppelganger outfit. That means you don't get note perfect renditions of songs like Scarlet Begonias, Sugaree or Terrapin Station, but you do get a splendid approximation of a Dead-like musical journey complete with spacy improvisations that, eyes closed, are amazingly convincing." - Record Collector.


Tommy Womack
with The Dissenters feat. Dawson Smith
£5
www.tommywomack.com
www.dawsonsmith.com
My name is Tommy Womack, I live in Nashville. I've made upwards of a dozen records and written two books, a rock and roll road memoir called "Cheese Chronicles" about my years in the band Government Cheese, and "The Lavender Boys And Elsie" a novel about the only all-gay Confederate regiment in the American Civil War. Todd Snider, Jason & The Scorchers, David Olney, Will Kimbrough, Scott Kempner and Dan Baird have recorded songs of mine. I'm a Scorpio. I like curry, Keith Richards, cigarettes and books about Hitler. I've ravaged women, eaten babies and done ten years in prison for starting an earthquake. I don't brush my teeth because toothaches help me keep my edge. Along with my band of merry limeys Dawson and The Dissenters I'll be smiting your heathen asses once again with a full blown rock 'n' roll jihad. Come see the show and nobody'll get hurt. God bless.


Summer Sundae Fringe presents…
Jersey Budd
plus Ruberlaris, Dumbfound, Jann Klose and The Utopians
£4 (proceeds go to LOROS)
www.summersundaefringe.com
Summer Sundae Fringe is a week of live gigs, comedy stuff, bands and videos celebrating Leicester's finest. Running across the city, the gigs will be in a variety of venues, with a wide range of bands, artists, comedians, acts and promoters taking part. Official listings and how to get your fringe festival tickets are posted on the festival website. Our evening is a little taster of the diversity and excitement to be found on our Summer Sundae festival stage.

The Hamsters (Hendrix/ZZ Top set)
£10adv £12door
www.thehamsters.co.uk
The guitar, bass and drums trio The Hamsters have long been established as our premier blues-rock attraction, having performed 4,000 concerts in 21 years. They've a mailing list exceeding 20,000 and a website which receives 1,000 visitors a day, and although primarily playing their own brand of rootsy Rock, Blues and Americana, they're also widely regarded as the UK's leading interpreters of the music of Jimi Hendrix and ZZ Top.


Simon 'Honeyboy' Hickling
£6adv £7door
plus Gambo's Blues Band
www.honeyboyhickling.com
A world-class musician Simon 'Honey Boy' Hicklin' is a blues harmonica ace with a hard earned and well-deserved international reputation. His subtle and fabulously expressive playing is grounded firmly in the '50s and '60s heyday of the Chicago and Gulf Coast styles of playing. With a tremendously experienced band backing him, Simon never fails to deliver anything less than a first-rate evenings entertainment and never lets good taste and soulfulness stifle a rockin' night out.


Magic Teapot presents…
Golden Animals
£5
plus Death, No Less
www.myspace.com/goldenanimals
Throughout the show they rode a psychedelic groove from one song to the next. Linda pounded out rhythms like her life depended on it, while at the same time providing back-up vocals and harmonies. Tommy switched from one guitar to another, not much of a talker, more of a rocker. He played and sang with vigor and soul, giving the audience his version of the blues. The songs jangled and crashed with ear-splitting volume, from total rock frenzy back down again to quieter waters. Golden Animals were an experience, these two rockers going at it really took the audience to a place out of time.

visit Magic Teapot for info and tickets


Xander Promotions presents…
Egypt
£10adv £12door
www.myspace.com/egyptblues
The Groundhogs show originally scheduled for this dat has been cancelled due to ill health. Egypt is made up of Alan Fish, Eric Chipulina and Peter Correa who are all ex-Groundhogs and play plenty of their stuff.

visit www.xanderpromotions.co.uk for info and tickets

Weekend Warriors All-Dayer
Free
(open 1pm -7pm)

Magic Teapot presents…
Jeffrey Lewis
£8adv £10door
plus Jack Lewis & The FIsherman 3 and John Budding
www.myspace.com/jefflewisband
"Bizarre but brilliant. Jeffrey Lewis could well be New York's ace in the hole." – Uncut. "It's only a matter of time before Lewis becomes an indie hero." - The Independent. "For stressed-out, maudlin and anxious twenty-somethings there are few better spokespeople than [Jeffrey Lewis]… chunky punk and skittery electronics border lush backdrops of slide guitar and banjo. It's what his intelligent and witty songs have long deserved." - TimeOut. "Belle & Sebastian would strangle their worship group leader to be able to come up with something this good." - Play Louder. "An excellent urban addition to the new American folk of Sufjan Stevens and Devendra Banhart." - Daily Mirror.

visit Magic Teapot for info and tickets


Stevie Jones and Mark Gill present…
feat. Black Report, Joel Evans, CoConi, Happy Goblin Spaceship
£3adv £4door
www.myspace.com/steviejonesmusic
www.myspace.com/theblackreport1
www.myspace.com/coconimusic
www.myspace.com/khashassi
www.myspace.com/joelevansmusic
Stevie Jones and Mark Gill host a number of well-established local acoustic nights. For this gig they have hand picked some of the very best talent and host a special showcase including The Black Report, with some gritty songs and lyrics to match. Joel Evans usually fronts Leicester band Dead Slow but as a solo artist his set is just as powerful. CoConi's debut single has recently received airplay on Radio 2, whilst Happy Goblin Spaceship complete the bill and feature the incredible vocals of Khashassi. Check out these up and coming names while you can!

Shapshifter presents...
Hewick
£1
plus Haines & James, Multi Morph, Victoria Bourne and End Game

Songwriter Series presents…
John Butler & Rick Willson
£5
no support, two sets
www.deiselparkwest.co.uk
Diesel Park West's creative star is well and truly on the rise once again, what with an last years excellent album Blood & Grace and sublime live tributes to the Byrds, The Band and CSNY. Frontmen John Butler & Rick Willson are no less impressive when performing unplugged, playing a mixture of Diesel Park West favourites and songs from many of their '60s West Coast heroes such as Moby Grape, Jefferson Airplane and the aforementioned Byrds and CSNY.

Lay-z-Boi presents…
The Deap People
£5
plus The Kinells
www.myspace.com/thedeappeople
Having formed late last year, Deap People are already rapidly spreading their sound. The five-piece group, led by Happy Mondays Bass player Mikey Shine, play original music that is impossible to classify into a genre. With Mikey Shine on lead guitar and vocals, J Kenna on drums and backing vocals, Na'im Cortazzi (Blue Steel) on bass guitar, Lee Spreadbury on keyboards and G-Funk on trumpet, they create a unique sound, which when fused with their passion and love of performance, gives them a majestic but electrifying presence on stage. It was obvious when these soulful fragments came together that something special had been created, as they are simply a group of friends who have a love of sound in common.

visit www.layzboimusic.com

Harper
£8
www.harper.biz
Part harmonica wizard and part rhythmic explorer, Harper is a fiery artist who blurs the lines between rock, blues, soul and world music. He has been described as "a singer with the deep soul of Motown, a harmonica player who can graft Sonny Boy II and Little Walter with John Popper, a songwriter who tells his own compelling stories in an unhurried, J.J. Cale-like manner, and a musical visionary who is unafraid to mix the didgeridoo, an important part of his Australian indigenous culture, with infectious modern percussive rhythms".