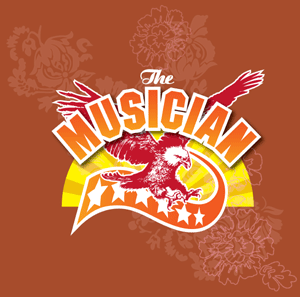 Should need to print a copy of this months listings, you can download a copy of our regular flyer by clicking the PDF icon.
---
These days artists and bands tend to book their tours months in advance. In order to give you the best notice of up and coming shows we list events once they have been confirmed by the band or their management
The downside of this is that dates can change due to unforeseen circumstances, sometimes at very short notice. We do our best to ensure that this site is kept as up to date as is possible, with updates happening at least once a week.
Therefore to avoid disappointment we recommend that you check these listing prior to setting out for your show especially if you are traveling any distance.
---
Not listed?
A guide for Artists and Promoters
The quickest way to get yourself included in our listings is to send an email to rideout at stayfree.co.uk once your gig is confirmed.
We also need you to do the following -
Put the name of the artist or band name along with the date of your show in the email subject line.
Attach a reasonable sized photograph. A 72dpi, jpeg, bigger than 200x200 pixels would be fine. Please don't email files over 1mb in size. If in doubt please drop us a line before sending. Let us have your web address so we can link to your site or Myspace page.
Send us some text. Whilst we are happy to tidy up spelling or grammar, we don't have the time to write or edit copy for you. Ideally we need a nice concise 'blurb' of between 75-100 words. Please don't send a three page biography, or else we are likely to bounce it back to you. If you have a selection of press quotes send what you have as we can usually easily compile something from them. There are plenty of examples of the sort of thing we need here on the site to help you out.
Please note - If you have played at The Musician before and we have text on file, we will continue to use use it for any subsequent listings unless you supply new copy.
If you spot any errors please send an email to derek at indiecentral.co.uk.
Coming to The Musician in April

This gig can be summed up by Clémence​ Freschard's choice of stage attire: an oversized green jumper. Her laid back vocals and unassuming stage presence are complemented by that jumper; she is casual, warm and comfortable. But, that is not to say it's everyday or lazy. Freschard's a real French fancy.

The Kittenettes - Buttersweet Pop. Think The Ronettes meets Velvet Underground. Meri Everitt - It's not pop, but it's catchy as f**k.

Earthling Society are a UK psychedelic/Krautrock band.

Formed in the North West Of England in 2005, the band have released six acclaimed albums in as many years and have been championed by the likes of Julian Cope and Stuart Maconie as well as playing alongside such great acts as Damo Suzuki, The Groundhogs, Hawkwind, Leafhound, Litmus and White Hills.

Luna Kiss are a four piece progressive rock band from Coventry City, UK. By merging prog with mainstream elements, "building a sound as reminiscent of Pink Floyd as it is Florence And The Machine" - Prog Magazine Luna Kiss have created their own identity.

The hard work of Luna Kiss has led to great interest from members of the industry, Tom Robinson's BBC 6 show, Alex Bakers Kerrang show and many more radio stations around the globe.

"Keith Richards cannot be killed by conventional weapons" – Del Preston, Wayne's World 2.

We're choosing to believe this is true. How else could you explain the fact that despite 50 years of death, drugs, destruction and falling out of coconut trees the greatest show on earth is still on the road?

While not quite of the same vintage, The Rollin' Clones have been entertaining crowds across the World for over 17 years, distilling the show down to a pure hit of Rock 'n' Roll, with a chaser of sequinned Glam.

From the early days of the Rhythm and Blues, through to the excesses of the 70s, The Rollin' Clones' Rock 'n' Roll show is a faithful interpretation of the biggest band ever's greatest hits, delivered with a smirk and a wink, recalling the mischief making of Mr Jagger himself, remaining true to the spirit of the originals. They are, without question, THE Rolling Stones tribute band.

Back in 2015 for its 11th year, the Original Bands Showcase is set up for unsigned bands and artists of all genres. An independent music event that takes place annually in Leicester, the OBS first launched back in 2004. Its main aim is to give a platform for local live bands and an opportunity to increase exposure and fan base under the umbrella of a series of organised and well supported nights of live music. It has now become an established and credible event on the live music calendar.

Hailing from the long gone lonesome plains of East Anglia, "The Malingerers" music evokes a sound more at home in the south western states of America than the UK folk scene. However, whilst clearly influenced from a melting pot of traditional country, blues, folk and rock 'n' roll (Hank Williams, Merle Travis, Leadbelly, Woodie Guthrie etc.) their music combines these influences with typically British cynicism and warped sense of humour and history!

"Great new stuff, The Malingerers 'House of Mine', Mark Lamarr recommended them and he's usually right" - Bob Harris, BBC Radio 2

"The latest in a seemingly never-ending line of British bands who do American music as well, if not better, then the natives. This Peterborough-based band major in old-time and acoustic country-blues." - Americana UK

Tuff Love are Julie Eisenstein (guitar, vocals) and Suse Bear (bass, vocals), two close-knit pals living in Glasgow, Scotland - creators of hyper-infectious, fuzzed-up, lo-fi pop music that the city is so famous for. Writing together in Suse's bedroom, and recording everything by themselves, their musical partnership has produced a flurry of addictive, perfectly formed songs - tied together by heart-wrenching harmonies, swoon-inducing lyrics, and sun-soaked dreamy melodies.

Adored by radio - and championed by the likes of Lauren Laverne, Steve Lamacq, Rob Da Bank, Huw Stephens, Gideon Coe, Vic Galloway, among many others - Tuff Love were filmed in session for BBC Introducing, and also performed as part of the BBC Academy series. The press have been equally smitten; with two separate features with The Guardian ("a band to fall in love with"), a 2 page interview in DIVA ("our new favourite indie band"), profiles in NME Radar ("great college rock"), Metro and Daily Record, amongst other national publications, and with the Junk E.P. receiving glowing praise across the board - both online and in print.

There are no half measures with Dick Gaughan. What you see is what you get and what you get is one of the cornerstones of modern traditional music. Dick Gaughan has never been easy. The songs he delivers ask questions that some listeners may have thought never existed - so they may not know the answers. When the answers duly come, delivered in a voice that throbs with a unique kind of controlled, vibrating passion, he can shake the most complacent mindset out of its skull.

Unique and timeless – the legend that's Steve Gibbons has withstood the fads and fashions of the music business for over four decades. Analyse his music and superb self-penned songs and you'll find the influences of blues, country, even psychedelia.

Born in Birmingham, Steve first came to prominence as the leader of The Uglys, an uncompromising outfit at the forefront of the City's burgeoning 1960s music scene. By the early 1970s he had formed the five-piece Steve Gibbons Band which enjoyed success in the singles charts during the next decade and has been perennially popular on the live circuit ever since.

With a huge international following, Steve's long career has encompassed 17 albums and along the way he has worked and toured with many bands, including The Who, Little Feat, Lynyrd Skynyrd and E.L.O.

La Villa Strangiato is an italian project, started in 2010 by Gabriele Ferrari and Carlo Fattorini, two roman musicians who had already worked together in the project "Yessongs Italy", with which they gained international praise. The purpose of La Villa Strangiato is to revive Rush's production of the '70s and first '80s, the period of their maximum popularity.

The band formed in 2010 and, thanks to the contribution of several friends and musicians, finally presented their first show (entirely dedicated to the album "Exit Stage Left") in Rome in March 2011. From then on, they started playing in several clubs across Europe with good results; but it's with the contribution of musician Claudio Sinisi (guitar) that they finally achieved the perfect combination of sound and technique.

Tonight the band will mark the 40th anniversary of Rush's self-titled debut album. Including classics such as In The Mood and Working Man, expect obscure tracks which very rarely get aired by Rush themselves plus favourites such as Xanadu, 2112, The Spirit Of Radio and many more.

Folk/roots singer-songwriter, storyteller and troubadour Jinder was born and raised in the Warwickshire countryside with the sounds of the Cropredy festival sailing in through the bedroom windows of his childhood. He weaves imagery, hope, darkness and poetry into each verse, transporting the listener into another world: a ramshackle, fallen industry town or the wedding day of two young lovers, all wound together in a blanket of glorious melody. Having previously toured with the likes of Level 42, Deacon Blue, Sinead O'Connor, the Proclaimers, Jackie Leven and Henry Priestman, Jinder has recently celebrated the release of his 9th studio album, 'Traditional Dark'.

With roots in the rich musical history of North America as well as Africa, Sinkane provide a new perspective on what Soul Music is, and what it can be.

Sinkane's Mean Love rolls like an emotional, existential history of the artist. Ahmed Gallab has created an altogether unique compound of sound, stylistically nostalgic and ultramodern at the same time. From Gallab's childhood in Sudan there is a Pan-African influence of popular Sudanese music and haqibah, as well as distinct horn and synth arrangements more common to East Africa.

Mean Love is an album with an open door invitation, and gets deeper with every listen. You hear it right away in the blistering opening track, "How We Be." An instant classic, sounding like a lost gem of soul funk, a sweetness of voice alongside honey bass lines, the tune grips you and makes you wish for a dance floor, while enticing you to stay for the whole journey of the album.

plus Victor and the Bully

British singer/songwriter Sasha McVeigh, and American singer/songwriter Sonia Leigh have been making an impact on both sides of the Atlantic. Now these two talented, female artists are joining forces for one, mega co-headline tour of the UK, Ireland and select dates in Europe.

Having played the ACM Kickoff party in 2014, Sasha McVeigh is prepping for her debut record, which was funded via Kickstarter and recorded in Nashville. She will perform in the U.S. at the Taste of Country Festival at Hunter Mountain in June. A British country girl with a guitar and a lot of stories to tell, a bright future is predicted for Sasha. Come and join her on her adventure!

A BMI award winning songwriter, Georgia-born Sonia Leigh co-wrote two #1 songs for the Zac Brown Band ("Goodbye In Her Eyes" and "Sweet Annie"). She released her latest EP, Counting Skeletons, in 2014 and had her song "Put It In Your Pocket" find success in 2014 on Sirius XM's The Highway. Her current single "When We Are Alone" can be found On The Horizon on The Highway. Her rich, varied and soulful writing and singing style is definitely Southern country and rock, but also contains strong traces of soul, blues and folk as well.

facebook.com/preacherandthebear

'From the very edge of Americana'. Dark, doom-laden country. Johnny Cash meets Nick Cave reinvented by Quentin Tarantino.

Operating at the Captain Beefheart and Swamp ends of alt.country, Texas-born maverick Johnny Dowd and his incendiary band are part of the Gothic Americana triumvirate that also includes The Handsome Family and Jim White.

His predilection for black humour and his absurd and spiky machine-gun electric guitar style have also drawn comparisons with Nick Cave and Tom Waits.

Welcome to the world of Schnauser - a place where Canterbury prog, 60s psych and modern pop collide at a box junction and swap insurance details. Schnauser are based in Bristol, UK and their new 7" single 'As Long As He Lies Perfectly Still' is out now on Fruits de Mer Records. Their many influences include Soft Machine (with Robert Wyatt), The Kinks, Yes (with Bill Bruford), Egg, Thin White Rope, The Pretty Things, XTC, Chris Morris and Stackridge among others.

Kitten Pyramid are an expandable 5 to 15 piece British Prog Pop band from Burton on Trent whom Classic Rock Magazine accorded the heady accolade of "The New Cardiacs". Their newly released debut album Uh-Oh! has also garnered widespread acclaim and media support. Laura Barnett from The Guardian followed the band on their recent tour of psychiatric hospitals ending at the famous Bethlam Royal - legendarily known as Bedlam. The album is Part One in an audio-visual project that will include a film - to be made this year.

Larry Miller is undeniably one of the must see blues/rock guitarists bringing his unique showmanship to every performance. He is famous for his mesmerising guitar playing and high octane shows. Larry will be showcasing his new album 'Soldier Of the Line', which is receiving much critical acclaim. From power blues of 'One Fine Day' and stomping rockers like Mississippi Mama' to the beautiful love song 'Bathsheba'.

One of the hardest working musicians on the live music scene, he was a regular headliner at The Marquee in London and produced a barnstorming set at the Reading Festival. He is now more popular than ever and holds the record for the most encores at The Cambridge Rock Festival. Reviewing the festival the Get Ready To Rock journalist said "Crowd reaction to his performance was ecstatic... Joe Bonamassa watch out, there's another new blues hero snapping at your heels".

Classic Rock's The Blues magazine readers voted Larry Miller number 3, only to be beaten by Joe Bonamassa and Walter Trout and hailed him "Keeper of the British blues-rock flame".

If you like Rory Gallagher, Joe Bonamassa, Gary Moore, Walter Trout or Jimi Hendrix, you want to see Larry Miller. This is where blues meets rock.

Back in 2015 for its 11th year, the Original Bands Showcase is set up for unsigned bands and artists of all genres. An independent music event that takes place annually in Leicester, the OBS first launched back in 2004. Its main aim is to give a platform for local live bands and an opportunity to increase exposure and fan base under the umbrella of a series of organised and well supported nights of live music. It has now become an established and credible event on the live music calendar.

Sean Webster is an inspiring guitarist/vocalist with a great reputation on the British blues and rock scene.

2004 was a big year for Sean, as he released the debut album "Long Time Coming". This put the band in the public eye for the first time, and showcased Sean's fine guitar playing, which combines a great number of influences including Albert Collins, Eric Clapton, Mark Knopfler, Gary Moore and Stevie Ray Vaughan to name a few. His vocal style is of a rich, sexy tone with a low end rumble drawing comparisons with Joe Cocker, Bryan Adams and Jonny Lang.

Now in 2014 Sean has an exciting new line up featuring, Phil Wilson on drums (Scott Mckeon, Well Hung Heart), Ash Wilson on guitar (The Melt, DJUNE, Infamous Vampires) and Greg Smith on bass (The Melt, DJUNE, Infamous Vampires). As ever, Sean hopes to continue his growth in the music industry and bring his music to new ears, both young and old.

Ben is a young artist whose time has come. His third album, Rogue State Of Mind, released by Bucketfull Of Brains on xxx represents the summation of the talents of this remarkable young Swede. Ben was born in February 1988, during the coldest winter recorded in Sweden in the 80s, and grew up on a small island west of Gothenburg in the Kattegat Sea. The seeds of many of his more autobiographical songs were sown during this formative period.

His acoustic guitar skills astonishing, while his songs reveal depths of emotion and stories from a young life that has been lived hard. This is a man who has loved and lost and channels his feelings into his work. His uniquely engaging stage presence displays the kind of humour sadly missing in the work of so many introspective singer-songwriters.

Singer/songwriter Sally Barker returns to the Musician on April 23rd to record tracks for her live EP, due for release in the Autumn.

Tom Jones' finalist on 'The Voice UK' 2014, who also sings with folk supergroup The Poozies and Sandy Denny's reformed Fotheringay, has toured with superstars Bob Dylan & Robert Plant and continued her association with Sir Tom by supporting him at his open-air concerts last Summer.

Since her appearance on the Voice, Sally's 6 acclaimed solo albums, with songwriting influences from folk, country, soul and blues, have seen a resurgence of sales. This concert is a unique opportunity to be part of Sally's next recording. Come on down!!

Sally will be joined onstage by Voice 2015 quarter-finalist Howard Rose, from Melton Mowbray, who was also coached by Sir Tom Jones.

"Sally changes the atmosphere in a room when she sings" - Chris Evans, BBC Radio 2

"It was just so beautiful that I couldn't help myself. You swept me off my feet" - Sir Tom Jones

The Gentle Storm is a Dutch musical project by singer and lyricist Anneke van Giersbergen and composer and musician Arjen Anthony Lucassen, founder and leader of other musical projects such as Star One, Ayreon, Guilt Machine and Ambeon. The duo have previously collaborated in Ayreon albums 'Into the Electric Castle' and '01011001'. The project's debut release, The Diary, is set for a March 2015 release and will consist of a double album, with the first part being a metal work and the second one bringing a lighter, folk approach. The project was unveiled in April 2014 and was described by Lucassen as "an epic double concept album, a combination of 'classical meets metal' and 'acoustic folk']

Support band Stream of Passion are a Dutch progressive metal band with symphonic, latin and gothic influences founded by guitarist Arjen Anthony Lucassen and Mexican singer and violinist Marcela Bovio. The band's line-up has consisted of Bovio, guitarists Eric Hazebroek and Stephan Schultz, bass guitarist Johan van Stratum, keyboardist Jeffrey Revet, and drummer Martijn Peters since 2009.

Back in 2015 for its 11th year, the Original Bands Showcase is set up for unsigned bands and artists of all genres. An independent music event that takes place annually in Leicester, the OBS first launched back in 2004. Its main aim is to give a platform for local live bands and an opportunity to increase exposure and fan base under the umbrella of a series of organised and well supported nights of live music. It has now become an established and credible event on the live music calendar.

Australian-born blues singer/guitarist Kara Grainger may draw initial comparisons to Bonnie Raitt - both play slide guitar and sing soulfully - but she bears her own distinctive style, one that evenly balances the blues with soul and roots rock, something that can be heard on her solo albums as well as the music she made with her brother as part of two different bands - Papa Lips and Grainger.

On Shiver & Sigh, her third solo album, the guitarist and singer/songwriter also incorporates elements of rhythm and blues and soul music in the mix. The album was produced by David Z and since its release in September 2013, continues to hold a strong presence in the International blues charts.

"For my money, something in Grainger's passionate performance reached out through the door, grabbed people by the figurative scruff of the neck, and propelled them inside." - John T. Davis, SXSW

It wouldn't be hyperbole to say that The Deep Dark Woods are one of the most successful bands to have risen from the dust of the middle of nowhere on the prairie (namely, Saskatoon). After five albums and extensive tours across Canada, the US, and Europe, accolades for the band have piled up.

Frontman Ryan Boldt has recently completed a new solo project called 'Broadside Ballads,' which finds him continuing to dig through the past to create spellbinding music for the present. He's driven by influences like Shirley Collins, Ian and Sylvia Tyson, Bob Dylan, and The Stanley Brothers, but even as he mines the past, he's not trying to contemporize these sounds. He just happens to be making newly recorded music in the same vein, the way they used to make it, before the world got so fast and cluttered. Warm. Intimate. Haunting. Like a punch to the gut. With a stunning, heart-stopping simplicity that cuts to the core of a person.

Band of Friends consists of musicians who played with Rory Gallagher throughout his career. Gerry McAvoy (bass) played with Rory for 20 years; from 1971 to 1991 and because of this has a great insight into the man and his music. Gerry played on every album Rory ever made. Ted McKenna (drums) played with Rory from 1977 to 1981. Marcel Scherpenzeel (guitar) grew up with Rory's music and Gerry is quoted as saying "This is the closest guitarist to Rory you will ever hear".

Rory's music reached a massive audience from Norway to Spain, from Japan to the USA. Sadly we lost Rory on 14th June 1995, and to his devoted fans and followers this was the ultimate tragedy. The Band Of Friends is not a tribute to Rory, more a celebration of his life and music.