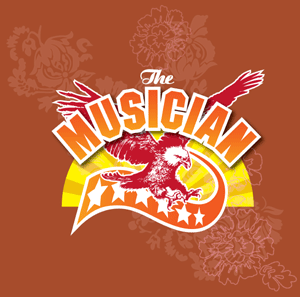 Should need to print a copy of this months listings, you can download a copy of our regular flyer by clicking the PDF icon.
---
These days artists and bands tend to book their tours months in advance. In order to give you the best notice of up and coming shows we list events once they have been confirmed by the band or their management
The downside of this is that dates can change due to unforeseen circumstances, sometimes at very short notice. We do our best to ensure that this site is kept as up to date as is possible, with updates happening at least once a week.
Therefore to avoid disappointment we recommend that you check these listing prior to setting out for your show especially if you are traveling any distance.
---
The quickest way to get yourself included in our listings is to send an email to paul at mohawkvisuals.com.once your gig is confirmed.
We also need you to do the following -
Put the name of the artist or band name along with the date of your show in the email subject line.
Attach a reasonable sized photograph. A 72dpi, jpeg, bigger than 200x200 pixels would be fine. Please don't email files over 1mb in size. If in doubt please drop us a line before sending. Let us have your web address so we can link to your site or Myspace page.
Send us some text. Whilst we are happy to tidy up spelling or grammar, we don't have the time to write or edit copy for you. Ideally we need a nice concise 'blurb' of between 75-100 words. Please don't send a three page biography, or else we are likely to bounce it back to you. If you have a selection of press quotes send what you have as we can usually easily compile something from them. There are plenty of examples of the sort of thing we need here on the site to help you out.
Please note - If you have played at The Musician before and we have text on file, we will continue to use use it for any subsequent listings unless you supply new copy.
If you spot any errors please send an email to paul at mohawkvisuals.com.
Coming to The Musician in April




Formed in 2005 Crowded Out are a talented and experienced collection of musicians drawn together by a passion for the brilliant music and incredible live spirit of Crowded House. With an obvious love for the music and a natural relish for audience interaction, Crowded Out are consistently praised by fans for their authentic sound and exciting live performances.

Hailing from London, Guns 2 Roses are a six piece line-up who are totally focused on not only cloning the sound of Guns 'N' Roses better than the rest, but are also mirror images of the classic G'N'R line-up even down to the ever changing outfits and stage performances. Playing many songs from Appetite For Destruction, G'N'R Lies, Use Your Illusion I and II, The Spaghetti Incident? and Chinese Democracy, Guns 2 Roses sometimes even throw in the songs that G'N'R did live that never made it on record to keep in with the G'N'R spirit and deliver a different show every time. In 2005 original G'N'R drummer Steven Adler performed with them on their UK tour. They are the only G'N'R tribute band to be approved by an original member of Guns 'N' Roses.

For tickets and more info visit -

Son of the legendary Roy Harper, Nick has been playing the guitar since the age of ten, surrounded by the likes of Jimmy Page, Robert Plant and Dave Gilmour, so it was no surprise that Nick made his recording debut on his father's 'Whatever Happened to Jugula?' album. Now a superlative singer-songwriter in his own right, his soulful voice and passionate songs are matched by his awesome guitar playing and marathon live performances.


For tickets and more info visit - www.magicteapot.partgirl.co.uk






Featuring Wild Willy Barrett, Mary Holland and John Devine, Sleeping Dogz play a fun mixture of music styles ranging from toe-tapping, foot-stomping fiddle and banjo, lively Irish jigs and reels on the pipes, to haunting melodies on guitar, cello and flute - all presented with a large dose of wry humour. Sleeping Dogz are quite simply great entertainment for all ages and highly accomplished musicians to boot. "Welcome to the beguiling, hilarious, delightful world of Sleeping Dogz... Craziness, underwritten by some great, nicely individual acoustic music." – R2 magazine.

Ben Mills shot to fame after coming third on series three of the X Factor in 2006. His success on this show resulted in a recording contract with SonyBMG and the subsequent release of his debut album, 'Picture Of You', in March 2007. Since then Ben has travelled the length and breadth of the country, appearing at a range of venues to rave reviews. His natural talent for performing live, coupled with the reputation he has for always giving time to his fans, is securing him a very strong following.

Dumpy's Rusty Nuts first appeared on the London Rock scene in 1981. After a short time they released their first single 'Just for Kicks' which was soon followed by their second, the now legendary bikers anthem 'Boxhill or Bust'.They toured around the UK playing rock clubs including the now defunct London Marquee Club, which saw them hold the all time record for appearances at this legendary venue. Since 1981 DRN have played the Reading Rock Festival (twice), appeared on national television and radio and supported and toured with many major rock bands such as Motorhead, Hawkwind and Status Quo.


Winner of 2010 BBC Folk Horizon Award for best newcomer Sam Carter is a precocious young singer and guitarist from Rutland. Since moving to London in 2004 he has been busily honing his craft as a writer and performer. Sam has studied guitar with Martin Simpson and supported Bellowhead on their 'Matachin' album launch tour, which led Bellowhead lead singer Jon Boden to hail him as 'the finest English-style finger-picking guitarist of his generation'.


In the early nineties Jon Amor was guitarist with The Hoax touring the UK, Europe and the USA for eight years, with four successful albums and a string of awards to their name. As frontman with his own band AMOR, Jon established himself as a talented singer/songwriter in his own right, releasing two influential albums that gave British blues/rock a much-needed shot in the arm. In 2005 Jon decided to concentrate on solo performances of songs from his album "Unknown Soldier". This highly acclaimed album has an outstanding guest appearance from Robert Plant on 'Ball & Chain'.


For tickets and more info visit - www.xanderpromotions.co.uk

Thu 15
Bridget St. John & Michael Chapman
£8adv
www.myspace.com/bridgetstjohn
www.michaelchapman.co.uk
Bridget St John is a singer and songwriter best known for the three albums she recorded between 1969 and 1972 for John Peel's Dandelion record label. Peel produced her debut album Ask Me No Questions. She also recorded a large number of BBC and Peel sessions and toured regularly on the early UK college and festival circuit. Her popularity peaked in 1974 when she was voted fifth most popular female singer in that year's Melody Maker readers poll.


Michael Chapman was never just a singer-songwriter - his gritty brand of guitar based songs span folk, ragtime, jazz and blues... it's on the tracks which feature Chapman's magnificently bleary vocals that this album really scores. Hell To Pay and Only Pretend are outstanding tracks, that world-weary voice singing words of bitter experience. This man is so laid back that he makes JJ Cale sound like he's on helium.

Funky, hard-driving blues and soul are put through a musical blender by this Detroit bluesman and his superb band to produce a hybrid that is at once both rocking and essential. Marcus is currently working on his new album which features a wide array of material varying from gospel to heavy rock vibes. His live shows are always nothing short of electrifying and should not be missed!

Sun 18
Ricky Warwick
£6adv £7door
plus special guests New York Alcoholic Anxiety Attack, Rhett Barrow and The Notorious Dawson Bros
www.myspace.com/rickywarwick
www.myspace.com/newyorkalcoholicanxietyattack

Growing up in Northern Ireland on a diet of Johnny Cash, Steve Earle, Motörhead, and The Ramones, Ricky Warwick started performing with New Model Army in the late '80s before helping to form the Almighty in 1988. After a lengthy stint with several successful records in the '80s and '90s, the group disbanded in 2001. Ricky's latest album Belfast Confetti shows a decidedly different approach to his music, harking back back to his singer/songwriter roots with finely crafted songs that resemble his country-rock heroes more than his punk roots. One for fans of Steve Earle, Bap Kennedy and Bruce Springsteen. Special guests New York Alcoholic Anxiety Attack hail from Bradford and are an up and coming band currently mentored & produced by New Model Army members Justin Sullivan & Michael Dean, discovered by the late drummer Robert Heaton. A popular acts amongst todays' NMA fans this will also be an acoustic set not to be missed. Leicesters Notorious Dawson Bros (feat. Dawson Smith from The Dissenters) and Rhett Barrow complete the line up.

Those wicked Essex rascals, Mawkin, have joined forces with the honey-voiced Jim Causley to form one hell of a boy band! One of the best instrumental outfits to emerge in recent years, Mawkin have a string of festival and concert appearances under their belt. Bringing Jim Causley on board was a masterstroke, as his gorgeous baritone voice is the perfect foil for their cleverly textured tunes and energetic performances. Their critically acclaimed debut E.P Cold Ruin gained them national radio play and a nomination for Best Group in the 2009 BBC Radio 2 Folk Awards while their debut album, The Awkward Recruit, received four stars from The Guardian, The Daily Telegraph, The Observer Music Monthly and many other publications.

For tickets and more info visit -


When you think about Italy, it's fair to assume that one thing you probably wouldn't associate it with is blues music. Soccer, yes. Pasta, yes. Spaghetti Western, yes. But, the blues, no. Well, prepare to think again! Family Style are coming and you'd better be prepared to have a cracking good time. A real family band from a small town near Milan called Arluno, Family Style feature: Franco Limido - vocals, harp, Marco Limido – guitars, Davide Dianchi – bass, Stefania Avenali – drums. Whether performing distinctive and thoughtfully original material or sensitively interpreting the work of others, Family Style's shows have been hailed as joyous celebrations played with outright swagger and confidence.

Michael Marra was brought up in the Lochee district of Dundee. His first public performance was at an NCR Christmas party in the 1950s Although predominantly known as a songwriter, Michael has worked extensively in theatre, radio and television. To most he is a solo performer touring the length and breadth of Britain, performing in arts centres, theatres, folk clubs and village halls. He has opened for such diverse performers as Van Morrison, The Proclaimers, Loudon Wainwright III, Barbara Dickson and Deacon Blue.

The guitar, bass and drums trio The Hamsters have long been established as one of our premier live attractions, having performed over 4,000 concerts in 24 years. Although primarily playing their own brand of rootsy Rock, Blues and Americana, they're also widely regarded as the UK's leading interpreters of the music of Jimi Hendrix and ZZ Top and will no doubt be featuring some tonight. The band's guitarist / singer Slim recently had a new interview in Guitarist Magazine and the lads have just released a new three hour double live DVD, titled 'Curse Of The Killer Hamsters!' "Nobody does the music of Jimi Hendrix and ZZ Top better (apart from the real ZZ Top)" – The Times. "F****** brilliant!" - Suzi Quatro.


Sun 25
AMP presents...
John Renbourn & Robin Williamson
£10adv
www.john-renbourn.com
www.myspace.com/rwfans
John Renbourn (born 8 August 1944, Marylebone, London, England) is an English guitarist and songwriter best known for his collaboration with guitarist Bert Jansch as well as his work with the folk group Pentangle. Robin Williamson (born 24 November 1943, Edinburgh) is a Scottish multi-instrumentalist musician, singer, songwriter and storyteller, who first made his name as a founder member of The Incredible String Band. Don't miss his great story telling!

Tue 27
PBS6
£8adv £10door
plus Dave Soden
www.pbs6.com
www.myspace.com/wifedivorces
PBS6 are a group of musicians bound by the desire to create music and tell a story alone. Genre and geography abandoned. Their debut EP "Pilot : Going Down " is a collaborative project produced by Will Lang, the acclaimed percussionist best known for his work with folk-fusion groups, Park Bench Social Club and Mabon. Having worked Mercury Music Award winning Nitin Sawhney, Will Lang developed Pilot : Going Down, as an exploration of two of Northern England's strongest musical art forms: folk and hip hop.

Harvey Andrews is one of the country's most renowned and popular singer-songwriters. He began his singer/songwriter career in 1964, rapidly abandoning his training as a school teacher when he turned full-time pro in 1966. He has released 15 albums of his own songs and many have been recorded by other artists, including Mary Hopkin and Christy Moore. He made his acting debut in the musical 'Go and Play up your Own End' in 1998 for which he wrote the songs. After 40 years his voice is as fresh as it ever was, his writing just as insightful and nuanced, and his stories funnier than ever. A great all-round entertainer.

With Mott the Hoople, guitarist/vocalist Ian Hunter established himself as one of the toughest and most inventive songwriters of the early '70s, setting the stage for punk rock with his edgy, intelligent songs. Throughout his 35 year solo career, he has amassed a back catalogue to rival any of his peers and cultivated a dedicated following in the process. Last year's triumphant yet unexpected Mott the Hoople reunion meant Hunter's solo plans had to be put on the backburner. Now he has an opportunity to showcase last year's critically acclaimed 'Man Overboard' album for the first time in the UK - a date not to be missed!



A rare solo performance from the lead singer and lyricist of Diesel Park West. Expect many highlights from the back catalogue of this increasingly well regarded singer and songwriter, along with spiritual wit, dark humour and tales of the real music business. "Butlers songs have the unmistakeable sound of greatness about them." - Q.