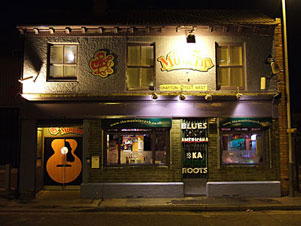 Tucked away in a quiet back street in the heart of Leicester, The Musician is the Midlands premier independent music venue. With live music at least six nights a week, it holds 220 people and features comfortable seating, full disabled access, easy parking and a selection of real ales.
Since opening in 2000, The Musician's reputation has been built on presenting the very best home grown and international performers in a relaxed and friendly environment. With a supremely eclectic booking policy the venue regularly features everything from contemporary singer-songwriters to rock, blues, folk, ska, punk, world, bluegrass, reggae, metal, soul, indie, avant-garde and Americana.
The Musician has full disabled access and facilities.
VENUE OPENING HOURS
Monday to Thursday 8pm til Midnight
Friday & Saturday 8pm til 1am
Most Sundays 8pm til Midnight
(Some gigs may start earlier - please check the listings)
Live music starts around 8:30pm